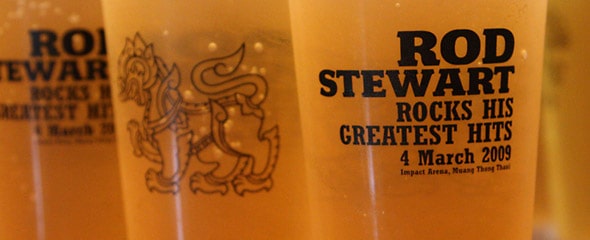 In the beginning there was the young Rod…
Rod Stewart (ร้อด สจ๊วต) is often remembered for his later image: gravelly voice, big hair, wiggly bum, twirling microphone, assorted scarves, string of blond girlfriends and wives, flash jackets, a series of catchy anthemic and sometimes quasi-disco songs, and the soporific (sigh) Sailing.
But except for good old Maggie, the younger Rod Stewart with the gravelly voice, wiggly bum, twirling microphone, big hair and wiggly bum is sometimes forgotten.
Those who do remember the halcyon days of the early 70's tend to disparage the later Rod. With the Faces he had the perfect party band: serious enough musicians to stack up against Deep Purple and Led Zeppelin, but more fun, more pop, without being T-Rex or Sweet.
In an era of British bands invigorating the blues, Rod had the archetypal voice, a stage presence, and a vocal tone that surpassed even the great previous front man Steve Marriott.
The early 70's shone with outstanding glam-rock stage presence and vocals that included Elton John, Freddy Mercury, David Bowie, Marc Bolan, and yes, Noddy Holder, amongst whom Rod was the authentic voice of white blues with a touch of anarchy.
And then there was the concert…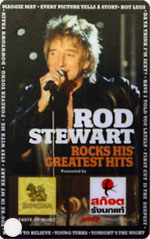 So just how would the 64 year old Rod Stewart stack up against such a history? Well, clearly certain hopes must be canned as Rod's voice lacks the range and power of 35 years ago.
But first, the build up to the concert, which involved a ghastly reminder as to why James Brown is better appreciated in small doses than for a 30 solid minute warm-up to the main act.
The Scots in the front row somewhat predictably started waving flags, raising their beers and dancing around once Brown was replaced by music from the highlands, which blended into Rhythm of My Heart when the man himself arrived, decked out in characteristic monotone jacket, shirt and tie.
One well-worn theme of the night was the progressive loosening or removal of the jacket and tie as the show wore on, only to be replaced during breaks by a similar, yet differently coloured, ensemble.
Some find it easy to carp, but Rod remains a magnetic performer, incredibly comfortable onstage with more than a touch of humour, and still moving well. He has presence.
Despite surgery for thyroid cancer in 1999 the voice also still works, particularly when strongly supported by his trio of singers, the Laptops. Rod has run through back up bands faster than wives and girlfriends, but they are always fine musicians (the back up bands that is), and this performance was no exception.
The songs du jour were mostly predictable. It was, after all, billed as a greatest hits concert. But the songs did not come across as tired. They were delivered with style, and engagement. And there was plenty there for everyone.
Some songs that I would personally never have chosen for the concert actually worked well live; Some Guys Have All the Luck was certainly enlivened by blond bombshell Katja Rieckerman on saxophone.
All the while, Rod threw his mic stand around like in his younger incarnation. Then strangely, It's A Heart Ache appeared. I have always associated that particular song with Bonnie Tyler sounding like a female Rod Stewart, but apparently time has wrought a strange role reversal.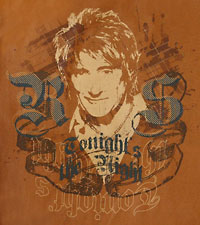 Another more acceptable cover was This Ole Heart of Mine which produced the sax gal again. Then finally a gem, You Wear it Well, with suitably crackly vocals and the classic violin break delivered by another talented beauty, J'Anna Jacoby.
It was clearly a night for the ladies in the band (sorry guys) and Rod made the most of it by putting them forward a cool 100%. Way to go Rod! The three female members of the Laptops, together with Katja Rieckerman and J'Anna Jacoby, intoxicated the audience with their talent and energy.
Having a Party rocked with the sax, followed by The First Cut is the Deepest and Tonight's the Night. Reason to Believe had me tearing up in the audience; listening to it at home the following morning had me tearing up for more.
But in retrospect, while Having a Party was well delivered, how many other of Rod's own songs (rather than Sam Cooke's) could have been substituted in that slot?
Some suggestions from the peanut gallery would be I'd Rather Go Blind, Drinking Again, (I Know) I'm losing You and Handbags and Gladrags.
Rod's Ruby rocks…
When Rod took a breather, his daughter Ruby sang Preacher Man and Rescue Me.
My take? There is no disputing the fact that she's talented, but Ruby was too detached from her audience. Nerves perhaps? And while I couldn't help but think that having a performing father like Rod would mean that even at 21 she'd be seasoned by now, her act came across as if choreographed by girlfriends from high school.
Her dad seemed to have similar worries…
Celebrity-babies.com: Ruby seems to be the only one of my children who has some kind of singing talent. But unlike me when I started, she's not hungry at all, unfortunately. She lives with me, drives a big Land Rover and has everything she wants. She's just 19 but she doesn't burn for anything. But it's precisely that hunger that you need, that ambition to go out and make it. Without it, you won't succeed.
Ruby's confidence didn't show until her exit, when she did a final sweet shoeless kick to her dad. So Ruby does have more than a bit of Rod in her. She just needs to let it all out is all. You go girl! I'd love to see a second generation Stewart take up the gauntlet.
Back with the band…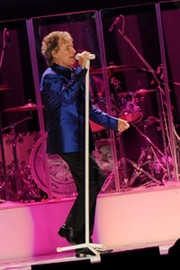 If the overhead lighting glaring down on the front row audience on and off wasn't bad enough, part way though the evening the graphics on the main screen went haywire. Bright squares of coloured light flashed, creating a mess out of the intended presentation. Turning to the screen Rod mutters, "misbehaving" then laughs. Later on he yells to the audience, "It's not mine; it's Bangkok's!"
Rod follows Ruby's performance with Have You Ever Seen the Rain. Did he mistakenly think he was doing CCWR's greatest hits?
He recovered by launching into both Hot Legs and an assortment of footballs that he kicked into the audience, while hanging onto a mic that looked like a cross between a vibrator and a flashlight. The man can kick! Must be all that soccer practice I keep reading about.
Next up, one of my favourites, Maggie May, was accompanied by J'Anna Jacoby on the ever present mandolin.
Note: The Rod Stewart photo above is compliments of Bec-Tero's press package.
The beginning of the end…
Rod then asks everyone to stand up for Do You Think I'm Sexy. The well-mannered Thai girl in front of us was not sure about standing when others were sitting.
She stood up, then looked back and saw us still sitting so sat down again herself, and then finally stood up again once we were standing. The attempt was much more polite than what we experienced at the Eric Clapton concert when our view was blocked by a dancing Westerner from early on.
While he has us standing, Rod leaves the stage. Knowing it's encore time, we count down the songs already gone and the question being battered around was "will Sailing be the encore song?"
Rod comes back, says, "thank you for your hard earned money during this recession". And yes, Sailing it is.
Apologies Rod, but what a horrible song to end the evening on. I realise that it was not your intentions to end with Sailing as the lights were left off for a long time in the hopes of you being cheered back for more.
But that was not to be…
Dearest, Darling Rod…
Dear Rod, if you ever do come back to Thailand, please note that while there will be expats in the audience, the majority will be Thai. And Thais are not British, French, New Zealand, American or even Australian. They don't know to keep clambering for more of you.
In their culture, it's bad manners to be seen as greedy by asking for more. In this case, the more was you coming back with anything else but Sailing.
Sigh… I screamed my best…
Wait… while I have you here… Losing You or I'd Rather Go Blind are possibly out, so how about adding Hand Bags and Glad Rags into the main set, with Maggie May as an encore. Ok?
Rod, as always, we love you…