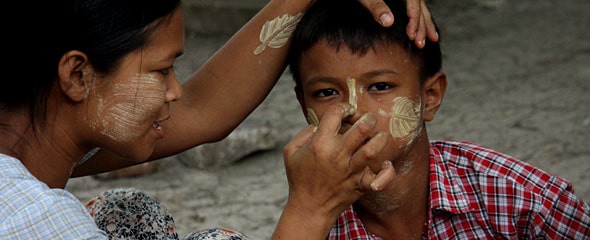 Burma/Myanmar, an expected treat…
Getting anywhere for a first time in this region is often a mystery. For me anyway. Myanmar was even more so as I was going in blind. Pretty much.
Personal visa experiences…
Chris Mitchell's post, Myanmar Visa In Bangkok: How To Get It, covers most of what you will need to get a visa.
For a tourist visa: Passport, two coloured passport photos, 1000 baht (depending).
For paperwork (official time): Arrive before 9am.
Forms: Fill out the tourist visa and arrival form (but be prepared for 'surprise' forms).
For pickup (official time): Arrive before 3pm.
The Myanmar Embassy is located on the corner of Thanon Pan and Sathorn Nua Rd in Silom. And while it is a fairly easy address to locate via taxi, not all drivers are created equal.
If your driver gets lost (as mine did) tell him to get to the Sri Mariamman Hindu Temple on the corner of Silom road and Thanon Pan, then drive all the way down Thanon Pan to the end of the street. The embassy is on the left side.
If your taxi driver is still lost, then get it into his head that the Hindu temple is on Silom near the British Club and the Narai Hotel (soi 18). You can easily walk from there.
Once at the Myanmar Embassy, scout out the seating arrangements. If you are aiming for a tourist visa, sit in the seats running down the middle of the room, as the occupants are first at the tourist visa counter. For a business visa, the seats of choice are along the right wall next to the far counter.
When filling out the forms, Chris advises to avoid putting 'journalist' or 'photographer' as your profession. I'm not working so I bypassed putting a profession. Instead, I ran that section through with a scratch of my pen.
Problem was, it threw the visa people off balance. 'No employment? No working?'
Even so, several minutes later – after those behind the counter got into group huddles and made phone calls and such – I was told to pick up my paperwork in three days. Easy.
The hindsight of going to Myanmar…
I like to believe that I behave in the manner of a well seasoned traveller, but it is not always so.
When going to a country for the first time, months prior to departure I grab a selection of general knowledge and history books on the area. Sure, Google is helpful, but for travelling I prefer paper over digital.
But this time, in the month running up the trip, I found myself battling insomnia instead of researching for a trip to Myanmar.
'I'll just grab a guide book at the airport'… says I…
Rushing through duty-free at Suvarnabhumi, I purchased the Lonely Planet Myanmar (Burma) guide. Sitting on the plane, I flipped through to this statement:
Few countries warrant more pre-trip reading than Myanmar.
Well, cacca.
At the bottom of the same page was section titled, 'Get your cash ready'.
Considering Myanmar has essentially no places that accept a credit card, travellers cheques or ATM cards, you need to plan how much money you're going to spend – and get the right kind of bills (clean, crisp, new US dollar bills) well before your plane lands in Yangon (Rangoon). Many, many visitors forget to do this, and end up heading back to Thailand to get some.
Double cacca.
For a seven day trip to Myanmar I had a grand total of US$200 and a few thousand Thai baht. And while the accommodation, main travel (car and plane), and most of the food was paid for, the rest was not.
For my seven days, I still needed money for tour guides and drivers, as well as the odd beer. And I especially needed mad money.
And believe it or not, Myanmar is not exactly cheap.
I was lucky in that I had people in both Yangon and Mandalay. I can only imagine the frustration others feel when realising there is no easy way to get additional money in Myanmar.
And that they would need to turn back to Thailand for more.
So when planning your trip to Myanmar, my advice is this: Buy the Lonely Planet Myanmar (Burma) guide.
Like everyone else out there, I have a growing collection of travel guides. But, when it comes to value for money, this one is tops. Well done guys!
Money is important. Sure. But it is only a small part of what you need to know before visiting Myanmar. Or not.
Because after reading 'to go or not to go' in the Lonely Planet guide, you just might decide that a trip to Myanmar is not for you.
For me, it all came down to one major point: Whether or not I agreed with Aung San Suu Kyi's stance on tourism.
I do support Aung San Suu Kyi, but I do not agree with everything she stands for. So while it did cause time for reflection, it was a decision I was prepared to make.
And off to Myanmar I went.
A few Myanmar tips…
My Myanmar visit lasted a total of seven short days, so if you have anything to add (or correct even), please leave your helpful tips in the comments below.
Money: In theory, you are supposed to change your US dollars to FECs (Foreign Exchange Currency), and only then can you change them to kyat (the local currency). In reality, some locals insist on being paid in US dollars, as will some government agents.
If you hunt down a money changer, you can bypass the FEC middle man, getting a much better deal on kyat in the process.
When you do exchange your dollars, make sure to get a sufficient amount of small notes. This is because (in the nicer hotels at least), the standard tip is 500-1000 kyat (luggage handlers, room service, etc) and your stash of small bills will run down quite quickly.
Also, not having the exact change will cost you. If you are haggling and do not have change, your haggle is wasted as they often won't have change either. But they will quite happily take the larger note, and they may even throw in something extra.
At the airport I came away with a pack of gum instead of the expected change.
It's a good thing I like gum.
Medicinal: Some pharmacies in Myanmar require a doctor's prescription, some do not. Avoid the hassle by bringing any legal drugs you might require (painkillers, anti-inflammatories, anti-acids, etc).
This should not need to be said but I will anyway: Make doubly sure that you have a doctor's prescription to go along with any prescription drugs that you bring into the country.
Ah, btw, at the top of your list should be antibiotics. My stomach started going south during the night, and by the time I received a treatment of antibiotics (mid-morning), the rest of my day was doomed.
Flights: Nothing new for the Asian traveller, some local flights are late (an hour or more), some flights get cancelled, some leave early. My flight to Yangon was an hour late. But, after being left in Kuching by Royal Brunei Airlines for three days, a mere hour was no big deal to me.
Plastic bags: Trash made up from discarded plastic bags is everywhere, but there is a push to ban plastic bags in Myanmar. If you want to help the cause (it is not in place yet), when making a purchase ask for biodegradable bags instead.
Beggars and trinket sellers: Just like in Cambodia, kids posing as trinket sellers will first start hitting you up to sell products, then some will switch to a zombie litany of wants and needs.
I am no more hard-hearted than the next person. But, from past experience, I don't usually give over money. I either purchase food, or, if given a chance, I get creative.
And a word of warning: If you do give, you could soon be surrounded by a group clambering for the same. And they don't give up easily, which means that if they are encouraged, they have the potential to drive tourists away. Have you ever been to Morocco? Point made…
Instead, why not give generously to their schools?
On my next trip I intend on bringing as many English books for school children as I can. In Myanmar copying books is a normal practice, so basically I'll save luggage space by bringing in one of each (and most everyone wins).
Psst… There are many interesting items of advice in the Lonely Planet guide; pick the one that suits you best. And if I had read the Lonely Planet guide for Myanmar before my recent trip, I would have done just that.
Visiting Myanmar's curiosities…
Driving: In the '70s (I heard '74, but online information states '70), the Myanmar government changed from driving on the left side of the road to the right. But if you look around Myanmar, vehicles with the steering wheel in the correct side of a car or bus are rare. A worry, bus passengers are forced to get off on the side of oncoming traffic, and cars cut quite close to each other at times.
Mobile phones: After living in Bangkok, the lack of people talking on mobile phones in Myanmar is spooky. And (apparently), if you bring your phone into the country, not only will it not work but you are supposed to leave it with customs (apparently). Oops.
Internet: I read that the Myanmar government slowed down the Internet to slow down communication with the outside world, but I did not find this consistently so.
The hotel I stayed at in Yangon had Internet connection in the rooms for free, but it did not work on a Mac so I couldn't tell how fast it was. On my return trip to the same hotel the Internet connection in the rooms had been scrapped, so if you wanted the pleasure you had to pay US$5 per hour to connect in the business centre. The connection was slow. I declined.
The hotel I stayed at in Mandalay had free wifi in the lobby. And while it was not slow (about Thai speed), it died on day two and revived on day three.
The Internet connection in Rangoon's business class lounge at the international airport was via two PCs, and was excruciatingly slow.
English speakers: The Burmese I met spoke beautiful English. One of the busboys even sounded California hip! I tend to believe that SE Asian countries without a strong tonal language have it easier taking on English than the Thais do. But I could be wrong…
Photography: I found that the local Burmese women, more than the men, are painfully camera shy. So to avoid embarrassing the both of you, get that camera waggle down.
Besides, if a local wants their photo taken (especially the kids) they will often be quite verbal about it.
And compared to the sometimes moody Thai monks, the Myanmar monks are camera wonderful. Some monks placed themselves in my way, while others grinned when I waggled, then posed beautifully for my camera.
And when the Myanmar photos start rolling through at Catherine Wentworth Photography, you can see just how beautiful they are.
Learning the lingo…
Ah. And did I learn any Burmese while there? I sure did.
Easily memorised, Jay Sue Bay means 'thank you'. Jay (for my programming buddy). Sue (for my Seattle Meet mate). And Bay (well, we all meet in the bay). Jay Sue Bay.