For the love of Songkran…
I'm not even supposed to be here. A party pooper, during Songkran I'm usually found in locations not here, or hiding quietly away. This year I had tickets and hotel booked for Cape Town, South Africa, of all places. But I changed direction and decided that I'd go somewhere UP from Bangkok instead. Sounded good. I've done Bangkok at Songkran but nowhere else.
A sore throat, fever, coughing up gunk and junk and a list of other nasties (don't ask) took care of my Songkran plans. So instead of experiencing a different side of Songkran I settled on my sofa. And I was content and happy to wait out the holidays with all my drugs and my two cats UNTIL…
…Snap wrote me asking about Hawaiian shirts and Songkran. I, in my [cough] [cough] wisdom, poo pooed the thought. Hawaiian shirts? In Thailand? I've never seen the like. But she did get my Songkran curiosity up. And (darn her) it turns out she was right (but Lani says the shirts are new to Songkran so she's only half right. Right?)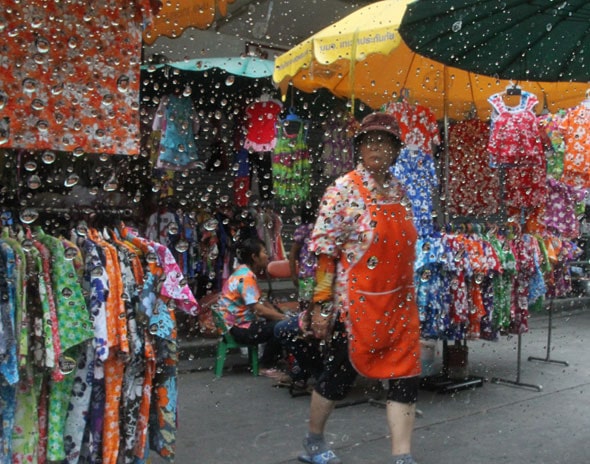 And then yesterday Talen started taunting me with a promised run of Songkran posts! AGHHHHH! What's a gal to do?
I got off the sofa, got dressed, felt my forehead, and went straight back to sleep for the rest of the day.
But Thursday morning was different. A mixture of guilt and healthy competition does that to me. Snap didn't say, but I could feel a Songkran part II coming from her end. And Talen, well, the man is a Songkran maniac!
To make it easy on my [pathetic] sicko self, I decided to brave the watery world of Songkran close to home. I got dressed, felt my forehead [got the all clear], Saran wrapped and unwrapped my 7D, and then marched outside. But guess what? My soi is BORING! I keep bragging about how quiet my soi is, but on Songkran? It was dead dead DEAD!
There was nothing to do but walk to the main highway (a mere 8 minutes away). Again. Quiet. But Taxis were plenty so I hailed the most chalk-covered one of all and explained the deal. He drives me to Khao San Road and back. And I'll pay him a lovely set price. A done deal.
He threw in the killing spree for free.
The white powder of Songkran…
As I mentioned in my previous Songkrang post: In the name of warding off evil, an elder would anoint faces and body parts with a white powder or paste carried around in a silver bowl. Today, the ritual has evolved into a modern free for all: silver bowls have been replaced with coloured plastic bowls of choice; teens to young children join in as well.
So if you arrive chalkless, what you do when you first get to Khao San Road is you head for one of the powder sellers. Ten baht gets you a wimpy bowl and twenty baht, a bucket.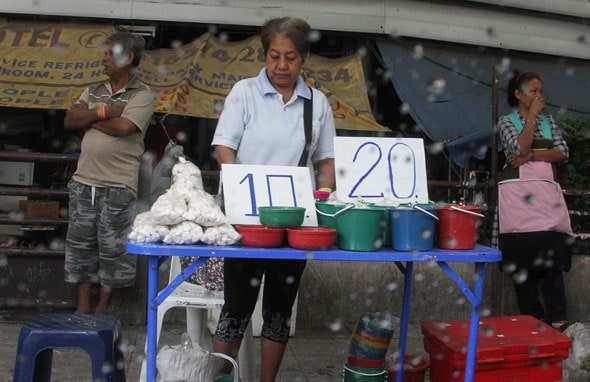 And after you get your spray gun wrapped around your body, you have a friend fill it up. Or refill, as the case might be.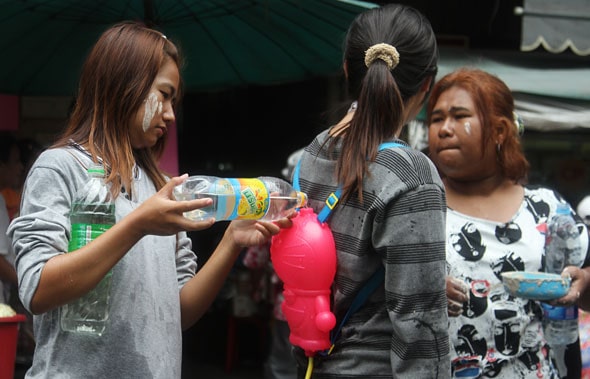 (I know Talen's going to come in and say THAT's not a gun, THIS is a gun – but remember, he lives in the badlands of Pattaya where there are no rules).
From what I saw, the average water gun in Khao San Road is about the size of what this young guy is touting. And isn't he sweet? His spray changed the visibility of my newly wiped down window from smudgy but doable, to a sea of droplets. Photographers pay big bucks for filters like that and I got it for free!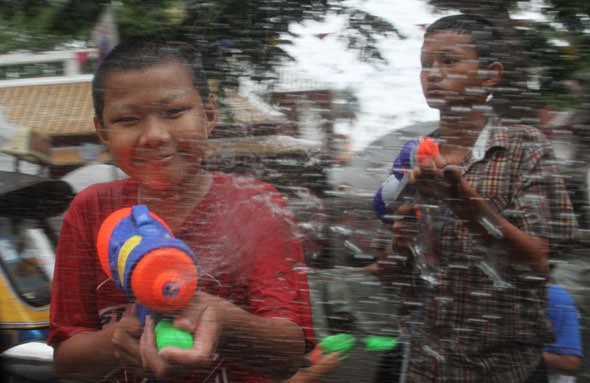 Anyway… some just bowl it instead of gunning it, and that's ok too. Especially when you hold the higher ground, like this guy does.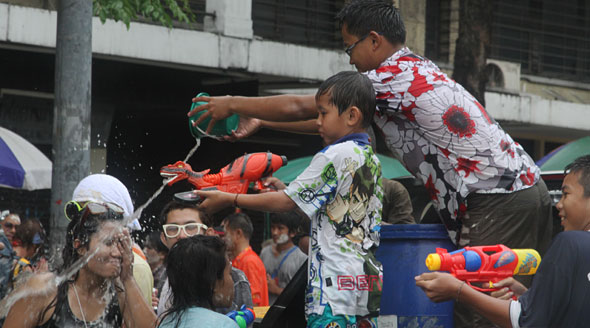 During this Songkran I paid more attention to those giving and receiving the water and white paste. But I was more interested in the pasting.
These two guys were quite civil in their exchanges. One slathered the paste, the other poured water. And it wasn't a brief stint either, they were going at it for awhile. Smile smile smile, slather and pour.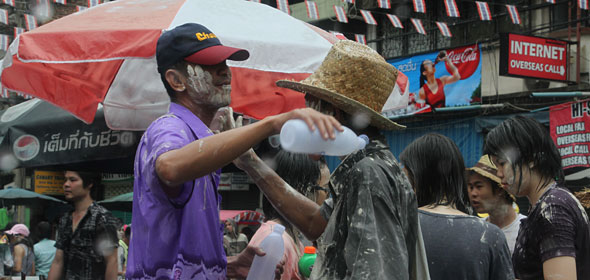 And this couple were talking their time slathering the paste on too. Mmmmmmmmm. Nice.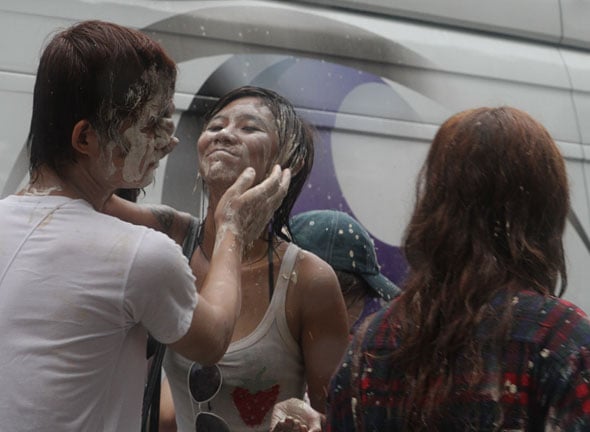 But then it got even more interesting. I saw many guys (and they were all guys) reach out from nowhere to slather a pretty girl. Look at that guy. He's not even looking. He's just walking, reaching out, and slathering paste as he goes. What's up with with the hit and run pasting?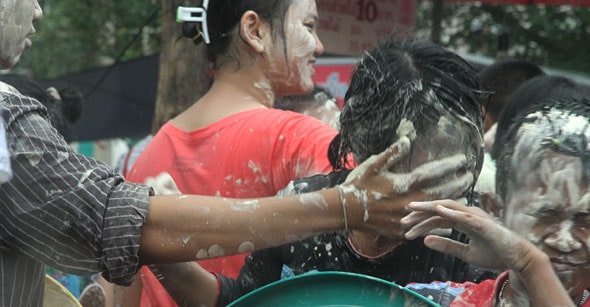 And these guys had an assembly line going. I was stuck in traffic so I got to watch them for awhile as well. One slathers a gal with paste and the next guy follows until all four have had their turn (one is out of camera shot). The poor gal couldn't catch her breath! Or their phone numbers!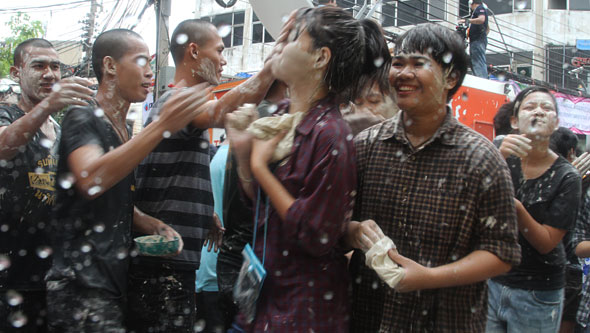 Another twist is to hold the girl tight while pouring a bowl of water over her head. Slowly. I was able to get a long series of photos from this scene too (my favourite out of all).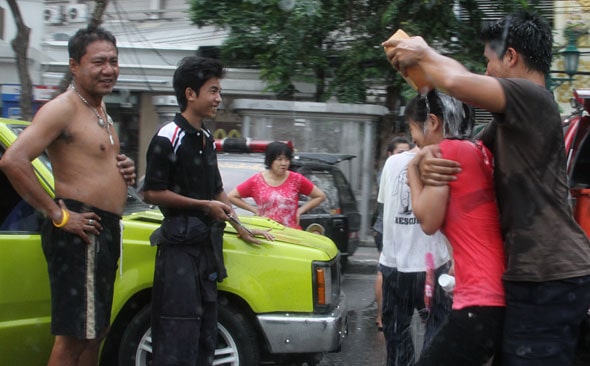 So from what I saw, on Khao San Road it's mostly a guy going after a pretty gal thing (but not always). You find a pretty gal, slather her with paste or drench her from head to toe and walk on. It's almost like a mating ritual.
Oh, and the taxi even got pasted. Repeatedly. Window pasted. It didn't put an end to my Songkran voyeurism but it did create interesting photos (way too many to share here).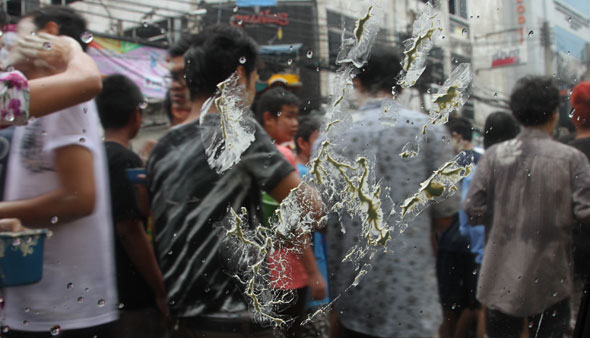 Happy Songkran 2011 all! Stay healthy. Stay safe!