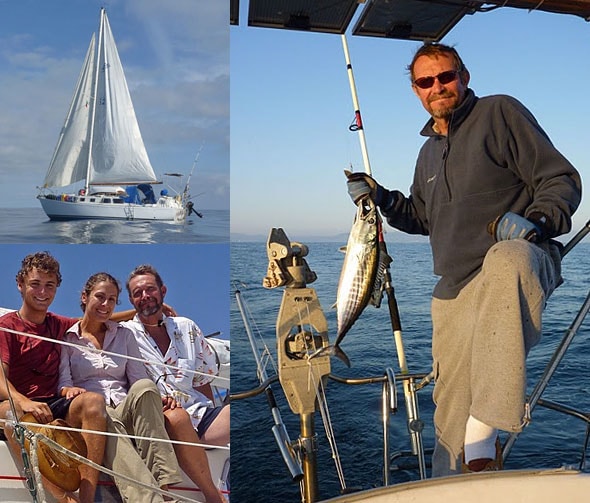 Photo credits: Daniel Anderson (Dan the Younger)
Expat living on the high seas…
This post has nothing to do with learning Thai or Thailand. It's about expat living. And since I haven't written an expat living post for awhile, and the opportunity arose, here you go.
When I was growing up I spent a bit of time on sailboats. It's one of the many outdoors activities our family engaged in to keep three rowdy kids entertained. When we first took to sailing seriously, we lived in one of the most beautiful places in the world: Marlborough County, on the South Island of New Zealand. After New Zealand we started sailing the equally stunning waters around California, Nevada, Mexico, and more.
A few years after relocating to California, my father retired, gave away or sold most of his belongings, got on a boat and sailed away for good. He was in his early 40's. His trip started from the Sacramento River, downtown Sacto, and ended back in Picton Harbour, New Zealand. His craft of choice was the family boat, a 23′ Islander (single hull), aptly named the Don Quixote (the impossible dream).
And for international waters especially, 23′ is a small boat.
How small is small? It was small enough for a teenage girl to manage lake sailing for a week plus on her own, no problem. But when small craft warnings went out on Californian and Nevada lakes, it had to come in. That's small.
After his well-publicised launch (warmed up with a wake the night before), the Sacramento papers joked about there not being enough room left in the sailboat for a spare can opener. They were right. That boat was packed tight.
With parts missing (storms do take their toll) the Don Quixote made it all the way to New Zealand, limping the final stretch.
EDIT: Going through photos I came across a copy of a newspaper article written after his arrival in New Zealand: Pair Took Trailer Sailer from California to Wairau Bar! (apologies, but for the article to be legible, it needs to open outside of this post format).
Fast forward to the year before last.
After fulfilling his obligations, my older brother Daniel (Dan) upgraded his sailing skills, wrapped up his life in Hawaii, flew to LA, renovated a '78 Cascade sloop named the S/V Leeway (he's brilliant that way), and sailed off towards southern waters.
Dan's adventurous shipmate Daniel Anderson kept friends and family abreast of first the renovation and then their travels via his well-written blog, dansailing (warning, they are both Dan). Dan the Younger is shown in the photo below (ahhhh, the life, yes?)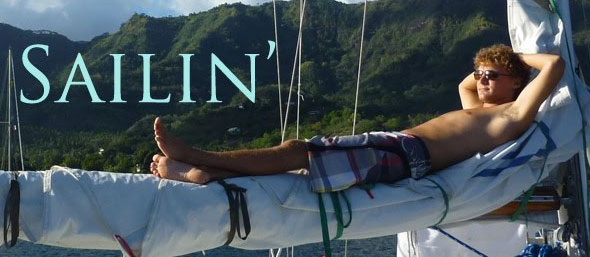 About a year later, when the younger Dan's time on Leeway was up, we grew to depend upon my brother's lively but sporadic emails.
This week I received such an email. And as it's such an interesting (alarming?) update, I thought you'd get a kick out of reading it too. Note: for those without sailing experience, I've added links to a few boating terms. Let me know if I've missed any.
From Daniel: An update on my journey…
I left out of Moorea after Christmas. The southern oscillation had moved north displacing the 20 plus mph trade winds with a gentle 10 mph breeze. I figured that it would be a good time to start my first singlehanded passage: Moorea to Samoa.
My first 24hrs were a gentle northwest broad reach heading northwest to clear the Leeward Islands of French Polynesia. The second afternoon the wind dropped to a still, muggy calm with isolated thunderheads marching up from the east.
I spent the night in the cockpit tacking the boat north and south to avoid the worst of these. The gentle breezes and diminished storm activity came with dawn.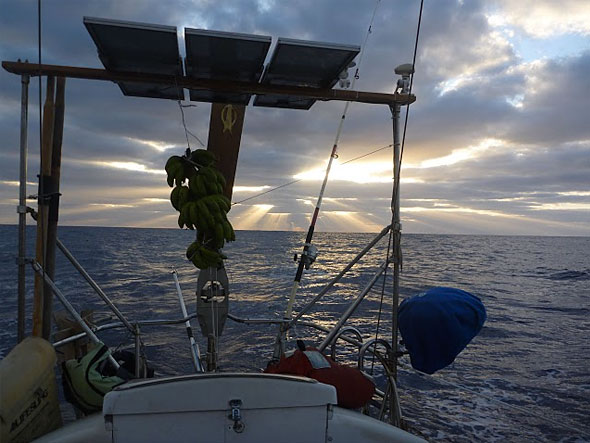 I slept a few hours as Leeway, sails set wing and wing, made her way under control of the wind vane. I was tired but in good spirits as I dozed off and on into the afternoon, catching rest to prepare for the night watch.
I awoke fully at 4pm with the sound of a pair of French Mirage fighter jets coming up low and fast from behind Leeway. I turned to watch them blast by only to see a whitewater torn line of wind racing toward me instead, close and fast. Too close, too fast. I hit the deck moving forward to release the guy out 140% genoa as the wall of wind hit us. The mainsail back-winded and bounced against the preventer which kept Leeway from a full-flying gype.
The boat spun a full 180 degrees, both sails now filled taut from the bow. Leeway was sailing backward!
I had been flattened to the deck by a blow to the head by the pivoting boom. Knowing from first aid courses that head wounds bleed copiously did not prepare me for the flood of blood down my face and chest. Blood splattered everywhere as I dropped and bundled the genoa on deck, heaving it out of the water and gasketting it tight against the lifelines.
The preventer had cinched the customary half hitch too tight to release. I made my way back to the cockpit on a nearly vertical deck returning with my emergency machete. With a quick stroke of the machete Leeway popped vertical, mainsail adding the timpani of outraged cloth to the roar and howl of rigging straining wind.
I knew I was hurt. Footprints of red went fore and aft. Chest to foot flowed red. Windswept splatters and sprays of red swept the cockpit, the coach roof, deck and sails.
With Leeway running downwind on mainsail alone, trusty wind vane managing beautifully and the nearest lee shore 30 miles away, I went below to tend to myself and ascertain the damage.
Using precious freshwater at the galley to wash my face, a gaping cut over my right eye showed in my shaving mirror. "This will need stitches" my mind flatly stated. I have everything aboard and the training to stitch skin. On someone else…
I had experimented with self stitching 10 or 15 years ago on my leg after an encounter with rebar on a job site. I didn't do so well. Even with lidocane the sensation was just too weird.
I tied two 4×4 gauze pads tight to my head with a strip of clean T-shirt and reviewed my options. In two weeks I could arrive Samoa with another interesting scar, or Bora Bora was a 6 hour beam reach south.
I wore about, still under full main, still in 40 knot winds. By 6pm I was outside the pass, motor wouldn't start, wind coming directly out the pass precluding a sail in. I was dizzy and unable to make out the pass entrance lights against the backdrop of channel nav within the lagoon and lights of Vaitape.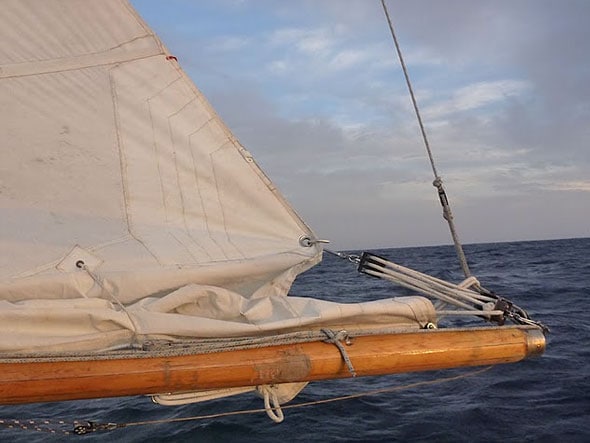 I radioed Port Autonome Bora Bora on 16, on 14,  on 12, on 22. No response. I went back topside to set the sails for a heave to position off Bora until dawn or my vision cleared .
The radio squelched loud and a voice came out identifying itself as SAS Papeete, inquiring about my status and position. When the officer learned that I had a bleeding head injury he was not satisfied with my decision to stand off 'till dawn. He mobilized a rescue boat with a captain and three crew, a local Gendarme and an emergency room physician, and sent them my way.
I hoisted my emergency strobe to the spreaders, set a light on the mainsail, and hunkered down to wait. By 11pm Leeway was tied to the municipal quay in Vaitape and I was in the island's emergency clinic (after hours but re-opened for me), getting 8 stitches to close me back up.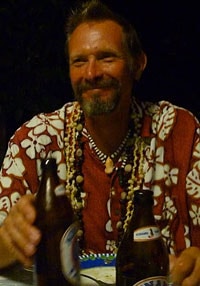 Added to the crew of the rescue boat, the physician, and the gendarme was an ambulance driver and an on call emergency nurse. Eight residents of the island, the local Commune du Bora Bora rescue boat, an ambulance and a hospital were mobilized on my behalf. I am beyond grateful.
Thank you SAS Papeete, thank you Commune de Bora Bora, Doctor David and Nurse Michelle. This entire orchestration was a free event. There isn't even a mechanism to make payment.
My emphatic "Merci Beucoup" is shrugged off, thumbs up's are offered in return. I am going to sit out a few days here, check the weather gribs, and then see Doctor David for a follow-up before I depart for Samoa.
I have washed the blood off the boat and off my body. My shorts are rinsed and hanging on the lifeline. Tomorrow I can wash the blood out of my hair. Life is good.
To continue my sail to Samoa, I'm now waiting in Bora Bora for a weather window to open up. It ain't a bad thing to be stuck in Bora…
Cheers!
Your brother Dan