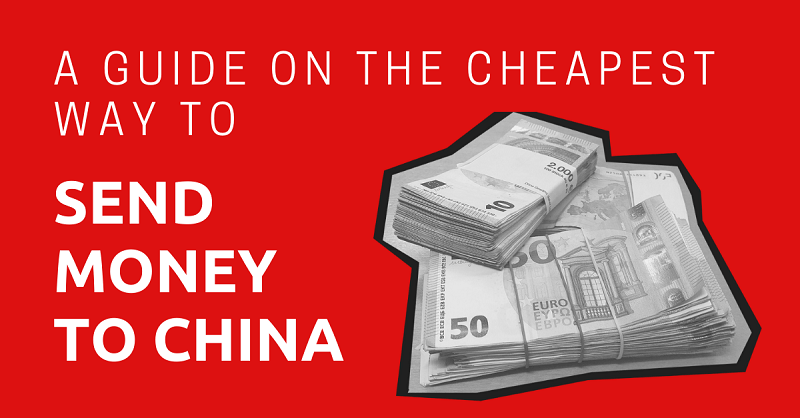 Whenever you send money from overseas into China, you want to be sure you're using a money transfer service that's going to get you the most CNY for your money.
We've put this guide together to help you make that decision based on actual transfer amounts from some of the leading money transfer options available today.
Note that estimates below are based on the exchange rate from August 2023.
This is currently USD 1 = CNY 7.3
Moreover, this guide will show you what to watch out for, what services charge the least amount of fees, and which services to avoid altogether.
A good idea is to always check Monito before making an online money transfer, as they provide up-to-the-minute results on all the cheapest services.
This article will take approximately 15 minutes to read. Don't have the time right now? No worries. You can email the ad-free version of the article to yourself and read it later!
What to Watch Out for When Sending Money to China
Before sending money to China, there are three crucial things that you should consider: transfer fees, exchange rates, and transfer speeds.
Let's look at each one more closely.
Transfer Fees
Generally speaking, when sending money from your home bank account into a bank account in China, you will pay one of three types of fees.
fixed fee
percentage fee
combination fee
Fixed Fees
One of the first fees you will encounter when sending money to China is a fixed fee, which is the same no matter how much money you send.
For example, Wells Fargo Bank charges USD8 (plus exchange rate fees) regardless if you send USD1,000 or USD10,000 to China.
This makes bank transfers one of the cheapest options for sending large amounts of cash to China.
Percentage Fees
In contrast to fixed fees, percentage fees increase with the amount of money you send to China.
For a USD1,000 transfer using Wise, for example, you'd pay 1.26 percent, or USD12.60, in fees.
Because you're charged based on the total amount you send, you can see how percentage fees can be costly when sending large amounts of money into the country.
Combination Fees
Lastly, combination fees are a mixture of both fixed fees and percentage fees.
PayPal's Xoom uses this kind of fee structure, and that's why it remains one of the more expensive money transfer service providers on our list.
Remember, though, that high fees aren't the only thing you need to check for to get the most CNY on the receiving end – you also have to consider exchange rates.
Exchange Rates
With the exception of Wise, it's uncommon for banks and providers of online money transfer services to give you mid-market rates, therefore double-check that the rate is close to the mid-market rate on XE Currency Exchange Tool.
Along with transfer fees and exchange rates, it's also important to consider transfer speeds, which is next on our list.
Transfer Speeds
Knowing how long transfers will take is helpful if you need to make monthly payments or maintain your financial stability throughout the transfer procedure.
On average, it usually takes one to three business days to transfer money into China from abroad using banks, Remitly, Wise, or Xendpay.
If you use Western Union, though, you could receive your money in minutes, but you'll have to pay much higher costs as a result of the faster delivery.
To help you better understand the various ways you can send money to China, let's look at your choices.
Money Transfer Service Options
When transferring money into your Chinese bank account, you have quite a few options. Let's look at each one closely.
Remitly
Remitly is one of the cheapest options for sending money to China, however, you will only be able to transfer money using the service through Alipay or WeChat.

For first-time transfers, Remitly doesn't charge any fees and offers a fair mid-market exchange rate. After the first transfer, they will charge roughly USD 3 for USD 1,000 transfers.
Alipay and WeChat will charge fees on their end, however. Alipay charges USD 7.71, and WeChat will only charge when you withdraw money from your WeChat account into your bank account.
Banks in China will charge a USD 10 fee as well.
On a USD 1,000 transfer to China, you'd get CNY 7,283.90 in your Chinese bank account.
Instarem
The fairly new service of Instarem has a clear transparent website which makes it easy to get a quick quote.

Instarem has special rates and zero fees for new customers on their first transfer up to USD 500. They also have no limit on the amount you can send.
Transfers usually take 1 to 2 days to land in the receivers bank account.
Today, as a new user, if you send USD 1,000 to China from the USA, You will get CNY 7,268.20.
If you become a regular user of Instarem, you will be paying a percentage transfer fee from 0.25% to 1.00% depending on the countries you're sending to and from and your method of payment.
Xendpay
Xendpay is a great choice for first-time transfers, as they offer a "pay what you want" model for the first USD 2,275 you send to China.

After that they may charge you an extra 0.41 percent to 1.5 percent, depending on which currency you send to the country.
However, even when you opt for a "free transfer," Xendpay still takes a percentage of the currency exchange, which usually equates to 2 percent to 3 percent.
Moreover, depending on what form of payment you use on Xendpay's platform, you'll be hit with other charges:
credit card – 2.3 percent fee
debit card – 2.3 percent fee
Sending USD 1,000 to China through Xenpay would yield CNY 7,266.80.
With Xendpay, you may find you money in your Chinese bank account within one to three working days.
Security also ranks high on Xendpay's priority list. Aspects of their security policies include data protection, anti-money laundering services, and the use of current internet security protocols.
You can transfer money with Xendpay by using its website or its mobile app for Android and iOS devices.
Wise
Wise provides mid-market exchange rates, which makes them appealing to expats in China who are looking to save money on transfer fees.

If you want to use the service, you will be charged a percentage fee, which is comparable to fees charged by other providers.
When sending USD 1,000 to China, for example, Wise charges a percentage fee of USD 13.28. You'll also have to pay another fee depending on how much you send.
Bank debit (ACH) – USD 2.59 fee
Wire transfer – USD 5.64 fee
Debit card – USD 11.27 fee
Credit card – USD 37.44 fee
Today you will get CNY 7,190.80 for UDS 1,000 using the cheapest possible option that is a bank debit (ACH) transfer.
If you transfer money from Monday to Thursday, Wise will get you your money within 24 hours.
When it comes to security, Wise has a fraud team that provides you with real-time warnings, data protection, and other services.
Aside from having a user-friendly website, Wise is also available on Android or iOS.
Check out our in-depth review of Wise.
MoneyGram
These guys now have hundreds of branches all over the USA and around the world. They have an easy-to-use website, but they don't have the best rates. They are still a convenient option for many people.
They offer a fixed fee of $1.99 on debit card transactions. But that fee jumps to a massive $32.99 if you need to use your credit card. You can send up to USD 10,000 to China.
A big benefit is that the money will be ready for your receiver within a couple of hours of sending it.
If you send USD 1,000 today with MoneyGram, your friend in China will receive CNY 7,144.34
Western Union
When it comes to transferring money, Western Union is not typically your cheapest option, but to China it actually yields a decent amount of CNY.

Western Union takes about 2 percent of the exchange rate of international transfers to China, and the company doesn't charge any fees if you opt for a bank transfer.
Going this route, you'd get CNY 7,086.78 for a USD 1,000 transfer into the country minus a USD 10 Chinese bank fee.
Unfortunately, you can only send a maximum of USD 6,852 (CNY 50,000) to China with WU.
Using a bank transfer, it would take up to four days to get your cash. For quicker options, you'd have to pay a bit more in fees.
credit card — USD 29.99 fee
debit card — USD 2.99 fee The only drawback to using Western Union to send money to China is that it has a USD 7,000 cap on transfers, so if you need more than that you'll have to use one of the other services above. Western Union is also safe and secure to use, and its website is user friendly.
PayPal (Xoom)
You can also transfer money to a bank account in China using PayPal's service, Xoom.

Xoom charges 2.25 percent in exchange rate fees and doesn't charge for bank transfers.
This means that if you send USD 1,000 to China, you'd get CNY 7,006.41 into your Chinese bank account minus the USD 10 Chinese bank fee.
You could use your debit or credit card to transfer money into China as well, but then you'd pay USD30 in fees in both instances.
The downfall to using Xoom is that you can only send a maximum of USD 6,852 (CNY 50,000) to China.
On the other hand, Xoom offers one distinct advantage over competing services: the speed with which money is sent. In China, you may expect to get your money in three hours or less.
Since all Xoom transfers are encrypted and subject to fraud monitoring, you can rest assure your money will be safe.
Moreover, the website's navigation is straightforward, and it is also capable of connecting to your PayPal account. It is also accessible for mobile devices such as Android and iOS.
Bank Wire Transfers
China lifted restrictions on sending large sums of money into the country. So if you wish to send USD 10,000 into China, it will be fine to do so.
But your transfer may be reported as the government is always on the lookout for fraud and money laundering. If you aren't doing either of them, you are good to go.
When sending money to China through a bank transfer, you'd have to pay more fees than if you use an online money transfer service provider.
Most banks will have a Wire Transfer Fee of anything from $0 to $50, a Currency Exchange Fee of usually about 1 to 5% percent of the amount you are sending, and often a Chinese Bank Fee which could be around $10.
All banks and financial institutions will charge their own fixed fee and their own exchange rate rates.
Below is a list of a few US banks for examples of the Wire Transfer Fee to China:
Bank of America
$0 if sent in foreign currency; $45 if sent in U.S. dollars.
Chase
$5 if sent in foreign currency up to $5,000; $40 if sent in U.S. dollars.
Wells Fargo
Varies branch to brach between $8 and $18
Due to the fact that your bank may not have a specialized app for international money transfers, using a bank is significantly more time-consuming than using Remitly, Wise, or Xendpay.
ATM Withdrawals
ATM fees are charged by the majority of banks in China.
They may charge as much as CNY 20 (USD3.08) to CNY 30 (USD4.63) – not including the fee your home bank will charge, usually around USD5 – when using your home country's debit card.
Also, ATMs in China have daily and per transaction withdrawal limits. These can vary from bank to bank.
As a general rule, however, you can withdraw CNY 2,500 (USD385.85) per transaction and a maximum of CNY 20,000 (USD3,086.87) per day.
A tip to remember is that all ATMs in China use six-digit pins, whereas most countries use four-digit pin.
Because of this, the bank may not accept your home country's debit card. If this is the case, you have to add two 0s before your pin number. However, before you do this, check with the bank as you don't want your card swallowed.
The next tip is to try and use an HSBC, Citibank, or Scotiabank ATM in China if you have one of those bank accounts in your home country, as the fees may be reduced.
Cryptocurrency
Unfortunately, for people wishing to use Bitcoin ATMs in China, you are out of luck, as there are none in the country.
Cryptocurrencies in general are usually banned in China, as the government wants people to use the digital Yuan instead.
The Best Method to Send Money To China
As you can see from the table below, Remitly is your best choice when sending USD1,000 to China. And as you get closer to USD10,000, it remains the best overall option.
| | | | |
| --- | --- | --- | --- |
| Method | Speed | Send USD 1,000 | Send USD 10,000 |
| Remitly | 1 to 3 days | CNY 7,283.90 | CNY 72,839 |
| Instarem | 1 to 2 days | CNY 7,268.20 | CNY 72,755 |
| Wise | 1 to 3 days | CNY 7,190.80 | CNY 71,908 |
| Xendpay | 1 to 3 days | CNY 7,266.80 | CNY 72,668 |
| MoneyGram | Several Hours to 1 day | CNY 7,144.34 | CNY 70,867 |
| Bank Transfers | 2 to 3 days | Too many variables | Too many variables |
| Western Union | Several Hours | CNY 7,086.78 | NA |
| Paypal Xoom | Several Hours to 1 day | CNY 7,006.41 | NA |
Now that we have some basic figures from the table above, let's delve into some specific countries.
Country-Specific Recommendation
If you're sending money to China from the U.S., the U.K., or Canada, here are your cheapest choices.
United States
Remitly is the cheapest way to send USD 1,000 from the U.S. to China, giving you slightly more than Western Union and brick and mortar banks.
Additionally, should you have to send large sums of money into the country, your best bet is to stick with Remitly, as they beat banks with transfers of USD 10,000.
After Remitly, Instarem and Xendpay are your next best choices.
United Kingdom
With Remitly's "pay what you want" feature for international transfers of up to GBP 2,000, it makes sense for U.K. expats in China to use this service over the others.
Even when sending up to GBP 10,000, Remitly still comes in as the cheaper option when compared to banks.
Canada
When transferring money from Canada to China, Remitly is your cheapest choice for large and small amounts of CAD.
A CAD 1,000 transfer through Remitly would get you CNY 5,410.00 as opposed to CNY 5,317.03 from Wise.
Now, on to You
In closing, it seems Remitly is currently the cheapest option when sending money to China from any of the major Western countries listed above.
But to be certain you're getting the cheapest transfer possible and the most CNY in your Chinese bank account, check out Monito for the most recent rates and fees.