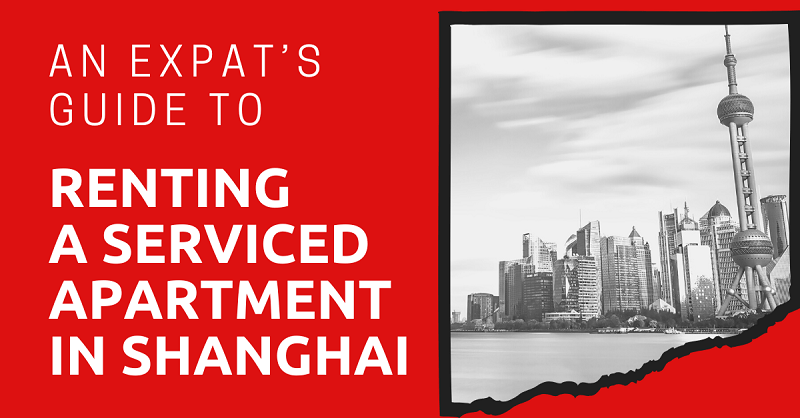 If you are looking for accommodation in Shanghai, you might check out serviced apartments which come in all sizes and budgets for expats with families, couples, or singles, for either long or short leases. Shanghai has an amazing selection of great serviced apartments which might make your life in China just a bit easier.
This article will take approximately 14 minutes to read. Don't have the time right now? No worries. You can email the ad-free version of the article to yourself and read it later!
What is a Serviced Apartment?
A serviced apartment can be an alternative to a hotel room for short periods or standard residential apartment for the long term.
Serviced apartments have fully furnished rooms and equipped kitchens. You will find similar facilities to a hotel, such as a gym, swimming pool, and sometimes even a concierge. However, these apartments are designed for longer periods of stay.
The services which they can provide are:
24-hour security
24-hour reception desk
Daily housekeeping services
Wifi access
Gymnasium
Swimming pool
Restaurant on site
Residents' lounge and meeting rooms
Laundry and dry-cleaning services
Why a Serviced Apartment Might Suit You
Shanghai has endless options for renting an apartment to suit any expat, so what are the differences between serviced apartments and private rentals? Why choose a serviced apartment which might be more expensive?
Period of the lease – Unlike the necessary 1-year lease to rent a standard apartment in Shanghai, you can rent serviced apartments daily, monthly, weekly, or yearly.
Services and amenities – If you choose a standard apartment, you will need to set up the Internet, find cleaning services, negotiate with an unpredictable private landlord, and maybe buy furniture and definitely accessories like plates and towels. Serviced apartments will have it all.
If you want all the frills, why not choose a hotel then? What makes a serviced apartment better than a hotel for a shorter stay?
The size – Serviced apartments are more spacious than hotel accommodation. Some of them can even be suitable for a large family.
The kitchens – In the serviced apartments, you will have a fully equipped kitchen, some of them might be compact, but some serviced apartments even have full-sized chef's kitchens.
The prices – Hotels are okay for a few nights, but that bill will quickly rack up and serviced apartments have much better rates when you plan to stay a bit longer.
The main feature of this type of accommodation is that they are ready to move in. You eliminate the headache of such tasks as finding a helper, hooking up the internet connection, learning where to go to pay other utilities, buying furniture and accessories, and dealing with a private owner who might be great, but might also be difficult to communicate with.
Things to Consider
It might not be a bad idea to create a list of all the essential things. This list will help you understand what exactly you need and skip unnecessary visits.
Budget
First, you need to find out about the cost of living in Shanghai, and China's overall cost of living, then estimate a budget you can spend on the apartment.
Location
You need to evaluate the type of life you will live and determine the best place to start living. You might want to be close to your child's international school in Shanghai or if you have already found work in Shanghai, it will make your life a lot easier to be close to your office. You might be in Shanghai for cosmetic surgery, the birth of a child, or other medical procedures and need to be close to a certain hospital.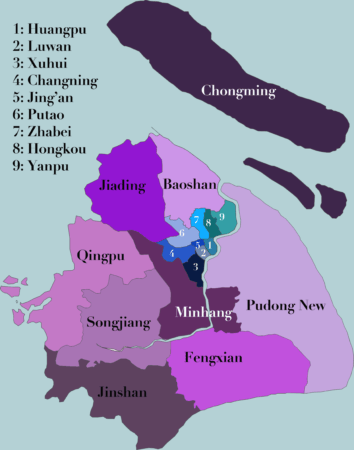 Only you know what you need. Location comes with the budget considerations as well. If you decide to stay in the city center, it might be super convenient. However, moving a little further out will allow you to find much cheaper options.
Services and Facilities
Decide which services are essential for your stay and make sure to ask about them when viewing serviced apartment options or check online.
Size of the Apartment
Figure out how much room you need in advance, keep in mind that Shanghai homes are likely going to be much smaller than your average 2000 square foot house in the US. Most serviced apartments will be between 40 sqm and 100 sqm with larger ones going up to 200 sqm and a small handful might be larger than that.
Appliances
Things considered essential in many countries like ovens, washing machines, and dryers are not standard in China. So check out what electronics, appliances, and white goods are provided.
Pets
If you bring your pets to China, inform the agency or property management in advance. Not all serviced apartments will allow you to have pets.
Best Areas for Finding Serviced Apartments
It is crucial to find a convenient location to match your needs. Many foreigners in Shanghai choose famous expat districts to be near western shops and restaurants, these are also the areas with the best selection of high-quality serviced apartments.
Language is also a factor as more local people will speak English in expat areas, so if you decide to live in the more local parts of Shanghai, you must be ready to learn some Chinese!
The districts of Jing'An (静安), Xuhui (徐汇), Huangpu (黄浦), and Putuo (普陀) are centrally located and loved by foreigners in Shanghai, these areas are where you will find the most serviced apartments, including some very high-end serviced apartments in the stunning historical former French Concession. Some expats prefer the Lujiazui area of Pudong (浦东) on another side of the river, another great place to look.
Recommended Serviced Apartments in Shanghai
The Luxury Serviced Apartments
Here are three of the popular serviced apartments which fall into the luxury category:
Stanford Residences (Jingan district) is a five-star luxurious apartment in the central part of Shanghai. The building has three-bedroom apartments, duplexes, and penthouses. They have such facilities as 24h security services, housekeeping, a swimming pool, gym, sauna, spa, and many others. The prices for the three-bedroom apartments start from around 42,000 RMB per month.
Ascott Heng Shan Shanghai (Xuhui district) is a part of The Ascott Limited luxury serviced residences. The apartments are in the attractive and popular shopping area of Shanghai. They offer one, two, and three-bedroom apartments of 100 – 276 sqm. These apartments have fully equipped kitchens and washing machines. Their clubhouse has an indoor swimming pool, gym, badminton court, and yoga classes. They also have a playground and playrooms for the children. The price for a one-bedroom apartment is 35,000 RMB monthly.
IFC Residence (Pudong district) provides five-star accommodation in the business district of Shanghai. They have one, two, and three-bedroom apartments. The prices vary between 30,000 – 80,000 RMB per month. You will have all the facilities, such as a gym, swimming pools, and sauna. Your children can enjoy themselves in their playgrounds. There is a convenience store and a beauty salon on site too.
The Mid-Range Serviced Apartments
Here are three of the popular serviced apartments which fall into the mid-range category:
Somerset Gubei Shanghai (Gubei district) is in a location providing you with easy access to metro lines and is just 25 min away from the railway station and Hongqiao International Airport. They have two, three, and four-bedroom, fully furnished apartments. There is a restaurant on site, a gym, and a children's playroom. The monthly rental prices start from 28,000 RMB for a two-bedroom apartment of 133sqm.
Riverdale Residence (Pudong district) has easy access to the metro and shopping centers. They offer one, two, and three-bedroom apartments. There is a gym on the site. The price for a two-bedroom apartment of 158sqm is 35,000 RMB per month.
Arcadia Downtown (Xuhui district) is in the Xujiahui area, the heart of Shanghai. They offer an indoor swimming pool, sauna room, and tennis court. You can rent a two-bedroom apartment for 27,000 RMB.
The Cheaper Serviced Apartments
Here are three of the popular serviced apartments which are best for singles, smaller and cheaper:
Belgravia Serviced Residence (Jingan district) next to Changshou Road Station. It is a newly opened compound, and it has one and two-bedroom apartments at reasonable prices. You can get a one-bedroom apartment of 60sqm for 15,000 RMB. They have a gym on site and housekeeping services.
Oakwood Residence (Putuo district), located close to Zhongshan Park Business District. You will have easy access to the shopping malls and all tourist attractions. You can get a studio apartment of 83sqm for 18,000 RMB monthly.
Yanlord Garden (Pudong district) is an apartment complex in Lujiazui, in a beautiful, green, and peaceful area. They have many facilities, such as outdoor and indoor swimming pools, a gym, a tennis court, and a convenience store. The price for a serviced one-bedroom apartment of 80sqm is 18,000 RMB per month.
Finding a Serviced Apartment
Once you have a clear picture of your requirements, the next step is to start looking for an apartment.
There are various ways to find an apartment in Shanghai: direct agents, searching online on websites, or WeChat groups.
Real Estate Agents in Shanghai
Working with an agent is the best way to find accommodation in China. The right agent will relieve you of a lot of tedious responsibility. You can avoid the language barrier, and they will help you with price negotiations, and help you with all the paperwork.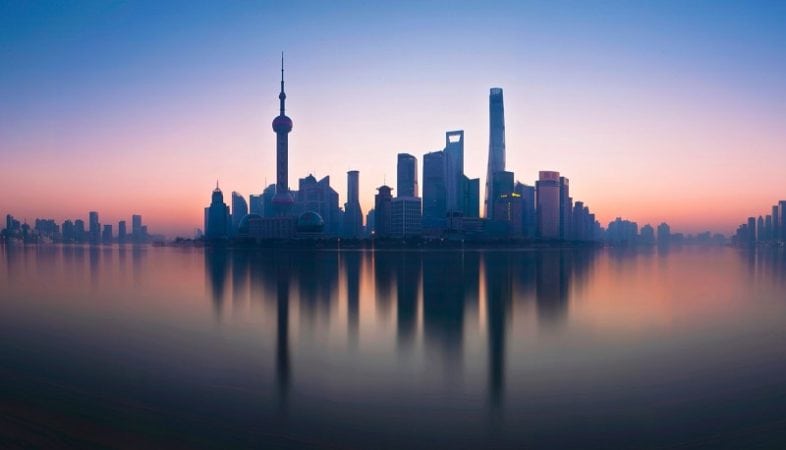 The crucial part is finding an agency to support you and understand your needs. Some agencies also can help with other settling-in tasks too, like opening a Chinese bank account and recommending schools for your children!
If the cost of the apartment you choose is under 10,000 RMB per month then you must pay 35% of one month's rent to the agent as commission. The landlord will also pay 35% so the agent received 70% of a months' rent as theri commission.
For anything over 10,000 RMB, usually the landlord will pay the full commission and you receive the agent's services for free.
SmartShanghai has provided a super convenient list of all the real estate agencies in the city. There is no easy way to decide which one is right for you. All agents have different listings, different relationships with various building management offices, and different database access to listings.
The best way to choose one is just to have a chat with a few of them and see who reassures you the most, who is best at communication, and who is proactive in setting up appointments for you. All agencies catering to high-end clients will have agents who speak great English.
You can also choose to walk into any real estate agency office and start asking questions. You will find them on most residential streets in Shanghai and finding one close to the buildings or area you are interested in will increase the chances of them having good connections in the area.
Apart from rental services, check what other services the agency provides, check if they assist in visa/immigration matters, finding schools for your children, orientation in the city, or other services.
Finding Your Own Serviced Apartment
If you prefer to find accommodation on your own, you can check online listing on websites such as:
You can also check expat groups on WeChat. You can ask your colleagues or other expats to invite you to these groups. This is the only way to get in them once you are in China.
You can also walk into the buildings you like and ask to speak with the rental office or management office. Often, they are happy to work directly with clients without the help of an agent.
I recommend you read this article on SmartShanghai about all scams which can happen while searching for an apartment.
Prices
Different factors will influence the price of the apartment. The most common are location, quality, and size.
In the central zones of Shanghai, you can get a standard one-bedroom serviced apartment for 18,000 – 30,000RMB, a two-bedroom for 28,000 – 38,000 RMB, and a three-bedroom for 38,000 – 50,000 RMB. You might get better deals in such districts as Changning, Putuo, or Jinqiao.
Rental Period
The advantage of choosing a serviced apartment is a rental period because short-term and long-term leases are accepted. You can rent serviced apartments daily, monthly, half-yearly, or yearly. It might be a good deal for many expats, especially those who do not want to sign a long-term lease.
Lease
If you get an agent, the lease you sign will definitely be in both languages, Chinese and English. However, if you decide to find an apartment on your own, be aware of the language barrier.
The management at a high-end serviced apartment compound will likely speak English, however, it is a good idea to have someone on your side for the negotiations. No matter if the contract is bilingual or not, the Chinese version is the only real legal document in China, so it is best to get it checked over before singing. It is always better to ask a local friend for help or a professional translator or a great real estate agent.
Depending on the lease period, the utility bills (water, electricity, gas) might be included in the lease or not. Usually, you need to pay it separately for a long-term lease but it will be included for something more temporary. They will charge you the lease and utility expenses every month. You can pay via WeChat services.
In most cases, the use of the compound facilities is included in the lease price at no extra charge. In general though, with these types of serviced apartment buildings, everything is standardized and you won't encounter problems when signing a lease, they are very professional and well managed.
Deposit
You may need to pay a deposit for a serviced apartment. The deposit is usually two-months' rent. Please note that if you are moving with your pet, you also might pay an additional deposit.
Getting a refund of the deposit might be problematic in Shanghai. I recommend carefully inspecting the apartment, taking photos of any inconveniences, and informing the management about it.
As well as cash, bank transfer, debit cards, and credit cards, you can also pay any expenses that come with the apartment (deposit, agency fees), using the prolific digital payment system in China. Once you are settled in, you will not want to use anything other than WeChat Pay or AliPay. It is so convenient.
Now, On To You
If you are considering a serviced apartment for living temporarily or long-term in Shanghai then your life will be just that little bit easier, especially during your first months in Shanghai.
At the time of writing, we are still in the middle of a global pandemic, so do check the rules and regulations before you even start thinking about your Shanghai move. Moving to Shanghai during covid is possible, you just have to plan correctly.