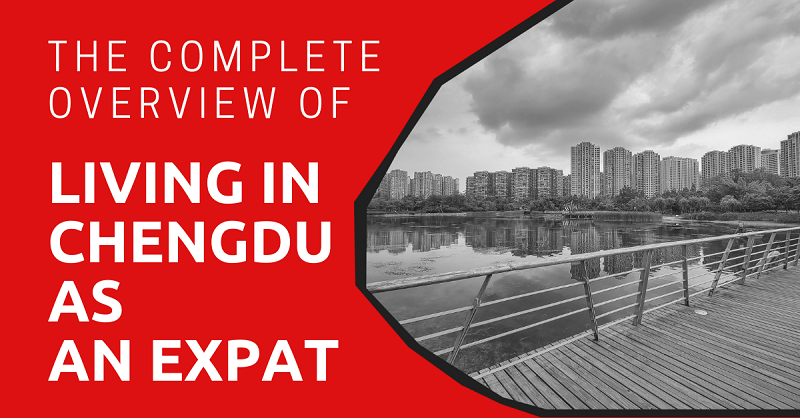 Chengdu has so much to offer expats and locals alike. Compared to the fast-paced lifestyle in mega metropolises like Shanghai or Beijing, Chengdu is a place where you can take a beat.
Alongside the delicious food, inviting neighborhoods, and thriving nightlife, living in Chengdu will allow you to experience a unique blend of Chinese history and modernism all in one take – where time simultaneously stands still and the country moves forward.
If you're a curious expat looking for their perfect home in the Middle Kingdom, Chengdu is the China you've been dreaming of your entire life. From pandas, delicious spicy food, a tea culture like no other, authentic cultural relics, and breathtaking nature escapes only a short trip away – Chengdu has something for everyone.
This article will take approximately 21 minutes to read. Don't have the time right now? No worries. You can email the ad-free version of the article to yourself and read it later!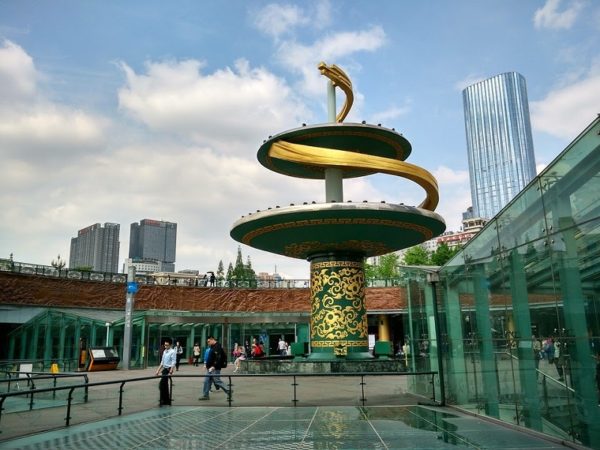 When it comes to moving to China, things like culture shock and language barriers apply to Chengdu as they do to other cities in the Middle Kingdom. However, daily life tends to be more relaxed in western China compared to that east coast hustle. It's also worth mentioning that people are very welcoming and Chengdu locals are known for their friendliness and approachability. 
Pros of Living in Chengdu
The good, the very good, the bad, and the in-between – let's dive into some of the pros and cons of living in Chengdu as an expat.
Some of the Best Food in all of China
Chengdu was named a 'city of gastronomy' by UNESCO in 2010. The eclectic food culture that caters to all budgets makes Chengdu a place worth visiting, especially if you're a foodie.
Pandas
These cuddly-looking bears are never a con. This area in the west of the country is the native home of China's signature animal, and Chengdu works hard to keep these pandas around for generations to come. During your time here, make sure to visit one of the many sanctuaries or breeding centres just outside of the city.
Nature Escapes
Living in Chengdu also grants you close access to some of the best natural sights in China. Emei Shan, home to the famous Leshan Buddha, is only a two-hour bus ride away from downtown Chengdu. Jiuzhaigou National Park is arguably one of the most breathtaking natural sights in all of China and is just a few hours drive away.
Parks and Recreation
From the historic People's Park to the bamboo forests in Wangjianglou Park, Chengdu is a great place for taking leisurely strolls and admiring the green streets for a weekend refresh. Sit and lounge in one of the city's sprawling tea houses and read, chat, and relax the day away.
Cheaper Cost of Living
While rent prices are rising across the country, Chengdu is still relatively cheaper compared to Beijing or Shanghai. If you're an expat in China, living in Chengdu is still relatively more affordable, but of course your monthly budget will always depend on your lifestyle.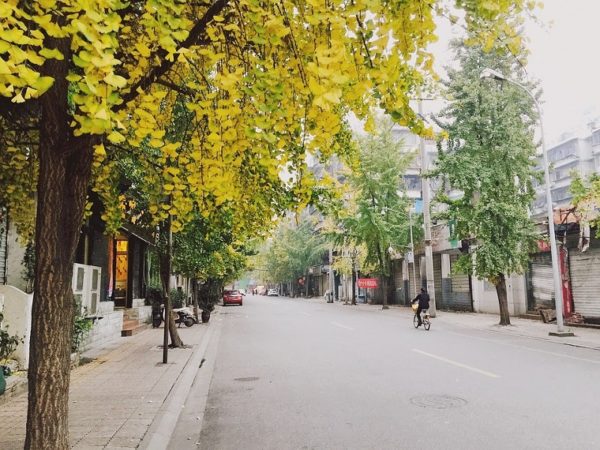 Laid-Back Lifestyle and Dynamic Nightlife
Many expats and locals will tell you that living in Chengdu allows them to enjoy a more well-balanced lifestyle. The tree-lined streets in the middle of the city centre welcome afternoon walks, exercise, or just sitting on a patio enjoying a tea with a friend. Those same streets, after the sun goes down, become bustling hubs of food and drink where you can meet all types and sample local specialties, washed down with either cheap beers or fancy cocktails.
Amazing Teahouses
Even if you think you know tea, you don't know its full potential until you move to Chengdu. A big part of Chengdu's inviting appeal is the tea culture, where afternoons are spent sipping cool glasses of tea by the river. This is part of the China of your dreams.
Good Universities
Chengdu is home to some of the top universities in China. Some of the most notable are Sichuan University and the Chengdu University of Technology.
Cons of Living in Chengdu
Of course, no place is perfect. Here are some less desirable things that expats mention about living in Chengdu.
Less Connected
While you'll be closer to incredible nature and some of the more off-the-beaten-path regions in the country, Chengdu isn't as well connected by train, bus, or plane as its counterparts on the east coast. However, there are direct connections to the cities of Xi'an and Chongqing via the bullet train.
Smaller Expat Community
One positive can also be seen as a negative. Chengdu is nowhere near the international status of Beijing or Shanghai, but things are changing. If you're a new expat in Chengdu, there will be a smaller group of foreigners to meet when you start to get yourself settled. But, this can also mean that you might have an easier time finding your close-knit friend group.
Weather
Chengdu sees its fair share of rain and fog. Typically, there's about 250-300 days of rain and fog throughout the year. Summers are hot, humid, and rainy, while the winters are cool and grey.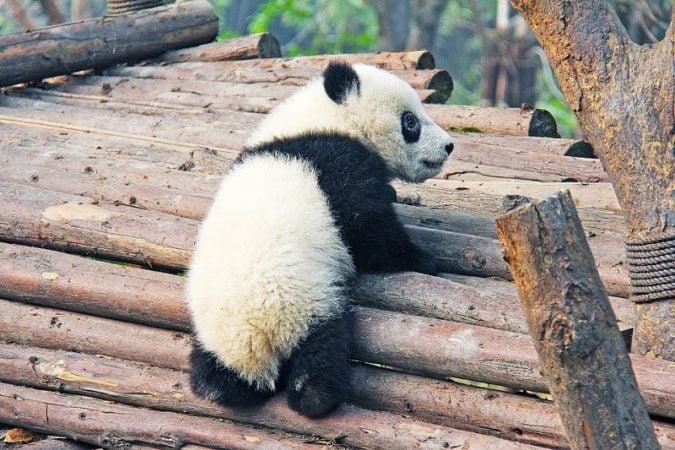 Air Quality
Bad air quality is also another negative to living in Chengdu. The city usually ranks in the top 15 for worst cities in China for air quality, and the AQI typically hovers between 150-300 depending on the time of day and the season. Note that the air quality in Chengdu is much worse in the winter months when factories are burning more coal.
Job Opportunities
Chengdu is making a name for itself as a tech city, but job opportunities for foreigners aren't as prevalent in 2022 as they are in Beijing or Shanghai. While there are fewer job opportunities compared to lots of bigger cities in China, there's still opportunity to find your niche with your employer, especially if you plan to teach English, so things might work out for the best.
Cost of Living in Chengdu
For such a large city, expats continue to enjoy much lower rent prices in Chengdu compared to Shanghai, Beijing, or even Hangzhou. This may change in the future, as Chengdu was just named one of China's new Tier 1 cities in 2020. But for now, if you want a comfortable one or two bedroom apartment in the middle of the city, you can easily find one for less than 1,000 USD per month.
Rent ranges between 2,000-6,000 RMB per month in Chengdu, depending on the size of your apartment and the neighborhood. Just like other cities in China, a three-month security deposit and agency fee usually applies when signing a contract for an apartment.
Other daily essentials like utilities, food, coffee, and transportation are still relatively affordable for expats. Here's an overview of basic living expenses:
Larger Expenses
Here's the approximate amount of typical expenses for an expat in Chengdu.
Typical one-bedroom apartment near city centre: 3,000 RMB/month
Gym membership: 1,500 RMB for a year membership at a standard gym
Personal trainer: 200 RMB/hour
Utilities: 200 RMB per person/month
Phone and internet: 150 RMB/month
Private pre-k education: 3,000 RMB/month
Annual fee at an international school (primary): 100,000 RMB
Daily Miscellaneous Expenses
Single fare trip (4-8 km) on the subway: 3 RMB
Maximum subway fare (over 50 km): 10 RMB
Coffee: 30 RMB at a standard cafe
Dining out: Hot pot meal around 100 RMB/person
Beer in mid-range pub: 40 RMB
Cinema tickets: 40 RMB/person
Factoring in rent and your everyday expenses, here's what the cost of living should look like in Chengdu as an expat:
Frugal budget, single person household (eating out once a week or less, studio apartment just outside the city centre, using mostly public transportation): You can get by on a budget of less than 7,000 RMB per month.
Mid-range budget (1-2 bedroom apartment near the city centre, going out to eat at a foreign restaurant a few times a week, mix of public transportation, ride shares, and taxis): Plan for a budget of less than 10,000 RMB/month per person.
Higher-end budget (3-4 bedroom apartment in a modern apartment compound in the city centre, eat out at mid-range/high-end restaurants frequently, go out for drinks a few times a week in a foreign-friendly district): Budget of around 15,000-20,000 RMB/month.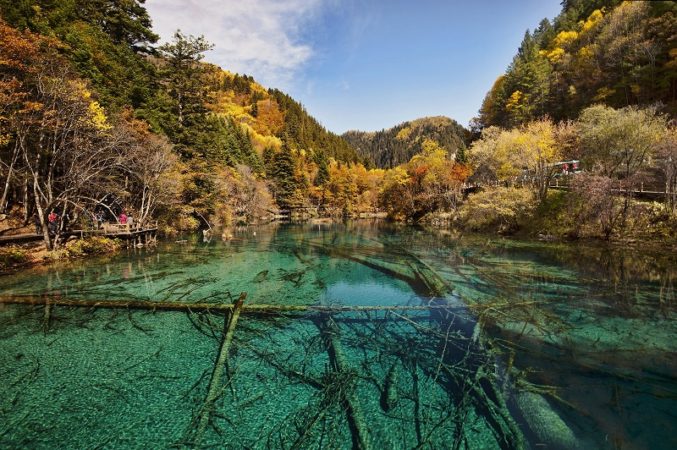 If you're moving to Chengdu as a family with school-aged kids, then you'll have to consider the annual tuition fees to add to your budget. Fees for a standard, private international school range between 90,000-150,000 RMB (sometimes more) per year, so your budget will be significantly higher if you're living in Chengdu with a few children.
Wondering about the cost of living in other Chinese cities? Check out our guides about the cost of living in Beijing and Shanghai for some context.
Types of Visas to Get for Chengdu
Due to the ongoing pandemic, international tourists can't visit China for leisure purposes. This means that applications for tourist visas (L) to enter China are currently on hold.
If you want to relocate to Chengdu in 2022, you'll have to solidify a job before your departure for China. Your Chinese employer can then support you through the visa process and all the details involved in moving to China.
Most expats in Chengdu work as English teachers, either in private schools or public, with the former being much more common. The visa for taking up employment in China is the Z visa, so that's the one you'll need assistance applying for in your home country with your new employer in China. You can check out more of the details here in our expat's guide to getting a Chinese Z work visa.
Where to Live in Chengdu
Most of Chengdu's popular areas to live in for expats are scattered about 10 kilometres southwest of the city centre, namely Tongzilin and Yulin in the Wuhou district. These neighbourhoods are safe and well-connected to the subway and bus lines, making it easy to adjust to life in Chengdu when you first move to the city.
Chengdu is similar to Beijing in that it has a Ring Road system, and the top neighbourhoods linger between the 2nd and 3rd Ring Roads. The heart of the city is Tianfu Square by the 1st Ring Road, where you'll find the central Luomashi neighbourhood in the Qingtian district.
Lots of Chengdu's neighbourhoods and districts are also very walkable, so if you work nearby, you may not have to take the subway or bus everyday.
While the south of Chengdu is on the higher end, the cheapest accommodation can be found in the north. For example, the cost of rent in a major apartment compound in a popular expat district like Yulin or Tongzilin is 14,000 RMB for a 4-bedroom, which is about half or a third of the price compared to Beijing in 2022.
Even a modern 2-bedroom in a large compound near the city centre goes for 6,500 RMB, which is about half of what you'll pay in Shunyi, Beijing's expat suburb far north of the city. A studio apartment in the northern districts of Chengdu can be found for anywhere between 1,000 and 3,000 RMB per month.
Getting Around Chengdu
Chengdu's public transportation system is affordable and fairly simple to navigate but it helps to know some Chinese if you're taking the bus or even a taxi.
If you choose to drive a car in Chengdu, please take your time to learn all the ways driving in China is going to be different from what you are used to. While having a car will bring you more freedom and dun, staf safe and legal and get a Chinese driver's license before you hit the road.
Bus
The new Bus Rapid Transit system loops around Chengdu's Second Ring Road and has a total of 14 fast lines. You'll notice the fast lanes because the bus numbers all start with the letter K. Local fares are pretty cheap at 2 RMB per ride if you pay in cash, and it's less if you pay by your AliPay or WeChat app.
There's even 24 night bus lines which operate between 10 at night and 12:30 am the following day. The longest running bus is number 298, which transports passengers between the North Railway Station and Tianfu Software Park from 10:30 pm – 5:30 am. The cost for these is 3 RMB per ride.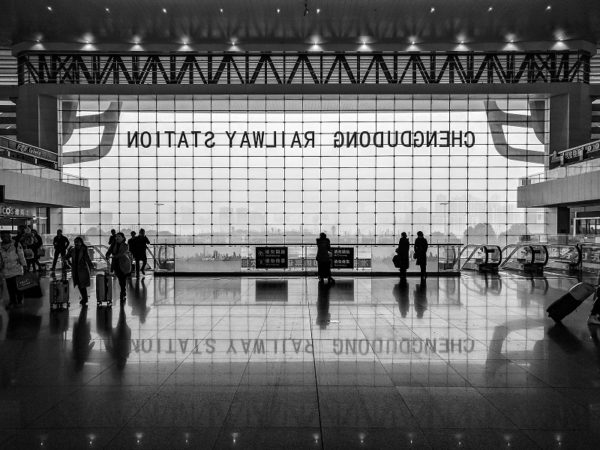 Chengdu's other city buses cost between 1-2 RMB per ride. Make sure to download Baidu Maps to your Chinese phone so you can get the latest timetable.
Subway
Chengdu's subway system is always expanding and has grown to be one of the largest rail networks in China. Lines 1-10 and Lines 17 and 18 are currently in operation, taking passengers to all parts of the city, including the airport. Line 18 links Tianfu International Airport and the South Railway Station to downtown Chengdu. Lines 11-16, 19, 20, 27, and 30 are currently under construction.
The cost of the subway depends on the distance travelled, and fares start at 3 RMB. You can see the map here.
Ride Shares
China's main rideshare app is Didi car. You can download the app and pay through your WeChat or in cash. Passengers can choose between a pool (shared ride), an express or an upgraded premium service which can be reserved in advance.
Shared Bikes
While the companies that operate the bikes may alternate over the years, getting around by shared bike is still a popular option. Chengdu is pretty flat which makes it a bike-friendly city. You'll need your ID to unlock the app on your phone and start using the bikes, so you can get this set up after you've arrived in Chengdu and your WeChat or AliPay is up and running after you open a bank account in China.
Chengdu's Airports
Chengdu has two international airports – the new Tianfu International Airport and Chengdu Shuangliu International Airport. Shuangliu is about 25 kilometers west of downtown Chengdu and much closer to the city.
Tianfu International opened in June of 2021 and is located about 50 kilometres southeast of Chengdu. There's high hopes for this new and modern airport, with plans to serve the growing domestic travel market as well as international tourists once travel opens up again.
Hospitals & Clinics
Things happen and we have to be prepared. You might find yourself giving birth in China, in an accident, or just looking for some cosmetic surgery touch-ups.
Here are some of the major hospitals and clinics that are foreigner-friendly:
Chengdu Angel Women's and Children's Hospital
Sichuan International Medical Centre West China Golden Card Hospital
Chengdu Integrated TCM & Western Medicine Hospital
Gleneagles Hospital (CDZXY)
Global Doctors Chengdu Clinic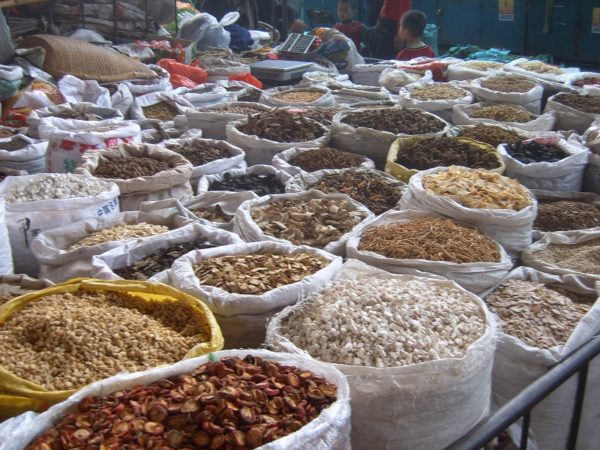 Expats should know that Traditional Chinese Medicine (TCM) is very influential in western China, and it's a big part of Chengdu.
Health insurance should be provided by your employer if you're living and working in China on a legal visa. The level of coverage will vary, and many employers will provide some sort of basic coverage at local hospitals. Because of this, it's advisable to purchase supplementary travel medical insurance for your time in Chengdu.
Food/Dining Out in Chengdu
One of the most appealing things about living in China has to be the great food, and when it comes to food options, you're in for a real treat in Chengdu.
As we mentioned, the city is on UNESCO's list of Creative Cities of Gastronomy. Sichuan cuisine is one of China's main cuisines, and Chengdu is one of the best places in the province to try it all. Some famous foods here include mapo tofu, liang ban ji (cold chicken cooked in chili oil), dan dan mian (noodles seasoned with Sichuan peppercorns), and Chengdu's signature hot pot, chuan chuan xiang. Mouth watering yet?
You can find these famous dishes scattered throughout Chengdu, from mid-range restaurants to street food stalls by People's Park and beyond.
The Chengduese appreciate the finer things in life, and precious time is always taken out of their day to enjoy a spicy meal with good friends. You'll probably have to wait for a table when visiting your favourite hot pot restaurant, but it will definitely be worthwhile.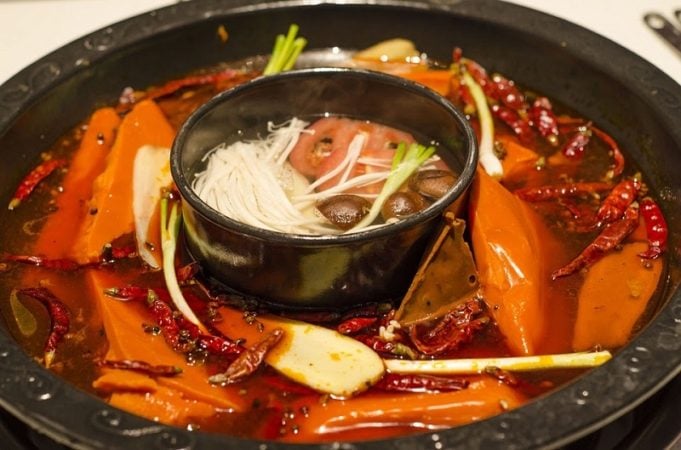 And when you need a little break from Sichuanese delights, know that Chengdu offers plenty of Western food options. There's hip Sunday brunch spots like G's Bistro & Brunch, Burger Brothers, La Social Taqueria, and so many more. American, Japanese, European, and fusion foods abound here in Chengdu. Wash that food down with a pint (or two) at one of the many stylish craft beer bars in Tongzilin and you'll end up wondering why you didn't move to Chengdu earlier.
Chengdu Nightlife
A considerably progressive social scene and an appreciation for underground art are just a couple of reasons why Chengdu is one of the best cities in China when it comes to nightlife.
From funky rooftop cocktail bars to trendy wine bars, Chengdu has a little something for every type of expat. Tucked next to the Jinjiang River just southeast of the city centre is the busy Jiuyanqiao Bar Street, one of the hubs for nightlife in Chengdu. Here you'll find some great live music performances in casual and intimate venues. McElroy's is one of the few Irish pubs in town, and they sometimes host live comedy shows that are popular with Chengdu's expat community.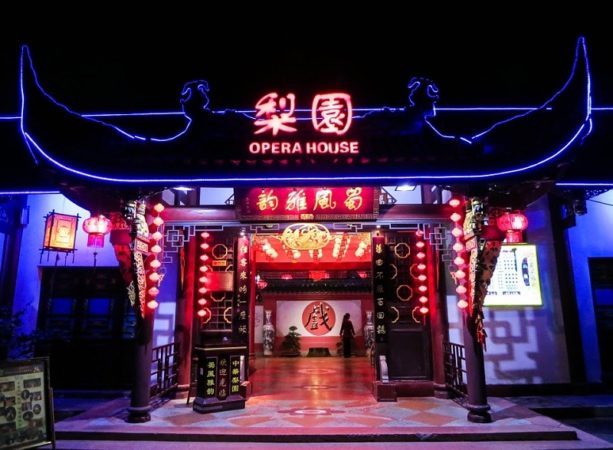 You can find the heart of Chengdu's indie music scene at Little Bar in the Yulin district as well as the newer venue called Little Bar Space, which hosts large gigs on evenings and weekends.
Practical Things to Know About Living in Chengdu
The basic advice applies for all expats in China. WeChat is the best resource for anyone living in China, and expats in Chengdu will find everything from social groups, practical relocation advice, and even dating advice and tools on the app.
We recommend downloading the app when you arrive in Chengdu to connect it to your Chinese mobile phone and join every expat group you can find (which you can always unfollow later).
Check out these guides for more specific advice on expat life in Chengdu:
Much to many expats' delight, Sherpa's Delivery App finally arrived in Chengdu at the end of 2021. This handy service will make life a little easier, where you can get food, gifts, everyday household items and more delivered to your door.
Now, on to You
A move to Chengdu might seem stressful at first, but once you get settled, there are countless ways to fall in love with the city and enjoy your life as an expat. While Chengdu doesn't offer as many options for some things compared to other Tier 1 cities, there's an opportunity to find a close group of friends and create memorable experiences in this unique city.