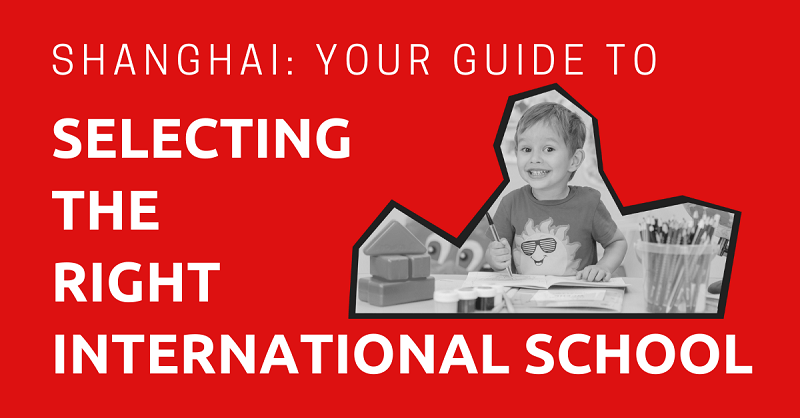 Shanghai has long been the global commercial epicenter of China, and its international schools are a byproduct of that fact. These schools are ranked among top in the world, too.

A great number of these prestigious institutions also happen to rank among the most expensive tuition fees in the world, coinciding with the fact that Shanghai is ranked 6th priciest destination for expats worldwide.

The good news is that Shanghai's schools and the education system in general tends to outrank and outperform other countries around the world (even being number one in PISA math)
Graduating from an international school in Shanghai means your chances of going on to a top-ranking or renowned higher education institution are elevated.
Note this article will focus on international schools in Shanghai for foreign students and non-Chinese passport holders (although some schools make a few exceptions).
This article will take approximately 21 minutes to read. Don't have the time right now? No worries. You can email the ad-free version of the article to yourself and read it later!
Background
Shanghai's students generally outperform those in other countries on a consistent basis. Attending an international school in Shanghai will very likely increase chances of favorable admissions to institutions and later in life in a professional career.

The local education system is just as, if not more, competitive. The insurmountable pressure on students to pass exams and school entrance tests (the "Gaokao") makes expat and Chinese parents alike feel the Chinese education system is too harsh.
Hence the explosion of private, bilingual schools and international departments at public schools.
International School Endless Options
Shanghai has long been well-developed in global schooling, hosting approximately 40 international schools within its metropolis.
With 20 IB (International Baccalaureate), 12 British, and 8 American schools, most of Shanghai's international schools use English as their primary language and many include Chinese with some other foreign language schools available as well like French, German, and Japanese.

While this plethora of schooling options within Shanghai's 6,340 km2 radius is ideal, you'll need to carefully research each's admission criteria, nationality requirements, and of course – tuition fees.
Curriculum
Perhaps you are more familiar with your home country's school curriculum than others. For example, if you're relocating from the USA, you're probably aware of Common Core and AP (Advance Placement), but don't know much about International Baccalaureate or The British System.
Let's dive into each kind of curriculum set for your background understanding.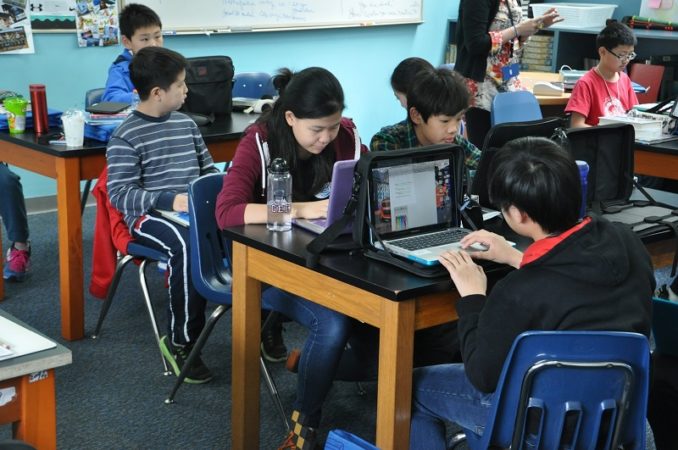 Outside of bilingual schools which teach in Mandarin and English, the international schools are mostly IB (International Baccalaureate) schools, followed by British and then American curriculums.
Common Core – The American System
Unlike the International Baccalaureate, the US national school curriculum is not standardized and can vary from state to state.
How does this affect American schools abroad? Generally speaking, American schools adopt a particular state's curriculum, whether it be from Vermont, Texas, or california. The choice usually depends on what organization established, or is running, the school. Some schools run several different states' programs depending on the subject. 
Just like the US, American schools abroad do generally follow the Common Core State Standards which provide a framework for teaching Math, Sciences, English, History, Languages, Arts, and Geography.
Moving up to the American high school level is the option for Advanced Placement (AP), which American international schools offer for students wanting dual college credit.
AP is "a cooperative educational endeavor created by the American College Board which offers college-level curricula and examinations to high school students."

AP courses enable students to skip the need for taking the course again in university or college while simultaneously satisfying high school credits. Advanced Placement is generally applicable no matter what state or country the institution resides in, and 3 to 5 AP classes should be enough to garner a competitive college application.

Note that Advanced Placement is only reserved for students who achieve high exam scores, and the need to check an AP credit's validity as it could change from state to state when applying to colleges.
Also note that the SAT cannot be taken in Mainland China and will require a trip to Hong Kong.
American system through the ages:
Ages 5-18: Kindergarten through 12th grade, a general US curriculum which can be interpreted through the states involved.
Ages 16-18: Option for Advanced Placement; Most students have their first chance to take an AP class in their junior year. The AP curriculum is administered by The College Board.
How to Ensure Authenticity of the US High School Diploma
You will need to ensure the international school's high school diplomas are accredited by an appointed association.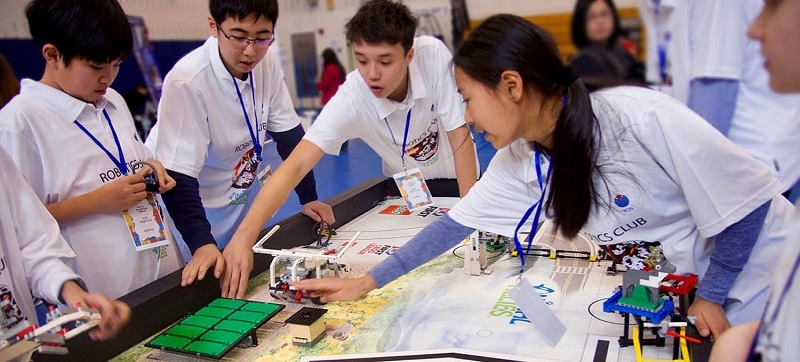 The United States Department of Education doesn't run its own governmental accreditation agencies, but they do endorse several associations that have the official authority to grant accreditation of high school diplomas, of which are accepted by a majority of US colleges and universities.
Check to see if your American program or American international school's diploma is accredited through one of these associations (note the suffix CS or SC):
And for added assurance, if the school is also a member of one of these organizations:
English National Curriculum – The British System
Over recent years, there has been a gold rush of British Schools opening in China (16 alone in 2020) even far outnumbering American and other schools combined.
British education has long held a reputation as the most preferred system for international schools all over the world. At a 45 percent adoption rate, almost half of all international schools worldwide that utilize English as their teaching language offer a British-based curriculum, according to ISC Research.
What's the difference between the American and British systems? The UK is more focused on summative grades, i.e. tests, final exams and assessments.
Whereas the American system is more formative; a culmination of the aforementioned exams, but also factoring in daily assignments, projects, and other non-test related grades to the final GPA (grade point average).
How to Check if a British School is Legitimate
Ensure your school is recognized by the UK Department for Education (DfE), or British School Overseas (BSO). In addition, it would be beneficial to see if they are a member of COBIS, The Council of British Schools. "the largest educational association for international British schools overseas".
British schools through the ages:
Ages 3 – 11: Fieldwork Education is based on the English National Curriculum and Is the most widely used curriculum for British Schools abroad.
is a set of exams taken in the United Kingdom and other British territories and offers International AS and A Levels, for 16 to 18 year olds. Students who complete 5 GCSEs at grades A* to C can proceed to A Level (Advanced Level).
Ages 16 & above: A Levels (Advanced Level qualifications) are subject based exams that are usually studied over a 2 year duration. Their qualifications are recognized for admission applications by UK higher education institutions and others worldwide.
International Baccuralate (IB)
As stated on their official website, The IB system "offers a continuum of international education through four challenging, high quality educational programmes to students aged 3 to 19."
IB has a reputation of being the most challenging and comprehensive curriculum of all. Founded in Switzerland in 1968, it was originally developed exclusively with expatriate students in mind, for affluent and English-speaking families living outside of their home country.
IB is highly regarded for its global and holistic education values, is the most common curriculum in the world for international schools, and it also happens to generally be the most expensive because IB schools have invested the most in teacher training and learning resources.

For a broad overview of available subjects, especially when trying out different fields of study for college prep, IB might be the best option.
However, if looking to specialize in a particular field, it might not be. Be prepared for a more rigorous, heavier than average workload on your child. Hopefully, all their hard work will manifest into greater options and flexibility for the future.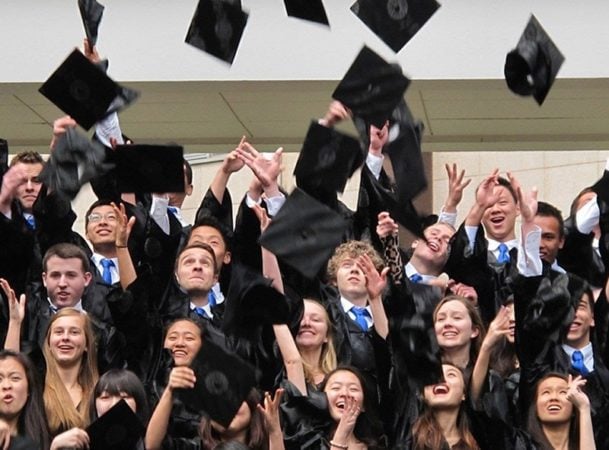 Another advantage is the IB Creativity, Action, Service (CAS) for personal development, which is ideal for extracurricular activities. These CAS tasks are mandatory to the Diploma Programme and involve some form of volunteering or community service.
IB through the ages:
Kindergarten to Fifth Grade – Primary Years Programme (PYP)
Grade 6 to 10 – Middle Years Programme (MYP)
Grades 11 & 12 – Diploma Programme (DP)
Fees
Premium, world-class schooling in Shanghai comes with a hefty price tag. Not only is Shanghai one of the most expensive cities in Asia, China itself is actually the most expensive country in the world when it comes to international education in general. Shanghai is the third costliest city in the world for private school fees.
Tuition Fees
Being home to 40 different international schools comes with a wide disparity of tuition costs. According to the International Schools Database's box-and-whisker graph, the absolute lowest price of annual tuition in Shanghai starts at $5,163 US dollars.
For overall tuition averages, $21,261 is the average minimum, the median is $30,146 and the maximum is $40,315. The most expensive school in Shanghai is currently reported at $43,191 per annum.
Application Fees
Be prepared to pay a non-refundable application for which could range anywhere from $300-500 USD. Scholarships are occasionally available but usually for current students. And of course, accompanying uniforms, materials, and other items which the school may or may not provide.
Relocation Packages
But Shanghai is also the largest hub for relocation on behalf of multinational companies, hence many such employers cover half if not nearly all of your dependents' annual tuition.
If you're not a corporate expat with a generous relocation package, teaching or working in one of these international schools usually guarantees at least one or two of your dependents can attend the school at a similar coverage rate.
Daily Expenses
One small thing you should know: China is almost virtually cashless, meaning you will need to pay through your phone for just about everywhere you go.
While your child might not need to worry about this (unless they're older) be prepared for the switchover in paying for things without actual paper or credit cards. Check out our guide on digital payments in China.
Wellbeing
Quality of School Life and Environment in Shanghai
Parents will worry about how their child will adapt to life in China but in our experience, students in international schools in Shanghai lead a well-rounded, safe, happy, and privileged school life which will cater to all of their needs.
Safetiness & Bullying
Shanghai is relatively safe with a low crime rate and international students are safely guarded on campus. That being said, your older children should avoid the nightclub areas and youngsters should still not be out without an adult.
Do check what the school's policy is for handling harassment and bullying, and how students are educated and made aware how to deal with and report such cases.
After-School Fun
Aside from hosting Shanghai Disneyland, the city is also a superb destination for family fun. There is usually no shortage of child-friendly activities and family events happening every weekend.
With such a variety of nationalities in Shanghai, your family can experience a plethora of global multicultural festivities usually hosted by international schools. 
Air Quality
Shanghai's pollution rates decreased dramatically over the past decade but you should ask the school about their air pollution policies – are students kept inside during high API (air particle index) days?
And if so, is there an air purification system inside the school, and what do children do for sports and outdoor activities on such days. Some sporting facilities are encapsulated in clear domes just for this purpose.
Location & Transportation
A majority of Shanghai's international schools are located west of downtown, around the Chianging district. This area of Shanghai is known to be residential and away from the bustling city center. But that's not the case with all of Shanghai's schools.
You will need to research your prospective school in relation to where you may be living. Traveling across town can be long and tedious, fortunately most of Shanghai's international schools offer shuttle buses for children. 
Health & Wellbeing
International schools adhere to stringent protocols to ensure the wellbeing of every student, thus there's little to worry about once they've entered school.
They will have staff doctors or nurses and procedures in place for emergencies. Do check if your school has a psychological counselor onsite rather than just a school counselor for academic purposes.
Special Needs
Ask your school about their systems for identifying and managing students with special needs.
Small schools might be able to provide more individual attention to some students but the established, grand institutions might have better resources and be more familiar with helping such students with ADHD, autism, or other learning needs.
Meals
Schools typically outsource their meal preparation to specialized companies and will be able to show you detailed menus. Rest assured your child will enjoy lunches (and sometimes breakfast and snacks) made with nutritious, and possibly gourmet-level foods.
Students are usually always allowed to take their own food if you would rather prepare it yourself. 
Homework
China's notoriety for heavy homework loads is one reason for the recent Double-Reduction policies. Although that policy pertains to state-run and Chinese national-based schools, do check what your school's policies are for timing constrictions on after school assignments.
Extracurricular and Personal Development
World-class campuses usually come complete with top-notch sporting facilities, pools, science and technology labs, and teaching instruction and administration. Hence, a cornucopia of extracurricular activities, sports, academic competitions, clubs, field trips, and other personal enrichment programs are abundant.
Local Culture Experiences in School
Expect an educational experience on par with any other international school in any global city. Your child will share the classroom with a multitude of students of other nationalities including Chinese kids. They will benefit greatly from this multicultural environment.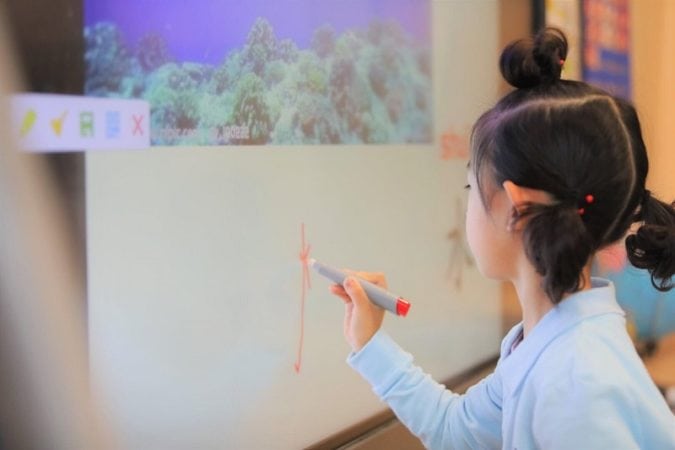 The general rule of law states that Chinese citizens are not allowed to attend international schools, although there are a few schools which are granted exceptions. Privileged or wealthy Chinese families sometimes give up their nationality in exchange for a foreign passport in the form of immigration investments, in part to allow their children to attend these schools.
Your child will definitely have the opportunity to learn about Chinese culture, language, and make local friends.
International vs Bilingual Schools
At around 200 institutions, Shanghai holds the highest number of private schools in China. In just 10 years, from 2010 – 2020, the number of international schools in China more than doubled, from 351 to 821. Not all international schools are what they claim and it's important to know the difference.
Hundreds of private (often branded as "bilingual") schools incorporate the term 'international' into their titles.
Bilingual schools are private, locally owned, and usually teach subjects in both English and Mandarin, but they are not exactly 'international' and some do not allow non-Chinese students to enroll. They are open to Chinese national id (hukou) holders.
Bilingual schools usually will not have an accredited curriculum. However they are still worth looking into if you want your child to experience the Chinese education system firsthand.
Guide to Selected Schools
With around 40 international schools to choose from, hopefully this guide has helped narrow your search by understanding the curriculums and types of schools. It's obvious that British international schools dominate the playing fields of Shanghai, but there are alternatives.
Below we'll break down key differentiators amongst some of the most well-known international schools of Shanghai:
For schools that offer solely IB; Western International School of Shanghai  distinguishes itself as the only full continuum IB World School in Mainland China offering all four of the programmes of IB.
Shanghai Community International School utilizes three IB programs, adapting the PYP (Primary Years Program) to suit nursery grades and supporting students all the way through to 12th grade.
For a mix of IB and British curriculum, the illustrious Wellington College International Shanghai is one of the highest achieving international schools in China. YK Pao School is a bilingual school erected in the memory of famed shipping magnate, Sir Yue-Kong Pao which also combines the two curricula.
Love is what Shanghai Singapore International School states their foundation was built upon. While The British International School Shanghai, Puxi boasts higher than global average IB diploma scores. For a more unique blend of British and Chinese cultures, Yew Chung International School of Shanghai is the way to go.

The Nord Anglia International School Shanghai, Pudong has collaboration programs with MIT (Massachusetts Institute of Technology) and the acclaimed arts institution Juilliard. Just outside of Shanghai is Eton House International School Suzhou if you're between the two cities.
And last, the prestigious and pricy Dulwich College hosts 3 beautiful campuses in and around Shanghai, at Puxi, Suzhou, and Pudong
For expats at or near Shanghai's neighour city of Suzhou, there is Singapore International School. Which uses the IB curriculum but also, interestingly, provides a bilingual German experience for grades 1 through 4.
For those seeking a British-only curriculum, Adcote School Shanghai offers personalized education and lectures with Oxford and Cambridge graduate tutors.
Long, historically acclaimed schools like Harrow International School Shanghai, which is "connected to 450 years of global excellence via the unique Harrow genetics which bind our schools together;" and the Lucton School Shanghai, which has a history dating back to 1708 in England.
Another good British school, Britannica International School Shanghai has the distinction of being Shanghai's only international school "with both COBIS and CIS accreditation".
For North American curriculum oriented schools, Concordia International School Shanghai and Shanghai Livingston American School are your best options; as well as one of the very few Canadian-oriented schools in China, the Canadian International School Kunshan.
For a dual American-Chinese experience, Shanghai Huaer Collegiate School Kunshan (Bilingual School) and Soong Ching Ling School provide the best of both worlds. 
Adn for an American education coupled with IB as an option; the original Shanghai American School offers a fine mix of both, although it distinguishes itself as "The American Educator of Shanghai".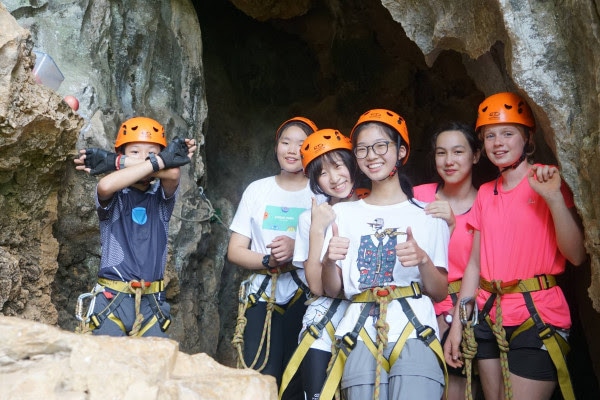 To experience a favorable blend of Chinese and American education, Shanghai Hong Qiao International School and Shanghai High School, International Division are viable options. While Fudan International School promises all students will be fluent in Mandarin and in English upon graduating.
For more Chinese-Western friendly institutions Shanghai United International School is co-run by a foreign and a Chinese principal, and ULink College of Shanghai emphasizes true cooperation between its local and international staff.
Lastly, for the few schools outside of the English-language taught environments are The German School Shanghai, Shanghai French School, and the Shanghai Japanese School.
More Help Selecting a School in Shanghai
Deciding on a school can be a monumental challenge. Factor in the wide-ranging tuition rates, compounded by the dozens of information materials that you will need to thoroughly review, Shanghai's international schools are an inevitable challenge if you don't have one or a few lined up in your sights already.
For many parents, most international schools' stated values, goals and mission statements might be hard to discern in unique advantages and differences.

Fortunately, several digital tools and media channels exist to help aid this shortlisting process.
Sure, you could turn to the omniscient Google but here are some recommendations to help save you time and diligence, since a lot of key information is expertly curated for your convenience.
Although this article could use a slight update, That's Mags, one of China's longest standing media serving expats in China, released their version of the "Ultimate Guide to International Schools in Shanghai in 2020". Which is great for an all-around concise look at these schools.
One of the most comprehensive and up-to-date search tools out there is the platform, International Schools Database. There you can ultra customize your search preferences, from curriculum(s) to tution in currencies, and more.

Of course, if you're in Shanghai, it's recommended you visit your selected international schools in person to get the finest impression.
Now Onto You
Shanghai is a global financial hub and thus its international schools are of the highest caliber.
In turn, this means premium schooling and premium prices. But rest assured your child will be getting an international education experience that is arguably among the best the world has to offer.