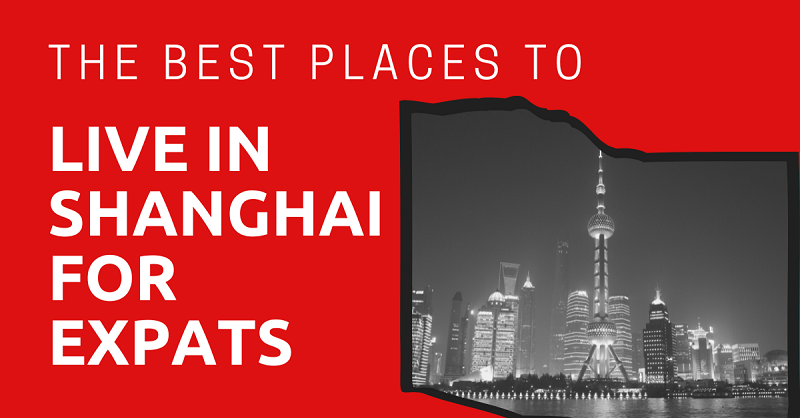 Shanghai is a fascinating city with lots of extraordinary things to do, see, and eat! Many people dream of calling the Pearl of the Orient their home.
The economically prosperous and culturally relevant city in eastern China is made up of unique neighborhoods and districts that each offer something unique to residents. Expats choose the best place to live based on location, budget, attractions, entertainment, local culture, how family-friendly or expat-friendly it is, and so much more.
It may seem overwhelming to find a place in a city of 25 million that you can call home so we break down some of the best neighborhoods in Shanghai to live as an expat.
This article will take approximately 14 minutes to read. Don't have the time right now? No worries. You can email the ad-free version of the article to yourself and read it later!
Shanghai on a Map
Shanghai is one of the largest cities in the world as well as one of the most populous, with about 25 million residents in the metropolitan area. Shanghai is its own administrative region, bordering Zhejiang and Jiangsu province to the west. The city is made up of the Pudong and Puxi areas which are separated by the Huangpu River, with Pudong to the west and Puxi to the east.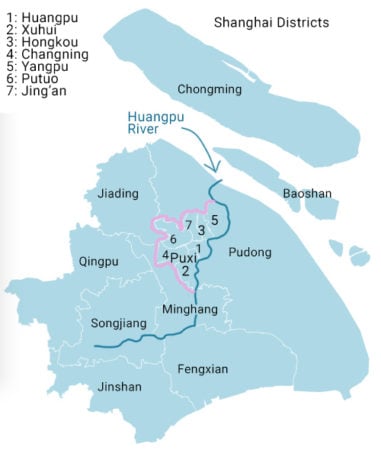 Shanghai has always been a bustling city, filled with culture and lots to see and do. It's often referred to as the financial and commercial centre of China and new areas of the city have transformed to being some of the most significant financial areas in the world. Whether you want to be in the heart of the money-making districts or live in a culturally historical area of Shanghai, there are plenty of choices as an expat.
Shanghai Districts
Officially, Shanghai is divided into 16 districts. Many expats stick to the Puxi side of Shanghai, and this area – referred to as downtown – consists of 7 small districts, including:
Xuhui
Jing'an
Huangpu
Changning
Putuo
Hongkou
Yangpu

Some of these districts are much more popular with expats than others. For instance, the districts of Huangpu and Xuhui are filled with lots of great Shanghai apartments to rent, but there's not much housing to be found in a district like Hongkou.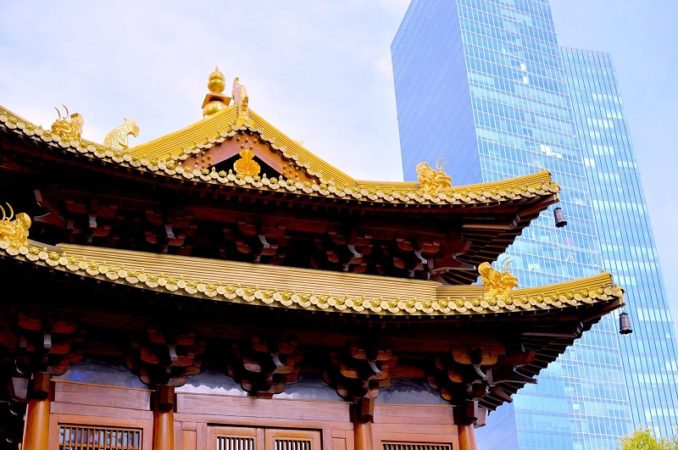 There are also suburban areas in Puxi and Pudong that are filled with lots of expats and expat families, and we'll break it down for you below by highlighting the main districts in both areas of the city, which include the most popular neighborhoods for Shanghai expats.
Very few expats live in the large surrounding suburbs of Baoshan, Jiading, Jinshan, Songjiang, Qingpu, Fengxian, or Chongming. These more local areas of Shanghai are still quite heavily populated, there is just not much going on out there in the way of restaurants, nightlife, or international schools. There are definitely people who live there and commute downtown and it is great if you are on a budget and find a home near a Shanghai Metro station.
Best Places to Live for Expats
Most expats in Shanghai are still sticking to the Puxi side of the city. With a total of 7 districts that make up the city centre of Shanghai in Puxi, there's lots for expats to experience. Here are the best places to live in Shanghai on this side of town:
Xuhui District
Xuhui is home to the famous French Concession neighborhood of Shanghai. Here you'll find a mix of middle to upper income level locals and expats who move to Xuhui to be near some of the city's trendiest restaurants, boutiques, and bars. If you have a higher monthly budget and are looking for something more luxurious and local at the same time, Shanghai's southwestern district of Xuhui might just be for you.
Even though the total population of Shanghai's Xuhui District is just under 1 million, it's still one of the least dense districts in the city. Another bonus is that Xuhui is pretty much walkable (or, take your bike or scooter) due to all of the narrow, tree-lined streets that remain from the former French Concession days. Xuhui is one of the more affluent neighborhoods in Shanghai and the cost of living tends to be higher.
But, if you're looking to settle in a large apartment complex, don't expect too many options here in Xuhui. The housing consists more of remodeled old lane houses. You can find one bedroom apartments in the heart of the district that are currently going for 6,000-8,000 RMB, and you can snag a two-bedroom for around 15,000 RMB/month.
Xuhui District is typically the top choice for diplomats and other officials when relocating to Shanghai. Some of the best hospitals in Shanghai and the top dental clinics can be found in this district as well.
Pros
Walkable
Picturesque
International scene
Easy to bike around
Cons
Expensive
Less variety when it comes to accommodation
Jing'an District
Move to Jing'an and you'll be in the heart of the action in Shanghai. Centrally located in the middle of Puxi, this district takes its name after the famous Jing'an Temple on West Nanjing Road. This district is also home to other popular attractions like Jing'an Park, Chairman Mao's former residence, and the Shanghai Natural History Museum.
Jing'an is a great choice for expats in Shanghai that are looking for a more international scene, as you will be spoiled with choices here when it comes to food, shopping, and entertainment. It is also one of the best areas for expats if you're single and want to mingle. Some of the city's top nightclubs and trendiest cafes will only be a short walk away, so check out Jing'an if you're looking for something more central.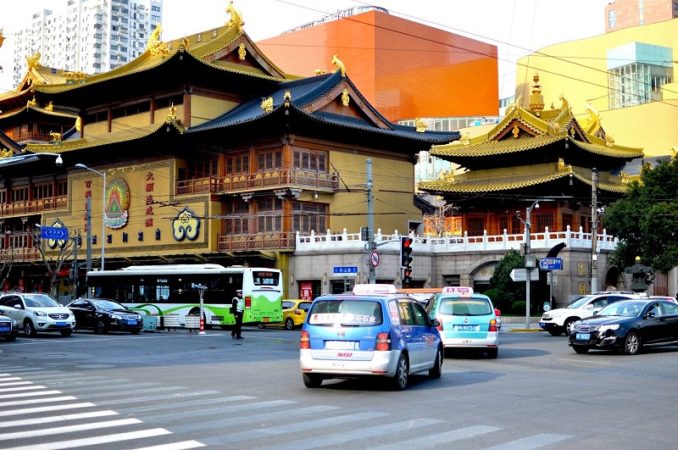 While the real estate in Jing'an is booming, you might still be able to find some relatively affordable accommodation in Jing'an. The average one-bedroom apartment is currently priced around 6,000 RMB.
Pros
Central
Lots of nightlife
Affordable
Cons
Busy
Not a lot of Chinese/local Shanghai culture
Changning District
Shanghai's Changning District is just west of Jing'an and is the closest district to Hongqiao International Airport. This is a good place to live in Shanghai if you're looking for something more residential, and as a result this district attracts more expat families from around the world.
Changning is home to lots of the city's well-known international schools for students pre-k to grade 12, including the Shanghai Community International School. There's also lots of family-friendly attractions to choose from here as well, like the large Zhongshan Park, the Shanghai Zoo, and New Town Central Park. Most expats stick to the neighborhood of Gubei, where you'll find most of the international school campuses.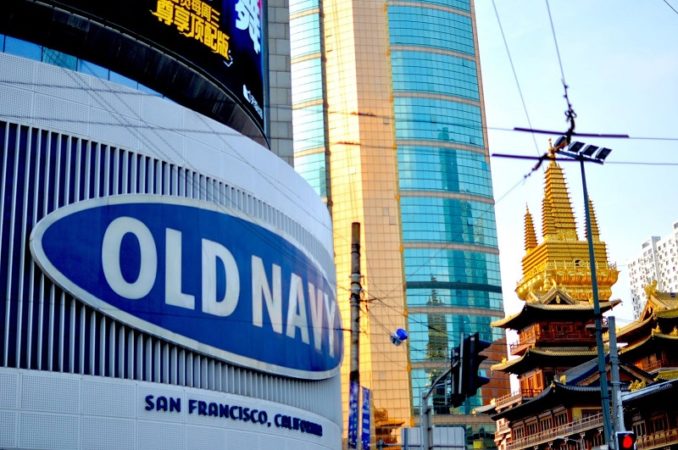 Because Changning is such an expat area, housing prices tend to be a little higher. The average two-bedroom in a modern apartment compound is currently priced at around 13,000 RMB, and it can be hard to find a decent one-bedroom for less than 7,000 RMB.
Pros
Family friendly
International schools
Well-connected by public transportation
Cons
Airport noise
Less central
Huangpu District
Nanjing Road, The Bund, Shanghai Museum, People's Square, and so much more, you can't get more central and more established than in Huangpu. This district is the busiest in all of Puxi, and many say that it's the heart of the city.
What's known as Huangpu District today is actually the result of three different districts that were merged, including the former Luwan District, Nanshi, and Huangpu. Apart from the historic Art Deco architecture and shopping galore, Huangpu is also one of the most densely populated urban areas on the planet!
But despite its central location, more expats nowadays are choosing to visit Huangpu rather than live here, as there's little room for new housing developments. This district is more ideal if you're living in Shanghai single or as a couple.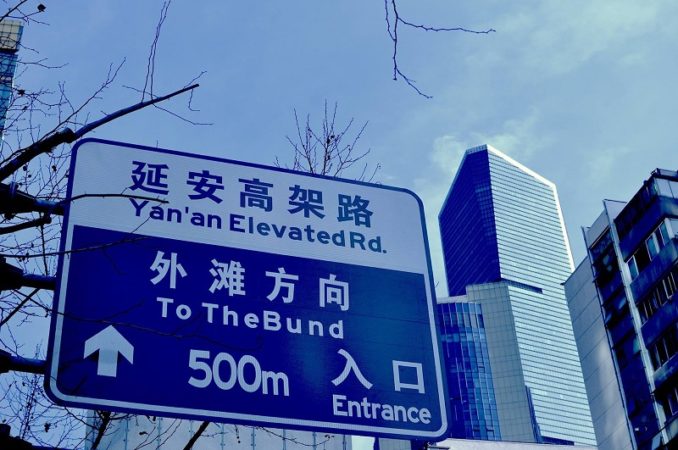 There's still plenty of modern apartments to choose from in Huangpu, with one-bedrooms averaging around 8,000-12,000 RMB. If you live here, you might choose remodeled lane houses or historic buildings. It is also a great area to rent a serviced apartment in Shanghai with some very luxe options around.
Pros
Central location
Lots to see and do
Cons
Densely populated
Expensive
Minhang District
Get a little outside of the hustle and bustle and head south to the suburb of Minhang, one of Shanghai's more residential and upscale neighborhoods.
This district is one of the top choices for expat families with children, as many of Shanghai's international schools can be found here in Minhang. When it comes to housing, you can choose between stylish villas and mid to high-range apartment complexes.
The Huangpu River actually runs through this district, and part of Minhang is on the Pudong side of Shanghai. Most expats stick to the Puxi side where you'll find attractions like the Qibao Old Town. There's also some affordable student housing in Minhang because Jiao Tong University and East China Normal University campuses are nearby.
Pros
International schools
Family-friendly
More relaxed way of life
Cons
Outside downtown core
Not many cultural attractions
Shanghai's Pudong Suburbs
East of the Huangpu River is the large urban area of Pudong, or what's more specifically known as the Pudong New Area. This part of Shanghai has been heavily developed over the last few decades, with new buildings being added to the skyline (what seems like) every week.
The latest attractions here include Shanghai Disney, Century Park, and the World Expo Center, among many others. If you're looking to settle in Pudong, here are the best suburbs to live in for expats. These sub-districts are known as localities.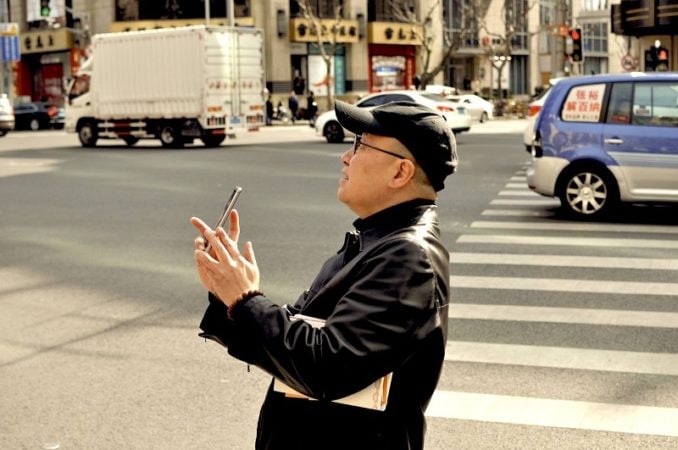 Lujiazui Suburb
This swanky area is the heart of Shanghai's new commercial and financial centre. The Shanghai Stock Exchange, the World Financial Center building, and the Jin Mao Tower are all here for the residents to bask in their glory.
Luijazui is considered downtown Pudong, so this is where you want to be if you want to be part of the action in east Shanghai. There's more of an emphasis on high-end luxury brands in this suburb, so the cost of living will be higher in this area of Pudong.
If you're looking for some of the most expensive and glamorous apartments in the city, you'll find them here in Lujiazui. Expect anything from a three-bedroom to six-bedroom apartment or townhouse between 20,000-60,000 RMB.
Pros
Centrally-located
High-end, modern apartments
Nightlife
Cons
Not as family-friendly as other areas
Lack of traditional Chinese culture
Pricey
Jinqiao Town
Go further into Pudong and you'll get to Jinqiao, a popular neighborhood in Shanghai for expats. This area has transformed over the past decade and now there's what seems like endless choices when it comes to villa compounds, modern serviced apartments and renowned Shanghai international schools.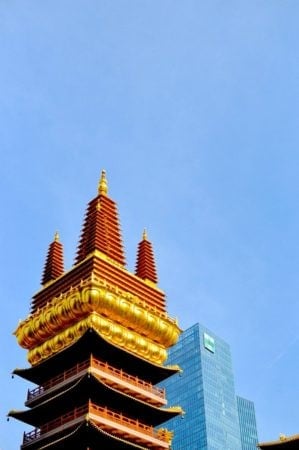 While you won't find much when it comes to cultural attractions in this area of Pudong, there's plenty of shopping centres and green spaces to enjoy with the family on weekends. Jinqiao is also the location of NYU Shanghai campus, so you'll find expats of all ages here in Jinqiao.
Due to Jinqiao's high expat population, this neighborhood feels more like a typical American suburb than an urban Chinese area. The cost of a villa averages around 30,000 RMB/month and a one-bedroom costs approximately 10,000 RMB.
Pros
Family-friendly
Lots of international schools
Comfortable living
Cons
No Chinese culture
Expensive
Now, on to You
Whether you're on the east or the west side of the Huangpu River, Shanghai neighborhoods each offer something unique for expats. And wherever you end up in the city, living in Shanghai will give you easy access to some of the top attractions in China where you can explore for days and try some of the country's best food.
When it comes to choosing the right place to live for you, we recommend staying in a hotel or serviced apartment for a few weeks while you look for a suitable apartment or house. And if you want to explore the outer boroughs, consider renting a car and get to know your new city a little better. You want to be comfortable wherever you relocate to, and a neighborhood you vibe with is one of the most important parts of an adventurous expat life.