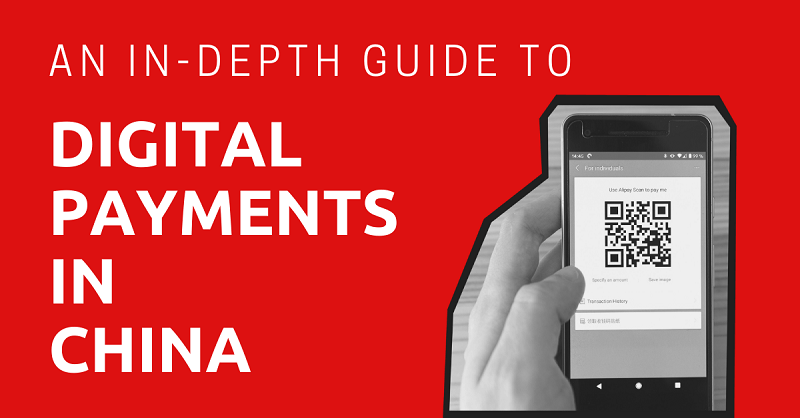 When the time comes to pay the bill in China, you'll notice that not many people get a credit card out. For a long time cash was king, but the spread of smartphones meant that China has mostly skipped the plastic phase and went straight to digital payments.
You can still use a debit or credit card in many shops and restaurants, and few will turn down cash, but if you want to avoid holding up the line in the 7-11, and to look cool like the locals, then you will need to be able to scan and go.
In this guide you will learn about the different platforms available for digital payments in China as well as how to get them on your smartphone when you make the big move. While going cashless might seem extreme at first, you will quickly love leaving the house without your wallet after you adapt to life in The People's Republic!
This article will take approximately 16 minutes to read. Don't have the time right now? No worries. You can email the ad-free version of the article to yourself and read it later!
How Cashless is China Really?
A 2019 study found that only 9 percent of US consumers had signed up for Apple Pay, while in China 84% used WeChat Pay and 81% Alipay.
Some businesses in China are even taking the bold step to go completely cash free. The scandal afflicted coffee chain Luckin, for example, is 100% digital, and has more than 4,500 stores, overtaking Starbucks in China in under 4 years.
Once you've got digital payments set up, you'll find it quick, easy, and accepted everywhere. Even street food vendors will have two laminated QR codes stuck on the side of their cart, one for Alipay, one for WeChat.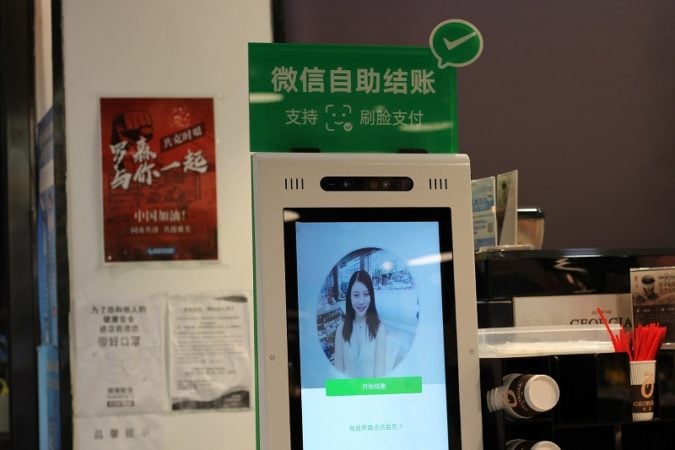 Digital payments also open up a world of convenience online, allowing you to book anything from train tickets to cinema seats. You can even send hongbao to your friends.
In the future, you may have no choice but to go digital. Beijing has announced its intention to replace cash with a new national cryptocurrency. The country which invented paper money looks likely to be the first to move beyond it.
What About Security?
One major difference between cash and digital payment is that cash is anonymous, whereas digital payment leaves a record.
In 2018 Alipay was embroiled in controversy when it was discovered that by simply swiping up to view your payments, you were giving them permission to share your spending history with partners. The clause allowing this was buried in the small print of the user agreement.
Alipay was forced to change their practices, and China has been tightening its data protection laws. It now has some of the strictest regulations in the world.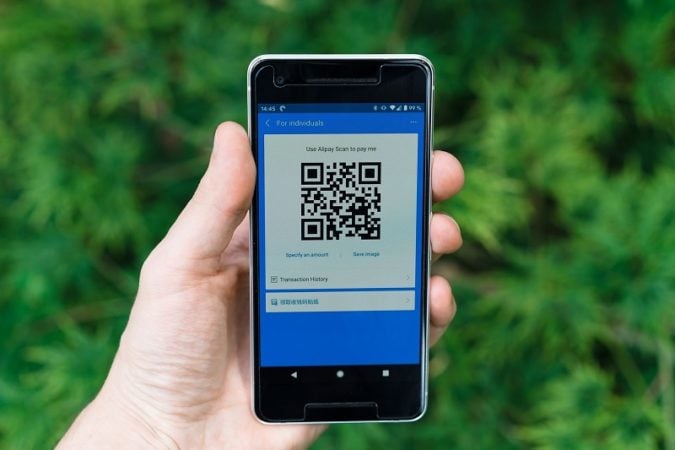 The CEO of Baidu was widely criticized after claiming that Chinese people are "less sensitive" about privacy, but the truth is that most people don't much care if their buying habits are kept on record somewhere. Over 50 percent of American consumers participate in "loyalty programs", trading their data for discounts.
Overall, there is little cause for concern. Fraud is rare, particularly compared to the widespread problem of counterfeit cash. You need to be alert to common scams such as fake QR codes, but with a little common sense, Chinese systems are as secure as those anywhere else.
The Platforms
Alipay
Alipay was China's first digital payment platform, established in 2004. Originally it was part of e-commerce giant Alibaba, but in 2010 it was split off into a separate company, Ant Financial Group. As of May 2021 Alipay has 676 million monthly users—more than half of the Chinese population.
WeChat Pay
WeChat Pay developed from China's ubiquitous social media app, and was originally known as WeChat Wallet. Since virtually everyone in China already uses WeChat, the payment service expanded quickly, and is now second only to Alipay, with nearly 40 percent of the market.
Apple Pay
Apple Pay, the biggest payment platform in the US, is struggling to gain a foothold in the Chinese market. iPhones are still a status symbol, but their popularity has declined due to a patriotic preference for Chinese manufacturers such as Huawei and Xiaomi.
You can only use Apple Pay linked to a foreign card in Hong Kong, Macau, and Taiwan; on the mainland, you'll need to link it to a local account.
Duoduo Pay
Duoduo Pay is a new platform, launched in 2020. It is initially aimed at users of Pinduoduo, the scrappy newcomer taking on e-commerce giant Taobao. Pinduoduo has muscled its way into a crowded marketplace with innovative discounting methods and a funky, youthful image, and their payment platform is likely to show similar rapid growth.
Other Tech Providers
They are also setting up their own payment systems. Food delivery giant Meituan, e-supermarket JD, and Didi Chuxing, China's equivalent of Uber, are all trying to woo users away from WeChat and Alipay.
Their motivation is to reduce their costs, rather than make your life easier; in 2019, Pinduoduo paid half a billion yuan to WeChat's parent company for payment processing. This does mean that they offer incentives to users who sign up for their systems.
Which Should I Use?
Alipay was originally developed for e-commerce, and is a dedicated financial system. If you're going to be doing a lot of online buying and/or selling, or to accept or make business payments, then it's the better choice.
WeChat Pay is an "app within an app", a feature in China's most popular social media platform. Its strength is its convenience and integration with other vendors. You will almost certainly be downloading WeChat anyway; life in China is almost impossible without it.
Apple Pay has more or less given up the unequal struggle against its Chinese rivals. With Alipay now accepted even in Apple's high street stores, there's little point in having this platform unless you're using a foreign card in one of the territories where it's permitted.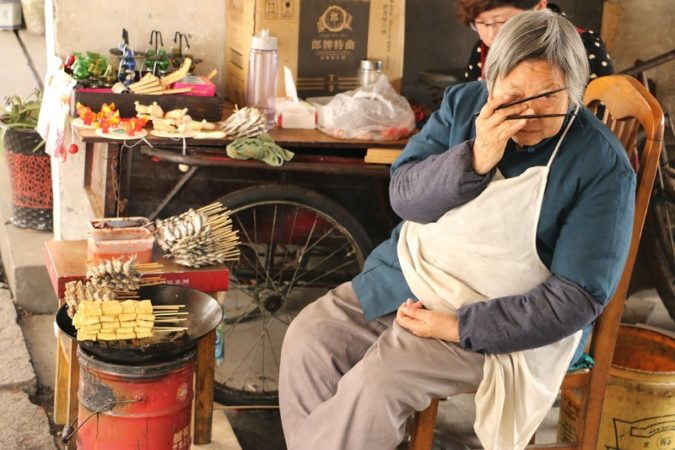 At the time of writing Duoduo Pay is also unnecessary, unless you love shopping on Pinduoduo. If you do, then there are likely to be bargains and incentives on offer. You can of course also use either Alipay or WeChat to buy from Pinduoduo.
However you'll need to be able to read Chinese; there is no English interface available.
E-commerce is Alipay's ace in the hole. The dominant market leader is Taobao, an extraordinary Aladdin's Cave where you can buy almost anything legal that you can imagine, and many things you can't: if you're after a dog translator, a fart in a bottle or an astral projection training course, Taobao is the place for you.
Since Taobao and Alipay have the same owners, you'll need an Alipay account to shop there.
Game over? Not quite. Taobao has a Chinese-only interface, so many expats use a purchasing service such as Baopals. This allows you to browse and order in English, and pay using WeChat… for a small fee, of course.
Besides this, WeChat is omnipresent in Chinese life, used for business messages, arranging your social life and keeping in touch with friends. The convenience of having a payment system linked to it should not be underestimated.
When you're out for a meal or sharing a taxi with your friends, WeChat Pay makes it easy to chip in your contribution. Also, JD does not accept Alipay, so you'll need WeChat Pay to access the full range of online shopping options.
In conclusion…
The simple answer is that like most Chinese people, you're likely to use both Alipay and WeChat Pay. Setting them up is not onerous, and you'll find that you use different apps in different situations. It may also be worth signing up for proprietary payment systems for apps you use often, whether that's ordering a ride from Didi or your lunch from Meituan.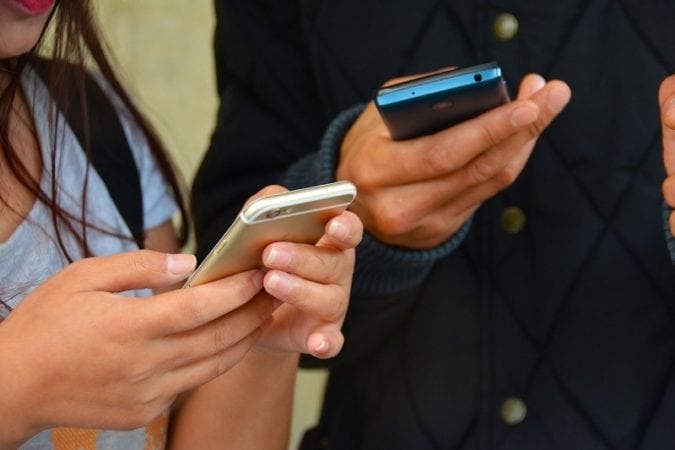 However you should check the fine print: some providers have been criticized for demanding excessive personal information from their users.
What do I Need to Register?
You will need a cell phone with a Chinese number. Because you need your passport to sign up for a phone number, your number itself becomes a form of ID. If you need to validate a payment or transfer, you'll usually be sent a numeric code via SMS.
You will also need a Chinese bank account, unless you are only visiting China briefly. WeChat Pay can theoretically be linked to a foreign bank card, but the process is notoriously unreliable. Alipay's "Tour Pass" allows visitors to top up from an overseas bank account, but this is aimed at tourists and only works for 90 days. It does not give access to the full range of Alipay functions.
Tips to Make Registering Easier
Opening a bank account as a foreigner in China is a notoriously labyrinthine experience, plunging you deep into the tangles of Chinese bureaucracy. Fortunately, our guide to Opening a Bank Account in China can help you through the maze.
Make sure you give the bank the same phone number you want to use for digital payments. Also, be careful about how your name is recorded. Western names can often snarl up Chinese systems, particularly over the question of whether family name goes first or last.
I had two Chinese bank accounts which I could not link to the same Alipay account… because, clearly, "Andrew Dominic Killeen" could not be the same person as "Killeen Andrew Dominic", despite having the same birthday, telephone, and passport numbers.
How to Register
China veterans will tell horror stories of registering for Alipay, in the days when it meant puzzling your way through a Chinese-only interface. For verification, Alipay would send a small amount of money to your account, and you would complete registration by telling them how much they had sent you.
Fortunately, both WeChat and Alipay have come a long way since then. The sign-up process is constantly revised, but now requires entering basic information into an English-language app, and verifying via an SMS code. It's quick, simple, and safe.
Registration Steps
For Alipay, first download the app. When you've opened it, select "Me", then "Bank cards". Tap the "+" sign to add a card. If you're with one of the big Chinese banks like Bank of China or HSBC, you don't even need to enter your card number, just your phone number.
Accept the terms and conditions, and you'll be sent a verification code. Once you've entered that, you're ready to start spending!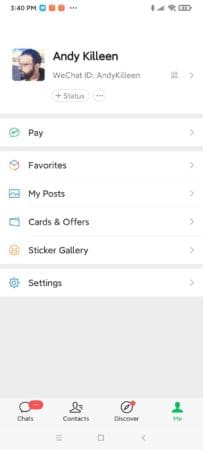 For WeChat, once you've installed it go to the "Me" page. "Pay" is top of the list. To link it to your bank account, select "Wallet" then "Cards". Tap "+ Add Bank Card". Enter the details, and don't forget to change the ID Type to Passport. You'll get an SMS verification number to complete the setup.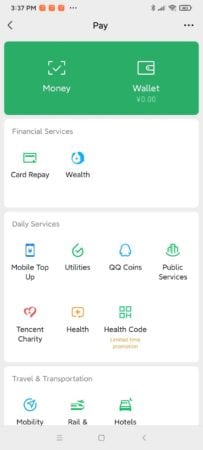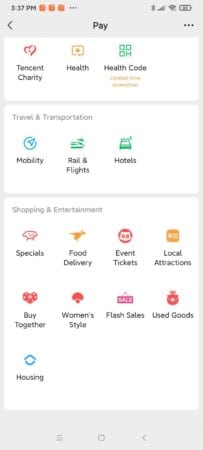 Once you've linked to a bank card, you can either transfer money to your virtual wallet, or just pay directly from your bank account. You can also withdraw money to your account, for example if you receive a payment.
Both apps offer links to services: you can top up your phone, pay utility bills, even donate to charity. Unfortunately most of these third party apps are only in Chinese. Bear in mind too that other providers are available. You're not limited to the apps that have partnered with WeChat or Alipay, and there may be better bargains elsewhere.
A Word About Hongbao
Once you get up and running with WeChat, you will see people sending messages showing a red envelope with a yellow seal. This is a digital version of the Chinese tradition of giving cash gifts in red purses or envelopes on special occasions: hongbao means "red bag".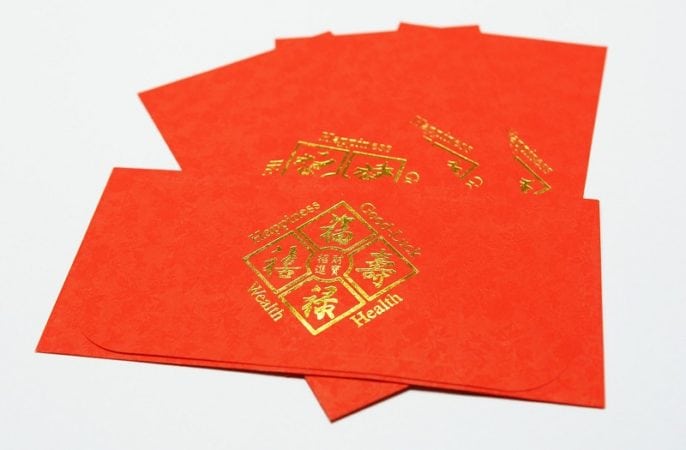 Digital hongbao contains a fixed amount of money to be collected by a certain number of people. It's "first come first served," so there's a scramble to tap on the message and receive a random amount of money before it's all gone.
The amounts of money are usually very small, so why do people bother? The answer is that hongbao are an important part of the etiquette of WeChat. Many groups ask for red envelopes as payment for advertising, or as a sanction for breaking group rules.
They're a good way of apologising if you send a message to the wrong group! And Chinese friends will appreciate the thought if you share a hongbao on festival days, especially Chinese New Year.
Don't forget though that if you need to send money to an individual, for example to pay your share of a restaurant bill, you should use "Transfer" rather than dropping a red envelope in a group where it might be snapped up by someone else.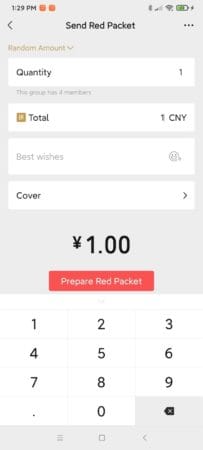 To send a hongbao, enter the Chat group, tap the "+" in the bottom right corner, then select "Red Packet". You can set the total amount and the number of recipients, and add a message as a greeting or explanation.
Now, On To You
If you're new to China and haven't studied the language, then entering the world of online payments can be intimidating. Registering with WeChat and Alipay is easy now, using English-language interfaces. While some apps might still present language challenges to operate, it's a rite of passage for China expats, and one well worth taking.
Make sure you have a Chinese bank account and perhaps a Chinese credit card and link them to your digital payment options.
Get a Chinese friend to help you, use Baidu Translate, and you'll soon be ordering like a local. When you enjoy your first takeout from Meituan and receive your first Taobao purchase, you're beginning to unlock the full potential of life in contemporary China.