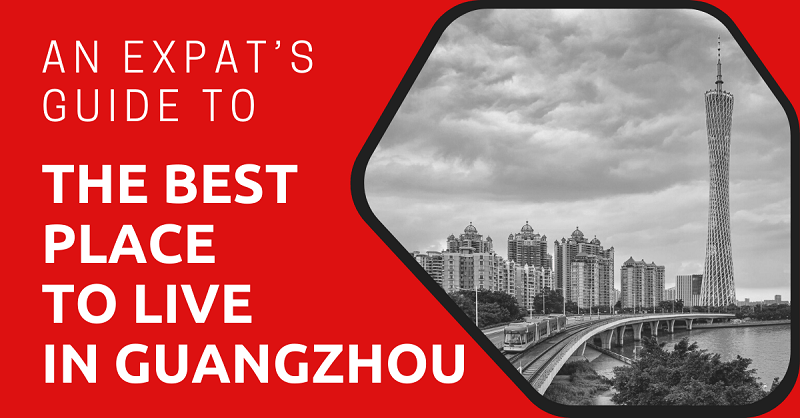 For more than 2,800 years, Guangzhou has been a cultural, economic, and political hub and is now the capital and commercial center of Guangdong province. Right on the banks of the Pearl River, it is an international hub and a booming city. Consequently, expats can easily explore the Chinese way of life or find a variety of familiar home food and activities.
When moving to a new city, many other factors have to be considered before choosing the perfect home sweet home, especially the proximity to school and outdoor amenities, cost of living, and commute. Based on all these criteria, we have identified the best places to live in Guangzhou.
This article will take approximately 14 minutes to read. Don't have the time right now? No worries. You can email the ad-free version of the article to yourself and read it later!
Guangzhou on a Map
Guangzhou is the capital of Guangdong province in China, and less than two hours drive from Guangzhou central to Shenzhen downtown and the Hong Kong border. Because of its location in southern China, it never gets very cold with lows in January at 11 degrees Celsius and highs in July at 34 degrees Celsius. Look for an apartment in Guangzhou with a good air conditioning unit!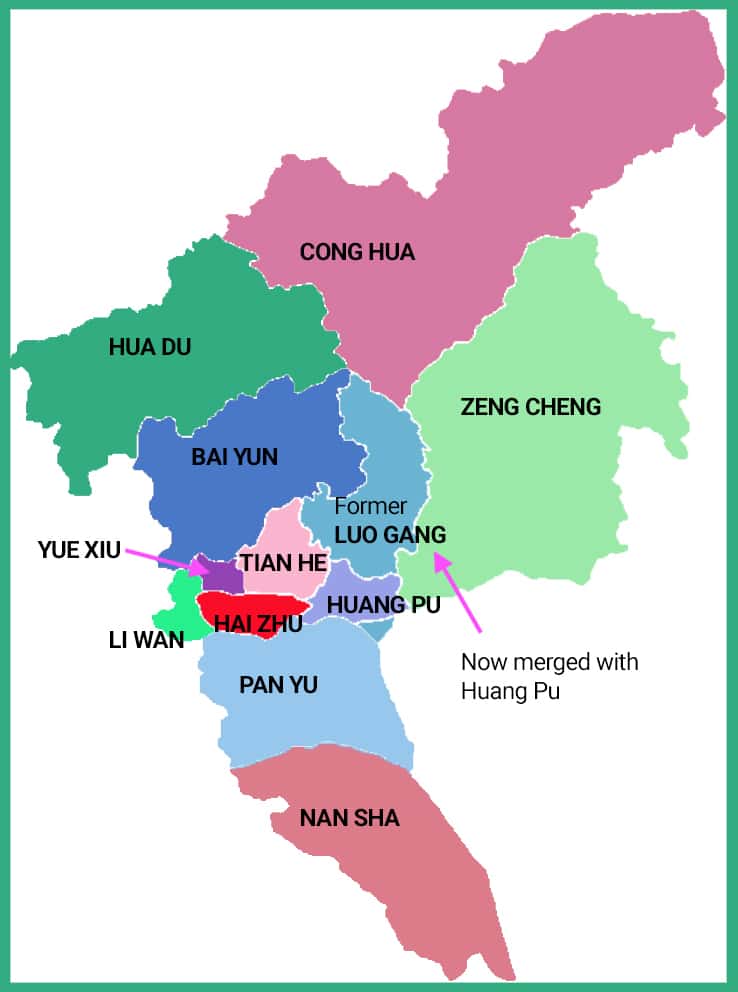 Guangzhou's downtown neighborhoods are located in the cluster of small central districts and they are the most built-up areas with the most popular places for both tourists and expats. The districts further away from the center offer an excellent variety of outdoor activities but you might spend a bit of time in transit to get to the popular areas for work, school, or fun.
Guangzhou's Districts
Guangzhou is divided into 11 districts
Liwan, Yuexiu, Tianhe, and Haizhu constituting the city's heart
Panyu, Huangpu, and Baiyun (and formerly Luogang now part of Huangpu)
Huadu, Zengcheng, Conghua, and Nansha are the outskirts of Guangzhou
Each district has administrative subdivisions or subdistricts.
The majority of the population live in Baiyun, Tianhe, and Panyu. Usually, expats favor living downtown, where most of the western comforts can be found. The cost of living can differ from one district to the other, but house pricing remains below those of other cities such as Beijing or even nearby Shenzhen.
Yuexiu District
Yuexiu is the oldest and most central district in Guangzhou. It is a cultural, administrative, and business hub with several parks and political institutions. It is well connected to the transport system, including metro stops for museums and parks. It also presents the best medical and educational resources. Locals favor this district due to its proximity to traditional street shopping and dining.
Yuexiu is an ancient place, consequently housing won't be as modern as in other districts. Residential compounds are older, but some have been refurbished and you might get to live in houses owned in the past by notable families. As a consequence of their age, housing prices are pretty affordable.
Among the different areas, Taojin is the most popular one among expats. Quite dense, it is situated between Huanshi Dong street and Hengfu street. With plenty of good restaurants and cafes as well as heritage buildings, it is a lively place to explore. On the opposite side, Ersha Island to the west of Zhujiang New Town is where many foreign consular and business executives live. It offers luxurious and low-density apartments with private gardens. The area is peaceful and central, but prices can be prohibitive even for expats.
Pros
Affordable prices
Close to good international schools and medical facilities
Well connected to other parts of the city
Cons
Older compounds
Quite touristy, not so residential
Tianhe District
Tianhe District is seen as Guangzhou's new city center. It is one of the most popular districts among expats with modern buildings, shopping centers, international restaurants, and comfortable residential compounds, all well connected to the transport system.
Expats searching for culture and art can spend afternoons at the Guangdong Museum, while those looking for nature can go for a walk in the South China Botanical Garden.
Zhujiang New Town, near the Pearl River, is a must-see. It is a cosmopolitan area where the Opera House is located. Standing right by the Pearl River, the Canton tower offers an exceptional view of the Guangzhou skyline, Guangzhou Opera House, Asian Games Park, Guangdong Provincial Museum, etc.
Zhujiang New Town is home to many international restaurants, grocery stores filled with imported products, and skyscraper office buildings. As half of the activities are dedicated to business, the cost of housing is high and living conditions are more cramped than in other districts.
The Wushan area is trendy among students due to its closeness to universities. Prices are a bit more student-budget compatible. Tianhe Bei is situated above Zhujiang New Town and beside Tianhe Sporting center. The living conditions are better with many restaurants, hostels and offices, but prices remain high.
Pros
Home comfort with international restaurants, grocery stores with imported products
Easy access to culture, art and green spaces
Well connected to the rest of the city
Cons
Bustling area
High cost of living and high rent
Haizhu District
Located on the southern bank of the Pearl River, it is a quieter area with a mix of old and new buildings surrounded by multiple grocery shops, restaurants, and coffee shops. The high-quality housing is mainly around Binjiang Dong street, while commercial service centers are on Jiangnan West Road and Baogang Avenue. Around the Sun Yat-Sen University is an animated neighborhood with an intense nightlife and many possibilities for students to spend their monthly budget.
There is plenty of sightseeing to do in Haizhu District. Guangdong Haizhu National Wetland Park and Haizhu Lake offer green spaces, while memorial buildings, pagodas and former residences of national figures inform about Chinese history.
Suppose you're looking for a tech job or searching for work in a professional field. In that case, you should check out the Pazhou Internet Innovation Cluster Area, which is slowly becoming the 'Guangzhou Silicon Valley' with the arrival of Tencent, Alibaba, and VIPShop. If you need to attend events or conventions, you might come to this district at the Canton Fair Complex or the Guangzhou International Convention and Exhibition center.
Pros
Easy lifestyle
Easy access to parks and nightlife
Not too far from downtown
Cons
Prices are high
Separated by the Pearl River from other places
Not as many offers for foreigners
Liwan District
Liwan district is undoubtedly the place to be if you want to learn more about local culture and experience the Chinese way of life. However, it might not be the perfect place for a family looking for calm and peace, all the more impractical since international schools and universities are quite far away.
It is a bustling district, especially around Hengbao Plaza, its vast shopping mall, and Shanxia shopping street. Food lovers will enjoy the sight of many star-level restaurants, such as White Swan Hotel and Taotaoju restaurant.
Liwan District benefits from its sound transport system that directly connects to Guangzhou Baiyun International Airport and railway stations, which can be attractive for expats who often travel.
Pros
More authentic Chinese way of life
Centrally located
Good transport network
Cons
Lively and busy place
Divided in two by the Pearl River, one part is further from the center
Baiyun District
Baiyun District is located North of Guangzhou's center. It is a developing district with a growing industrial activity and areas on the outskirts that remain semi-rural. Far from the center, commuting takes more time but expats that often travel will appreciate the proximity to Baiyun International Airport. Careful! Even though its name suggests that it is situated in Baiyun District, the airport has been moved to Huadu District.
Families who decide to send their children to the Ecole francaise Internationale de Canton or the British School of Guangzhou may live in this district. The nicest compounds are indeed around Baiyun mountains but can be quite expensive.
This area has no shortage of things to do and is home to Baiyun International Convention center, Guangzhou City Planning Exhibition center and shopping malls like Wanda Plaza. Those seeking nature can spend a day in Yunxi Ecological Park or activities in hundreds of smaller parks.
Pros
Greener, quieter
Proximity to international schools
Good transport network
Cons
Far from the center
Possible limited options for foreigners
Panyu District
Panyu district is located South of downtown Guangzhou. Although it is far from the center, the area is quieter, with cleaner air, and close to nature. It is family-friendly, with proximity to parks including the Dafushan Forest Park, lakes, and playgrounds and also to good international schools such as the Canadian International School and Clifford International School. Conditions of life are good with many shopping malls including a Tesco. The most recommended area is the Shiqiao area, with two parks close by, many restaurants, and shopping malls, but western options might be limited.
If you have a good budget, you can envisage the Clifford Estates communities that are very popular among expats, with luxurious gardens, gym, restaurants, grocery stores, and 24-hour security. But you will find plenty of other compounds in the area, less expensive and actually with more reasonable prices than in other districts.
Pros
Quieter suburban lifestyle
Family-friendly
More reasonable prices
Cons
More limited options for expats
Far from downtown and at least a 30 minute commute to popular parts of the city
Huangpu District
In 2020 the Huangpu District was awarded 'Happiest District of China'. According to a Deloitte report, the quality of life is pretty high, with good air quality, greenery, parks, and historical sites. The Guangzhou University campus is located in this district, so students might end up living in this area.
It is also an industrial district, home to the headquarters of several financial institutions (for instance Guangzhou Rural Commercial Bank) and the Guangzhou International Biotech Island, which is the Guangzhou center of biotechnological technology with more than 130 pharmaceutical companies. You will have to navigate between four business zones: Guangzhou Economic and Technological Development Zone, Guangzhou High-Tech Industrial Development Zone, Guangzhou Export Processing Zone, Guangzhou Free Trade Zone, and industrial clusters.
Pros
Good place for families
Green lifestyle with large spaces
Cons
Far from the city center, with a longer commute to other parts of the city
Limited western options
Industrial and business zones
Huadu, Zengcheng, Conghua, Nangsha Districts
These four districts are remote, more rural and industrial oriented. They have little to offer most expats. Unless you work in that area, you are unlikely to consider them other than for weekend getaways.
Huadu District
Huadu district lies North of Guangzhou city. It is a transport hub composed of Huadu port, Guangzhou North Railway Station and Guangzhou Baiyun International Airport, one of China's central air traffic hubs.
It is well known for its developed leather industry. If you're looking for a getaway, you can head to Jiulong Lake Resort, dedicated to families with beautiful landscapes and outdoor activities.
Nangsha District
Nansha district became a free trade zone in 2014, and its activities rely on an international deepwater port ranked among the top best 12 ports in the world, shipbuilding bases and shipping hubs, as well as industry clusters.
Biodiversity is preserved, and Nansha district has a green environment, including a large wetlands area of 200 hectares and a mangrove forest. Lands in the North of the district are mainly farms and fields.
The low rise buildings are enclosed in nature. If you like seafood, you will love the Seafood Gourmet Street (Shijiuchong). Some other places to see include Nansha Puzhou Park, Nansha Tianhou Palace, Suzhou Watery Region Street, Sunflower Garden, and those who fancy golf can practice at the Nansha Golf Course.
Zengcheng District
Zengcheng District is ancient, as proved by its name derived from the residence of immortals in the Kunlun Mountains in a Chinese mythological story. It has witnessed the birth of many scholars and poets.
The district development is ecologically oriented, with thousands of parks and gardens. The Zeng River Greenway, a provincial-level pilot project aiming at promoting eco-responsible tourism, is unmissable.
This district is also home to two business zones, the Zengcheng Economic and Technological Development Zone and the National Qiao Meng Yuan, an industry cluster. A Deloitte Research Report indicates that growth is rapid, and that new businesses are developing rapidly.
Conghua District
Conghua District offers a natural landscape and is well known for its hot springs.
It is one of the major areas producing litchees in China, and might be among the best in the country !
Pros
Close to nature and hikes
In a fast-developing environment
Cons :
Very far from the city center
A lot of rural areas
Limited options for foreigners
Guangzhou Life for Expats
Guangzhou is a promising destination. There are plenty of great international schools and universities, while there are maybe not yet the number of options provided in Shanghai or Beijing, you will easily be able to find the right international school for your kids in Guangzhou.
Healthcare facilities are of international standards, with top hospitals easily accessible. From international hospitals, to local clinics, and TCM (Traditional Chinese Medicine) facilities.
Commuting to work is facilitated by a very efficient transport system. The underground (Metro) is well signed-posted in English and connected to the airport, train station and links all the suburbs.
Taxis are some of the cheapest in China, costing about 30 RMB to go around 7km across town. Everyone uses Didi these days, a great ride sharing app which will be integrated into your WeChat. Taking the bus, however, will require adaptability and maybe even some beginners' Chinese language skills! The traffic is dense but isn't as packed as some cities, so driving a car is also an option. We only advise you to get your Chinese driving license first.
House & Apartment Prices Across Guangzhou
It is hard to say how much each district will cost to live in because of the incredible rage of homes in the city. However, we can tell you this as a general rule to remember when looking at the areas below:
1 bedroom in a downtown area will cost between 3,000 RMB and 7,000 RMB.
1 bedroom in a suburban/rural area will cost between 2,000 RMB and 3,500 RMB
3 bedrooms in a downtown area will cost between 8,000 RMB and 11,000 RMB
3 bedrooms in a suburban/rural area will cost between 4,000 RMB and 5,000 RMB
However, Guangzhou also caters to expats on packages and wealthy locals with stunning, sprawling homes, and glamorous penthouses ranging anywhere between 20,000 and 80,0000 RMB a month. This is a city of extremes when it comes to money.
Now, on to You
In Guangzhou, almost all districts provide good schools and medical facilities to international standards, where your insurance can cover all health care. The transport system is efficient and roads are not too congested, at least for the Chinese standard. Although women should always be more careful of their surroundings, the city is relatively safe. Consequently, we recommend that you focus on the environment you prefer. The experience of living in Guangzhou can be very different depending on this choice you make, from the bustling Tianhe to the more quiet Haizhu district.
At the time of writing, moving to China right now requires extra planning, but once you get there, you can start enjoying the Guangzhou way of life!