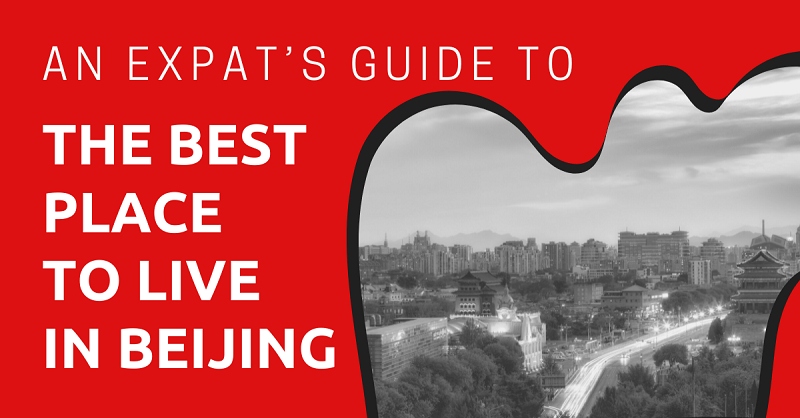 Beijing is one of the world's great cities. Bustling, prosperous, brimming with history and culture, it's not surprising that many people choose it as the starting point for their Chinese adventure. Although it can be a thrilling place to live, Beijing can also be exhausting and stressful, and you may be glad of a supermarket with imported food or a bar selling western drinks.
For most expats, striking a balance between seeing the real China and having access to some home comforts is the key to enjoying their time in Beijing. Due to the size of Beijing, some of the outlying districts are so far from the center that it becomes difficult to enjoy all that the city has to offer.
Get to know the best and most livable areas of the city before you start searching for your perfect Beijing home.
This article will take approximately 17 minutes to read. Don't have the time right now? No worries. You can email the ad-free version of the article to yourself and read it later!
Beijing on a Map
Beijingers measure their home's closeness to the center by the city's ring roads. The numbering system may cause some confusion: there is no First Ring Road. The original Ring Road was a tram route around the center, now long gone. The Second Ring Road follows the route of the old city walls, enclosing the ancient heart of Beijing.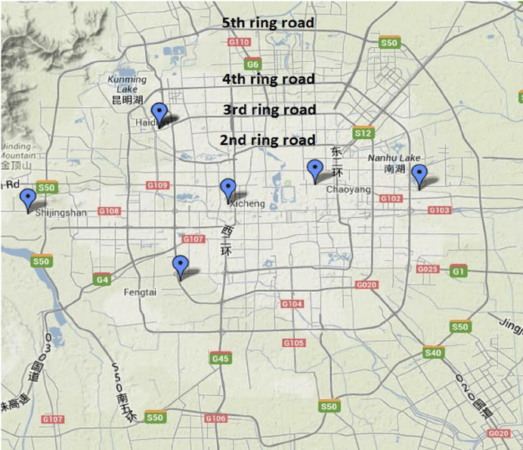 Around the Third and Fourth Ring Roads you can find many of the popular neighborhoods detailed in this article, but beyond the Fifth Ring Road you'll be a long way from the action.
The Sixth Ring Road circles the outer limits of the city proper, while the Seventh mostly lies outside Beijing in surrounding provinces.
If you have children, proximity to an international school is likely to be important. The majority of Beijing's international schools are in the northeast corner of the Beijing square, between the second and fifth ring roads. This northeast portion of the map is where you will find most international food, activities, businesses, and bars, as well as the major embassy area.
The proximity to your job is also essential as you do not want to add hours to your work day via your commute, consider this when looking for work in Beijing as well. If you accept a job on the other side of the city from your child's school, you will have problems.
The cost of real estate is much higher in Beijing's center, central east and northeast areas. You should carefully consider the cost of living in Beijing and decide how much you want to spend on rent before you choose your favorite area to live in.
Beijing's Districts
Beijing is divided into 16 districts. Of these, the four northern districts of Yanqing, Huairou, Pinggu, and Minyu are so remote and rural that you are unlikely to consider them unless you are actually working in that area. The same could be said of the four western districts: Changping, Mentougou, Fangshan, and Shijingshan have little to offer most expats.
Daxing, in the south, boasts Beijing's impressive new airport, and is likely to develop in the coming years, as is Tongzhou. The city's local government was recently moved to this southeastern district to relieve pressure on the city center.
Both Daxing and Tongzhou have potential, but right now neither features on the recommended list for new arrivals.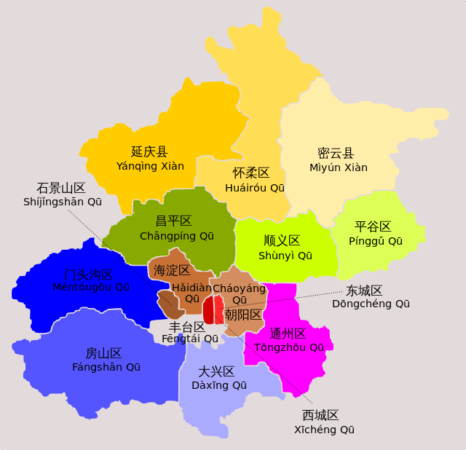 Fengtai is closer to the center, and has been cited by realtors Knight Frank as Beijing's "next neighborhood." However this western district has no historical expat population of any size, so also falls to make the cut.
Expats have traditionally clustered in the eastern Chaoyang district, and we'll look at five of the most popular areas there. The city center districts of Dongcheng and Xicheng have obvious attractions, if you can find affordable accommodation. Shunyi, home to Beijing's Capital Airport, has its supporters, and students are more often found in the university district of Haidian to the northwest.
So, with the shortlist narrowed, let's have a look in detail at Beijing's best areas to live.
Chaoyang District
Chaoyang means "facing the sun", and the name reflects its position to the east of central Beijing. Its historic link with the international community is due to the fact that all but one of the embassies are located within Chaoyang – Russia being the exception. Chaoyang is still a vast place – this single district has a population equivalent to that of Connecticut. So we've zoomed in on five of the most popular neighborhoods.
Sanlitun
Sanlitun means "three li village", a li being a unit of measurement equivalent to around 500 meters. As the name suggests, it was once a village 1.5km from Beijing's eastern gate. As foreign embassies and legations opened there, it grew rapidly, and was eventually swallowed up by the mushrooming city.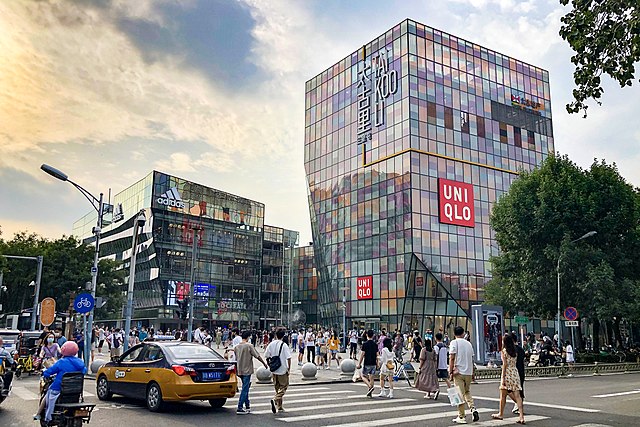 As China opened up in the 80s and 90s, Sanlitun became party central. Nightclubs and drinking holes proliferated on North and South Bar Streets, but that's all changed now. The area has been cleaned up, most dramatically when illegal and semi-legal establishments found their doors bricked up overnight.
Sanlitun today is dominated by glittering shopping malls and designer boutiques. However it remains the best place in the city to find international cuisines and imported drinks. It also boasts the Workers' Stadium which has been closed for renovations since 2020 but is set to reopen at the end of this year to continue hosting football games and the 2023 AFC Asian Cup.
While not the wild west of old, Sanlitun is still a fun place, with the best nightlife in the city. Lots of expats live there, giving it a cosmopolitan feel. On the other hand, it's very expensive, the area's popularity reflected in its exorbitant rents.
Incredibly, it's still not properly connected to the metro system – work on the long-awaited Workers' Stadium Station has been going on for several years. It is home to one of Beijing's biggest and best public hospitals though, Chaoyang Hospital is pretty foreigner-friendly because of its location.
Chaoyang Park and Surrounding
To the east of Sanlitun lies Chaoyang Park, Beijing's biggest green space. At its heart is a cute if dated funfair, and the park features sports facilities, snack vendors, an outdoor theater, and a boating lake. It's understandably popular with embassy families, being a short hop away from Sanlitun but with a more relaxed vibe. Further east along Yaojiayuan Road is Chaoyang Joy City; apartments around that area are cheaper, and it's well-connected to transport links.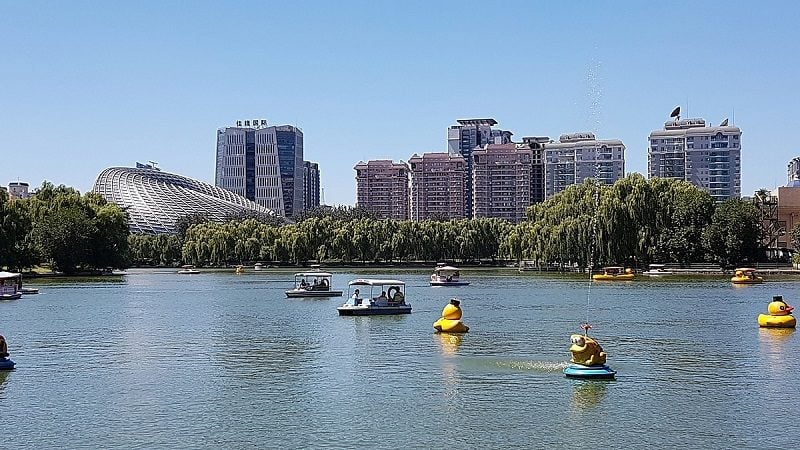 CBD
The Central Business District (CBD) is south of Sanlitun. As the name suggests, it's the financial heart of the city, and features many of its most distinctive skyscrapers, including the "Pants Building," officially known as the CCTV Building. It's busy and expensive, but if you're working in the area, you will be glad to have saved yourself the daily journey on a packed subway train.
A cheaper alternative to the east of the CBD is Shuangjing. The "Two Wells" is a rapidly gentrifying district, close to the center and with its own subway station.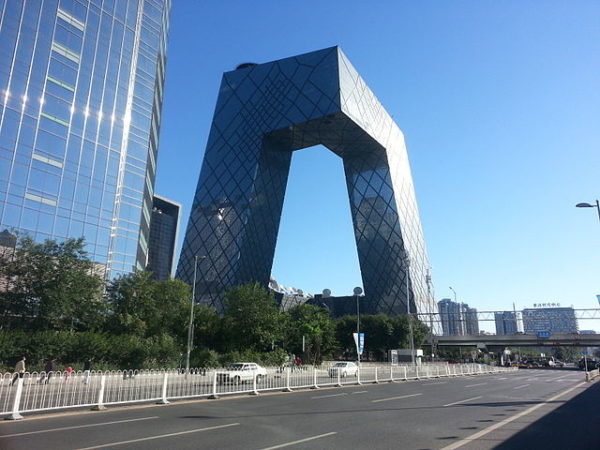 Liangmaqiao
Liangmaqiao means "Bright Horse Bridge," and as the name suggests it lies alongside the Liangma He or Bright Horse River. It's at the north end of Chaoyang Park, and the neighborhood includes the Canadian International School and the Beijing International Medical Center.
With some appealing riverside bars and restaurants, it's easy to see why many consider Liangmaqiao one of Beijing's best places to live.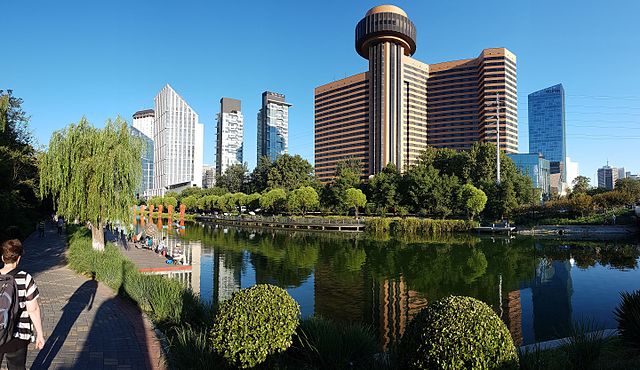 Wangjing and Lido
Heading north from Liangmaqiao on the road toward Shunyi, you pass through Lido. The name is an old romanization of Lì Dōu, "Beautiful City." Like Sanlitun, this is an area with a long association with foreigners. Lido offers not only western bars, restaurants, and supermarkets with imported goods, but the largest IKEA outside of Sweden. This area is also home to several of Beijing's biggest and fanciest international hospitals.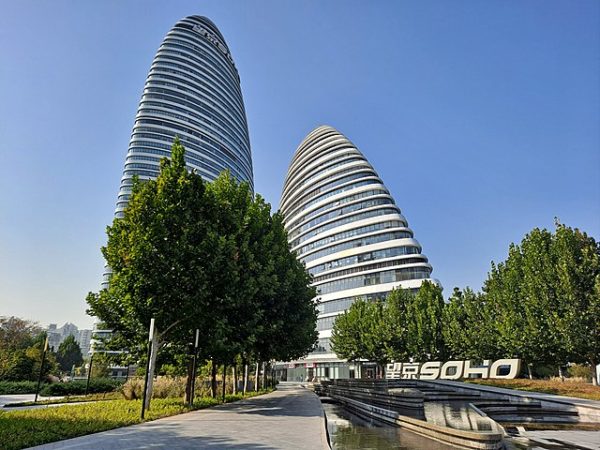 Next along the road, and a little cheaper, is Wangjing. This area is associated with Beijing's South Korean community, so there are plenty of Korean-style barbeque restaurants, fried chicken, and beer vendors. It's an up-and-coming place, with good transport links and still not prohibitively expensive.
Wangjing is often the choice of families where kids attend international schools in Shunyi, but parents work in downtown Beijing. It is a bridge between the city and the burbs.
Pros:
Some of Beijing's most fun areas are in Chaoyang
Western food is easy to find
Large and pretty green spaces can be found
Cons:
Beijing's highest rents are in Chaoyang
Traffic is some of the worst in the city
Cost of living in general is higher
Shunyi District
Shunyi has grown rapidly around Beijing Capital Airport, particularly since the opening of the second terminal in 1999. Where cows wandered through fields not long ago, there are now sprawling residential compounds and shopping malls.
Proximity to the airport, sprawling villa homes, and cleaner air than downtown, made Shunyi popular with wealthier expats, and the names of the villa compounds show their western leanings: Riviera, Yosemite, Eurovillage, and Chateau Regalia, for example. Many of the big international schools in Beijing took advantage of the space to build large campuses in the area.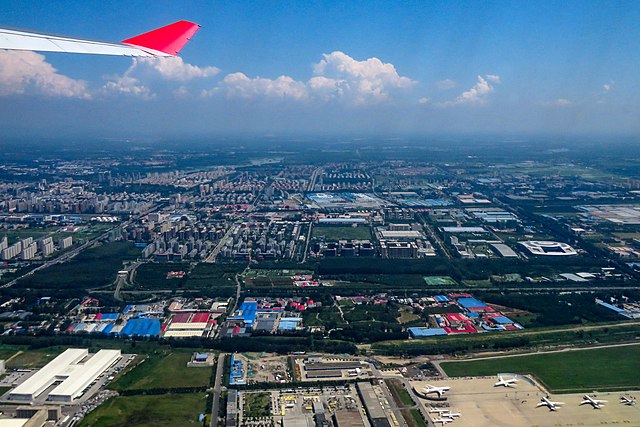 Critics of Shunyi complain that, having mostly been developed in the last 20 years, it can feel soulless. The most popular hangout is Shine Hills shopping mall, and if the idea of your social life centering on a mall fills you with horror, then Shunyi probably isn't for you.
An exception is the area around Maquanying. Although technically within Chaoyang District, it's usually considered as part of Shunyi, being beyond the Fifth Ring Road.
This neighborhood is home to the Redbrick Art Gallery, which hosts world class exhibitions of contemporary art in a beautiful setting. Accommodation here is often a long way from the nearest subway station though. This area is popular with families with children attending Western Academy of Beijing.
Pros:
Space abounds and streets are not crowded
International Schools are mostly located in Shunyi
Huge international community for families
Cons:
Not much fun for singles
Far from drinking and dining hubs like Sanlitun and Gulou
Feel stuck in the expat bubble
Dongcheng & Xicheng Districts
Dongcheng and Xicheng mean "East Walled City" and "West Walled City." As the names suggest, these are the oldest areas of Beijing, lying within the historic city walls. The walls themselves were largely intact until 1965, when line 2 of the subway was built. As tunneling technology was limited, the only way of digging the subway was "cut and cover," so the walls were demolished and the Second Ring Road constructed along their route.
Although divided in two for historical reasons, there's no real difference between the east and western halves of the old city. Rents here are sky-high, as you would expect for such a central location, even though a lot of the apartment buildings are quite run-down.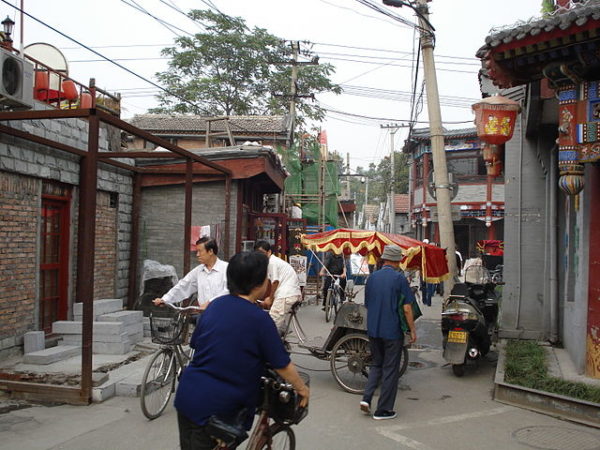 However, if you want to experience the real Beijing, then nothing comes close to the "hutongs". This is a maze of alleys in the old city, featuring courtyard buildings behind forbidding walls. A clue to the age of this area is that the word "hutong" derives from Mongolian, and must have been introduced when Beijing was Kublai Khan's capital, 800 years ago.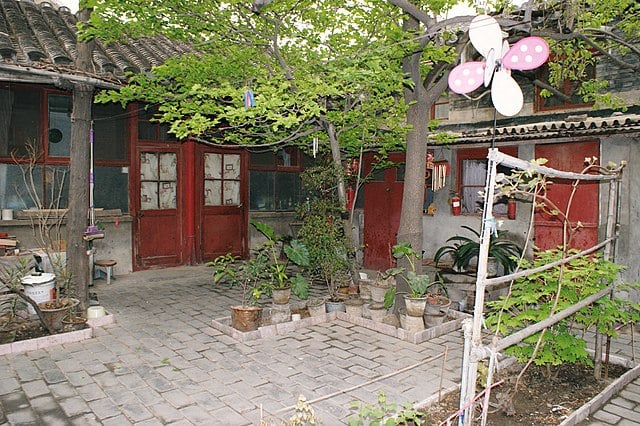 The hutongs were once lined with cafes and bars, but as with Sanlitun, the area was subject to what local expats call "the Brickening."
Between 2017 and 2019, businesses operating in a long-tolerated legal gray area found their entrances literally bricked up, usually overnight. The hutongs are much quieter now, though there are still hip establishments to be found hidden behind the huge wooden doors.
Living in a hutong house is considered simultaneously hipster and prestigious, rents are high and conditions are not always comfortable, but they look so very cool.
Gulou
One of the most popular central areas is Gulou. This means "Drum Tower," because in imperial times a drum would be beaten to mark the beginning and the end of the nighttime curfew. The Drum Tower still stands near to where the city's north gate used to be, and the area around it is packed with quirky shops and hip cafes.
Pros:
Culturally rich and interesting ancient architecture
Amazing food and drinks options
Centrally located with lots of transport options
Cons:
Some extremely high rent prices
Traffic is sometimes debilitating
Older buildings and rougher living conditions
Haidian District
Haidian is the northwestern district of Beijing. It stretches out as far as the Summer Palace, an imperial pleasure park destroyed in an act of vindictive pettiness by British and French soldiers in 1860. However the most popular area for expats in Haidian is Wudaokou, by the Fourth Ring Road.
Wudaokou
Wudaokou lies between many of the city's higher education establishments, including Tsinghua University and Peking University.
A concentration of international students as well as local kids means it has lively nightlife and plenty of places to eat and drink on a budget. If you are planning to study at one of Beijing's universities, it is likely you will be based in or near Wudaokou.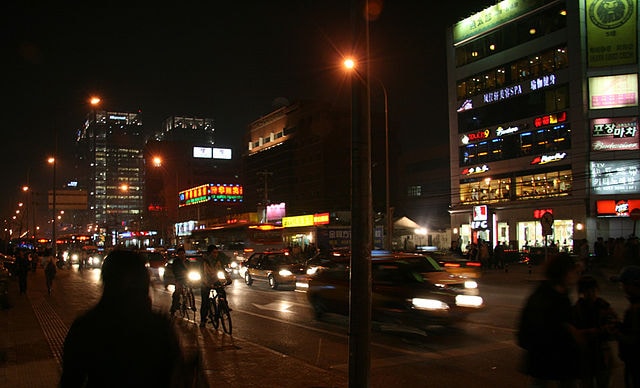 Historically Wudaokou was popular with Korean immigrants, and although much of the community has relocated to Wangjing, there are still many Korean restaurants in the area.
Pros:
Great young vibe for international students
Lower cost of living and rents
Amazing food and drinking options
Cons:
Far from downtown Beijing
Has a bit of a rowdy vibe at times in student bar areas
Public transportation options limited maneuvering around Haidian
Now, on to You
Many factors come into play when choosing an area to live in. Proximity to work and school is an important one. Although public transport is well developed, traffic still gridlocks frequently, driving in Beijing is notoriously hectic.
Safety is important, and single women moving to Beijing might want to think about where they live based on the security of the building or proximity to friends. Cost is also likely to be a consideration. Popular areas have correspondingly high rents. Capital cities around the world are expensive, but compensate with buzz, bustle, and opportunities, Beijing is no different.