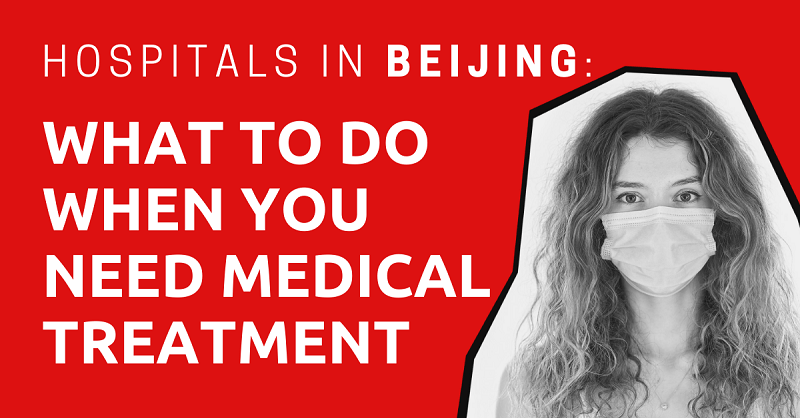 As an expat in Beijing, you will inevitably visit a hospital in the Chinese capital city for one reason or another. It can be an intimidating prospect, regardless of whether you have been living in the city for a few years or are a total newbie. You will have some questions about visiting a hospital in Beijing, and we hope to answer all of them for you in this guide.
From cheap local clinics to fancy private hospitals, and from Traditional Chinese Medicine (TCM) to high-tech laser cosmetic surgeries, China has it all because medicine is big business in the country. And if you live in Beijing, you have many options to choose from when dealing with any medical emergency or elective procedure.
This article will take approximately 20 minutes to read. Don't have the time right now? No worries. You can email the ad-free version of the article to yourself and read it later!
Cultural Note
In many countries, it's common practice for people to go to a local general practitioner's (GP) clinic for simple medical issues and go to a big hospital only for serious medical conditions or emergencies.
In China, there are small clinics in most residential areas, but in general, Chinese people prefer to go to a hospital for any ailments they may have. So don't be shocked when, for example, a colleague tells you to visit a hospital to get treatment for a common cold or a mild case of food poisoning.
Treatment Quality & Availability
If you look at world data and rankings, China's standard of care does not fare well. They rank 144th out of 191 countries in terms of healthcare quality according to this World Health Organization report. However, this number is not entirely representative of individual experiences in China's hospitals.
Note that the overall figure takes into account the massive differences between rural and urban care.
Sadly, the hospitals in China's smaller cities and towns suffer from many problems, which substantially brings down the average rating.
China's level of care also suffers from the effects of a population who were taught to believe in superstitions and home remedies rather than scientific medical treatments. Due to the forceful promotion of Traditional Chinese Medicine in the 1950s, many people do not seek proper help in a timely manner and end up suffering from more serious problems.
In major cities like Beijing, the quality of treatment is very high. There is a great selection of private clinics and hospitals as well as very good public services. When choosing to move to Beijing, you can be assured that any medical need that might come up can be dealt with in a timely, efficient, effective, affordable, and comfortable manner. There is an option for every condition and at every price point.
International Clinics & Hospitals
When people talk about "international" hospitals, they usually mean private facilities that are up to an "international" standard. These facilities are for-profit and either fully Chinese-owned entities, fully foreign-owned entities, or joint venture organizations.
Being for-profit means higher prices and there is incentive to push more expensive treatments and medications.
With the higher prices comes English-speaking staff, a gentler bedside manner, more luxurious surroundings, and fancier equipment. You will find that most of the staff are well trained in customer service and will explain all procedures to you clearly as far as billing, costs, and treatments are concerned.
Clinics
There are several small- or medium-sized clinics with a range of general practitioners in Beijing, which you can visit for your basic health concerns.
These places might have to refer you to one of the large hospitals if you require a more serious treatment, but they are pretty convenient for most things. Most of them will charge you something in the range of 1,000 RMB for your initial consultation.
Hospitals
The major players in the international hospital game are United Family Healthcare, Oasis, Amcare, and Puhua. These places are big, obscenely expensive, and flashy. If you have great insurance that covers treatment at this level, then go for it.
If you have average health insurance, then these hospitals are often on the list of "high-cost provider" exceptions, as their prices are just astronomical. At one of these hospitals, a basic surgery like a microdiscectomy will cost you at least 350,000 RMB (US$55,000). Initial consultations alone at these places can land you up to 6,000 RMB (US$1000) out of pocket.
It's worth noting that expensive hospitals do not necessarily offer better services than the ones that charge average prices. When it comes to medical care, the Chinese often feel that they must spend a lot of money for better treatment — but that is just not the case in China.
While the high prices of the international hospitals come with grand pianos, crystal chandeliers, and decadent hospital food, the quality of care can often be equal or better at some of Beijing's public hospitals listed in the next section. No need to feel as if you are putting your wellbeing at risk if you don't opt for these ostentatious options.
For your reference, there is a complete list of all hospitals in Beijing on Wikipedia.
Protip: The best Chinese surgeons and doctors who work at international hospitals are also required to work a certain number of hours at government hospitals. So, if you find a specialist that you love, but you can't afford their care at one of the fancy facilities, you can enquire as to which local hospital they work at and try to get an appointment with them there for around one tenth of the cost.
Public Hospitals
Local Chinese public hospitals in Beijing run the gamut, from terrible to excellent. When people refer to "local" hospitals, they are referring to government-funded rather than privately owned companies. However, there is also a selection of public hospitals that are partially funded by private entities, religious organizations, and even by other countries.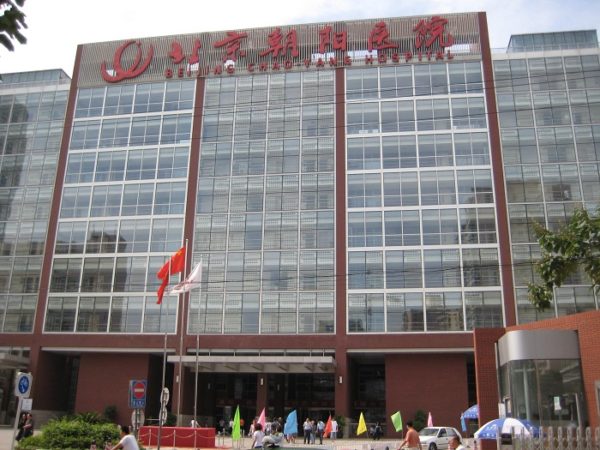 Local hospitals can be quick, cheap, and efficient if you know what you are doing. Some of them are more "foreigner-friendly" than others. Some will be tough to navigate alone, and some have specific areas for foreigners to go to find English-speaking staff.
If you have a Chinese-speaking friend, or your school or company can provide a translator for the day, there is no need to shy away from these institutions.
If you are paying out of pocket, or only have minimal insurance coverage, it is absolutely worth your time to go first to a local hospital to get all of your imagery and initial consultations done — even if you plan to undergo surgery or get another diagnosis at an international hospital later on.
To illustrate the vast difference in costs: the fee to see an orthopaedic specialist at United Family Hospital is 2,600 RMB, while at Chaoyang Hospital it is only 50 RMB. The cost of a basic MRI at Oasis private hospital in Beijing is around 10,000 RMB; at Chaoyang Hospital, it is 500 RMB. That is 2–5% of the cost you will pay at a private facility, and you get to keep your scans and imagery and take them to whatever specialist you wish to see after your visit.
Helpful Chinese:
Hospital: 医院 yīyuàn
Doctor: 大夫 dàifu or 医生 yīshēng
Nurse: 护士 hùshi
Public Hospital Choices
In theory, foreigners can visit any hospital. However, you will have a better experience at hospitals that are more accustomed to dealing with foreigners or ones with a dedicated section for international patients. Chaoyang Hospital is located in the part of Beijing that has a high population of foreigners, surrounded by embassies, international schools, and Sanlitun Bar Street.
While you might encounter some communication problems, most of their signs are in English, and there is usually someone who can help you out at the information counter.
Another good choice is Peking Union Hospital, which has a dedicated international and "VIP" section where you can pay a bit more for English-speaking staff and elevated aesthetics. It is still comparatively very affordable with a registration fee of around 300 RMB.
Address: 1 Shuaifuyuan, Wangfujing
东城区 王府井帅府园1号
(the VIP area is located to the left of the main hospital entrance, up the ramp)
International Medical Services: 69156699
The Beijing Friendship Hospital is another with an international department. As is the China-Japan Friendship Hospital.
China-Japan Friendship Hospital
Address: Chaoyang North, #2 Yinghuayuan Dongjie (East Street)
International Department: 6422-2952 , 6428-2297, 8420-5071
Beijing Friendship Hospital
Address: 95 Yong'an Road, Xicheng District, Beijing
International Medical Center: 63137606, 63137607, 63137608
Paying for Public Hospitals
Payment is always required upfront in local hospitals. At each stage of treatment, you are directed to a cashier before you see any doctors or nurses. You can pay with cash, card or WeChat Wallet (QR code). The fees are extremely low for outpatient eservices and you should not end up with any big surprises.
Public hospitals do not accept direct billing from insurance companies. You will need to check with your insurance provider as to whether or not they will reimburse you for expenses from a Chinese public hospital. Keep those receipts.
Visiting the Hospital
While the quality of care can be good at Chinese hospitals, the service can be a bit shocking to the unaccustomed. Nurses who you might turn to for help can seem disinterested and apathetic.
People do not rush to help you, even if you are visibly in pain. If you need a wheelchair or a stretcher, it is the job of the person who has accompanied you to the hospital to get one and to push you about in it.
This is just the way these facilities are. If you are admitted overnight, then you will receive more help. But for walk-ins, you will need to navigate the system alone so do always take someone capable of guiding and helping you.
Unlike Beijing's private clinics and hospitals, where nurses will gently walk you through every step and speak very good English, you are very much left to your own devices at public hospitals. If you don't speak Chinese or if you are very ill, you will definitely need help from competent friends or colleagues. Below is a guide to your first visit at a Chinese local hospital.
Step 1: Getting a Patient Card
All hospitals will need to see your passport on the first visit. Take it to the main lobby registration booths, hand it to them, and ask for a medical card. In Chinese, that's Yīliáo kǎ (医疗卡). It will cost a token amount, usually around 10 RMB.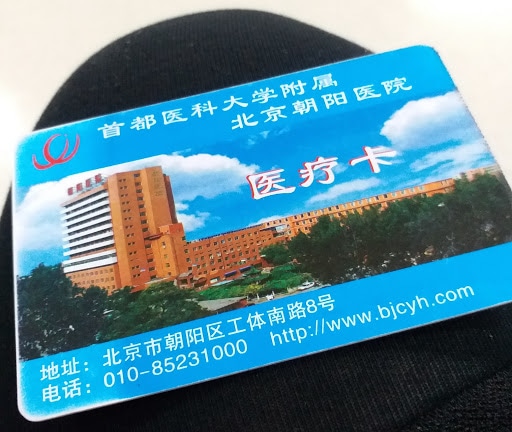 Step 2: Getting an Appointment
You need to know what kind of doctor you want to see so you can tell the reception staff which department you have to go to. This might require a bit of research. For example, if you have a broken bone or a sore back, you will need to go to the orthopaedic department.
In Chinese, that's the Gǔkē (骨科). In your own country, you might be used to a nurse attending to your needs, asking and noting your symptoms, and making an assessment. In a public hospital in China, you need to sort this out yourself.
After another lobby queue, you will hand the receptionist your new medical card and tell them which department you want. They will ask you for a consultation fee, which is usually around 50 RMB.
They will then hand you a small paper ticket with all the important information in Chinese on it. This is another good reason why you should study Chinese when living here.
Refer to the queue "ticket" (as shown in the image below) and proceed to the floor where the department is located.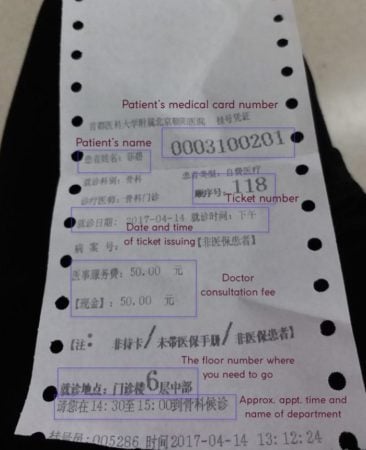 Step 3: Seeing Your Doctor
Once you have found the right department, take your card and ticket to the small registration desk, the nurse will scan your card, and then you can take a seat.
Your name and ticket number will show on the screen and be announced over the speaker system when it is your turn to go to a doctor's room. The screen will have a room number next to your name. Go and find that room number and stand outside the door if there are people still inside. There will be another electronic screen outside the door and your name will be on there in a queue. When your name is up top, it is your turn.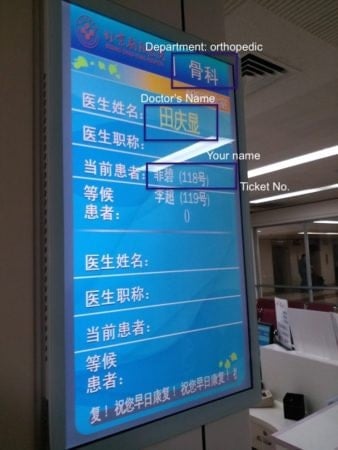 Not all doctors will speak English, so if you do not speak Mandarin, you will need to trust your translator to help with the conversation.
Helpful Chinese:
核磁 (Hécí) = MRI
CT扫描 (CT sǎomiáo) = CT Scan
X射线 (X shèxiàn) = X-Ray
超声波 (Chāoshēngbō) = Ultrasound
Blood test: 验血 yànxiě
Step 4: Treatment, Medication, or Imaging
You might need to go to different departments based on what medical condition you are there for. The doctor who does the initial consultation will recommend next steps, whether it be an X-ray, CT scan, MRI, ultrasound, lab test, etc. The doctor will give you a printed slip with instructions on where you need to go. You will take this to the next department to undergo the necessary test(s).
After receiving the results (results are often provided on the same day after a short wait, but for some procedures you might need to return another day after the initial appointment), you have two options:
Go back to the original doctor, and he or she will give you their diagnosis, a treatment plan, or maybe a prescription for medication, which you can retrieve from the hospital pharmacy.
If you just wanted to save money on tests, you can take your results to another hospital or even to another country. In Australia, you could wait up to a month to get a CT scan done in the public system, but Australian doctors are happy to accept CT scan slides done in Beijing.
Covid-19
At the time of writing, Covid-19 tests are quick and easy to get. Almost all hospitals in Beijing are conducting them for a very reasonable fee, and results are given within 24-48 hours.
As long as you have not been to any high-risk areas, you can simply walk in at any testing center without an appointment. You can find a full list of all testing locations on the Beijinger here.
Chaoyang Hospital
Address: 8 Gongti Nanlu, Chaoyang District (朝阳区工体南路8号)
Test Price: RMB120
Contact: 18514771316
Ditan Hospital
Address: 88 Jingshun Dongjie, Chaoyang District (朝阳区京顺东街)
Test Price: RMB180
Contact: 010-84322566
Mandatory Hospital Visits for Chinese Visas
Right after moving to China, you will be required to visit a hospital for your visa and pass the medical exam in Beijing. If you change jobs or schools, you will need to change your visa and you might need another medical check.
Your company or school will usually provide a Chinese staff member who can go with you and walk you through the medical check process, but you can also do it alone with the help of Google Translate.
The unpleasant thing about these medical checks for government requirements is that you cannot choose your hospital. Each type of check is assigned to a different and specific government hospital in Beijing. This is not optional and not always convenient or pleasant.
For most foreigners in Beijing, the visa/work permit medical check must be done at the Beijing International Travel Healthcare Center.
Here is the NEW address and phone number:
Chinese Name: 北京国际旅行卫生保健中心海淀分中心
Address in English: 20 Hepingli North Road, Dongcheng District, Beijing
Address in Chinese: 北京市东城区和平里北街20号办理
Phone: 6427 4239
Hours: 8:30 am to 11:30 am, Monday to Friday
Note: Online, the address is frequently listed as: Number 10 Dezheng street, Haidian District. This address is outdated as of 2019. The accurate address can now be found on Google Maps.
You will need to bring your passport, two passport photos, around 600 RMB (keep the receipt to get a refund from your employer if they are covering your visa costs), your mailing address in Chinese, and a pen. Do not eat anything on the day of the procedure.
It is recommended to arrive before they open as people do start lining up early, and wait times can be long. You can get there by showing a taxi or "Didi" (learn more about Didi Dache here) driver the Chinese address above. It is also a convenient 7-minute walk from the Hepingli Beijie Metro station.
Once you are inside, you will need to fill out an "Application for Medical Examination Form", which will be sitting in piles around the waiting area. You will take it to the registration counter and they will enter your information into the system, take your photo, and give you a new form. This one will have a list of the procedures you need to complete. You can complete them in any order, and once each one is done, you will get a signature and a barcode added to your form by a doctor or a nurse.
The procedures are non-invasive, painless, and fast. The worst part is the taking of blood, but the hygiene standards are high and there is nothing to fear. The other tests include a chest X-ray, EKG, ultrasound, vision, a look in your ears and mouth, and body measurements. This will all happen in a blur of people ushering you in and out of rooms and once you get going it should be over really quickly.
Once all the tests are complete, you will take your form back to the registration counter which will be marked "return form" and they will take your money, photos, address, and phone number. They will mail the results to you within one week (alternatively, you can also pick them up yourself and opt out of the mailing system).
This exam is for all foreigners moving to China. However, there are some other medical tests which might be required, depending on your job. For example, teachers, both foreign and Chinese, must do another round of tests which focus on sexual health. Your workplace will guide you in any extra exams you might have to get done.
Ambulances
For 24-hour emergency ambulance services, dial 120 or 999. Both numbers have English services and will take you to the nearest hospital unless you specify a preference. With more than one hundred vehicles, the 120 service is coordinated by the Beijing Emergency Medical Center.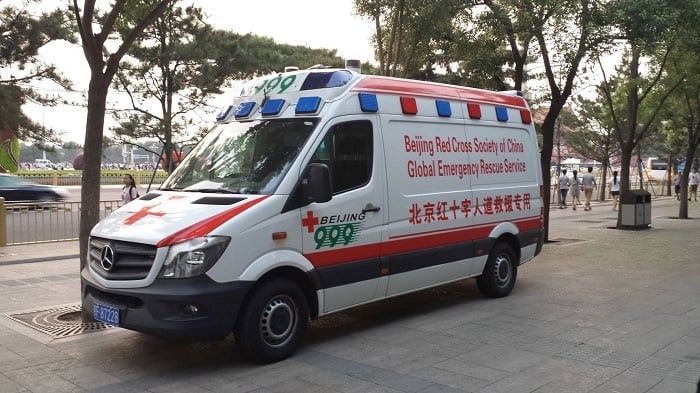 999 is run by China's Red Cross and has a fleet of more than 160 vehicles. They can trace a GPS-enabled phone to find you if you can't describe your location. They charge a base rate of about 5 RMB per kilometer plus treatments, if necessary.
The Red Cross 999 service is slightly more expensive. In general, an ambulance ride will cost about 500 RMB and you will need to pay it or have someone else pay it when you arrive at the hospital.
Now, on to You
Ideally, you won't suffer from any terrible medical emergencies, but it is best to be prepared for any eventuality.
We hope that this guide will give you some peace of mind and reassure you that while you spend time in the exciting, fascinating, and invigorating city of Beijing, you will be taken care of if the unthinkable happens.
In ideal situations, everyone will have great insurance coverage and the luxury of being able to pick and choose the fanciest hospitals and the most expensive treatments, but in reality, we sometimes have to work with what we have and make the most of it. Although hospitals can seem scary, we promise that with the right state of mind, you can navigate and conquer the Chinese public hospital systems and learn that, in some ways, China's healthcare system is way better than some western countries' especially in terms of costs.