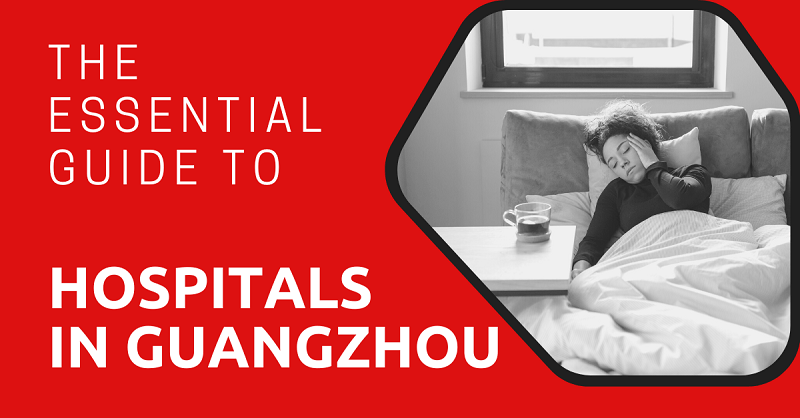 Guangzhou offers plenty of choices in hospitals, with many local clinics, public hospitals, and big international and private hospitals. Medicine is a huge business in China, so you will be able to find anything from western medicine, high-tech solutions, and Chinese Traditional Medicine (TCM).
You might be used to consulting with your local general practitioner (GP) for the small stuff, and view hospitals as a place to go for emergencies or specific issues, but this is not the case in China. Going to the hospital is the most common thing, locals will even visit for a cold or a small bout of food poisoning.
A visit to a Chinese hospital might seem intimidating, but we have gathered everything you need to know in this article to ensure a smooth visit.
Guangzhou Hospitals Overview
While the quality of treatment will differ from one hospital to the other, generally, the quality of care in Guangzhou clinics and hospitals is high.
The public service is very good – if a bit no-frills – and private hospitals are often up to international standards. Over the past few years, the Guangzhou Government and the private sector have invested a lot in medical services to improve the quality of care, including a partnership between Huawei and the Guangdong Second Provincial General Hospital to develop smart solutions and access to 5G in hospitals.
While Guangzhou has phenomenal care options, some still might prefer to visit a hospital in Shanghai or seek medical treatment in Beijing.
Living in Guangzhou, you will have access to every kind of treatment, including cosmetic surgery options. This industry has grown a lot in the past few years, enabling access to high-quality choices, but also increasing the number of low-quality places with unlicensed plastic surgery clinics. Be diligent and check the hospital accreditation, specialties, and facilities, then research your surgeon.
Chinese doctors are often influenced by TCM even those practicing modern medicine. As part of Chinese culture, healthcare in the country is influenced by both traditional and western medicine and you can still find TCM treatments everywhere, including in public and private hospitals, often used in conjunction with more familiar treatments.
Public Hospitals & Local Clinics
Public hospitals are not as fancy as private hospitals but the standards of care and cleanliness are excellent, and public hospitals are much cheaper than private or international hospitals.
You can sometimes find English-speaking doctors, but don't expect this to be the norm. You will likely need a translator if you are not fluent in Mandarin.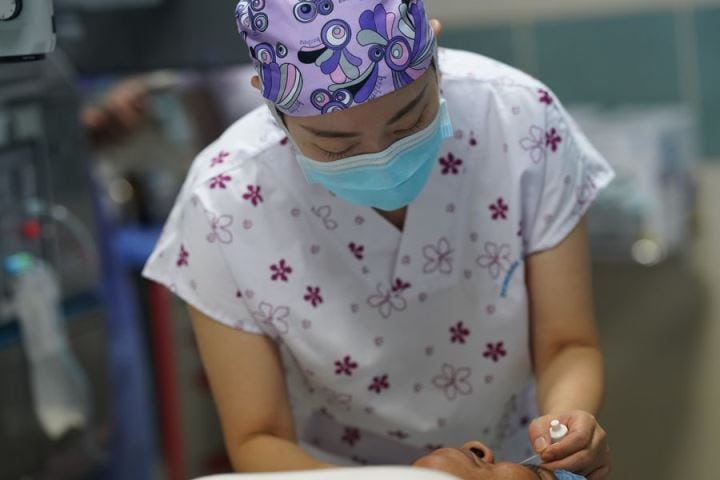 Chinese people tend to go straight to the biggest public hospital closest to their home for whatever medical issues they might have.
Local neighborhood clinics may seem even more chaotic than public hospitals, with long waiting times, less privacy, and smaller rooms and they are usually only there for prescribing medication and maybe bandaging up a wound, not for serious diagnosis or any major medical needs.
Public hospitals in China follow the ranking system called 3 grades, 10 levels, created by the Chinese Government:
Primary/tier 1: small town facilities, fewer than 100 beds
Secondary/tier 2: medium-size cities, fewer than 500 beds
Tertiary/tier 3: major cities, more than 500 beds
Choosing a Public Hospital
There is a complete list of public and private hospitals on China Daily and a hospital contact list created by the Embassy of Australia. Here are few choices we recommend as they are popular with expats in Guangzhou:
Guangdong Provincial People's Hospital
No. 106, Zhongshan 2nd Road, Yuexiu District
Appointments: Wechat official account 'Guangdong Provincial People's Hospital'
Tel: (+8620) 8388 2222, 020-12320, 400-6677-400
Grade 3 Class A hospital, which is the highest ranking in the Chinese medical system. This is the hospital to go to when you don't know where to go because they have everything. They are considered the best in Guangzhou for all-round quality medical care at a low cost.
107 Yanjiang West Road, Yuexiu District
Tel: (+8620) 8133 2199
With more than 2000 inpatient beds, this huge hospital is is the oldest western medical hospital in all of China, having been around since 1835, it is considered a pioneer and heads most medical research in the country.
While they have all of the departments, and can absolutely cover any medical need you might have. They lead the country in their work with malignant tumours, cardiovascular systems, immunology and metabolism, gynaecology and paediatrics, chiropractic rehabilitation, and head and neck diseases.
Visiting a Public Hospital – Steps
The atmosphere in a public hospital is a bit hectic and busy. It won't be a smooth and simple process like you will find at a private facility. However, with some help, you can navigate it!
The consultation with the doctor will be quick and you might not fully understand the outcome or next steps, no one will guide you inside the hospital, and no one will speak English nor will try to help you. This is why it is best to take a local friend or colleague.
The plus is that you can get skilled and highly-trained doctors for a much lower price than in private hospitals. If you have minimal insurance coverage, you can first go to a public hospital to get all of your imagery and consultation done before taking the results to a private hospital for next steps.
Here are some tips and different steps when visiting a public hospital in Guangzhou.
Step 1: Getting a patient card
You will need a patient card (Yīliáo kǎ, 医疗卡) to book your appointment. You can make it upon arrival on-site at the main lobby, registration desk. Bring your passport with you. It will cost you between 10 and 50 RMB.
Step 2: Booking an appointment
There are many ways of booking an appointment, depending on the hospital. You can use Wechat, third-party apps, and hospital websites. Booking through an international hospital website will be easier as public hospitals' websites will often redirect you to pages in Chinese or won't have a passport option. In most cases, it's easiest to go directly to the hospital and take a queue number. Depending on the place and the time of the day, be prepared to wait for a while.
Before going, check the latest COVID-19 regulations and requirements (from wearing a mask to showing vaccination proof or ATK Test).
Step 3: Seeing the doctor
Go to the hospital department indicated and wait in the waiting room for your number to be shown or announced. You might have to pay a 50 RMB consultation fee.
Don't hesitate to come with your list of questions prepared in advance, as it can be overwhelming to communicate your feelings and condition in a different language. The doctor might require additional tests.
Step 4: Treatment, Medication or Imaging
One of two things will happen next:
If no additional tests are required by the doctor, go to the cashier, pay, and then pick up medication if the doctor gave you a prescription. Prepare in advance your insurance certificate to get direct billing if relevant
If additional tests are needed (X-Ray, CT Scan, MRI, ultrasound, etc), you have to repeat step 3: go to the next department and wait for your number to be called. Results can come within an hour or a few days, depending on the hospital, so you may or may not go back to the original doctor so he can give the final diagnosis and maybe a prescription.
Visiting a Private Hospital
As mentioned above, the situation of visiting a private or international hospital or clinic is completely different. In these cases it is going to be far more familiar to you, similar to visiting your GP back home: make an appointment by phone, WeChat message, email, or webform in English, then show up on time, fill in some registration paperwork and see a doctor right away. Billing will be handled afterwards. They will guide you through the insurance processes and talk you through any next steps.
Inpatient Services at Public Hospitals
If hospitalization is required or you need surgery, you will be given a hospitalization form and have to book a bed. Be prepared to pay in advance for these additional costs.
You can share a ward with other patients or get a VIP ward with a private room. Bring extra clothes, snacks and reading materials as hospitals might provide limited supplies. During visiting hours, your friends or relatives can also bring necessities.
A list of set prices for Chinese public hospitals exists (in Chinese) and is regularly updated by the Government. Prices vary depending on many criteria, including the grade and levels of the hospitals, the treatment, and doctor's experience. Expect to pay from 50 RMB for a room with 3 people or more, 70 RMB for a 2 person room, or 120 RMB for a private room (per night). You will also have to pay around 10,000 and 20,000 RMB for a deposit. The cost will then add up depending on the treatment, surgery or additional tests required by the doctor.
Inpatient Services at Private Hospitals
Private hospitals advertise high standards. Rooms will be bigger, with a choice between a standard room and a VIP room, including fridge, robes, a sofa for friends and relatives, and a private bathroom.
However, the cost is as high as the standards, so make sure your insurance covers everything. For instance, a bed can go from 4000 RMB to 6000 RMB for one night.
VIP Wards at Public Hospitals
To attract expats and wealthy locals, some public hospitals have VIP/international wards. These facilities offer high-end services, private accommodations, facilitated access to the hospital's best doctors, and English-speaking staff.
This option is a good compromise with prices lower than private hospitals, but better services than public hospitals.
9th floor of the Dr Y. T. Fok Heart Center and 8th to 10th floors of the Administration Building, 96 Dong Chuan Road.
Tel: (+8620) 8387 4283, (+8620) 87374289-8991
Email: [email protected]
Concord Medical Center is a VIP facility owned and run by a public hospital: Guangdong Provincial People's Hospital. While still a public facility, it feels like a private one, with high-price VIP service and hotel-like surroundings. The costs here are still lower than most private hospitals in Guangzhou, though only marginally. Inpatient and outpatient.
This VIP facility is run by the First Affiliated Hospital of Sun Yat sen University. It includes inpatient and outpatient care as well as a medical cosmetic center.
Private Clinics and Hospitals
Private hospitals cater to an expat market and advertise international standards. They can be foreign-owned or joint ventures. They are often more expensive than public hospitals, which sometimes isn't worth it since the quality of treatment can be the same.
If you are enrolled in comprehensive insurance, go for it, as the service can be better and easier with English speaking staff and doctors.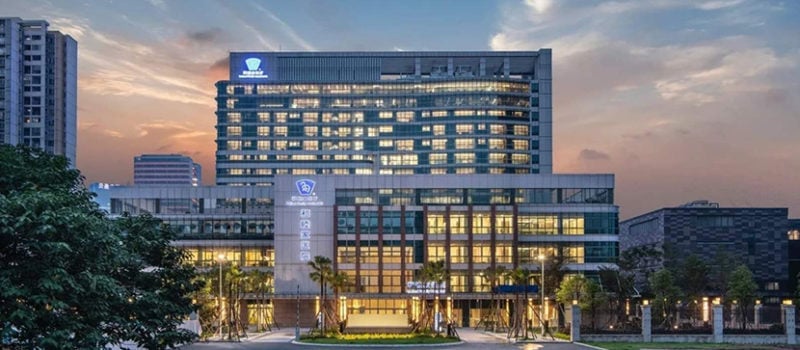 Private clinics and hospitals, with their beautiful large spaces, friendly and helpful staff, doctors speaking multiple languages and impressive training might be a comfort. The doctors will be very polite, attentives and reassuring.
You will be able to easily navigate the hospital and communicate easily in English. However, the price will be as high as it can get, for sometimes the same level of expertise as in public hospitals.
3 Grand Road, Panyu District
Tel: (+8620) 8471 8123
Emergency: (+8620)8451 8999 (24H)
With a Capacity of 3000 inpatients, Clifford specializes in TCM, gynecology and obstetrics, acupuncture and massage, gastroenterology, and preventive medicine. They have direct billing to some international health insurance companies.
This hospital is popular for TCM and physiotherapy, with several departments dedicated to sports injuries. They have practitioners from China, France, the United States and Singapore. They do direct billing to some international health insurance companies and offer a membership card for 500 RMB per year to get a 20% discount on healthcare services and a 10% discount on dental services.
The most popular choice with expats in Guangzhou because of their solid reputation around China. They offer easy to access online consultation and bookings. They have family medicine, dermatology, rehabilitation, TCM, 24-hour emergency care, intensive and neonatal intensive care units, and a great birthing center.
They offer direct billing to some international health insurance companies, but as a high-cost provider, check that your insurance covered treatment here. They offer a membership card for 1000 RMB per year to get a 20% discount on healthcare services and a 10% discount on dental services.
Specialized Hospitals
You will find everything you need in big hospitals, either public or private. However, some places focus on specific care.
The Zhongshan Ophthalmic Center is among Guangzhou's eye specialists. This local hospital with two branches is the leader in ophthalmology in the city and the place to go for anything optical.
SunYat-Sen University
Ouzhuang Facility:
No. 54, Xianlie Road, Guangzhou, 510060
Tel: (+8620) 8733 0000

Zhujiang New Town Facility:
Address: No.7, Jinsui Road, Guangzhou, 510623
Tel: (+8620) 6661 8966
The Guangdong Traditional Chinese Medical Hospital is one of the best TCM public hospitals in Guangzhou. The staff doesn't speak English, so you will need the help of a translator.
111 Da De Road, Yuexiu District
Tel : (+8620) 8188 7233
Dr. Lu International Dental Clinic is often favored by expats for dental medical treatment.
603-604, Metro Plaza, Tian He Bei Road
Tel (24 hours hotline) : (+8620) 8755 3380
Prenatal, Postnatal, and Pediatric Care
Giving birth in China might be stressful, but many women from the international community have had excellent experiences.
The average cost in public hospitals can go from 2,000 RMB to 10,000 RMB, and in private hospitals from 50,000 RMB up to 100,000 RMB depending on hospitals and packages. It is expensive, but you will be in a more familiar environment, with English-speaking staff.
Your insurance can cover the costs, but be careful about coverage terms. It often includes a waiting time before being able to use the benefits.
This public hospital is the largest third-grade women's and children's hospital in South China, with more than 1500 open beds. While the level of care is phenomenal here, it is very popular and very busy, the environment will be a bit hectic, but the price will definitely be right.
This private, international style hospital offers a great range of high-standard services: obstetrics, reproductive medical services, gynaecology, medical cosmetology, postpartum rehabilitation, maternal and children health care. The staff is highly-trained and can speak many languages, but translators are also available to offer you the best experience. Booking in-person appointments and online consultations through the website are easy. 
Mandatory Hospital Visits for Chinese Visas
The visa/work permit medical check must be done at the Guangzhou International Travel Healthcare Center
Address: ​207 Longkou W Road, 天河公园 Tianhe District
Phone: (+8620) 8753 7322, (+8620) 8754 8300
The process isn't complicated. You will need to navigate from one room to the next. Arrive early, because everyone will queue early in the morning.
You must bring your passport, two passport photos, and around 600 RMB. Don't eat in the morning, but you can drink water. Don't plan anything else, at least in the morning until the beginning of the afternoon.
You will have to pay at the first counter (keep the receipt to get a refund from your employer if they cover the costs). Then, the registration desk will give you a checklist form to carry with you through the different rooms.
You don't need to visit in order of the list, so that you can adapt depending on the waiting queue. Generally, the following tests have to be performed:
Bloodwork
Ultrasound
Electrocardiography
Eye Test
Weight/Height
Blood Pressure and Pulse
Breathing and Lungs
X-Ray of the Torso
Each lab will sign the checklist form before sending you to the next one. Once done, you can go to the 'return form' counter. Prepare your address in Chinese; they will send you the results in a week's time. You will not get a visa if your results show infectious diseases like tuberculosis, hepatitis, or HIV.
Using Medical Insurance
Concerning private hospitals, the rules depend on the hospital and the insurance, but private hospitals often partner with international insurance for direct billing. Check beforehand on the hospital website if this is the case for your insurance. The information is usually easy to find.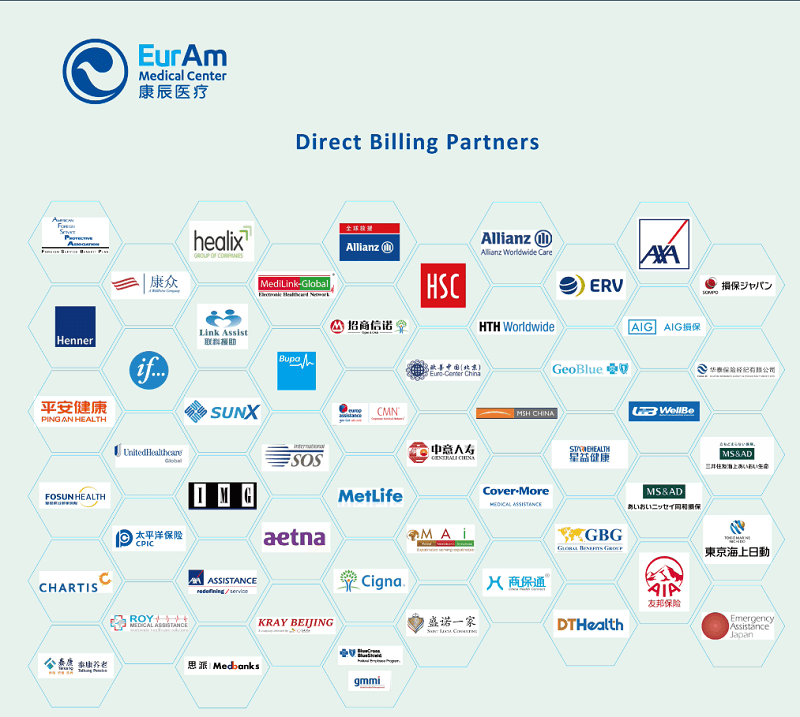 Public hospitals don't accept direct billing from private medical insurance. You will need to submit the claim after paying the hospital. If you're unsure which documents are required, you can find the information on the general conditions of your insurance by directly contacting them.
You will have to be careful when choosing your insurance before moving to China, and the same goes when picking up your travel insurance. Ask for the insurance coverage, if the insurance partners with some private hospitals, etc.
Emergency Services
Call the 120 for the 24-hour Emergency Ambulance Service. They will coordinate to bring you to the nearest public hospital. You can also ask for a specific hospital. They will charge 7 RMB per mile. Drivers might not speak English, and service might be slower. If you can, get to a hospital by yourself.
The Guangzhou Health Hotline 12320 will answer your questions and provide a consultation in the case of COVID-19.
Each hospital has an emergency number that you can find on its website. You can prepare a few numbers in advance.
In case of an accident while you're traveling in China, your insurance might propose a repatriation service to Guangzhou, depending on your contract. Insurance partners with hospitals to ensure that you get an ambulance to bring you back home/to a specific hospital.
Covid-19 Testing and Treatment
In case of general health or COVID-19-related questions, you may contact the Guangzhou Public Health Hotline 12320. To get English, Japanese, or Korean translation service, you will have to call the Guangzhou Multilingual Public Service Hotline 960169, and start a three-sided call.
The Wechat public account "Guangzhou Health Commission" 粤健通 gives health updates and news on Covid-19. It is, however, only in Chinese. To get the equivalent in English, go to this Wechat page from the Government that explains the procedures for getting tests, treatments, or vaccines.
You can get a PCR test in many hospitals in Guangzhou. The Guangzhou Government provides a full list of testing locations (in Chinese) for your reference. Here are two good options:
Guangzhou First People's Hospital
Hotline : (+8620) 8104 8544
1 Panfu Road, Yuexiu District 广州市盘福路1号
Guangdong Second Provincial General Hospital
Hotline : (+8620) 8916 8222
1 Shiliugang Rd, Haizhu District 广州市海珠区新港中路466号大院
Now, on to You
Expats can go to any hospital but choosing the right one requires a second thought. Be clear about your insurance coverage, consider what kind of experience you would prefer, check the doctor's background and prepare questions in advance..
We hope that this guide has contributed to giving you some peace of mind. If you're still unsure, go with a friend that can help you translate into Chinese, and in no time you will feel like a duck in water!