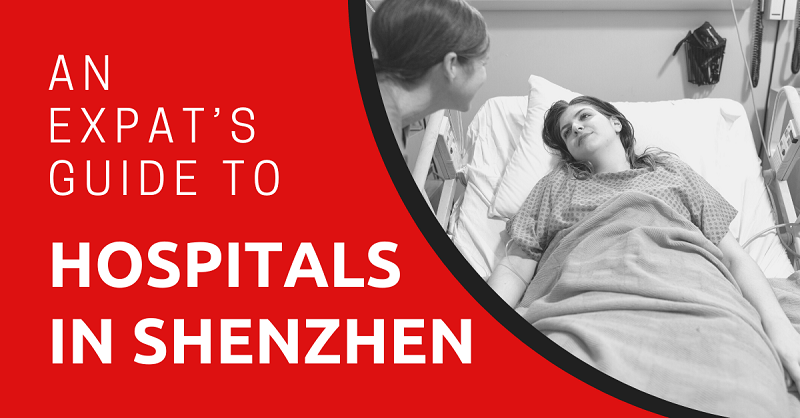 Shenzhen is a bustling city that increasingly attracts expats from around the world looking for adventure and professional opportunities. Healthcare services have risen in quality and quantity in the last decade to meet the demands of this growing population.
There are now a wide range of options for expats when a medical need arises including public hospitals, VIP wards at public hospitals, and private clinics and hospitals.
Read on for more on selecting and visiting a hospital in Shenzhen and prepare yourself for any unexpected medical issues that might arise during your time as an expat in the city.
This article will take approximately 19 minutes to read. Don't have the time right now? No worries. You can email the ad-free version of the article to yourself and read it later!
Shenzhen Hospitals Overview
There are a wide range of hospitals and clinics where expats and their families can find high-quality care in Shenzhen. Among the options are public hospitals, VIP wards at public hospitals, and private clinics and hospitals ⁠— often referred to as international hospitals.
Public hospitals are the most cost-effective option but are often unable to offer any communication in English and tend to be much busier than foreigners are accustomed to.
In contrast to the West, public hospitals are preferred by local Chinese for the bulk of their medical needs. Even for common concerns, Chinese people will seek treatment at the hospital rather than visiting a neighborhood clinic as they believe the standard of care to be higher. This means that public hospitals are often overloaded.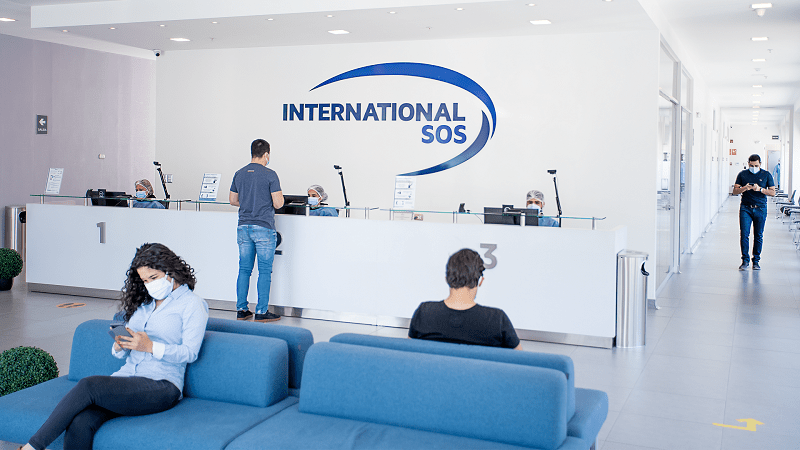 VIP Wards at public hospitals offer a more foreigner-friendly environment and lower prices than private hospitals but are often just a step up from the public Chinese hospitals they are associated with in terms of quality and level of English service. A less chaotic environment and more one-on-one attention with the doctor are often worth the extra cost, however.
Private hospitals and clinics are a popular option with expats and their families. These plush institutions offer the highest standard of care with full English language service at the highest price point.
Public Hospitals
Public hospitals are the heart of the Chinese healthcare system, with the vast majority of the population relying on public hospital services for all of their medical needs. Including alternative treatment in the form of TCM – Traditional Chinese Medicine.
Public hospitals are mandated to offer round-the-clock service every day of the year and are a reliable and low-cost option for expats with the right preparation.
Consultations can start as low as 30 RMB and you can generally see a doctor or specialist on the same day as long as you are prepared to wait. The quality of the facilities can vary widely, however, so it's best to avoid institutions that don't come with a high recommendation.
Even in high-quality hospitals, you can expect to find a much busier and less private environment than the one you might be used to at home. There are not generally staff available to help you through the process and you are unlikely to find English services.
It is important to have a Chinese speaker accompany you to the hospital even if your Chinese is good. You may be asked to sign treatment forms or understand medical jargon that requires native-level language.
Choosing a Public Hospital
Only four of the 634 health centers in Shenzhen have been recommended for expats by the Shenzhen government. While these institutions won't feel exactly like you are used to at home, they frequently treat foreigners and offer a high-quality standard of care at a relatively low cost.
The Shenzhen government has also put together this list of all the public hospitals in the city.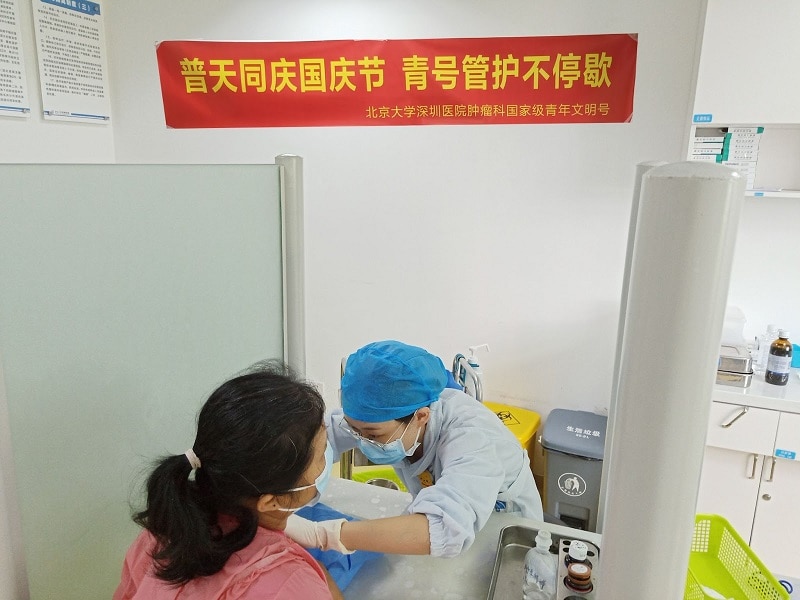 If you do venture beyond the recommended list, stick with large, teaching hospitals with clean facilities that specialize in your area of concern.
Shenzhen People's Hospital is a thoroughly modern and well-equipped hospital with a huge complex in Luohu District.
Peking University Shenzhen Hospital is likely the most frequented local hospital by expats for its central location and Grade A facilities and comprehensive care.
Expats in Nanshan frequent Shekou People's Hospital for its comfortable rooms, well-trained staff, and slightly less sprawling atmosphere with only 1,000 beds on-site.
The No. 2 Shenzhen People's Hospital tops the list. With just 1,100 beds, however, No. 2 offers a more intimate environment with a focus on specialized medical units and equipment.
Visiting a Public Hospital – Steps
Public hospitals can be an excellent option for expats, but the atmosphere can be off-putting if you aren't prepared. The good news, however, is that it is relatively easy to navigate a Chinese hospital as long as you have a native speaker tag along and you have a general idea of the process.
Step 1: Get a Patient Card
When you arrive at the hospital, look for a registration desk and let them know that you need a medical card or Yīliáo kǎ (医疗卡). They will ask for your passport and a 50 RMB fee and issue you a card and a medical record book to take with you to any future appointment.
Step 2: Booking your Appointment
Some hospitals are now able to facilitate online booking but these systems generally require a Chinese ID. In most cases, it's best to go directly to the hospital and wait to see a doctor that day. Just be sure to go early to avoid long wait times.
Step 3: Seeing the Doctor
Once you have been issued an appointment, proceed to the correct department and wait for your number to be shown on display screens. Doctors see patients one after the other in small consultation rooms and personal appointments generally last around 15 minutes.
Step 4: Additional Tests, Imaging and Pharmacy
If additional tests or imaging are required, most public hospitals will be able to perform the necessary work on-site and you will be sent immediately to the correct department. Once there, you will be asked to pay upfront at the cashier and complete any necessary paperwork before testing or imagery. Once completed, hospitals are generally able to process results quickly and will generally deliver results by phone or email.
If you require a prescription, you will also be first directed to the cashier, followed by the pharmacy to fill your prescription.
Visiting a Private Hospital
The situation at private clinics is very different from public facilities in Shenzhen. You can make an appointment online or via phone with the private clinic or hospital of your choice, you will usually not wait long to see your doctor, and there is generally no queuing or paying in advance. There will be receptionists and nurses who speak English to guide you through all processes, and you will be billed afterwards. Be sure to ask about costs and insurance coverage as you go to avoid a nasty surprise in the form of a big bill at the end of your visit.
Inpatient Services at Public Hospitals
If hospitalization is required, you will be directed to the registration desk to book a hospital bed. The hospital will require a deposit at this time that can be used to cover any potential fees. Expect to pay around 10,000 RMB to 20,000 RMB for a deposit depending on the hospital.
You will likely be in a shared room with several other patients. If you require more privacy, you may want to ask if the hospital has a VIP ward. Prices per night can range from just 50 RMB to about 2000 RMB per night for VIP wards.
Before entering the hospital, pack a bag with toiletries, extra clothes, snacks, and entertainment. Hospitals tend to provide little in the way of comfort items and most patients have friends and relatives bringing supplies.
Inpatients will receive regular meal service but menu items may not suit a Western palette. Check in with hospital staff to see if orders can be made and bring snacks from home.
While you will likely have to share a room with several other patients, facilities tend to be modern and clean top-tier hospitals. Better accommodations and more privacy are available in VIP wards.
Inpatient Services at Private Hospitals
While you can expect to pay about 10 times more per night at private hospitals in Shenzhen for inpatient services, they will usually also have a choice of rooms, from shared wards, private rooms, and luxurious suites.
They will also provide everything you need and the standards will be like staying in a fancy hotel. Expect slippers, robes, great food, entertainment, maybe even sofa beds for loved ones and mini fridges and microwaves in the room.
Prices can start at 4000 RMB per night and soar up to 6000 RMB per night for the room alone. Make sure your insurance covers everything.
VIP Wards at Public Hospitals
While private hospitals are exclusive and high-end for all patients, many public hospitals try to compete by having an "International" or "VIP" ward that serves foreigners and wealthy local clientele.
These facilities offer more attentive service, private accommodations, and English-speaking staff at about a 30% higher cost than the general admission floors below.
The International wing of Beijing University Shenzhen Hospital in Futian District is home to a Priority Clinal Center that is relatively affordable but is limited to outpatient care.
The international section of the University of Hong-Kong Shenzhen Hospital is a popular choice with expats. Emergency, inpatient, and outpatient services are available.
Private Clinics and Hospitals
Private, or "International" hospitals are for-profit institutions that cater to the most elite clientele. These high-cost providers offer the plushest services and facilities at often over five times the cost of a public hospital. Excellent medical coverage is required to visit one of these top-notch hospitals but if you've got it you can enjoy world-class treatment.
You may be able to make an appointment directly with your doctor at private hospitals, just check their website for online reservations or a helpline. Private hospitals will also typically offer communication in multiple languages including English and your doctor may be foreign-trained.
Appointments are private and last for around 30 minutes. Expect highly attentive staff and beautiful facilities but don't expect a bargain. Consultation prices average anywhere from 600 RMB to over 2500 RMB.
International SOS Clinic is the most popular option for expats in Shenzhen and the one international clinic on the Shenzhen government's official recommendation list for expats. Located in Shekou, this comprehensive clinic offers the highest quality treatment but is only available to those who purchase a "clinic plan".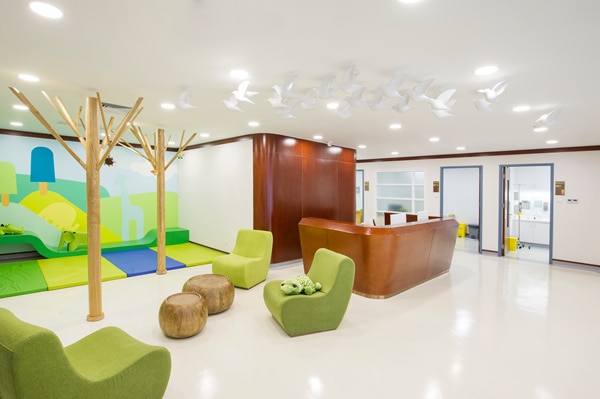 Vista SK International Medical Center is a joint venture with internationally trained staff, advanced equipment, and attentive, multilingual service. Direct billing may be an option here for those looking to use their international medical insurance without having to pay upfront.
Shenzhen New Frontier United Family Hospital is the biggest, shiniest, newest, and pricest option in Shenzhen. With world class facilities and Joint Commission International (JCI) accreditation, if your insurance covers this facility, it is a great choice for all ailments from GP visits to major surgery.
Specialized Hospitals
While large hospitals offer a variety of specialty departments, there are also specialized hospitals that offer focused care.
The Shenzhen Traditional Chinese Medicine Hospital is a relic on the Shenzhen scene having been in operation since 1975. With a vast campus in Futian District, both inpatient and outpatient Traditional Chinese Medicine services are offered at a high standard.
As one of the region's only psychiatric hospitals, Shenzhen Kangning Hospital specializes in mental health treatment at both its Pingshan and Luohu locations.
Shenzhen Eye Hospital is centrally located in Futian and specializes in the treatment, teaching, and research of common eye diseases and issues.
Prenatal, Postnatal, and Pediatric Care
If you are planning to expand your family in China or are caring for children, there are several high-quality women's and children's hospitals in the city.
Pre/postnatal care and delivery are generally sold as a package by the hospital. From week 12-25 hospital care packages cost around 15,00 to 20,000 RMB plus 70,000 to 100,000 for delivery.
Insurance may help with these costs but it is best to prepare early as many providers require a waiting period for benefits to kick in.
Vaccinations for your child are required in the first four years and are sold by hospitals at around 20,000 for a complete postnatal package.
Pediatric care is widely available. The majority of international hospitals and large public hospitals have a pediatric care department in addition to specialized children's hospitals.
Shenzhen Maternity & Child Healthcare Hospital is a large, teaching and research hospital in Futian that delivers over 50,000 babies per year.
Shenzhen Children's Hospital is the only Grade A tertiary hospital in Guangdong Province. This sprawling comprehensive hospital in Futian offers world-class teaching, research, and treatment.
Shenzhen Far-East Maternity Hospital has locations in both Luohu and Longgang. They specialize in the treatment of commonly occurring gynecological and pediatric problems as well as maternity care.
Mandatory Hospital Visits for Chinese Visas
After arriving in China with a temporary visa, you will have 30 days to make a visit to the Huanggang Checkpoint Hospital for the physical health check required to be issued a work visa.
This health check is not like a standard physical you would receive from a general practitioner.
Rather, you will be ushered through a series of tests including bloodwork, an EKG and ultrasound, hearing and eye tests, and an x-ray of the torso. These tests check for serious diseases like HIV, hepatitis, and tuberculosis and screened for major health issues. But, don't worry, you'll have nothing to worry about if you are in good general health.
Only the Huanggang Checkpoint Hospital is able to administer the health check in Shenzhen and registering in advance is mandatory. If you are working with a visa agent, ask them to help you arrange an appointment for you.
On the day of your appointment, you will arrive early along with all other registered guests for the day and will be tested on a first come first serve basis.
The appointment will take the majority of the morning and you'll be asked to skip breakfast before arriving (another reason to arrive as early as possible). You'll also need to bring your passport, a copy of your visa page, and entry stamp, 5 passport photos, and your written mailing address in Chinese so the final results can be sent.
Results are generally delivered within a week or you will receive a notification to come back for further testing.
Huanggang Checkpoint Hospital:
(Kou'an Hospital) Shenzhen Port Hospital-Ent Dept.
No. 3203, Binhe Blvd, Futian District, Shenzhen.
Prices
Public hospital prices remain fixed by the Chinese government which keeps a basic checkup at around 400 to 600 RMB. Expect to pay around 30% more in VIP Wards at a public hospital with a basic checkup coming in around 550 to 900.
Private hospitals are the most expensive with some basic checkups soaring above 1500 RMB.
Testing, lab work, and imaging at public hospitals are very cost-effective compared to Western prices. Prive hospitals and clinics will charge at least 30% more for the same services so choose the hospital you visit wisely.
Pharmaceuticals are also readily available and inexpensive. Some people will choose to visit public hospitals for medication and imaging and go to private hospitals for diagnostic stuff.
Using Your Medical Insurance
All private medical insurance for expats might not be accepted at Chinese public hospitals so check first if your hospital visit is going to be a pricey one. Most insurance companies will provide a list of hospitals that your plan covers in Shenzhen. Some will not cover the first-tier private hospitals known as high-cost providers.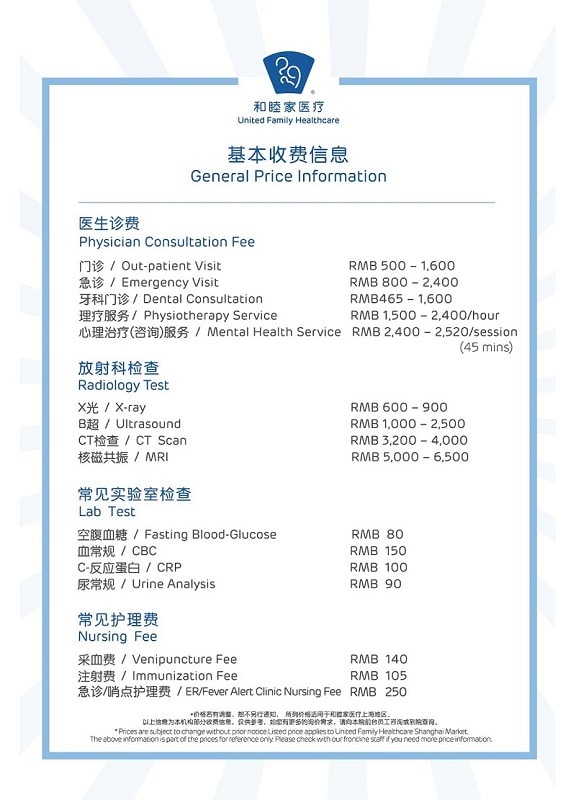 It is very important to get coverage in case of an emergency. Inpatient coverage is crucial if you are admitted to the hospital as bills can be high.
Ask which VIP wards and private hospitals accept direct billing from your insurance provider and what they will cover before agreeing to treatment. Be aware that if you do need to make any insurance claims you may need to first submit payment to the hospital directly. Take the time to understand what paperwork and receipts might be required to file a claim with your provider for reimbursement.
Covid 19 Testing and Treatment
There are fever clinics at the majority of public hospitals in the city where you can receive quick Covid-19 testing and receive treatment, if necessary.
Leaving Shenzhen for Specialist Medical Care
There are some situations in which you might feel more comfortable traveling to get the right help or see a specific doctor. If you are seeking specialized treatment you might find the care that you are looking for in Beijing or one of Shanghai's world class facilities. Shenzhen's neighboring cities also have a lot to offer in high-quality healthcare.
Guangzhou is just a short journey from Shenzhen and hospitals in the sister cities often work together if treatment needs can't be met at a single hospital. Guangzhou boasts many expat-friendly hospitals including the First Affiliated Hospital of Sun Yat-sen University.
While smaller in size, Dongguan boasts several world-class medical facilities that may offer lower treatment costs compared to Shenzhen hospitals. Dongguan City People's Hospital (Red Hospital) is the most expat-friendly.
Hong Kong used to be the premier destination for medical tourists coming from Shenzhen. Today, Shenzhen hospitals have vastly improved and are on par with Hong Kong but some expectant mothers still seek birth packages on the island.
Emergency Services
The 24-Hour Emergency Ambulance Line: 120
Calling this number will connect you directly to the city's Emergency Medical Response Center which will coordinate transport to the closest public hospital unless otherwise specified.
Arranging your own transportation to the hospital is often preferable, however, as fees tend to be high and these services are generally reserved for life-threatening emergencies. An ambulance ride might cost about 500 RMB and will need to be paid on the spot.
Now, on to You
While it is never something you wish for, facing a medical emergency in China does not need to be an incredibly expensive or difficult experience. Overall, hospitals in Shenzhen are efficient and reasonably priced. Prepare yourself by knowing which hospital will serve your situation best and consider what tier of care you'd like to receive.
Going to an international clinic or VIP ward at a public hospital may be worth the extra investment for more comfortable care at certain times while, at other times, visiting a public hospital and spending the minimum may be the best option.
We hope that this guide has made the process of choosing a hospital in Shenzhen easier and that you and your family will receive excellent medical care during your time in the city.