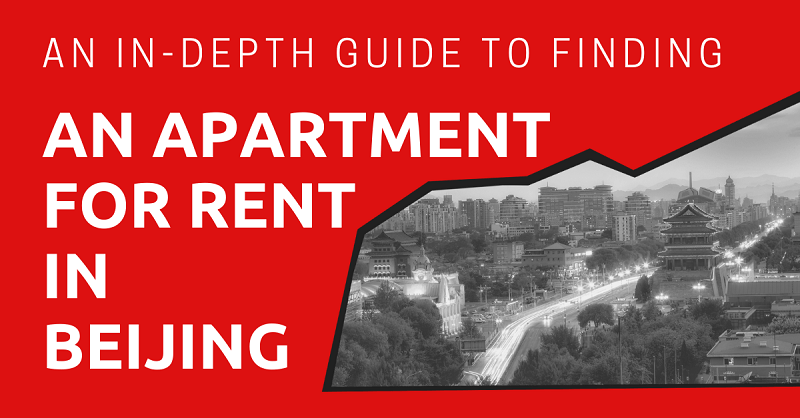 Beijing is massive. It can be the most daunting thing to open up a real estate website and see a list of 500+ suburbs to choose from. In this article, we will share with you the knowledge you need to navigate the intimidating world of Beijing accommodations as well as point you in the direction of some superb tools to make the process a lot easier.
There are a lot of red flags you will need to learn how to spot, and there are certain questions you simply must ask before you sign a contract. The advice in this article is intended to help both total rookies and experienced renters, because even long-term expats can fall into various traps and pitfalls in Beijing's crazy property market.
Written by a Beijing expat of 16 years with three years of experience working at a real estate firm in the Big Jing, we hope this article will equip you with everything you need to confidently make this transition to your new home a successful and painless operation.
This article will take approximately 31 minutes to read. Don't have the time right now? No worries. You can email the ad-free version of the article to yourself and read it later!
Things To Consider
There are a few factors that come into play when choosing a location for renting a home in Beijing. Your lifestyle, work location, your kids' school, transportation, special needs, and walking your pets are some examples. Here is a guide to the areas of the city and the factors you will need to consider before you choose one.
Location
In a perfect world, you will know where you are going to work and you will choose a place within about 3km of that location. Getting to and from work is going to be one of your biggest headaches in Beijing, especially in the dead of winter and even (sometimes especially) if you have a private car.
The city is divided into endless small suburbs located within bigger residential districts all tied up within 16 major administrative divisions, 12 of those in the city, and 4 in the surrounding mountains.
The city districts are those of Xicheng, Dongcheng, Chaoyang, Haidian, Fengtai, Shijingshan, Shunyi, Tongzhou, Daxing, Fangshan, Mentougou, and Changping.
Most Beijing guides will try to tell you about the districts, but those who are REALLY in the know will tell you the city is divided into much more niche areas with unique personalities.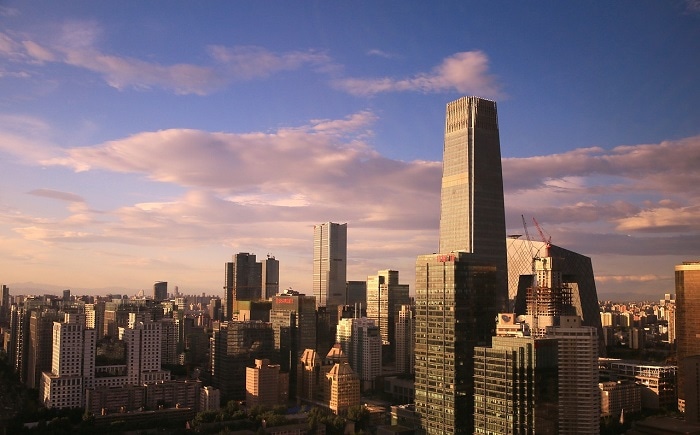 1. The Middle – (Inner Second Ring) From the tourist-trap road of Wangfujing, all the way up to Nanluoguxiang and on to Andingmen, this is the hipster zone. The cool kids live in "Hutong" homes and attend punk shows around the Houhai area.
2. The Expat Quarter – (Center East) By far the best choice of location for those who enjoy eating, drinking, and being social. Also for those who work at the embassies. The area spanning Chaoyang Park to Dongzhimen is Beijing's most lively and most foreign. With the famous (notorious?) Sanlitun Bar Street at its epicenter, rental prices and the cost of going out will wile away at your pay cheque, but your social life will thrive.
3. The Wu – (Wudaokou and southeast Haidian) This is the student district in Beijing's northwest. It is home to all of the major universities and is swarming with under-25s. International students converge in dive bars and cafes in the area, and while living there might make you feel old, it can also keep you young with all-you-can-drink nights where DJs play R&B hits from the early 2000s.
4. Shunyi – (The far northeast) Often a place of derision among Beijing's expat community for being a sprawling desert suburbia, where families live in large homes that all look exactly alike. There are two reasons to live out in Shunyi: if you work at one of the dozens of international schools out there, or if your kids go to one of the school out there.
5. The Upper East Side – (Wangjing and Lido) Famously the Korean district, Wangjing has been on a massive upswing over the past 5 years (rental prices also following suit). The area has extended its way to the lovely Lido and 798 areas. One reason for its desirability is that it is the gateway between the airport and downtown. People who work out in Shunyi sometimes do not want to live in the sticks. Wangjing is a great middle-ground, with some nicer, more established and green neighborhoods.
6. Shuangjing – (Guomao South) These up-and-coming suburbs just below the CBD have seen a sharp rise in popularity and some slightly cheaper rents than further north. They have a growing bar and restaurant scene and a lot of newer and nicer buildings. Not a bad choice, as long as you are taking the subway because the traffic down there is notoriously awful.
7. Center North – (The Olympic Village/Asian Games Village) This area is pretty bland with little in the way of fun. It is too far from the entertainment zones of Wudakou and Sanlitun to be a prime location, but it does offer more greenspace.
The Developing Districts:
8. The Wild West. Foreigners don't really live on the west side. It is a weird, industrial world of unknown local mysteries. Pretty much anything west of Muxidi is going to be lacking in western comforts. The Summer Palace is out there, as well as some large entertainment arenas and stadiums.
9. The Sleepy South. Everything south of Second Ring Road's southern border is a bit under-developed. There is no real community scene like in the lively north. You won't find many foreigners down there, but you will find older Chinese communities, plenty of space, and much more affordable living.
Transportation
This cannot be stated enough: Getting around Beijing should be at the top of your list of concerns for a happy life. A large part of choosing your home's location must be knowing how you will travel to work, to entertainment, and to the kids' school.
If you aren't going to drive will you take the subway? Would you rather avoid all the travel and walk to work? If you are not near a subway station, are you going to figure out the buses?
Here is a quick rundown of your options for navigating Beijing's urban sprawl.
Private Cars and Motorcycles
Beijing was once famous for its bicycles, but government incentives in the 90s managed to get almost everyone off the pedals and into a car. In the race to develop Beijing, they got a bit carried away and the city became a traffic nightmare.
Over the past 10 years, the government has done a lot to curb car use including implementing odd/even numberplate days, where people can only drive their car on certain days of the week.
It is easy to rent a private driver and car on a monthly basis if your salary allows for it. There are also agents who will help you get your own driver's license or convert your international license to a Chinese one. It is possible to drive in Beijing, but traffic is next-level.
Beijing made motorcycle registration virtually impossible for all but the wealthiest individuals, with motorcycle license plates often costing ten times more than the bike itself. Some serious bikers do exist and there was once an obsession with the Chinese Military Changjiang 750 motorcycle with a sidecar.
These sidecars were a popular choice for expats at one time, but the difficulty in getting them legally registered has all but squashed that trend.
Taxis – Ride- Hailing
Note: There is no Uber nor any other international ride-hailing apps in China.
Beijing taxis used to have a pretty bad rep. They were stinky, poorly air conditioned in summer, the drivers were grumpy and unhelpful, and there were endless scams to worry about. However, over the last five years, Beijing taxis have had to step up with the introduction of ride-hailing via "Didi Dache".
No one hails a cab on the street anymore. The well-integrated WeChat app with its "Didi Dache" function will call a taxi or private car to your exact location. You can avoid conversation as the driver already knows where you are going before they pick you up. You can even offer them an extra tip as incentive to come and get you.
Taxis might still accept cash, but it is not the norm. Everything is paid via WeChat Wallet; you will soon adapt to never carrying cash. WeChat and "Didi" are in English and intuitive, you will get used to them quickly and you will miss them dearly when (if) you leave China.
Buses
The ubiquitous, but less popular, bus system in Beijing is actually pretty good, if you can decipher it. They pull over for a split second, people pile on and off, and conductors yell at you in Chinese. This is why you might want to take an online Chinese course to prevent you from this kind of situation.
But, as long as you have your blue "yi ka tong" loaded up with RMB and you know which number bus to jump on, you can figure them out.
Follow your journey on your phone's map app to make sure you don't miss your stop. Fares start at just 1 RMB.
The Subway
The Beijing underground subway system has come a long way since the year 2000 when it had only two lines. As of this writing, it has 23 lines and 405 stations along almost 700 km of track, making it the longest metro system in the world. The lines spiderweb out all over the city and deep into the suburbs.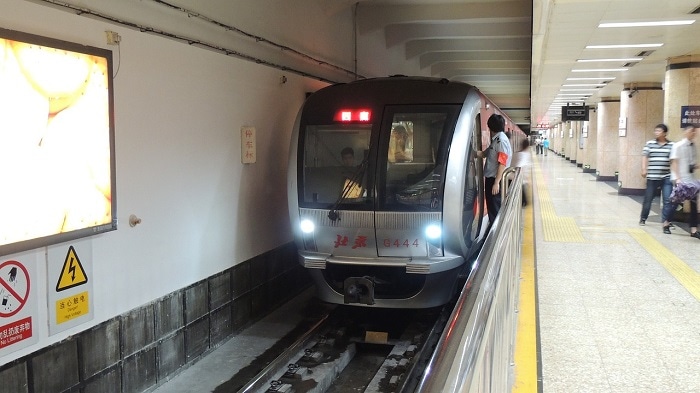 Known as the MTR or Metro to locals and "di tie" (pronounced dee tee-air) in Chinese, you can pay with a single-use ticket bought at the station or via a rechargeable blue card called "yi ka tong". Fares are distance-based, starting at just 3 RMB per trip.
These days, you can also use your phone to pay for your metro trips via WeChat, Apple Pay, or Ali Pay. The subway runs from 5am to 11pm daily. The only real drawback to the subway is the crowds.
It is easily Beijing's most popular mode of public transportation and those train cars can get squishy. Prepare to get to know your fellow passengers a little too well during peak hours.
Bike Share
For a little while, Beijing was swamped with electric bicycles. They were out of control. Sidewalks were unnavigable and piles upon piles of bikes ended up abandoned in heaps on every corner of the city. First it was Mobike, then Ofo and Bluegogo, then there were upwards of 70 bike share companies trying to cash in on the craze!
In 2019, Beijing cleared up 400,000 stray bikes and most of the companies went bankrupt. These days, there is more control, and a reasonable number of bikes still line the streets for anyone to use. Just scan the QR code, hop on, and ride away. They are actually handy for trips under 3 km when Beijing traffic is just unbearable.
Children
It is a good idea to choose a home close to your kids' school if you are moving to Beijing as a family. The only thing worse than you being stuck in traffic three hours a day is having your poor kids stuck on a school bus for that amount of time.
Many of the large international schools are out in Shunyi, but there is a good selection of downtown options as well. If you work in the CBD and want to live in town, look at The Canadian School, Yew Chung, Beijing City, Dulwich, and The British School.
Special Needs
Beijing is still, unfortunately, not the most accessible place for differently-abled individuals. Wheelchair access is still lacking and uneven sidewalks can be hard to navigate. It is getting better, but it still has a ways to come. A thorough investigation of a building's accessibility will be required – do not expect every compound to be wheelchair friendly.
Here is a great article written by people with real experience getting around Beijing in a wheelchair.
For those who have other disabilities such as visual or hearing impairment, you will need help. Navigating a new country, a new language, and a new culture is already difficult. For the differently-abled, Beijing adds more layers of difficulty.
Pets
Getting your pets into China is not much harder than other countries – a bit of tedious bureaucracy and a bit of money will have you snuggling with your furry friend in no time. In China, many long-term expats also end up with at least one rescue animal.
As is true all over the world, you will have to mention the pet to your landlord. They might not approve. Most apartment buildings are pet-friendly but it is up to the individual renting to you. Chinese people favour dogs and love small dogs.
Many people are afraid of larger dogs and there are restrictions on sizes. Larger dogs cannot legally live within the 4th Ring Road.
All dogs need to be registered at the local police station, and you should keep your dog's paperwork on you when you walk them. Scout the area you are considering for places to walk your dogs. Most parks in Beijing do not allow dogs, so you will need to find a public area.
Landlords will be worried about pets scratching the walls and furniture, so be prepared to lose your security deposit if your pet is destructive. Or find an unfurnished apartment and fill it with secondhand stuff instead of messing with your landlord's furniture. International vets are easy to find and pet care is affordable.
Living Differently & Adapting
Life in China is not going to be the same as you are used to. As long as you have an open mind and are prepared to be flexible about some of your familiar comforts, you will be just fine.
To set your expectations in place, here are some things you need to know before you start the big move.
Chinese Apartment Quirks
The first GREAT thing about renting in Beijing is that most places come fully furnished. Not just the bare minimum, but with everything you need to just show up with a suitcase and start your new life.
You can often negotiate with the landlord to get some upgrades, a better TV, or a new bed. This cuts down that initial move-in budgeting that one might have to consider in many countries when you don't even get whitegoods with a rental home.
The second positive is that neighbours tend to keep to themselves. I was surprised to realize that, while a common gripe of living in China is the constant construction noise, I actually found the apartments usually pretty noise-proof. Unless, of course, you have particularly annoying neighbors.
There are some things that take getting used to. Firstly, most Chinese apartments do not have bathtubs. Showers are the standard, and sometimes those are nothing more than a shower head situated directly over your toilet.
Of course there are some benefits of being able to shower and use the loo at the same time, but many people will be a bit put off. Bathrooms in China are wetrooms. Everything is waterproof and, because of their small size, installing a shower screen is just not practical.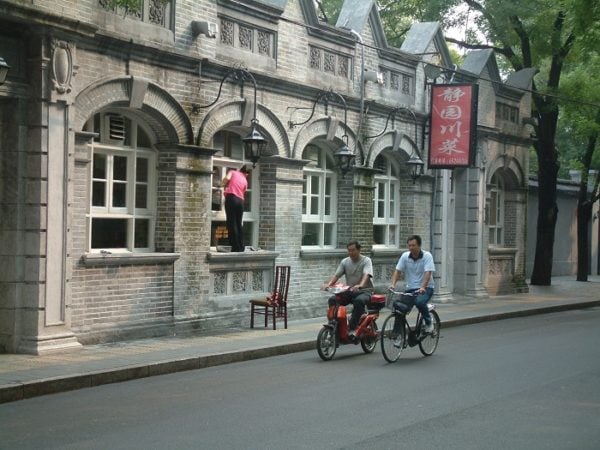 Beijing's plumbing is hundreds of years old. Even if your building is new, the sewer systems are just not up to scratch, and flushing paper down the toilet is a huge no no. In your own place you might be able to get away with flushing your paper without it immediately blocking up, but remember that you are passing your paper problem onto someone else down the line.
It takes some getting used to, but Chinese folks keep a trash can next to the loo and put their soiled paper in there. Spare a thought for the plumbers and dispose of your toilet paper and other sanitary items carefully.
Sulfur, ammonia, and other sewage gases might find their way into your home. In Chinese plumbing, believe it or not, it was not previously common to install U-bends in the pipes. The U-bend, or P-trap, is a standard fixture in most countries that provides a water barrier between your bathroom and the sewers.
In China, all of your drains make a straight line down to the rest of the pipes in the building where your waste water meets your neighbours waste water.
With no barrier, the gasses accumulate and waft freely back up into your home. The stink can get bad. Don't bother pouring bleach down the drains, that won't help for more than a few minutes. The best solutions are stoppers. You can get water traps that sit in your drains, or simply cover the holes with lids when not in use.
Forget about hot fluffy towels. Unless you are spending big on a high-end home, apartments in Beijing do not come with dryers. They are considered a massive waste of money and electricity. You will get a washer, but you have to get used to hanging your laundry and sometimes that makes fabrics a little crispy. But on the bright side, it is much better for the environment.
In the kitchen, most spaces do not come with built-in ovens. Hit the electronics mall and find a nice, big benchtop oven. Some of them are actually good enough for baking. Get shopping for some rubber gloves, because a dishwasher in a Chinese apartment would be like finding an actual pot of gold at the end of a rainbow.
Microwaves, fridges, and cooktops are pretty standard, though don't be surprised if you kitchen does not have hot water. If that drives you crazy, you can install a mini electric water heater for a reasonable price.
Outdoor balconies are a rarity in Beijing. In winter they are useless and Chinese families prefer to enclose them and have the extra space to add value to their home and use the sunny alcove for drying laundry or storage.
Ambient Noise
Generally, you want to avoid living near a school, as they play the national anthem at top volume through tinny speakers, they do calisthenics in the yard, and on weekends you might be torn from your restful slumber by a monthly sports carnival.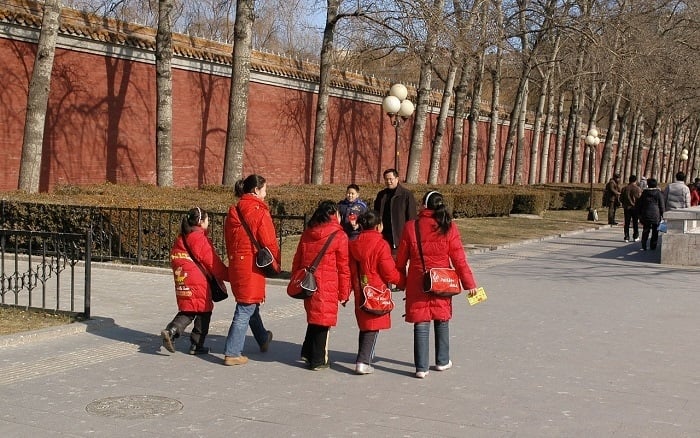 Avoid busy roads, especially apartments on low floors near busy roads. The honking will drive you mad. Look out for nightclubs in the areas you are scouting. The thumping bass might keep you up at night.
Visit the apartment a few times (even if you have to sneak back without the agent), and at different times of day, and just kind of get a feel for what it is like.
Do the neighbors have barking dogs alone all day? Do kids squeal in delight after school every day in the playground under your home office? Look out for warning signs to keep your mental health in check.
When in doubt, go high, away from the streets and the people.
Safety & Security
Of course, crime happens. It does everywhere. However, I will say that in my 16 years in China, having lived in some very cheap, dodgy-looking places, all alone, in isolated areas of the city, I was never robbed or even made to feel uneasy. Beijing is very safe for foreigners.
The odd case here or there of crime against foreigners is the exception to the rule that you will pretty much be fine. Even the shabbiest of apartments will have a solid (often steel) door with several deadlocks and windows are usually barred when on the lower floors.
Chinese Real Estate Vocabulary
It helps to know some terms when looking to rent in Beijing. Knowing what you are looking for will help narrow down your options and avoid wasting time visiting inappropriate homes.
A common gripe for apartment-seekers is that agents, websites, and landlords will often not differentiate between a studio (bedsit) and a 1-bedroom apartment. They like to call both of these things 一居室 "yī jū shì" (1 bedroom) and will advertise as such. Get clarification, you need to know if it is a 单身公寓 "dān shēn gōng yù" (single person apartment) or a real 1-bedroom.
To move house is to 搬家 "bān jiā". 家 "Jiā" means home and is used to describe the place you live as well as the country or town you are from. 房⼦ "Fáng zi" means house and is usually (but not always) used to describe an actual house. It can casually be used to describe an apartment as well. When you want to rent a place, you will use the term 租房子 "zū fáng zi" or shortened to 租房 "zū fáng".
公园 "Gōng yuán" is another term you will see in the names of apartment buildings. It literally means a park, but is also a block of flats. A fancier apartment building might be called a 公寓 "gōng yù". 屋子 "Wū zi" is a room and is often used to mean a single room in a shared space with shared facilities.
Large family homes are found in gated communities on Beijing's outskirts with grandiose names like "Champagne Town" and "Chateau Regalia". These communities are simply referred to as "villas", a fancy name for a suburban, cookie cutter home.
These can be attached, semi-detached, or standalone. Villa compounds are referred to as 别墅 "bié shù". 排屋 "Pái wū" are terrace houses or townhouses, connected to each other with shared walls.
A type of home you will hear a lot about is the famous and divisive 胡同 "Hú tòng". Hutong literally means alley, but is used to informally refer to the 四合院 "sì hé yuan" courtyard homes of yesteryear which still stand in some parts of Beijing.
Home Options
Once you have an idea of where and what you are looking for in terms of a new Beijing home, you will then need to get your head around the expenses, the legal stuff, the logistics of finding the right place, the terminology, and the real options you will have ahead of you.
Apartments
These range from super luxurious, modern penthouses to abstinent, communist-era flats. It is definitely the norm to live in a high-rise in Beijing, and there is something for everyone. The newer, shinier places are also usually small and shoeboxy.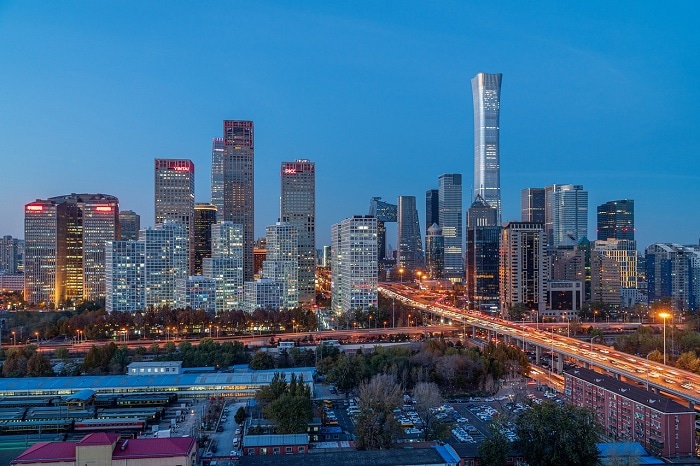 A lot of new buildings are mainly studios to accommodate Beijing's young professional single crowd. The older flats are more spacious but less glamorous.
Decide on a few things clearly before you start hunting: budget, area, bedrooms, and square meterage. This will help narrow down your options.
Hutongs
These are 1- to 3-storey traditional courtyard homes. Many have been renovated or completely rebuilt by the Chinese government, some of them are still quite ancient, and a rare handful have been converted into stunning modern mansions.
Hutongs are a valuable real estate option which come with bragging rights but also a long list of headaches for those who live in them.
They are freezing in winter. Traditionally heated with pot belly stoves, these days renters rely on the pathetic gusts of hot air from their electricity-sucking air conditioning units to warm hutong spaces. This gets expensive when it is minus 10 degrees Celsius outside.
They are mouldy in summer. When that spring rain sets in, hutong renters often need to set aside one day a week for mould scraping. It climbs the walls and the roof always leaks.
The neighbours are usually older, serious, set-in-their-ways, and a bit cautious of foreigners. They will not tolerate your loud music or your guests, and they will grumble if you come home late at night and disturb them while fumbling around in the dark alley between your homes.
Villas
As mentioned in the section above, these gated community homes are fancy, expensive, and huge. Usually three to five bedrooms of space and most often situated way out of town. They have community centers with pools and tennis courts.
Most of them are in Shunyi, with a few complexes closer to town in "The Center North" and "The Upper East Side".
Serviced Apartments and Short-Term Rentals
As mentioned below, most contracts are one year. However there are a good selection of short-term places. These are usually nicer, serviced apartments which come with a higher price tag. You can always try your luck on Air B&B; so many people sublet these days.
There is also sublet.com and other similar sites which will pop up with a quick Google search.
Budget
Most people want to spend about one quarter to one fifth of their income in Beijing on their housing.
If you are a single person on an average salary of about 25,000 RMB a month, you will probably want to spend around 7,000 RMB a month on a decent 1-bedroom. But if you want to save cash, you might be able to find a small place in a good location for as low as 5,000 RMB. If you want to spend less than that, you might have to find yourself a roomie or two.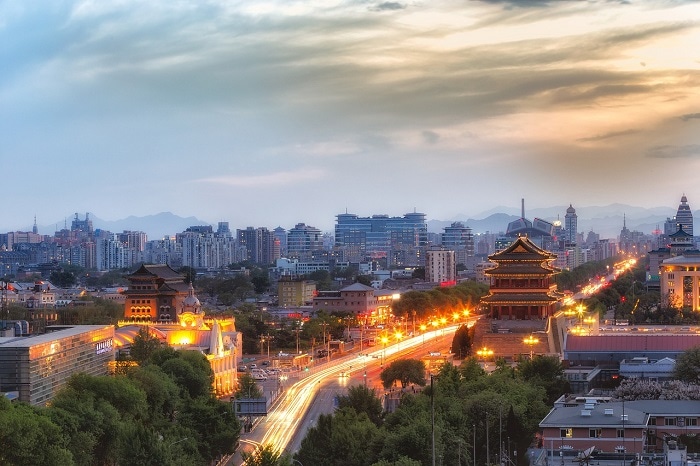 If you are a DINK (double income no kids) couple, your combined income might be 40,000 RMB a month as young professionals or teachers, and you would look for an apartment in the range 8,000 to 10,000 RMB per month. This will get you a decent 2-bedroom or a very nice 1-bedroom in a good area.
If you are a professional on an expat package with a sweet income, you could have a rental budget upwards of 20,000 RMB per month, and for that price, you will be looking at a stunning, high-end apartment. If you are a family on a package, with kids, schools, insurance, and housing included, you might be lucky enough to have 30,000 to 50,000 RMB a month, or more, to spend. In that case, you will most likely be looking at villas.
Finding Apartments
Of course you should do your own research, both online and by hitting the streets. Visit your most desired areas and look at the buildings that grab your attention, make notes, and even wander in and talk to the management office – they usually have the lowdown on available places in the building and the average rent prices.
Keep in mind: the photos are often glamourized! Don't get too excited, because you will be let down when you arrive to inspect your dream home only to realize you have been lured in by beautified (and sometimes totally fake) photos!
English Websites
The Beijinger Classifieds. This website will eventually become your Beijing bible anyway, so you might as well start checking it out now.
Flat in China. Clean layout, easy to use, but you won't find many local bargains. These are expat apartments at expat prices. Still a useful tool for doing your research on buildings you might like to live in.
Wellcee is great and even has a flatmate option if you want to make instant friends when you first get to Beijing.
A new face on the real estate market in China is Ziroom. They have an app in English and their apartments are all verified real. They also provide a host of other services and guarantees.
The Beijinger has some good information about Ziroom.
Chinese Websites
Chinese language sites show real Chinese prices rather than inflated expat prices. They also come with one major problem: They don't have an English option. Unless you know how to speak Chinese, you will be stuck with patchy translations which you can struggle through on a computer with a Google Translate extension on Google Chrome (this is a strongly recommended thing to have anyways).
Here's a list of Chinese language real estate websites you can check out:
Real Estate Agents
Sometimes it's a good idea to get more than one agent. They do work on commission, so don't waste their time, but sometimes they can work slowly or they can only have a limited database of homes at their disposal. You might be lucky and find your dream home on the first day of visits, but usually you will need to see six or more places before you settle on one.
Sometimes this process can take weeks, depending on how fussy you are. Agents who speak English will specialize in higher-priced properties. They are all area-specific. They charge one month's rent as commission but this is usually paid by the landlord. Make sure to ask this question at the beginning.
You can find agents very easily. You can either walk into a real estate office on the street and they will hook you up, or you can message them via the various websites listed above and they will eagerly offer you every property they have on the books.
Be very straightforward about size, budget, and area. They will try to get you to spend more, so be firm and negotiate.
Legalities
You found the place you love. Now, it's the time to take a look at related legal issues.
Rental Property
One thing to make sure of: your landlord MUST have their apartment registered as a rental property (and thus pay the appropriate taxes). If they are trying to be sneaky about this, then they will be fined and you will have problems when you try to complete your mandatory police station housing registration certificate.
Rental Contract
Rental contracts in China are always for a minimum of one year, unless you specifically rent a short-stay place or serviced apartment on a month-to-month basis.
The most common contract (this can vary and is sometimes negotiable) is 1 + 2. That's one month's rent upfront as a deposit, plus two months' rent in advance. After the first two months, you usually pay for three months in advance.
There has been some push to encourage landlords to accept monthly payments, but three months is still the norm. At the end of the year, you will have an inspection and either sign another one-year contract or move and hopefully get your deposit back.
When signing contracts, often the agent will take care of it, but sometimes you will meet your real landlord. They will expect you to show them a great deal of respect and appreciation, so smile and be grateful and you will have a better relationship with them in the future. You will provide your passport and they will make copies.
Contracts are often bilingual, but the Chinese version is the only actual legal one, so you might wish to have a savvy Chinese friend or colleague look over it first. You will walk around the apartment and check over the furniture list and check the water, electricity, and gas meters.
All of this happens quickly. People usually start looking for their new apartment one to two weeks before they are ready to move. Once you find the one you like, the agent and landlord will be expecting you to sign and move in right away.
The good deals go fast, so don't bother inspecting places a month in advance.
Housing Registration
The housing registration is necessary for your visa and for every foreigner living in Beijing. You will need to do these frequently when returning to the country, moving home, or getting a new visa. So you must be legally living in your home and your name must be on your contract.
Make sure the landlord knows that you will register and make sure they are legally able to rent to you.
Any disputes should be settled by discussion between your agent, your landlord, and yourself. If these issues cannot be resolved, a police report can be made, however, the police will state that it is a civil matter, and it will be up to you to pursue legal action at your own expense. There are plenty of English-speaking lawyers in Beijing.
The China Law Blog is a fantastic source of legal information and advice.
Related Expenses
You will pay for water/gas/electric utilities (the system is different at every building). Usually there are some cards involved, which you take to either the bank or the management office in your compound. Don't forget to ask exactly where these bills get paid.
Most of them can also now be paid using WeChat! These utilities in a small apartment should be about 500 RMB per month.
The landlord will pay the building management fees and they should pay for any (reasonable) apartment repairs, though this is all down to your skills of negotiation. You might need to pay for a parking space, so check with your landlord if you plan to have a car.
You will have to set up your internet by yourself, though your agent should help, or the building management can also sometimes recommend a service and even call them for an appointment.
Usually your building will be hooked up with either China Unicom or China Mobile ADSL and it will take about 30 minutes to install your router and hook you up.
Bonus Tip: BEFORE you move to China, download and subscribe to a good VPN like Astrill or Express. Trust us, you will need it.
Now, on to You
And that's it! You should be all set to land in Beijing and start hunting for your perfect abode. I know this guide is long and detailed, but keep it bookmarked and I am sure it will serve you well on your exciting, Chinese adventure.
China is an awesome place to live. I did it for 16 years and still miss it every day.