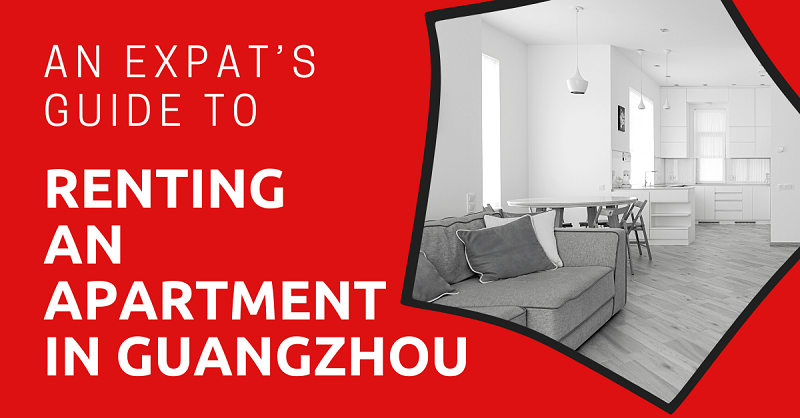 Moving to China is an exciting, life-changing, but sometimes challenging experience, and choosing an apartment is one of the most important factors in making your time in Guangzhou enjoyable. Once you've enjoyed all the cultural, entertainment and nightlife options the city has to offer, you'll want a safe, comfortable place to return to and there are a few things you need to consider carefully.
This article will take approximately 17 minutes to read. Don't have the time right now? No worries. You can email the ad-free version of the article to yourself and read it later!
Choosing a Location
Guangzhou is a vast city, and as part of the Pearl River Delta conurbation, lies within the largest urban area on earth. Before you can start apartment hunting, you need to have a clear idea of where exactly you want to live within this teeming metropolis.
Guangzhou's Districts
Guangzhou is divided into eleven districts. Of these, the central districts cluster around the Pearl River. On the north bank lie Yuexiu, the ancient heart of the city, and modern, bustling Tianhe. Haizhu on the south bank is quieter but still convenient, and for an authentic Chinese experience, there's the historic district of Liwan to the west.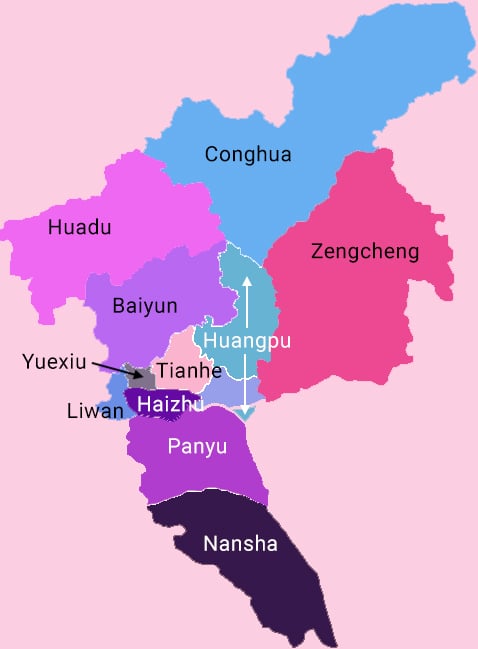 Downtown can be expensive, and more affordable accommodation is to be found in the next ring of districts: Baiyun to the north, and Panyu, south of Haizhu. On the east side Huangpu District has absorbed Luogang, and is a rapidly developing area. The outlying districts of Huadu, Zengcheng, Conghua, and Nangsha are remote and – in places – rural. Unless you're working or studying in those areas, you're likely to want somewhere a little closer to the action.
Location Considerations
There is no single "best" district to live in. The right location for you depends on your individual circumstances. Here are some factors you might want to bear in mind when hunting for your ideal apartment.
Transportation
Like most big Chinese cities, traffic is a major issue in Guangzhou. While some long-term expats do choose to get a Chinese driver's license to legally drive in China, paying the running costs of a car just to sit in jams isn't practical for most expats, so access to public transport is a crucial consideration.
Fortunately, Guangzhou has an extensive and rapidly growing metro system. Distance from a station is one of the factors which determines the desirability of an apartment (and also its cost). Think about how you will get to the station: is it walkable? Can you cycle? Local buses are also available, but despite bus lanes, can also be held up in traffic.
Kids
An hour-long commute might be OK for you, but would you want your child to spend so much of their day on the road? Guangzhou has many excellent international schools, so you may be able to choose a school based on your location; but for many parents, finding the right school for their child takes priority over other considerations.
You'll also need to consider outdoor play areas. Chinese parks are very structured, with designated places for children, older people, and sports activities, and very little open space for running around or kicking a ball. Most compounds have play areas for younger kids, but if your children are older, you'll need to think about what options will be available to get them off their screens and into the fresh air.
Pets
Dogs also need outdoor space. Houses with gardens are at a premium in Chinese cities, so you'll need to consider the wellbeing of your furry friend as a part of your move. Make sure there's somewhere your pooch can get regular exercise. Bear in mind too that dog ownership is restricted and tightly regulated in central Guangzhou: you are only permitted one dog per household, and there are limits on size and breed. Other pets may be less problematic, but check your rental agreement to see which animals are permitted before making a commitment.
Apartment Facilities, Conditions, & Features
Location is important, but what's inside matters too. Check any prospective apartment carefully, and make sure contents are itemised as part of the rental agreement.
Furnishings
Most apartments come fully furnished, which is good news if you've just arrived from overseas. As a minimum you can expect beds, storage space, and living room furniture. Many landlords will also provide a television, though this is not standard.
Kitchens
The kitchen is where you will notice the most difference. Kitchens in Chinese apartments tend to be very small, and cooking facilities are limited. It's rare that you will be provided with an oven (or even have space for one), and there will usually only be two burners. Microwaves are standard equipment these days, and of course a refrigerator or fridge freezer is essential.
Bathrooms
Baths are extremely rare except in the most luxurious accommodation. Bathrooms are usually "wet rooms", so the shower is not contained in a cubicle, and in older apartments drainage is a slope in the floor leading to an outlet.
Laundry
Washing machines are standard equipment, and even the smallest apartment will usually have a tiny utility room for laundry. Driers are almost unknown though, and compounds don't usually include drying areas. Most people dry clothes on balconies, outside their windows or on a rack in the apartment.
Air Conditioning
Summers in Guangzhou are hot and humid, and air conditioning is hugely important. Make sure it's working in every room.
Common Spaces
It's worth having a look around the compound, and checking that the grounds are well maintained. Drop into the estate office–if they are not friendly and helpful, they're unlikely to be once you move in. If you're on an upper floor, adequate and regularly serviced elevators are essential.
Mold Tip
Mold is a common problem in humid environments like that of Guangzhou. Look carefully in corners of rooms and behind furniture, and watch for signs that mold has been hidden, like recent repainting in limited areas.
Choosing an Apartment Type
You may find that Guangzhou has a narrower selection of accommodation types than your home country. 36 years of the "one child policy" means that most families consist of three people, and apartments have been built accordingly. The tradition of grandparents living in to provide childcare means that three bedroom apartments will often have two double rooms, but family accommodation with four bedrooms or above is rare and can be expensive.
Accommodation is usually in compounds, with gated entry. Facilities at different compounds vary widely, but some contain shops, restaurants, even gyms, and swimming pools.
Studio Apartments
For a single person spending most of their time out and about enjoying Guangzhou's vibrant culture and nightlife, a studio apartment can provide an inexpensive option. They offer lower utility bills as well as lower rents: expect to pay RMB 5,000 to 8,000 per month.
One and Two Bedroom Apartments
This is the most common type of apartment, giving you the widest choice in terms of location and facilities. Rents vary widely too, with two bedroom apartments costing as little as RMB 7,000 or as much as RMB 30,000 and more.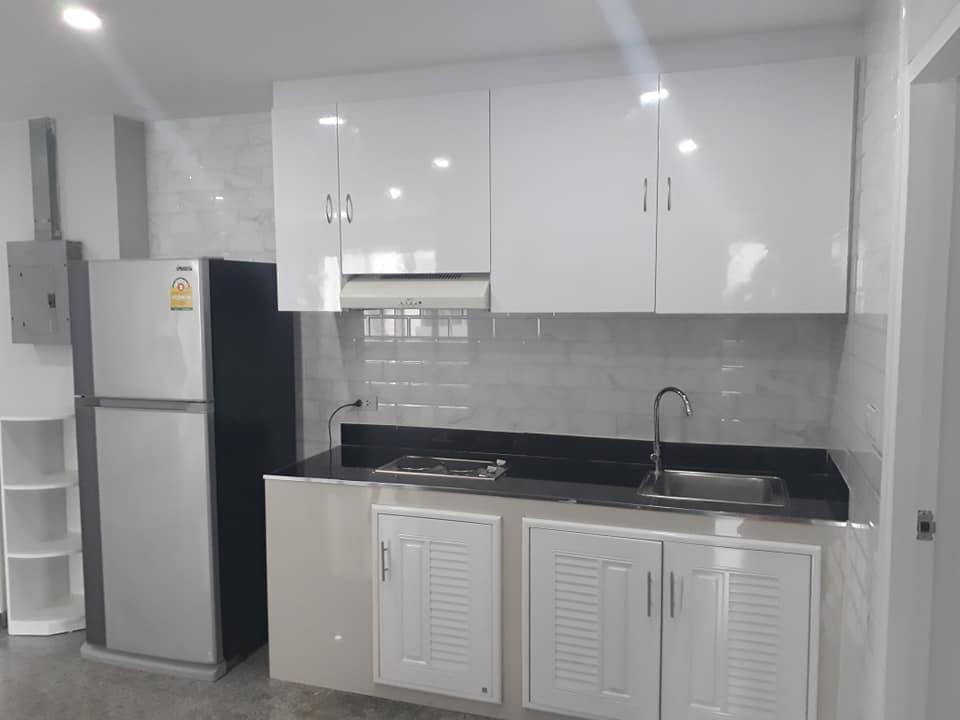 Family Apartments
Rents rise steeply for larger apartments. Depending on location you may find a three bedroom home for not much over RMB 10,000, but a four bedroom apartment will generally cost more than RMB 20,000 per month.
Serviced Apartments
For business visitors and other people planning a short stay, serviced apartments provide more privacy and space than a hotel, while still offering amenities such as cleaning, laundry and other services. Expect to pay a premium on top of usual rental prices for the convenience.
Shared Apartments
Those on a budget may wish to consider sharing. Apartment sharing can be a great way to make friends in a new city, and if your flatmate is a local, you may be able to improve your Chinese language skills too!
Villas and Townhouses
The vast majority of accommodation in Chinese cities consists of apartment blocks. Stand-alone properties can be found, although they are usually in the suburbs and may not be conveniently located. You are unlikely to find a villa for less than RMB 25,000 per month, and most cost substantially more.
Determining Your Budget
The cost of living in China overall remains lower than many western countries, although it has been rapidly rising since the Beijing Olympics in 2008. If you shop at local markets and learn to use Taobao, it's possible to keep your budget in check.
However rent in big cities such as Shanghai and now even Shenzhen and Guangzhou can be a major expense, blowing a hole in your budget. The "30 percent rule" – which says that you should expect to spend 30 percent of your gross income on rent – may not work for most people. If you're an English teacher on a typical monthly salary of RMB 15,000 (around USD 2,200), that gives you RMB 4,500 per month for accommodation: barely enough for a tiny studio apartment. When calculating your disposable income, it's important to make sure you've allowed enough for somewhere to live.
Extra Expenses
Rent is not the only cost you will encounter on moving into an apartment. Landlords will usually ask for two or three months' rent in advance, as well as a deposit. You may also have to pay an agent's fee, which is often equivalent to a month's rent. All this means you should come prepared with a substantial down payment.
Utilities are sometimes included in your rent, but generally you will have to make your own arrangements. Allow around RMB 500 each month for water, gas, electricity and internet on a one bedroom apartment.
How to Find an Apartment
In a vast city like Guangzhou, hunting down the right apartment for you can be a daunting task. Fortunately, you have several options.
Get an Agent
Rentals in China are traditionally handled by an agent. This approach has pros and cons.
If you're new to China, and especially if you're a beginner at Mandarin, this may be your only choice. Culture shock on arrival can be overwhelming, and managing this process in an environment where you can effectively no longer read and write might be too challenging. A good agent will not only help you find an apartment, but guide you through the legal and practical requirements of signing up and moving in. Choosing an agent who is an English speaker is a must, though you should be aware that in some cases there may be a gulf between their claimed competence and their actual ability to communicate with a native English speaker.
The downside of using an agent is that, although it's often you who pays them, their first loyalty is to the landlord, who may have other properties listed with them. Unscrupulous agents will sometimes see a foreigner as an excuse to offload one of the less desirable properties that have been on their books for a long time, and also to bump up the rent, and therefore their fee.
The fee is the other issue which might deter you from using an agent. It's calculated as a percentage of a month's rent, though some charge an entire month; make sure the fee is agreed and clear in advance, and don't be afraid to negotiate. This is a considerable additional cost. However, a good agent is worth every penny. Try to get a recommendation from someone who has used them in the past if possible.
You might find your agent expects you not to look for apartments independently of them. This is due to the Chinese tradition of guanxi, the network of relationships which governs both business and social life. However there is no reason why you shouldn't use other approaches or even work with multiple agents, though it might be embarrassing if they catch you (as once happened to me) viewing a property with another agent!
Online
As with so many other aspects of life, rental advertising has largely moved online. There are websites in English as well as Chinese, so even if you're new to China, this needn't be a problem for you. Sometimes online listings enable you to contact a landlord directly, but most are posted by agents. Be aware that if an apartment appears too good to be true, it might be; sometimes the agent will tell you that particular property you saw online has just been let, but they have many other excellent apartments on their books.
English Websites
Flat in China claims to be "China's top housing platform." Guangzhou is one of six cities which it covers, and you can also search for rooms and apartments. It's well laid out and easy to use, but you will find rents are higher than on other sites.
Wellcee is mainly aimed at apartment sharing, but also includes some rentals. It contains listings in both English and Chinese, although most people looking for apartment shares are locals.
Gabino Home has a faulty search engine, which means that it produces no results for Guangzhou unless you search through google or use this link. However it lists a wide range of apartments across the city.
GZ-Rent is a local site put together by an agent. It's less slick than some of the international sites, but offers a personal touch.
Sublet.com, as the name suggests, allows tenants to advertise properties for subletting. If you choose to sublet, be very careful to make sure that the landlord has consented to the arrangement and the contract is legal, otherwise you could find yourself evicted at short notice and losing a lot of money.
Nestpick is an aggregator site, pulling listings from a number of sites, but mainly booking.com and sublet.com. Many of these are short term holiday lets, but there are longer term rentals available too.
Chinese Apps and Websites
Lianjia 链家 – China's biggest real estate website. Like many Chinese websites, it is busy and can be hard to navigate if you're not fluent in reading hanzi.
Ganji 赶集 – Ganji means "to go to market", and this is China's biggest site for classified advertisements. You'll find plenty of rentals and apartment shares, if you can find your way through it.
Ziroom 自如 – With a cleaner interface than some sites, Ziroom might be easier to cope with for Chinese learners.
Social Media
Everything in China happens on WeChat, and that could be the place where you find your dream home. The ubiquitous social media app has a Housing section under Services on the Me page, but it might be more useful to find local groups for the area you want to live in. There's no reliable way to search for these, and with WeChat groups limited to 500 members, you'll need to ask around and make contacts. This may be easier if you've been in China for a while, and you're looking to move.
Hit the Streets
If you know which neighbourhood you want to live in, it's a good idea to have a walk around and see what you can find. Most compounds have a rental office, and you may find agents with local branches. Ask to see their books: there may be properties which have not been advertised yet.
The Rental Agreement
Before signing any rental agreement, it's important to negotiate. You may be able to secure a reduction not only in rent, but in your deposit and length of lease. Agreements typically last one year at first.
It's a good idea to get a Chinese friend to look over the agreement, even if your Mandarin is good enough to read it. They may be able to spot any clauses that look unusual or unfair. Your employer or educational institution might be able to help in this regard.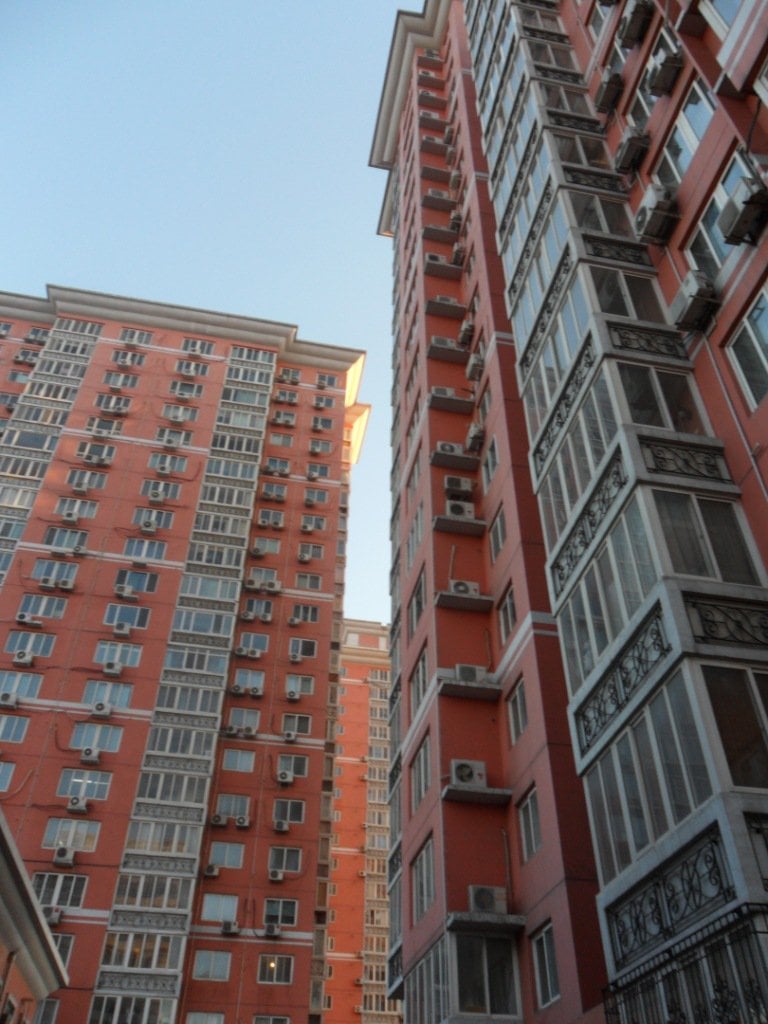 Go round the apartment with the landlord, and make sure that the fixtures and fittings are recorded accurately, and that any problems are noted. Landlords in Chinese cities are notoriously reluctant to return deposits, and you may be held responsible for any repairs which haven't been specifically recorded in the agreement.
Subletting is common in China and sometimes done illegally. Check that the person renting the apartment to you is the real owner, or at least has their permission. You should be able to see their ID card (shenfen zheng, 身份证) and property certificate (fangchan zheng, 房产证). If they won't show them to you, this is a serious red flag.
Residency Registration
You've signed the lease, moved into your new home: now you can relax, right? Wrong. There is one more very important task to be completed.
Foreigners in China are required by law to register their address with the police within 24 hours. Your landlord, or a representative, should come with you.
You need to bring:
Your original valid passport
Photocopies of the following pages of your passport:

The photo ID page
The page with your valid visa page
The page with your most recent entry stamp
The landlord needs to bring:
The rental contract
The original Property Certificate and a photocopy of it
The original and a copy of their identity card
If your landlord sends a representative, they also need to bring:
The original and a copy of the representative's ID card
An original and a copy of an attorney's letter authorising them to act for the landlord   
Now, on to You
Apartment hunting in China, particularly if you're new, can become a crash course in some of the more frustrating aspects of life there. It's best to approach it as a learning experience, part of the adventure. A local contact can make a huge difference, here as in many aspects of life in China.
The good news is that, in a huge city like Guangzhou, there is such a wide choice of apartments, compounds, neighbourhoods and lifestyles that there is sure to be something for you somewhere. Good luck, enjoy the hunt, and remember to always negotiate!