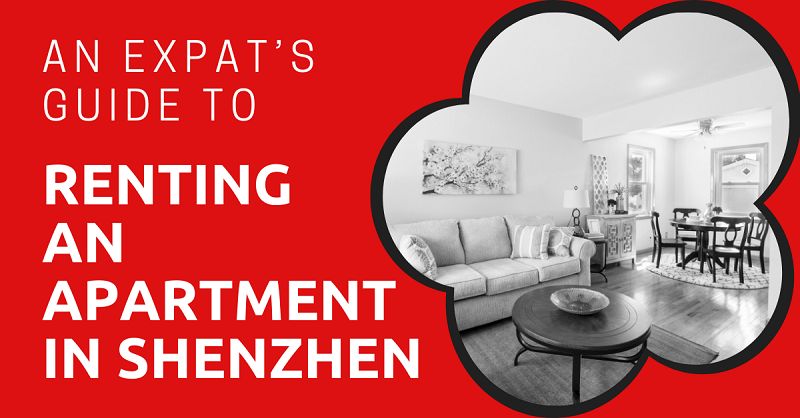 Shenzhen is home to over 17 million people as it is a part of the most successful special economic zone in China with annual GDP rivaling only Beijing and Shanghai. This is due in part to its proximity to Hong Kong but also to the development of pillar industries like technology, finance, and manufacturing.
Increased opportunity and development has drawn a growing number of expats to the area and prices have risen with the population. The quality of housing in Shenzhen is relatively high, and armed with some knowledge of the market and a good real estate agent, you can find the home of your dreams within your budget.
This article will take approximately 18 minutes to read. Don't have the time right now? No worries. You can email the ad-free version of the article to yourself and read it later!
Choosing a Location
There are six districts within Shenzhen city limits: Futian, Nanshan, Luohu, Longgang, Baoan, and Yantian. There are also an additional four management areas: Longhua, Pingshang, Dapeng, and Guangming. 
Shenzhen lies along the coastline and stretches for a considerable distance from end to end. A trip from Nanshan to Luohu, for example, can take over an hour by subway. So, it's important to consider your location carefully if you'd like to cut down on commute time.
Your lifestyle will be a major factor in where you choose to live in Shenzhen. Each area comes with a list of pros and cons, different entertainment options, different schools, types of homes, prices, and environment. Make sure you read up on the best places to live in Shenzhen before making your final decision.
Shenzhen's Districts
Futian is the home of the city's Central Business District and the majority of the expat population outside of Nanshan district. It is also one of the city's most expensive districts to rent in. Nanshan and the sub-district Shekou have the highest concentration of expats and the highest rents in the city. Luhou, Longgang, and Bao'an districts are less popular with expats but offer lower rents and a more typically Chinese way of life. Yantian lies far from the city but is home to Shenzhen's best beaches. Expect the lowest rents in the city and a quiet beachside life.
Location Considerations
We will each have different needs to consider when apartment hunting in Shenzhen. While the suburb is very important, there are other things to think about as well. How will you get to work, how far will you be from your kids school, do you need space to walk a dog?
Transportation
Most expats do not own a car in China and rely on the metro system or Didi taxi service to get around town. You will want to find accommodation within walking distance of a station if possible. Local buses are also an option but less convenient in traffic.
Kids
If you have kids, think about their schooling before you choose an apartment location. The majority of expats choose International schools in Shekou or Futian. Choosing to live close to your child's school is a good idea. While many schools offer school bus options, it is not nice to have your child on a bus for several hours a day.
Pets
If you are bringing a pet to China, consider what the outdoor spaces are like around your apartment complex. Most of Shenzhen's parks are not pet-friendly but the first-ever dog park recently opened in Futian. You might also need to think about finding a reputable veterinarian close to your new home.
It's up to your landlord to decide if your pet can live with you in your new home and you will need to get their express permission beforehand. Landlords often charge a pet deposit if they do allow them. Be aware that landlords will be looking for any damage to the flooring, fixtures, and furniture left by your pet and will use the deposit to cover this damage. If your landlord says no pets, it is best not to try to sneak them into your apartment and risk losing your whole deposit.
Choosing an Apartment Type
Shenzhen is a young and modern city, so there are an abundance of clean, comfortable apartments to choose from. Shenzhen is one of the busiest cities for housing construction in China and many of the apartment buildings have been built within the last ten years.
Apartment complexes in Shenzhen consist of a cluster of high-rises. These gated areas serve as your direct neighborhood and sometimes feature amenities like outdoor gardens, pools, and gyms exclusively for the use of your community. Those with a higher budget can find communities with resort-like amenities.
Studio Apartments
If you're on a budget but still want the privacy of living alone, studio apartments are available in Shenzhen. While less common than one or two bedroom units, efficiencies tend to be small and low price with an average of under 50 square meters at less than 5,000 RMB.
One and Two Bedroom Apartments
Most available apartments in Shenzhen are one or two bedroom units. Quality, size, and pricing varies widely throughout the city. One bedrooms average around 8,000 – 12,000 RMB per month for around 70 square meters. Two bedrooms average 12,000 – 18,000 RMB for 100+ square meters.
Family Apartments
Three and four bedroom apartments are available in high-rise communities throughout the city, particularly in family-friendly Nanshan. Expect rents around 15,000 – 22,000 RMB for units over 150 square meters.
Serviced Apartments
Popular with business travelers, serviced apartments can be great for those who want a short-term stay and luxury amenities without signing a lease. Families can also find larger serviced units.
Shared Apartments
Finding a roommate can be a bit of a challenge for expats. Sites like Wellcee often feature shared housing listings from Chinese agents looking to fill shared housing for a landlord with little thought for the compatibility of the renters. Exercise extreme caution if you are considering a shared house that has been arranged by an agent. Expats looking for a roommate more often use social media to post listings. Join the Shenzhen Expats Group on Facebook and ask to be added to relevant groups on WeChat. The best way to find roomies is to make friends, start talking to your colleagues, and join some networking events like the Shenzhen Food & Drinks Group on Internations.
Villas and Townhouses
There are not many freestanding house options in Shenzhen, but you can find luxury townhouses and villas for very high rental prices. These homes are usually 3 to 6 bedrooms and cost between 35,000 RMB and 170,000 RMB a month to rent.
Determining Your Budget
Before relocating to Shenzhen, you should get a feel for the general cost of living in China to decide if a move will work for you. The rise in population, the proximity to Hong Kong, and the increased tourism and business in Shenzhen have all led to a rise in housing prices but overall the city remains relatively affordable compared to other mainland megacities and especially to neighboring Hong Kong.
The most affordable housing options lie on the outer edges of the city. Yantian is the most affordable district and residents enjoy a beachside lifestyle far from the city center. Alternatively, Futian's OCT (Overseas Chinese Town) commands the highest rents but is right in the heart of city life.
Average rents for a one-bedroom Futian apartment range from 6,000 – 8,000 RMB per month while a one-bedroom in Yantian ranges from 3,000 – 5,000 RMB.
Determining your budget is the most crucial step to finding an apartment that suits your needs.
Family units with 2 – 4 bedrooms are most often found in the Shekou and Nanshan areas. Prices range from 11,000 – 25,000 RMB for these upscale accommodations. Single units in these areas come in lower than in Futian though, averaging just 5,000 RMB per month. Luohu and Longgang districts offer similarly low housing prices.
A good number to keep in mind is that 30% of your monthly income should go towards rent and an average English teacher salary in Shenzhen ranges from 15,000 to 25,000 RMB per month. Keeping things within your means is your responsibility in China as there is little in the way of credit or background checks when renting an apartment.
Extra Expenses
Monthly utility costs will be around the same no matter where you live in the city, averaging about 400 RMB per month for internet service, electricity, water, and gas. Your agent will help you understand how to pay the bills and utilities. The majority of which you will be able to pay online via WeChat Pay but you may also need to get an official card for utilities like gas or water.
How To Find an Apartment
The best thing you can do when looking for an apartment in Shenzhen is to speak to a reliable agent who can help you find apartments that fit your criteria. You should also take a look through listings online and on social media.
Get an Agent
Finding an agent that is trustworthy, is willing to work with your requests, and who speaks a little English is key to finding a great apartment in Shenzhen. In China, agents work with landlords to show and lease their apartments and will act as a liaison between you and the landlord throughout the leasing process. Agents know the lay of the land and have the most up-to-date knowledge on available apartments.
Finding agents is not difficult. The majority of online listings and even listings on social media are placed by agents. You can simply respond to any listing you are interested in with your WeChat information and they will get in touch with you. Many agents speak English or can refer you to an English-speaking colleague. Once you are connected, you can ask to see apartments in their database that fit your criteria
Feel free to speak to more than one agent in the process of your apartment search but be aware that agents work on commission and will be eager to keep you working exclusively with them. A great agent can help make the rental process as an expat much easier.
Agents generally charge 35% of a month's rent but be sure to discuss the agency fee before you begin the apartment search with your agent.
Online
Browsing online apartment listings can be helpful as you begin your search. Just be aware that listings are not always as they appear. It's not uncommon to contact an agent about an apartment only to be told that the one you were interested in "just rented" but they have another great apartment for double the price.
Don't get too attached too early and be wary of any situation that seems too good to be true.
English Websites
There are some websites for apartment listings in English.
Now Shenzhen is a good first stop for expats in Shenzhen. Listings in every district in English including the occasional sublet or roommate.
Flat in China is geared towards expats and is a great place to look for listings by agents that speak English. Prices do tend to be higher on this site, however.
Wellcee is a commonly used Chinese site that matches roommates. You can also find the occasional international seeking a shared housing arrangement.
Expat.com has a very good classifieds section for apartments in shenzhen.
Gabino Home is very good at searching for budget apartment options and has an intuitive site.
Tom Real Estate has some Shenzhen apartment options to browse through as well.
Shenzhen Better House is another site that might help you find agents, but seems to have limited listings.
Chinese Apps & Websites
There are an enormous amount of apartment listings on Chinese sites that you can navigate with the help of an automatic translator in your browser or a Chinese friend.
Lianjia 链家 – a residential real estate brokerage with thousands of locations in China.
Ganji Shenzhen – The most popular site for real estate searches in China.
Ziroom 自如 – Above and beyond the average apartment service with verified apartments, roommate matching, even concierge service.
58.com 五八同城 – Known as "Wuba" to locals, this popular search site includes real estate as well as second-hand goods, job listings, and much more.
Social Media
Like most things in China, WeChat is the best place to find what you're looking for. While there's no good way to search for WeChat rental groups, just ask local friends to add you to relevant groups where agents, landlords, and renters post listings for apartments, sublets, and roommates.
Expat groups on Facebook can also be a great resource for apartment listing. The Shenzhen Expats Group on Facebook has over 33k members. Just be sure you've got your VPN ready!
Hit the Streets
One of the best ways to search for potential apartments is to hit the streets and explore the areas you'd consider living in.
If you find a building that catches your eye, you can stop into the rental office or a real estate office nearby to see if they know of any available units. You may even be able to get a same-day viewing.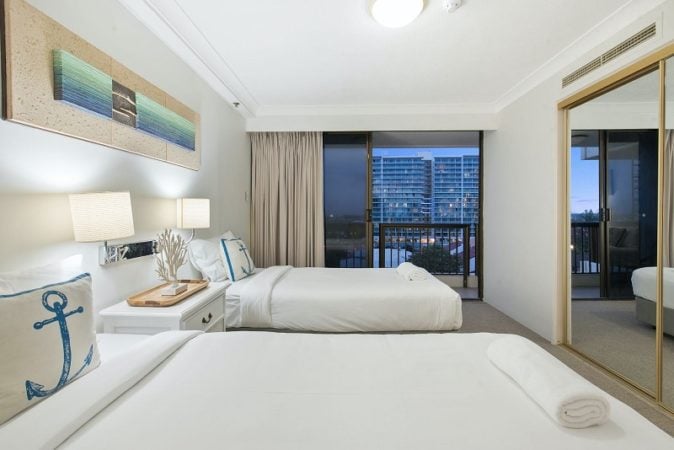 In Shekou, popular apartment buildings with expats include The Peninsula, Garden City, Sunshine Rose Garden, and Jingshan Villas. In Futian, the CocoPark area is particularly popular with expats or the quieter OCT (Overseas Chinese Town) area. In Luohu, Bao'an, and Longgang, finding a place close to transportation is particularly important.
Apartment Facilities, Conditions, & Features
When browsing apartments in Shenzhen, you are going to notice some differences from what you might be used to. There are some things to look out for and some things that might affect your move-in costs.
Furnishings
Most homes in Shenzhen come fully furnished with everything from sofas to curtains and beds. Take a careful look at all of the furniture and appliances in the home before signing a lease and keep a copy of the move-in checklist that details what needs to be returned in good condition when you move out.
Kitchens
There are some noticeable differences for those coming from the West. Chinese kitchens are small with fridges about half the size of Western ones, and there are rarely dishwashers or ovens.
Bathrooms
Bathtubs are rare and showers are often very small or not enclosed. In some cases, the shower hangs directly over the toilet. Water pressure can be an issue so be sure to check the taps before moving in.
Laundry
It is standard for a washing machine to be included in your apartment but dryers are rare even in higher-end apartments. Expect to line dry your laundry in a sunny spot in your apartment.
Air Conditioning
Take a look at the quality of the air conditioning units throughout the apartment and walk away from anywhere that has clearly skimped on this feature. Shenzhen is hot and humid, you will need reliable AC.
Common Spaces
Check out the grounds and common areas of the apartment you are viewing. Ask about any shared amenities like pools, gyms, and playgrounds and look for signs of proper maintenance.
Is the building easy to access? Are there adequate elevators?
Consider the general quality of building maintenance. Does it look well cared for? Is there a management office on-site? Are the grounds clean and well-maintained?
Mold Tip
In the apartment, take a close look through the apartment for signs of mold or dampness and check for any signs of covered-over water damage.
The landlord is technically obligated to address any mold issues – which are an ongoing issue in humid Shenzhen – but it is best to catch the problem before signing and avoid any potentially serious health consequences. In general, it is best to avoid first-floor apartments.
The Rental Agreement
After finding your home, you need to finalize the details by meeting with your landlord, getting all of the paperwork in order, and negotiating the final contract. It's important to understand all of the necessary steps and the legal implications of the rental agreement to avoid potential problems down the line.
In any rental agreement in China, you'll want to ensure that the landlord is the legal owner of the property you are seeking to rent and that the property itself is a legal residence. Ask to see your landlord's ID card (shenfen zheng, 身份证) and property certificate (fangchan zheng, 房产证). If they are unable to provide them, you should look elsewhere.
When negotiating the final contract with your landlord, keep in mind that you can often talk them down on rent, move-in costs, or any agency or management fees with the help of your agent. You can also push for a longer lease to keep your rental price the same over time. Even three-year leases are fairly common in China. If the apartment needs any renovations or repairs or you want any furniture added or replaced, discuss this before signing the final contract.
The vast majority of rental contracts are for a minimum of one year with one month's rent as a deposit and two months paid upfront. Keep in mind that for a 10,000 RMB apartment this adds up to over 35,000 RMB. If your employer is helping your cover moving expenses, ask them to help you with these upfront costs or have money sent from home.
After the two paid months, rent is paid in three month installments – usually by bank transfer or digital payment – When the rental agreement is completed, your landlord will hopefully return your deposit if you decide to move out or give you the option to resign the lease.
Ask to see the rental agreement in both Chinese and English. Take your time to understand each of the terms and confirm the apartment details including the rent amount, payment due dates, the length of the contract, and any other details you agreed upon with your landlord before signing.
Residency Registration
Every International visitor that comes to China needs to register their housing with the local police bureau and it will be important for you to take care of this as soon as you move in.
Your agent or building management can help you find the closest police bureau location. Be aware that you will need to bring your rental agreement and landlord's information with you and that you must be living in the home you are registering at with your name on the agreement.
Now, on to You
We hope that this guide has helped you understand what to expect when renting an apartment in Shenzhen. Finding a place to call home is a big undertaking as an expat but with so many available options and eager agents, you are bound to find what you are looking for quickly. Now, get out there and enjoy the fabulous city of Shenzhen!