You can always find some greenery even within the concrete jungle. In a city known for its hustle and bustle, Beijing has an impressive number of parks and gardens that help keep the city green and its people active and outside. When you're living in Beijing, a nature escape is only a short subway ride (or walk) away.
This article will take approximately 16 minutes to read. Don't have the time right now? No worries. You can email the ad-free version of the article to yourself and read it later!
Parks & Gardens in China


Parks and gardens have always been a big part of Chinese society. Whether they were used for ceremonies during the Ming Dynasty or just as a place to gather with your friends for an evening of some good old guǎngchǎng wǔ (public square dancing), public parks serve an important purpose in Chinese cities big and small.
In China, it's not uncommon to see groups of locals spending the afternoon in a park playing mahjong on tiny, crowded tables, doing tai chi in the open spaces, or just gathering outdoors to meet with friends for a walk. Green spaces offer that unique opportunity to connect with the community while also reconnecting with nature. Whether the dead of winter, bundled in several coats, or sweltering summer heat, older generations especially value their park time in China.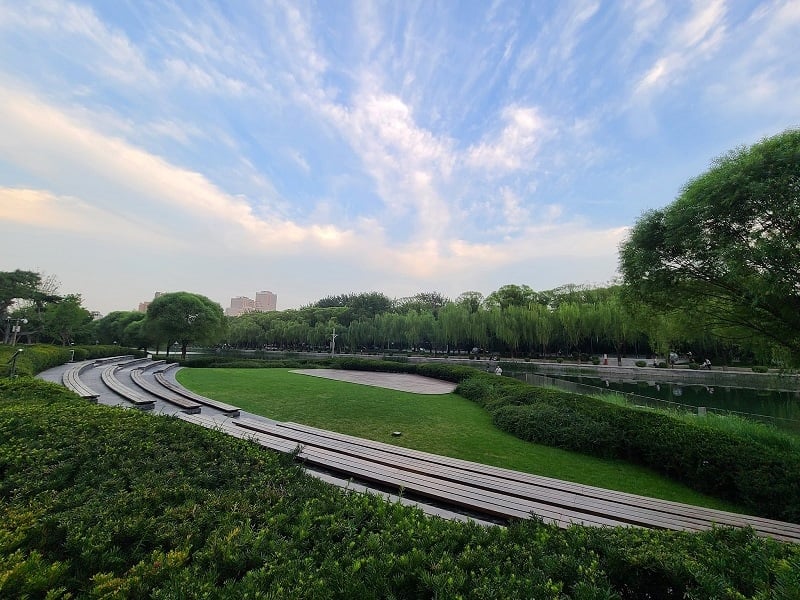 Even though the Beijing skyline has grown significantly over the past decade or so, the green spaces where locals and tourists have congregated for years have remained, and there are even more opportunities to get outside and play in 2022.
You don't need to head all the way to the Great Wall or the mountains for an invigorating outdoor escape. Enjoy a little nature getaway right in the middle of the Jing! Here are the best parks, gardens, and green spaces you can find in Beijing that offer a bit of nature in the city in any season.
Beautiful Green Spaces Worth Exploring
If you're looking for a scenic walk along a lake, want to visit an historic temple, or check out the plum blossoms during springtime, there are plenty of beautiful places in Beijing for you. These Beijing parks and green spaces are a walk in the park (literally).
Unfortunately for people who have pets in Beijing, all of these parks are not dog-friendly. Most parks in China have a small entrance fee, all parks take cash or digital payments like AliPay or Wechat Pay.
Chaoyang Park
 朝阳公园
Best Beijing park for: Outdoor activities and recreation
Entry fee: 5 RMB park entrance fee; extra for the amusement parks and rentals
Opening hours: 06:00-22:00 year-round
Starting off with Chaoyang Park, one of Beijing's largest parks and some say the heart of the city due to its location in the middle of the most popular area to live in Beijing, the upper east side of the city.

Some of the most sought after apartment complexes to rent in Beijing scattered along the edge of this spacious park, but this area is also where you can find some of the city's top restaurants, cafes, clubs, and bars, not to mention the scenic Liangma River walk that's enjoyed by Beijingers throughout the day. If you're a new expat in Beijing, it won't be long before you find yourself wandering in Chaoyang Park.
If you're looking for an outdoor yoga session, expats will sometimes host weekend yoga in Chaoyang Park. You can check the Beijinger for the latest yoga events happening in the city or get involved with active WeChat Expat groups.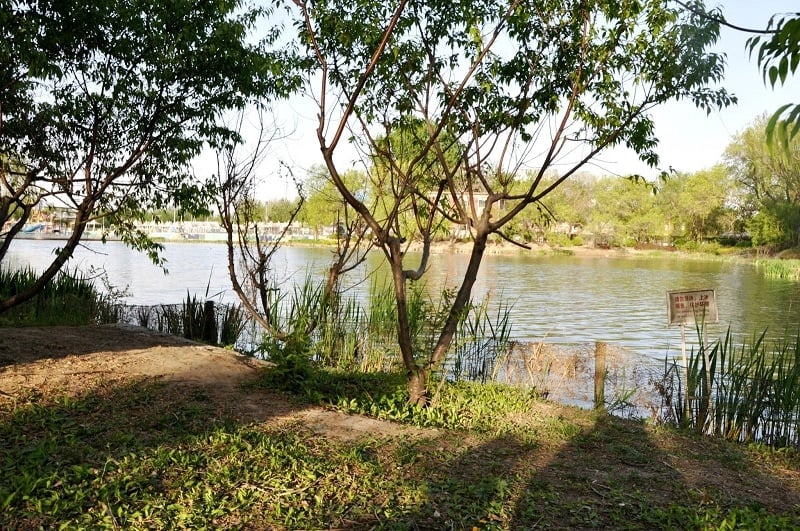 It is also a food-friendly space, so a popular activity for foreigners living in Beijing is to organize a huge picnic with friends, BYO snacks and blankets!
Don't know what to do on a Saturday in Beijing? You could easily spend the whole day here in Chaoyang Park. There's an amusement park with rollercoasters, a playground, and even a Lego Town for the kids. You can rent boats, bikes, and golf carts if you want to explore the park with the entire family. For some interactive and educational fun, head to the south gate of the park to the Sony ExploraScience science and technology center.
Yuyuantan Park 玉渊潭公园
Best Beijing park for: Spring bloom viewing
Entry fee: 5 RMB/10 RMB fee during the Cherry Blossom Festival
Opening hours: Summer: 06:00-21:30/Winter: 06:30-20:30/Spring & Fall: 06:00-20:30

This park comes alive in spring when the snow melts and the buds begin to bloom. Located in the Haidian District, in Beijing's center west, Yuyuantan Park is the place in town for cherry blossoms, plum blossoms, and all types of flower viewing when the weather warms up. It is beautiful during the fall months as well when the trees are ablaze with orange and red leaves or in winter when you might catch some of Beijing's famous ice swimming grandparents plunging into holes in the frozen lake.
Yuyuantan Park hosts a Cherry Blossom Festival every year, and eager Beijingers flock to the park on the weekend to enjoy the gorgeous views. Nearly half the area of this large urban park is made up of four lakes, where you can take a boat to explore the area in its entirety.
Beihai Park 北海公园
Best Beijing park for: Historic attractions and a beautiful lake in the middle of the city
Entry fee: 10 RMB from April-October, 5 RMB November-March
Opening hours: 06:30-21:00

Beihai Park in the geographical center of Beijing is probably one of the most historically significant parks in the capital. Just a short walk from the main gates of the Forbidden City, this beautiful Beijing park was originally built in the 11th century as part of the royal private gardens of the Imperial City. It has been a public city park for almost 100 years.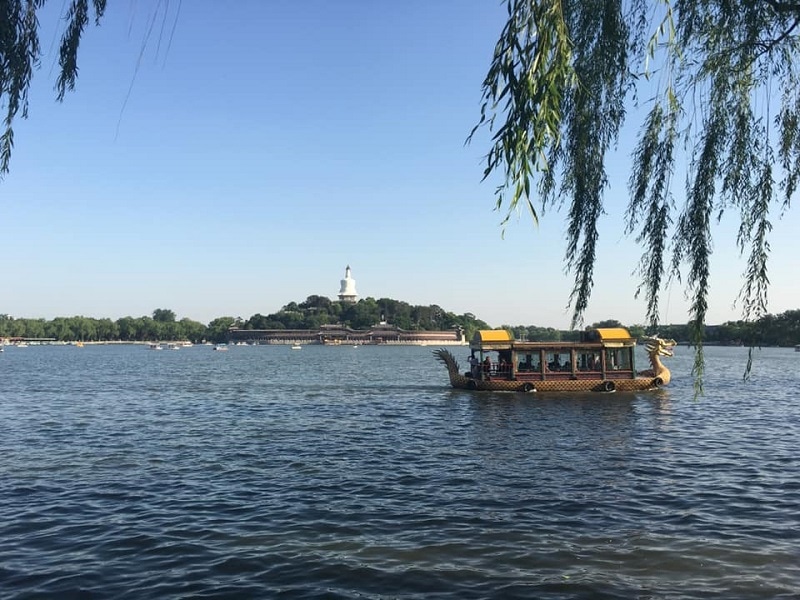 The highlights of Beihai Park are the picturesque White Tower Temple and the lake, which offers lots of great opportunities for picture-taking, wandering, and enjoying the beautiful scenery no matter the season.
Walk up to the white pagoda and you'll get a great panorama of the entire park area, and when the lake freezes during the winter months there's the option to go skating, and in the summer you can go boating. Beihai Park is also a great introduction to Chinese gardens, as there are numerous structures and topiary wonders which have been described as masterpieces of gardening technique that reflects the richness of traditional Chinese garden art.
Zizhuyuan Park 紫竹院公园
Best Beijing park for: Bamboo forests and strolling with other Beijing singles
Opening hours: Summer: 06:00-21:00/Winter: 06:00-20:00
This beautiful green space is next to the Beijing Zoo and Aquarium in Haidian District, iust north of Yuyuantan Park in Beijing's West. The pretty Purple Bamboo Park comes complete with three interconnected lakes, an amusement park for the kids (and adults), and bamboo trees to boot, Zizhuyuan is arguably one of the most scenic parks to visit in Beijing.
Fun fact about this park: There's a well-known saying about two parks in Beijing. It goes, "Couples who go to Taoranting Park will get married; couples who go to Zizhuyuan Park will break up." So if you want to see if your latest relationship can stand the test of time, take your partner here for the day and see what happens. But if you're flying solo and online dating in China isn't working out for you, this might be the perfect park to explore and meet other singles.
Taoranting Park 陶然亭公园
Best Beijing park for: Strolling through the many pavilions and gardens in this South Beijing location
Opening hours: Summer: 06:00-22:00/Winter: 06:00-21:30 (last entrance is at 21:00)

The park to take your love to if you want them to propose is located in the southwestern end of the city, right by the south moat which marks the 2nd Ring Road of Beijing, Taoranting Park is also known as the "joyful park". One of the major attractions here is the Taoranting Pavilion which was built during the Qing Dynasty.
In the park, you can find the tombs of famous lovers Gao Junyu and Shi Pingmei. Gao divorced his wife from an arranged marriage when he fell in love with Shi Pingmei, but his love was unrequited though Shi did accept a promise ring from Gao who then died when Shi was only 23. Regretfully, Shi spent her time visiting his tomb at Taoran Pavilion. A novel based on their love story was also turned into a film and this spot has become an attraction for young local couples to visit over the years.
The Chinese gardens here in Taoranting were exclusively used by imperial families and the literati during the Qing Dynasty. The green space of this park is surrounded by four small lakes, and is complete with bridges so park-goers can easily explore and find their scenic spot to relax in or enjoy a picnic.
Beijing Botanical Gardens 北京植物园
Best Beijing park for: Plant enthusiasts who are looking for a quick getaway outside of the city
Entry fee: 45 RMB for access to all the gardens and greenhouses. There might be an extra 5 RMB fee to access certain temples on site.
Opening hours: Summer: 06:00-19:00, Winter: 07:00-17:00

Way over in the far northwest corner of Beijing alongside the 5th Ring Road is the capital's only official botanical garden. Also called the China National Botanical Garden, the garden open to the public is a space that mixes conservation and scientific research as well as the collection and display of plants used for horticultural purposes.
There's over 6,000 native and exotic plant species to explore at the gardens. The highlight here is the greenhouse, which is open year-round. Beijingers love coming here in spring to see the peony blooms so it's recommended to avoid visiting on the weekends during peak bloom season.
Another notable area of the Beijing Botanical Gardens is the Bonsai Garden, which has beautiful bonsai trees on display, some dating back over a century. Make sure to look out of the gingko tree on site that is said to be over 1,300 years old.
As it could take a full hour in a car to drive to the Botanical Gardens from downtown Beijing, be sure to make a whole day of it, you will certainly be tuckered out after walking around the massive 600 hectares on offer, but pack light as there are plenty of food and beverage options in the park and lots of place to rest under a shady tree.
Ditan Park 地坛公园
Best Beijing park for: Temple fairs during Chinese New Year
Opening hours: 06:00-21:00 year-round
The Temple of the Earth is located in the trendy and historic Andingmen area of Beijing's Dongcheng District in Beijing's center north, this historic park is a good place for people watching and temple viewing. Come and see a quaint 16th century temple that's dedicated to the park's namesake, the god of earth.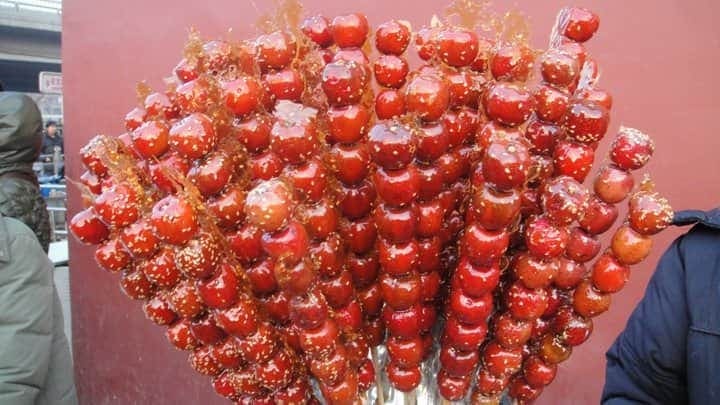 It's not typically as busy as other large Beijing parks, making it ideal for a wander on a sunny weekend day. Sample some favorite snacks like candied hawthorn fruit or head to the popular dim sum restaurant Jin Ding Xuan located just outside of the park's south gate.
Ditan Park also hosts a temple fair during the Spring Festival, so come here during the holiday to check out some local food and culture.
Jingshan Park
 景山公园
Best Beijing park for: Panoramic views of China's capital city
Opening hours: 06:00-21:00 year-round
Beijing's Jingshan Park is the green space north of the Forbidden City. If you find yourself wandering the historic streets of the political center of the city, head to this inspiring green space for a little refresh.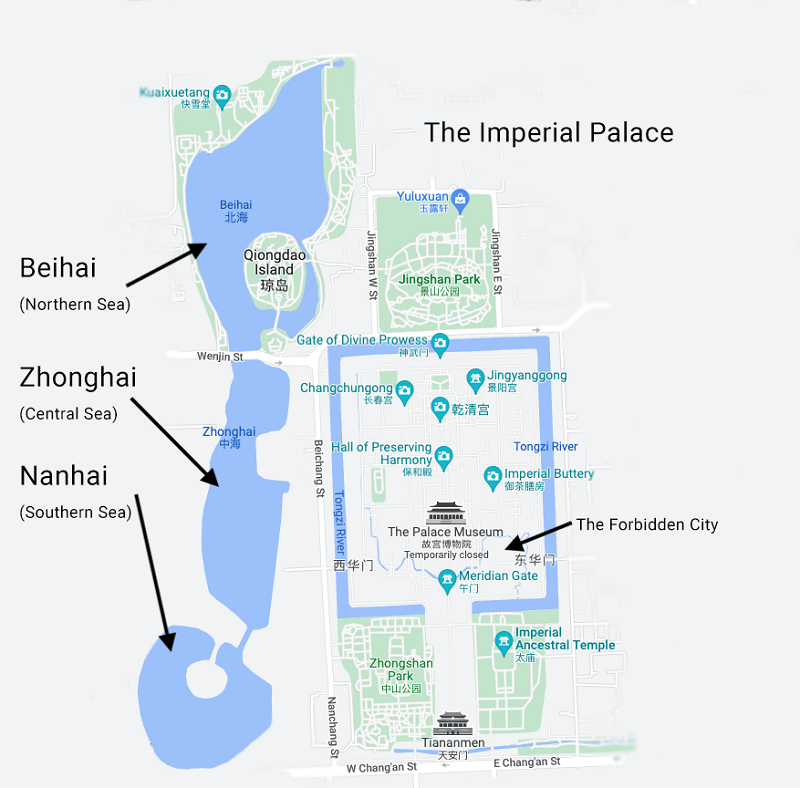 The highlight of this park is the epic view. Following a quick walk up the park's pagoda you'll be rewarded with the best views of the architecture in the Forbidden City as well as the city beyond the gates. This tiny peak is actually the highest point in all of flat Beijing. Head here early in the morning and you might even catch some locals practicing tai chi or enthusiastic bird watchers who love the spot for bird watching.
Olympic Forest Park 奥林匹克森林公园
Best Beijing park for: Diversity, walking trails, and Olympic attractions
Opening hours: Summer: 06:00-20:00/Winter: 06:00-19:00
With a trip to this park you can get two Beijing bucket list items done in one day. The Olympic Forest Park is right next to the top sights in the Olympic Village. Furthermore, this man made park is actually the largest public green space ever built throughout Beijing's long history with 680 hectares of space!
A study even revealed that the park improved the quality of life of the local residents in the area as it provided people with ample space to enjoy the outdoors, including the lake, walking paths, playgrounds, woodlands, and wetlands to explore.
If you're in the mood for a workout, this is one of the best parks in Beijing to go for a run. Choose between 3 km, 5 km, or 10 km walking or jogging paths that offer a nature escape and great views at the same time.
The park is split between the northern and southern parts, with the northern section offering lots of walking trails and foliage. You can find the Beijing Olympic attractions in the southern section of the park, as well as ponds, lakes, Yangshan Mountain (a man made mountain) as well as the National Tennis Center which hosts athletic events such as the China Open.
Ritan Park 日坛公园
Best Beijing park for: Expat hang-outs and a climbing wall
Opening hours: Summer: 06:00-22:00/Winter: 06:00-21:30

The Temple of the Sun Park, or simply Ritan Park, is a small yet beloved park near Beijing's embassy district. When it comes to historic attractions, the highlights at Ritan are the Sun Mural and the Altar of the Sun, both of which have been restored. There's also some tombs and temples to check out in the park.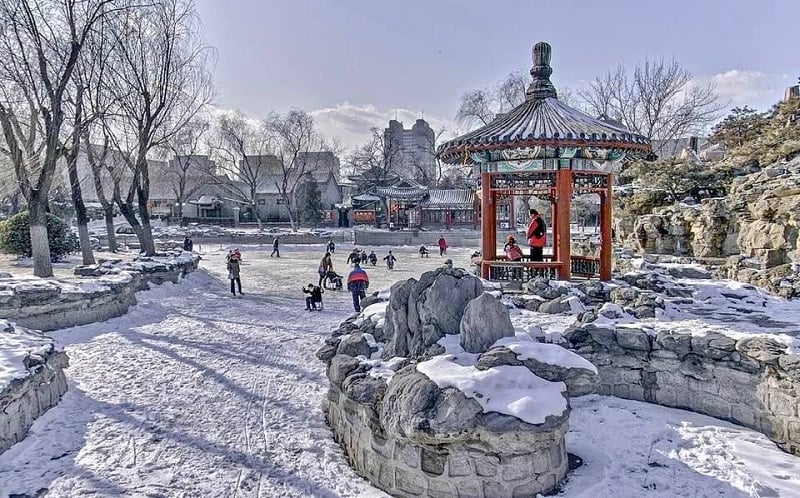 Park goers love wandering the Yuxin garden, where you'll find lots of beautiful trees and plants. On a beautiful summer's day, pack a picnic and you and your expat friends can plant yourselves somewhere along the lake located in the southern end of the park to enjoy the vibes and views. Another great scenic spot is the Qinghai pavilion, which offers an amazing panorama of the area.

One of the highlights of Ritan Park has to be the rock-climbing wall, where for 10 RMB you can attempt to conquer the wall alongside other active and outdoorsy Beijingers.
The expat-friendly iKang Guobin medical clinic is also conveniently located on the Ritan Park grounds.
Now, on to You
While it might be overwhelming when you first move to a big city like Beijing, know that there's plenty of places where you can find quiet and calm.
People think about the population of Beijing and assume it is crowded and hectic, but in reality Beijing is such a sprawling city, where people are very spread out and there is lots of space for parks, gardens, and scenic walking trails in just about every neighborhood. All of that mixed with Beijing's long history and vibrant social culture, truly creates a unique experience for all who come to enjoy the city's parks.