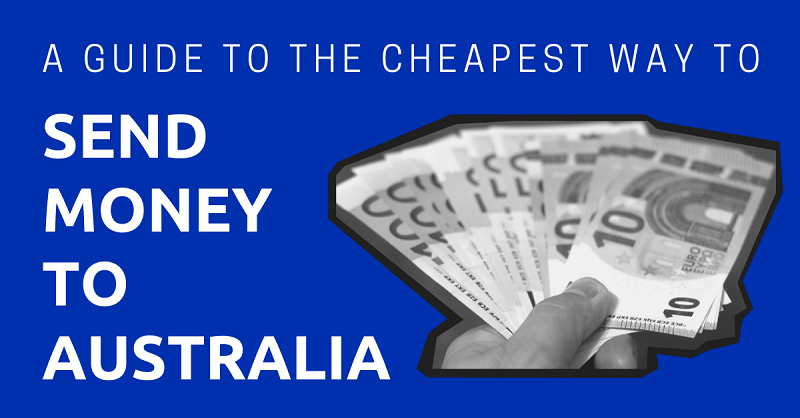 Sending money to Australia is one of the easiest processes if you have a bank account in the country. You can use a bank transfer, online money transfer service provider, or forex company.
However, not all options will get you the most money in Australia. In fact, some are a lot more expensive than others depending on how much you send.
It's always a great idea to check Monito to find out which method will save you the most money. It's easy to use and will give you a bird's eye view of your best choices.
With that, this guide will show you which options you have when sending money to Australia, the common fees you'll pay, and which method is best depending on where you're from.
This article will take approximately 13 minutes to read. Don't have the time right now? No worries. You can email the ad-free version of the article to yourself and read it later!
What to Watch Out for When Sending Money to Australia
In all honestly, there are not many pitfalls with sending money to Australia, but if you haven't already, I would suggest opening a bank account to make life easier.
Most Australian banks make opening a bank account in the country very simple for foreigners. Moreover, you need not be in the country to do so.
This is unlike banks in many other countries that do not let you open an account unless you have a long-term visa and work permit.
Currency Exchange
As we all know, exchange rates fluctuate. So it is best to get a good idea of what the correct currency is.
You can check XE for the latest currency rates but don't expect the exchange rate you get through a bank or online money transfer service to be the same as XE. You should just us XE a baseline.
XE rates are based on the Forex market and do not reflect the rates that you will get through Xendpay, Western Union, or banks. Wise does offer mid-market exchange rates, however.
Transfer Fees
Depending on which provider you choose and which nation you transfer from, the cost of sending money to Australia varies.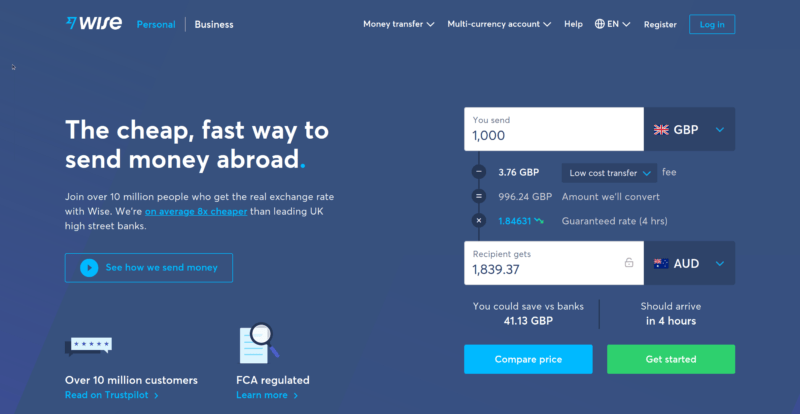 Some service provider like Xendpay may promise free transfers but hide expenses in exchange rates. Others, like Wise, make the transfer charges clear up front.
With that said, it doesn't mean using Wise will always be cheaper or yield more money on the receiving end.
The cost of sending money to Australia will always differs depending on which service you use and how much money you send.
Transfer Speeds
When sending money to Australia using online services such as Western Union or Wise, the money might take anywhere from minutes to hours to days to arrive.
If you use a bank-to-bank transfer, speeds may vary. Commonwealth, for example, has been faster than Bankwest.
Keep in mind that faster transfer times may result in greater costs.
ATM Fees
If you use an ATM in Australia with a debit card at a well known bank (do not use independent ATM's as they will charge you more) you will be expected to pay around 3 percent on the cash you withdraw and a further AUS$2.00 in ATM fees.
However, if you use a credit card at the ATM, that is a whole new level of costs. If you withdraw the equivalent of £100, you would have to pay a foreign usage fee of £3.00, then a further £3.00 cash withdrawal fee, on top of the AUS$2.00 ATM fee.
Money Transfer Options
Transferring money into Australia is fairly straight forward. Once you open an account with any of the high street banks, it could come down to just a few clicks on your phone.
Here is a list of the top 5 banks.
National Australian Bank (NAB)
Westpac Bank
Bank of Queensland
Macquarie Bank
Bendigo Bank
Here are a few more banks to choose from.
Once you open your account, you can then start sending money to Australia. Let's look at your choices.
Xendpay
Xendpay's goal has always been to keep international money transfer costs low while maintaining the highest level of client service.

However, what sets Xendpay apart is its "Pay What You Want" function, which allows you to choose the amount of the transfer cost for your first £2,000 transaction. After the initial £2,000, you will be charged a cost of £3.50 for each transaction.
With Xendpay, you can use a debit card, credit card, or bank transfer. Here are some fee amounts you can expect to pay using Xendpay.
Credit/debit card fee: 2.5 percent of amount sent
Bank transfer: Free up to £2,000, there after £3.50
Keep in mind, though, that Xendpay doesn't offer mid-market rates, which mean you will pay other undisclosed fees on exchange rates.
Wise
Wise is another online money transfer service provider who's fees compare to other companies.

For instance, if you wish to send £725 to your Australian account the fees are as follows:
If you already have money in your Wise account they will charge you £7.61.
If you were to use a bank debit (ACH) they will charge you £5.78.
If you were to use a debit card they will charge you £5.78.
And if you were to use a credit card they will charge you £30.55.
As you can see the first three are all similar but the credit card fee is far more expensive. Overall, though, its fees are competitive.
1. Debit card fee: 1.6 percent
2. Credit Card fee: 4.32 percent
3. Wire transfer: 0.43 percent
WorldRemit
WorldRemit is a cross-border digital payments firm that offers money transfer and remittance services in over 130 countries and 70 currencies.

You can send money through WorldRemit using a debit card, credit card, banker transfer, ApplePay, and more.
There are three different ways to send with WorldRemit.
Bank transfer/credit/debit card fee: send £100, fee £1.99
Pick up fee: send £100, fee £2.49
Mobile money fee: send £100, fee £2.49
You'll get exchange rates that are fairly competitive, ranging from 1 percent to 1.5 percent. If using a bank transfer option, expect to pay more than twice as much as this percentage, as well as significantly higher transfer costs.
Moreover, transfer speeds with WorldRemit are fairly quick, ranging from one to three days when sending from the U.K, the U.S., and Canada.
International Bank Transfers
If you are planning on moving abroad to work or retire, I would suggest that you keep your home country bank account open, otherwise it can get tricky and expensive when receiving money in Australia from abroad.
Assuming you have a bank account in Australia, you will need to get both banks' IBAN and a SWIFT/BIC numbers to make a transfer.
When sending money through HSBC in the U.K. you'll only pay a small fee of £4.00. You may also send money via telephone banking at a cost of £9.00, but do not expect a mid-market exchange rate in either case.
If you have an HSBC account in both Australia and your home country, your transfer will be free — aside from the exchange rate fee that the bank tacks on.
transfer of £5,000 – 3.49 percent margin = £174.50 exchange rate costs
transfer of £10,000 – 3.49 percent margin = £349.00 exchange rate costs
transfer of £50,000 – 2.43 percent margin = £1,217.03 exchange rate costs
However, if you use Bank of America to send USD$1,000 to USD$5,000 you will be charged a transfer fee of USD$45.00 and what ever the exchange rates fee is at the time of sending.
Keep in mind that bank exchange rates in general are not as good as rates from online service providers, but if you are sending a large amount it works out to be the cheaper option.
You will also be hit with another fee when using banks to transfer money. At CommBank, if you send USD you will be charged a processing fee of AUD$36.00, but if you send GBP it will drop to AUD$17.00.
Western Union
It may not be the most cost-effective way to transfer money these days, but Western Union may be the fastest as it will arrive in minutes, making it an excellent solution if you find yourself in a financial emergency.

Let's have a look at how much you could pay in fees if you send £1,080 to Australia with Western Union.
If a friend or family member went into a Western Union store they would charge a whopping fee of £56.00 to pick the money up.
If you choose pay with a credit card or debit card in the store, the fee is £24.37 at an exchange rate of £0.54 = AUD$1.00. And if you do it online by credit card or bank card there is no fee but you will get a poorer exchange rate.
As you can see with those figures above, Western Union can get pretty expensive.
Bitcoins and Cryptocurrencies
Unfortunately, in Australia there are no banks that let you transfer cryptocurrency into money. The only option is to use a third party company like Coinspot.
If you wish to withdraw from your bank you will first have to sell your digital money. You can do so on Coinspot and then transfer that money into your Australian bank account.
But be warned as some wallets will not pay out in Australia, such as the similarly named Coinbase.
What is the Best Method to Send Money to Australia?
You may choose between Wise and Xendpay for one-time or recurring payments under £10,000, since they both give almost identical receiving amounts on most transactions.
Transfer speeds are roughly the same with each of these service providers as well.
However, if you're sending more than £10,000, a bank transfer is the best option because you'll save money on transfer costs.
Finally, avoid Western Union if you're not in a financial emergency. It charges the greatest amount of fees and gives the poorest exchange rates.
But to help you further, in the next section I'll discuss which methods are best for certain countries.
Country-Specific Recommendations
If you're from the the U.S., Canada, or the U.K., here are the service providers we recommend when sending money to Australia.
Also, remember that you can always compare services on Monito for the lowest fees.
United States
With companies like Wise you can easily send money to Australia for low fees while getting mid-market exchange rates.
However, an issue arises when you have to send anything over USD$10,000. If this is the case, then you're better off using a bank transfer as you'll save money on transfer fees.
Bank of America is a great option as you'll only pay a USD$45 fee on outgoing money transfers amounting to USD$10,000.
Canada
If you move money from Canada to Australia it would be really helpful to establish a local Westpac account because they have a sister bank named Scotiabank in Canada, and you may receive lower bank charges when sending anything over CAD10,000.
If that Westpac bank is the receiving bank, cash will usually be accessible sooner and the exchange rates will be better.
Also HSBC has offices in Canada and also in Australia so that means no bank fees for branch-to-branch transfers. So it would be wise to open an HSBC account in both countries.
Aside from banks, Wise and and Xendpay are competitive with transfer fees, but with Wise you will always get better exchange rates.
United Kingdom
In the U.K., Wise and Xendpay are ideal solutions to send money to Australia since they offer the best receiving amounts for transfer under £10,000.
If you're looking to free transfers, Xendpay is the way to go for the first £2,000. After that, you may want to start using Wise for better exchange rates.
Moreover, HSBC has offices in the U.K. and Australia, which means no bank fees for branch-to-branch transfers. With that said, it would be best to open an HSBC account in both countries.
Now, on to You
Now that you know your options when sending money to Australia, you can pick the service that saves you the most money and gets you the most amount on the receiving end.
In some cases bank transfers may be better than online methods, especially for transfers over £10,000, USD$10,000, or CAD10,000.
For anything lower than that, use Wise or Xendpay to save the most money.