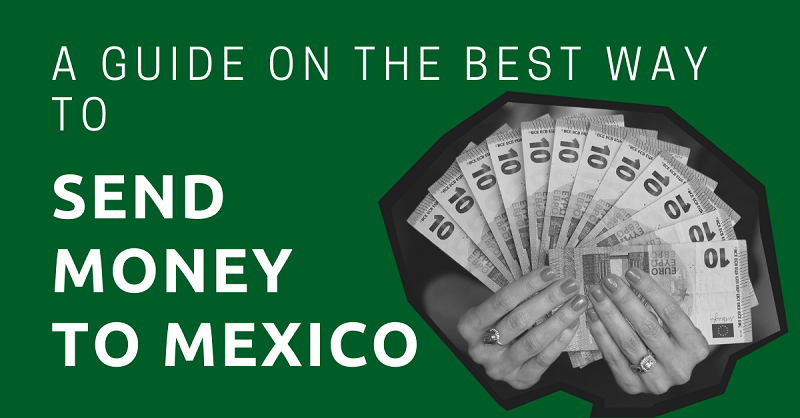 Sending money to Mexico is safe and quick when using the right transfer method.
But with all the options available to you, which method should you pick to get the most MXN in the receiving bank account? That question can only be answered after knowing your options.
Having said that, this guide helps you narrow down which money transfer service is best for your financial situation so you can get the most MXN in the quickest time and with the lowest fees.
Also, you can check out the latest exchange rates and transfers fees using Monito. They update these rates and fees every day and do so on one convenient page, saving you time and money.
This article will take approximately 15 minutes to read. Don't have the time right now? No worries. You can email the ad-free version of the article to yourself and read it later!
Good to Know
If you send large sums of money to Mexico into either your bank account or someone else's, the recipient must report it to his or her home country's government and the Mexican government. Moreover, the Mexican government could tax that money.
Mexico takes this serious, and failing to report large transfers to its government could result in penalties for tax evasion.
Foreign Bank Account Reporting (FBAR)
Your home country's government may require you to report money you have in a foreign account after it passes a certain threshold.
For example, if you're an American expat and have over US$10,000 in a Mexican bank account at any time of the year, you must report it when you file your annual tax returns using form FinCEN form 114.
If you don't, and you're found negligent, you could be charged with penalties or jail time.
Check with your government to find out its rules about sending and keeping money in a Mexican bank account.
Aside from these money transfer rules, there are some other general things to be aware of when sending money to Mexico – let's take a look at them.
What to Watch Out for When Sending Money to Mexico
When sending money to Mexico from anywhere in the world, you have to be mindful of transfer fees, fixed fees, and percentage fees.
The below sections describe each one in more detail.
Transfer Fees
When sending money to a bank account in Mexico, you'll pay one or more of the following transfer fees.
fixed fees
percentage fees
combination fees
Fixed Fees
As the name implies, fixed fees don't change with the amount of money you transfer into Mexico. Whether you send US$1,000 or US$10,000, you pay the same fee.
This makes fixed fees the most cost effective way of sending large amounts of money (over a few thousand dollars) to the country.
If you happen to have an account with Bank of America, you'll pay US$45 in fixed fees no matter how much you transfer into Mexico.
Wells Fargo, on the other hand, charges a fixed fee of US$5 if you send between US$25 and US$1,500 to BBVA, Santander, and other Mexican banks.
Percentage Fees
As opposed to fixed fees, percentage fees change according to how much money you send.
So, when sending smaller amounts of money to Mexico (a few thousand dollars or less), it makes sense to go with this option.
Wise, a popular money transfer service with expats all over the world, uses percentage fees to calculate its transfer charges. For every US$1,000 you send through wise, you pay roughly 1 percent in fees, or US$10.
That means you can send up to US$4,500 (with a US$45 fee) before you start losing money in transfer fees. That's because anything higher than that, you're better off going with an option like Bank of America, which, again, charges a max of US$45 fixed fee for all transfers.
Combination Fees
As you might've guessed, combination fees are a mix of both fixed and percentage fees.
Because you're essentially paying double the fees, your best bet is to avoid services that run on this pay structure. PayPal, Western Union, and most banks charge combination fees.
The only time it makes sense to use a service that charges combination fees is if you need money ASAP, like in an emergency. Otherwise, go with a service that charges either fixed fees or percentage fees.
With fees out of the way, we can now look at another important aspect of sending money to Mexico.
Exchange Rates
Exchange rates are what one bank is willing to buy or sell a currency for — and when it comes to sending money to Mexico, you obviously want the best exchange rate you can get.
However, you also want to use a money transfer service that's going to be transparent about their exchange rates, so you can compare what they're giving you with the mid-market rates found on XE.com.
Wise is one of the few money transfer services that offers mid-market rates. But that doesn't mean it gives you the most money in the end (more about this later).
There's one final thing to consider when sending money to Mexico, and we'll cover that next.
Transfer Speeds
Transfer speed is how long it takes for your money to get from its origin to a bank account in Mexico.
When using online money transfer services like Wise or XendPay, it could take anywhere from minutes to days to get your money – depending on the day you send.
Usually, sending on Monday through Wednesday yields a quicker transfer. Whereas sending close to the weekend makes for a longer wait time.
This is something to consider if you need money quickly.
There's always Western Union for those cases as well. They usually transfer in minutes no matter the day, but that speed comes with higher fees than those charged by Wise or XendPay.
Banks are usually the slowest methods for transferring money, but when sending large amounts – upwards of US$10,000 – they tend to be the more cost effective.
Having gone over transfer fees, exchange rates, and transfer speeds, let's look at your options for sending money to Mexico.
Security
When sending money to Mexico, you always have to be concerned about the security of your money and data.
So, make sure that the bank or money transfer service provider you choose complies with any banking regulations in both the U.S. and in Mexico. 
To ensure your money is safe, you should review the provider's standards against money laundering and other international requirements that they should meet.
A little bit of extra research goes a long way in making sure you have a safe experience sending your money to Mexico.
You can also use a VPN to increase your online privacy and security when sending money online.
Money Transfer Service Options
When it comes to sending money from overseas into your Mexican bank account, you have quite a few options, so let's take a look at each one.
Wise
If you've never sent money to Mexico, Wise may be your first best choice as they offer higher transfer amounts for sums lower than US$10,000 when compared to other methods on this list.

For a US$1,000 transfer to Mexico, for instance, you get fair, mid-market exchange rates and pay the following fees:
bank debit — US$1.60 fee
wire transfer — US$4.14 fee
debit card — US$12.05 fee
credit card — US$38.92 fee
Wise also tacks on a percentage fee of 0.85 percent for a US$1,000 transfer.
After all is said and done, you would get MXN20,474.10 in your Mexican bank account if transferring US$1,000 using Wise's bank deposit method.
If you want to find out more about this service, check out our in-depth review of Wise. Wise is available on Android or iOS.
XendPay
XendPay comes in as the second-best choice on this list when sending lower than US$10,000 to Mexico.

Although they don't offer mid-market rates like Wise, they do offer free transfers for the first US$2,275 you send to Mexico.
After that, however, you pay anywhere from 0.41 percent to 1.5 percent in percentage fees per transfer. And as for exchange rates, XendPay takes 2 percent to 3 percent of the mid-market exchange rates.
With that in mind, if you transfer US$1,000 to a bank account in Mexico, you get MXN20,425.
You can make a transfer using XendPay on its website or app for Android and iOS devices.
Remitly
Remitly is another online money transfer service that offers competitive exchange rates and practices transparency. For example, the rate you see when you start the transfer process is the rate you actually pay.

Unlike Wise, Remitly does mark up the exchange rate by just below 1 percent to just below 3 percent. Considering that, when sending US$1,000 to Mexico using Remitly, you get MXN20,120 into you Mexican bank account.
However, keep in mind that Remitly does have transfer limits. In a 24-hour period, you can only transfer up to US$2,499 to Mexico.
You may have noticed, though, that Remitly offers the lowest amount of MXN on the receiving end, so your best bet is to only use it if you can't go with another option on this list.
Bank Transfers
Bank transfers may not be the most cost effective way to send money to Mexico for amounts in few thousands.
But for large sums, like US$10,000 or more, it makes sense to transfer through a bank. This is because banks charge fixed fees, so no mater how much you transfer the fee is always the same.
Citibank is the cheapest of banks when it comes to making international money transfers. It only charges as low as US$25 per international transfer. If you have a Citigold or Citi Priority account, you pay even less – US$17.50. Citigold Private Clients don't pay any fees.
Keep in mind, though, that Citibank does take a cut of the exchange rates, about 0.01 percent to 0.5 percent, so you won't be getting mid-market rates.
This means that Citibank will yield only MXN20,055.75 for a US$1,000 transfer but MXN205,185.75 for a US$10,000 transfer.
Considering this, Citibank is more expensive for US$1,000 transfers but least expensive for US$10,000 transfers to Mexico.
Western Union
Western Union may be one of the quickest methods to send money to Mexico, but it isn't the cheapest.

This is because Western Union takes 2.5 percent of the mid-market exchange rate as a fee. Moreover, its transfer fees are as follows:
credit card — USD29.99
debit card — USD2.99
So, if you send US$1,000 through Western Union you get MXN20,372, which is lower than Wise and Xendpay but more than Citibank.
Lastly, you can only transfer up to US$5,000 to Mexico using Western Union.
Xoom (PayPal)
PayPal's Xoom lets you send money to Mexico with no transfer fees if you use your PayPay or bank account to pay for the transfer.

However, Xoom isn't entirely free. If you use a debit or credit card, you pay a US$3.99 fee. Also, Xoom takes a fee from the exchange rate, equaling about 2 percent to 4 percent.
Having said that, if you send US$1,000 to Mexico through Xoom, you'll get MXN20,277 in return. For smaller transfers, that's the second-lowest rate next to Citibank.
All in all, Xoom's website is user friendly and works especially well with PayPal. They also have an app for Android and iOS.
ATM Withdrawals
It's possible to withdraw money from an ATM in Mexico, although you're going to pay a fee for doing so.
The fee that Mexican banks charge is usually between MXN20 and MXN80. Then there's the fee that your home country bank charges — unless you have TD Bank or Charles Schwab. These banks reimburse you for international ATM fees.
Moreover, your daily withdrawal limits in Mexico are capped at MXN4,000 to MXN8,000, depending on the bank and/or ATM you're using.
Cryptocurrencies
As of 2023, cryptocurrency is not a legal currency in Mexico. But you can still use it.
The country has over 50 Bitcoin ATMs at the time of this writing scattered throughout the country. So, taking out cash for your Bitcoin won't be too challenging as long as you're nearby a Bitcoin ATM.
Exchanging Cash
A final option you have when sending money to Mexico is to bring cash with you and exchange it in country.
When you arrive in Mexico, you can exchange your U.S. Dollars into Mexican Pesos at local cash exchange kiosks.
Just look up casa de cambio in Google, and you should be able to find one near you.
However, bringing a lot of cash to exchange in Mexico is not recommended. Although it depends on which casa de cambio you go to, you can expect to pay around 10 percent in exchange rate markups.
This means, you could pay as much as US$100 to exchange US$1,000 — not very favorable for you.
Whatever you do, avoid the airport money exchange kiosks as they will have the worst exchange rates.
The Best Method to Send Money To Mexico
As you can see from the table below, Xendpay is your best choice when sending US$1,000 to Mexico. Once you get closer to US$10,000, however, bank transfers tend to yield more MXN on the receiving end.
| Method | Speed | USD1,000 | USD10,000 |
| --- | --- | --- | --- |
| Wise | 1 to 3 Days | MXN20,474.10 | MXN204,804.72 |
| XendPay | 1 to 3 Days | MXN20,425 | MXN204,256 |
| Western Union | 1 to 4 Days | MXN20,372 | NA |
| Xoom | 1 Day | MXN20,277 | MXN202,766 |
| Remitly | 1 to 3 days | MXN20,120 | NA |
| Citibank | 2 to 3 Days | MXN20,055.75 | MXN205,185.75 |
Now that we have some basic figures from the table above, let's delve into some country-specific recommendations.
Country-Specific Recommendations
When sending money to Mexico from the U.S., U.K, or Canada, here are your best choices.
United States
Wise is your best choice for sending money from the U.S. to Mexico. On transfers under US$10,000, they offer the largest amount on the receiving end.
If you have to send upwards of US$10,000, then you should use Citibank. With a fee of only US$25 for international transfers, it'll be hard to find a better rate.
United Kingdom
Wise comes in as the best transfer service for U.K. bank account holders who want to transfer under GBP10,000 into Mexico.
If you want to send any amount higher than that, check out Lloyds Bank. It only charges GBP9.50 for international money transfers.
Canada
Like with the other countries above, Wise edges out XendPay when it comes to sending money to Mexico from Canada – as long as that amount is under CAD10,000.
As you transfer higher amounts, your best bet is to go with a bank transfer using RBC Royal Bank. RBC only charges CAD10 for international transfers.
Now, on to You
By now, you should know which money transfer service method is the cheapest for sending money to Mexico.
Knowing this helps you make the best decision for your financial scenario and hopefully yields the highest amount on the receiving end.
Don't forget to check out Monito, which updates the exchange rates and transfer fees of all the popular money transfer service providers every day on one convenient page, saving you time and money.