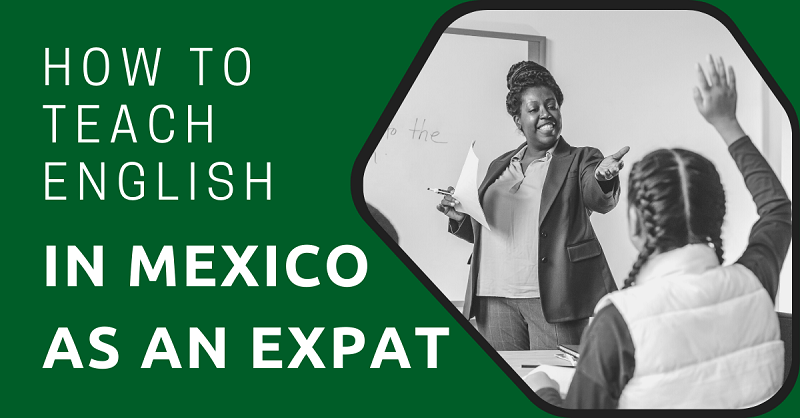 Do you imagine yourself standing in front of a classroom filled with Mexican students eager to learn English?
All over Mexico there are plenty of local and international schools who need teachers just like you. But even if you don't have teaching experience, you'll find plenty of opportunities in this country if you know where to look.
Having said that, this guide to teaching English in Mexico will show what schools you can teach in, how to apply to them, what to do on interview day, and much more.
This article will take approximately 17 minutes to read. Don't have the time right now? No worries. You can email the ad-free version of the article to yourself and read it later!
Requirements to Teach English in Mexico
If you want to teach English in Mexico, you need to have a TEFL certificate.
The interesting thing about teaching English in the country is that there are opportunities, even if you don't have a college degree and if English is not your native language.
On the other hand, certificates such as a TESOL or CELTA can come in handy, but are not mandatory.
TEFL Certification
TEFL, or Teaching English as a Foreign Language, certifies you to become an English teacher abroad and online.
There are traditional language schools where you can attend classes, take exams, and get certified. The other option is to get you TEFL online.
Whatever option you choose, make sure you have the certificate before applying for a job as an English teacher in Mexico.
University or College Degree
Although a bachelor´s degree isn't a requirement to get a job as an English teacher in Mexico, but your chances of getting a well-paid job are higher is you have one. If you have a master´s degree, you can earn even more.
To give an example, with just a TEFL certification, the average monthly salary for an English teacher in Mexico is about US$500 per month. With a bachelor´s degree, this can go up to US$800 per month, and with a master´s degree, range between US$900 and US$1,200 per month.
Usually, it doesn't matter which field you have a degree in, as long as you have the academic title in combination with a TEFL. Moreover, if you have a Master of Education or a Postgraduate Certificate in Education, it may benefit your personal knowledge, but it's not necessary to get a teaching job.
Spanish Language Skills
Another plus for teaching English in Mexico is that classrooms are held in English. The reason behind this is that schools want students to be fully immersed in the English language.
So, you don't have to worry about speaking Spanish. It's a plus if you can speak the language, but it's not a necessity. However, you can learn Spanish during your off hours or before you even come to Mexico.
Where to Find English Teaching Jobs
Applying for a job in Mexico is quite different from what you may be used to in your home country.
To start with, there are various ways to look for a job. This depends on where you are currently living as well.
Are you already in Mexico? Then it might be a good idea to go to the schools or language centers that you're interested in working for and to submit your resume.
Are you still outside of Mexico? Search online for available teaching jobs. Here are some websites that provide the best teaching opportunities.
Websites
ESL Base Mexico: If you're interested in teaching English in big cities in Mexico, you have to check out the ESL Base Mexico website. Although it's not updated as frequently as the other websites, there are good positions available.
Teaching House: Do you already have some experience to offer? Check out the Teaching House website, home to many good English teaching jobs in Mexico.
Teach Away: Another website that offers high-quality jobs and good salaries to teachers with experience and certifications is Teach Away. They regularly update the job board, so it's wise to check the website often if you're actively looking for a job.
CompuTrabajo: You will have to understand Spanish in order to find a job on this website, but it has some great job openings for English teachers. Some private schools will post vacancies here, as well.
Social Media
Although social media has to be mentioned as an option to find English teaching jobs in Mexico, it's not very common to find work on these platforms.
The job market in Mexico is very formal and face-to-face, so employers will hardly ever post vacancies on social media.
In Person
As we said earlier, when you're in Mexico, the best thing to do is go to the schools and hand in your resume.
Try to get to the school's human resource department immediately, instead of handing your resume to a person at the general administration. This way, you're sure that your information will get to the right person.
Another idea is to schedule an appointment with the head of the language department, or leave your resume directly with this person.
Keep in mind that schools in Mexico are very happy and eager to recruit people who are already in Mexico. It's not impossible to find a teaching job while you're outside of the country, but it's definitely easier when you're already here.
If you're in the country you could also keep an eye on some of the local newspapers. Sometimes, schools post vacancies there.
Also, although Mexico is a very formal country when it comes to applying for jobs, you could use the informal side of Mexican culture to look for jobs. If you have Mexican friends, ask them if they know someone at a school and if those schools are hiring. You might be surprised on how quickly you'll find a job opening.
Application Process
After you find a job you're interested in and a school has invited you for an interview, here's how to prepare for it.
Resumes
A resume in Mexico should be presented in a very formal way and must always have a professional photo attached.
Next to the photo, your general information will appear, such as your phone number, email address, and local address.
If you have any specific teaching skills and experience, don´t forget to mention that. It's also crucial that your TEFL certificate is mentioned, and if you have any degrees, include them as well.
Interviews
Whether you have an interview online or face-to-face, it's important to prepare because the interview culture in Mexico is very formal.
You shouldn't arrive at a job interview with baggy clothes or wild hair. Make sure you're properly dressed and have an overall clean appearance. Dress to impress could well be a Mexican expression when it comes to applying for a job.
It's also important to ask polite questions at the opening and at the beginning of the job interview. Greet appropriately and ask how the other person is doing. Also, thank the school for inviting you to the interview.
Close the conversation asking if there is anything else they would like to know from you, and thank them again for the opportunity to present yourself. It's common to greet and say goodbye with a handshake.
Salary
English teachers in Mexico earn between US$500 and US$1,200 on average per month. As you can see, there is a big difference in minimum and maximum wages. This is because the salary is based on your teaching experience and qualifications.
International schools and universities often offer the better-paid jobs with excellent secondary benefits such as health insurance and money for rent and groceries.
On average, salaries at international schools or universities will be about US$1000 per month. If you have children, they may receive a discount or may even attend the school that you're teaching at for free.
Extracurricular Activities
Keep in mind that you might be asked to participate during extracurricular activities when you work at a school, especially international schools or high schools.
They may also urge you to participate in courses so you're trained year-round. These type of courses may help you to get better jobs or higher salaries in the future, as they get you certified. Besides, the schools pay for this training.
Moreover, you may have to work on Saturdays every once in a while.
Working Hours
The working environment and the expectations for teachers in Mexico may be different from the ones that you're used to. So, try to be as open and flexible as possible when you start your teaching career in the country.
Here we'll tell you more about working hours, teaching hours, and holidays.
Teaching Hours
Depending on whether you get a part-time or full-time job, you'll have a certain amount of working and teaching hours.
In a part-time job at a private school, you'll usually have 10 to 20 teaching hours in addition to preparing for classes and exams. You're not paid for the time you spend at the school after this.
For a full-time job, you have an eight-hour workday and an average of 20 teaching hours per week. Then you'll have 20 hours to prepare for classes and to grade exams. Full-time teachers are usually required to have office hours for students who have questions, or to provide a weekly tutoring session to students who have difficulties with regular classes.
Teachers may also be required to attend meetings with the language department or other departments.
Leaving Campus During School Hours
As a full-time teacher, you usually have a two-hour lunch break in the afternoon between 2 am and 4 am. These are the hours that you may leave campus, and this is the time that Mexicans usually have their meals with their families.
As a part-time teacher, you can leave school as soon as classes are over. However, you may stay and prepare classes and grade exams in the teachers' lounge.
Vacation time
Usually, full-time teachers and employees in general are granted one week of vacation. The second year, that number may increase. However, teachers also get a week off over Christmas.
Mexico also has some national holidays throughout the year in which schools are closed. A Mexican school year typically begins in late August and ends somewhere at the end of June or at the beginning of July.
High schools have semesters from August to December and from January to June.
Job openings may pop up in fall before the next semester starts, or during the summer break when schools tend to hire teachers for the new school year.
Best Places to Teach English in Mexico
There are many different types of schools and institutions that you could turn to when looking for a job as an English teacher in Mexico. Each option comes with its own package of pros and cons.
Keep in mind that the structure of a Mexican school is very hierarchical and may be different from what you're used to. So, ask yourself why you're going to Mexico to teach English. Do you want to work on your curriculum as an English teacher, or do you want to explore the country while you earn some money as a teacher?
Depending on the answers, you can choose which option is best for you.
International Schools
If you're looking for a serious teaching job with a decent salary and want to work on your curriculum as an English teacher, then a job at an international school might be the right fit.
These places are often looking for licensed teachers with a college degree apart from the TEFL certificate. The class size at an international school usually ranges between 15 and 25 students.
Universities
Another option to expand your resume as an English teacher is to teach at a Mexican university. Most universities like to employ fluent English speakers and pay more to teachers with a Master´s Degree.
Universities usually have 10 to 20 students in a classroom.
Public Schools
Teaching English at a public school in Mexico might be a fulfilling job, as students usually have little access to foreign teachers. Public schools can be found everywhere, from busy cities to rural villages.
However, keep in mind that the resources may be basic and the salary low. Classes may consist of 30 or more students.
Language Schools
Mexico is filled with language schools that are continuously looking for English teachers. The ability to speak English is very important in many professions in Mexican companies, so a lot of people of all ages attend these language schools.
This is an interesting opportunity if you want to teach different levels and age groups. Some language schools may even offer courses tailored to business English.
Language schools usually offer group classes from 8 to 10 students or one-on-one classes.
Private Classes
If you want to be your own boss, you can offer private classes. Make sure that you already have an FM3 work permit and that you have an accountant who can help with your income tax in Mexico.
Most private classes are one-on-one classes.
Student Skills
Most schools separate English learners based on their English levels.
Before entering a class, students take a test and, depending on the result, get into a certain level English class.
The lower level classes are usually taught by Mexican English teachers. The higher the level of English, the more likely it is to find a native English speaker or TEFL teacher in front of the classroom.
School Facilities
Depending on the type of school that you work for, the facilities on campus will vary.
Public schools usually have little resources, whereas private schools have beautifully designed campuses with on-site libraries and unlimited access to resources to use for your classes.
This can mean the difference between getting access to unlimited photocopies, or having to pay copies out of pocket.
Documents
After a school agrees to hire you, now is the time to sign the contract, talk about benefits, and get permission to work in Mexico.
Contracts
Most part-time teachers work one one-year or semester based contracts. Full-time contracts are year round. In either case, contracts may or may not be renewed.
Payment, work hours, and extracurricular activities should all be mentioned in your contract. Think wisely before you apply to a job and especially before you sign a contract.
Keep in mind that it may be tough to be away from home for a year or so, and that you might not like the work environment or the actual job.
Always check if you can opt out the contract and, if so, how long you are required to work after you give notice.
Normally, this isn't done in Mexico and could earn you a bad reputation, unless you're leaving for good reasons.
Insurance
When you get a job at a school or institution, you'll probably be granted health insurance as part of the national healthcare system in Mexico.
Although this is a decent option, waits in these Mexican hospitals can be long, and sometimes they may even lack medication. They might not provide the healthcare that expats in Mexico expect.
So, if you have an international health insurance in your home country, or the possibility to extend your current health insurance to international coverage, do so. This way, you're able to attend private clinics and hospitals for medical care.
Work Permits
If you want to teach English in Mexico, you need a work permit. It's not recommended to work without one, even though some companies might let you believe that it's okay.
That being said, although it's a lot of paperwork, some institutions will help you get a work permit and even pay for it up front or reimburse you later.
Once you get through the administrative burden, you'll be the proud owner of a Mexican work permit.
Here is what you have to do. (Be aware that prices may change.)
Get an offer of employment on official letterhead from the school that's inviting you to teach English.
Go to the application form on the immigration website and pay the US$90 fee. It takes five to 15 days to hear back from immigration.
Submit the paperwork and lots of copies. If you're in Mexico, you'll have to submit your tourist visa. Other documents the immigration will ask for are: copy of your notarized TEFL certification, proof of residence, copies of passport. The complete list will be sent to you once you apply.
You then get a NUT Number to track your online application.
Once you get the okay, you go to a Mexican consulate outside of Mexico, pay US$290, and pick up your FM3 work permit.
It's possible to start the application process for your work permit in Mexico, but you'll have to finish it outside of Mexico.
If you're not in Mexico, a person in the country can start it for you with a letter of authorization (carta poder in Spanish). After renewing your FM3 three times, you're granted residency.
Pros and Cons of Teaching English in Mexico
Do you still have doubts about teaching English in Mexico? We'll finish up by summarizing the pros and cons of teaching and living in the country.
Pros
you don't need a degree to teach English in Mexico; a TEFL will do
you'll get paid more if you have more experience, or if you have a bachelor´s or master´s degree
if English isn't your native language, but your proficient, you can still teach in Mexico
the culture, food, and people are amazing
Cons
Mexican customs and culture are unique and may be very different from what you are used to
you have to be flexible and open if you want to live and teach here; not everybody has this attitude
you need a work permit, and the application process can be a bit of a hassle and will cost you money; however, some schools will pay for you
the salary can be low, especially compared to what English teachers earn in other countries
Now, on to You
You should now be up-to-speed on how to find an English teaching job in Mexico.
So, if you're not yet in the country, start looking online. If you are in Mexico, put on your Sunday best, grab your resume, and go visit some schools.
Read more: