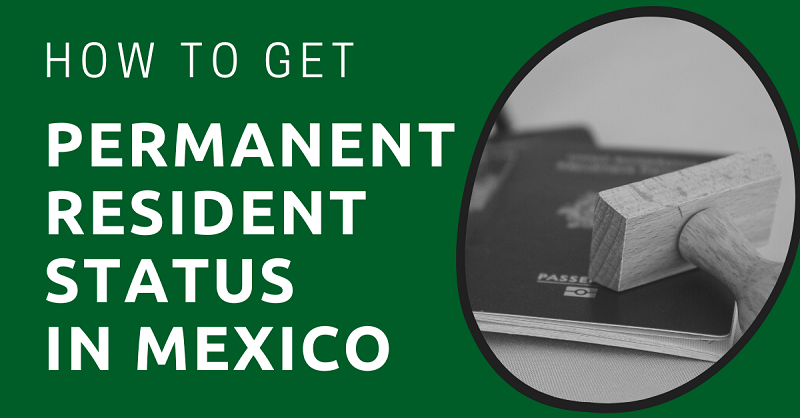 Mexico is one of the world's most beautiful and welcoming countries. You can find an invigorating array of climates and terrains, food that will make your heart beat faster, and some of the friendliest people on earth. Mexico also has solid healthcare and a low cost of living.
To top it all off, Mexico's immigration system comes with a fast learning curve, although it's a paperwork gauntlet. There are simple visas for short-term visits and slightly more complex processes if you want to stay longer, whether on a temporary or permanent basis.
This guide will discuss all the nitty gritty of how to get a Permanent Resident status in Mexico.
This article will take approximately 20 minutes to read. Don't have the time right now? No worries. You can email the ad-free version of the article to yourself and read it later!
Temporary Resident or Permanent Resident
Mexico offers two kinds of visas for foreigners who want to stay long-term: Temporary Resident and Permanent Resident. Both of these start off as a sticker in your passport that you eventually swap for a Resident card.
Whichever you want to apply for, the process is basically identical, although the financial requirements are higher for a Permanent Resident visa.
If you plan to stay in Mexico for more than 180 days but less than four years, you should apply for a Temporary Resident visa.
Related article: The Complete Guide to Mexico Visas for US Citizens
If you want to stay in Mexico for more than four years, you should apply for a Permanent Resident visa. You can also start the process by asking for a Temporary Resident visa and then switch to a Permanent Resident visa later after you get to Mexico, as long as you meet the additional financial requirements.
A Permanent Resident visa will give you the right to live in Mexico indefinitely. It has no expiration date or renewal requirements, and you'll be able to enter and exit the country whenever you like.
Benefits of a Permanent Resident Status
When you get your Permanent Resident card, you'll have almost all the same rights as a Mexican citizen, except, of course, you won't be able to vote in elections. Here are the benefits of having a Permanent Resident status:
You can get a job or start a business without having to apply for a separate work permit
You can stay in the country indefinitely without worrying about renewing your visa
You can travel in and out of the country as you please
You can bring your possessions with you without paying import taxes
You can get a local driver's license
You can nationalize your car and use Mexican license plates
You can bring your pets with you without any extra paperwork
Limits
Here are a few things you'll need to keep mind even with a Permanent Resident card:
1. If you decide to work or run a business, you'll still need to let the tax authority (SAT) know and pay your income taxes.
2. Temporary residents of Mexico are allowed to get Temporary Vehicle Importation Permits (TIPs) for their vehicles to bring them into the country temporarily while keeping their foreign plates. Permanent residents aren't granted this kind of vehicle visa and have to officially nationalize their vehicles in order to bring them into Mexico.
This process can be difficult, time-consuming and expensive, and many permanent residents decide to sell their foreign vehicles before arriving and then buy Mexican vehicles once they enter the country. The exception to this is in the tourist-heavy territories of Baja California and Quintana Roo, where foreign-plated vehicles are allowed without registration.
3. Buying land within 31 miles of the Mexican coast is only allowed for full-fledged Mexican citizens. Permanent residents would still have to open a Mexican corporation or use a bank trust to buy land along the shoreline.
Requirements
Mexico offers three different routes to getting a Permanent Resident visa.
Temporary Route
The temporary route is available to people who have lived in Mexico with Temporary Resident status for four or more years (or only two years as a temporary resident if you're married to someone with ties to Mexico).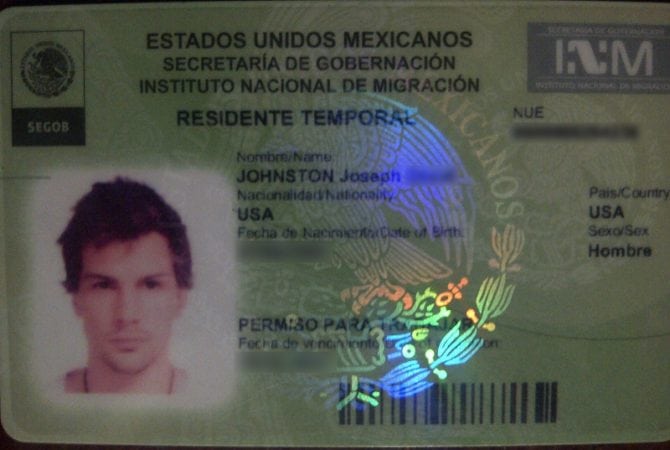 The temporary route is also open to people who want to work or study in Mexico and have an official letter of invitation from a company or educational institution in the country. You'll have to renew your Temporary Resident visa every year for four consecutive years, after which you can apply for a Permanent Resident card.
You can also apply for a Temporary Resident visa on the grounds of marriage to a permanent resident or Mexican citizen. In this case, you'll only have to wait two years before switching to Permanent Resident status.
Related articles:
Direct Route
The direct route is available to people who fulfill the strict financial requirements and plan to live permanently in Mexico without receiving any income from sources in the country.
The direct route is mostly geared toward retirees with enough stable retirement income.
Related article: Retiring in Mexico: The Complete Guide
Family Route
The family route is available to anyone with close family relations in Mexico.
This route is designed for people with siblings, children, parents, or stepparents who are already Mexican citizens or have Permanent Resident status.
You can even apply for a Permanent Resident visa if you come to Mexico on a tourist visa and have a baby in the country.
Financial Requirements
The financial requirements may change a bit depending on which consulate you visit and when. We recommend you check your consulate's website to find out the specific rates and documentation they require.
You can calculate the minimum financial requirements you need to get a Permanent Resident visa either by income or savings:
For income, you need to have made at least 500 times the minimum wage in Mexico for the past six months.
For savings, you need to have had available at least 20,000 times the minimum wage in Mexico for the past year.
As of 2022, the minimum wage in Mexico is $172.87 pesos per day, or just under USD 9. That means that, to meet the income requirements, you should be able to prove you've earned at least $86,435 pesos, or about USD 4,300 per month for the last six months.
To meet the savings requirements, you should have proof of a minimum bank balance of about $3.5 million pesos, or USD 172,870, for the last 12 months.
The exact amount you'll need can increase and decrease over time. You can calculate the current required amounts by searching for the current Mexican minimum wage and multiplying that by today's exchange rate between the Mexican peso and the U.S. dollar or whichever currency you prefer.
Statements from your bank or proof of payment from your employer will usually work to certify your financial solvency. In some cases, you may also need to submit a note from your financial institution, stamped and printed on their official letterhead, verifying that your name and bank details are valid.
The consulate will keep any original bank statements you bring.
Application Process
You have to start applying for the permanent residence in a Mexican consulate before you travel to the country and then finish it at a Mexican immigration office (INM) after you arrive.
You'll start by scheduling an appointment at your nearest Mexican consulate outside of Mexico, filling out the visa application paperwork, and getting together all the relevant documents, as we'll discuss in detail below.
If everything goes well, the consulate will give you your Permanent Resident visa sticker, after which you'll need to travel to Mexico within six months. When you get there, you'll have 30 days to visit an INM office to finalize the process and get your Permanent Resident card.
Step One: Visit Your Mexican Consulate
The first step toward becoming a permanent resident of Mexico is to make an appointment at your nearest Mexican consulate in your home country.
Different consulates handle their visa appointments slightly differently, so visit your consulate's website to see whether you need to make an appointment online or by phone, or whether you can just show up. If more than one adult will be applying, you'll usually have to make an appointment for each, even if they're married or related.
Here's a link to the Mexican government's directory of the locations, websites, and contact information of all their consulates.
Many Mexican consulates in the U.S. use a phone appointment system called MEXITEL.
If you live near San Antonio, McAllen, Laredo, Sacramento, San Jose, Eagle Pass, Del Rio, Denver, Phoenix, Detroit, New Orleans, or Albuquerque, you can call 01-877-MEXITEL to set your visa appointment.
Step Two: Prepare Paperwork
All documents must be in English or Spanish or accompanied by an official notarized translation. Certain foreign-issued documents, like birth and marriage certificates, must be apostilled in your home country before the consulate will accept them.
Here's a list of some of the most common documents many Mexican consulates ask for at visa appointments. This isn't a comprehensive list; your consulate may ask for additional paperwork if they choose, so make sure to check their website.
Your passport, accompanied by copies of the first and last pages as well as any other pages with personal information, visas, stickers, or stamps
A passport-sized photo of you in front of a neutral background taken within the last 180 days
If you're not a national of the country you're applying in, you'll need a document proving that you're a legal resident
Payment of the visa application fee (in 2022, this is USD 48)
Additional Paperwork for the Family Route
If you apply for Permanent Resident status based on your family connections to Mexico, you'll need a few additional documents plus photocopies of each.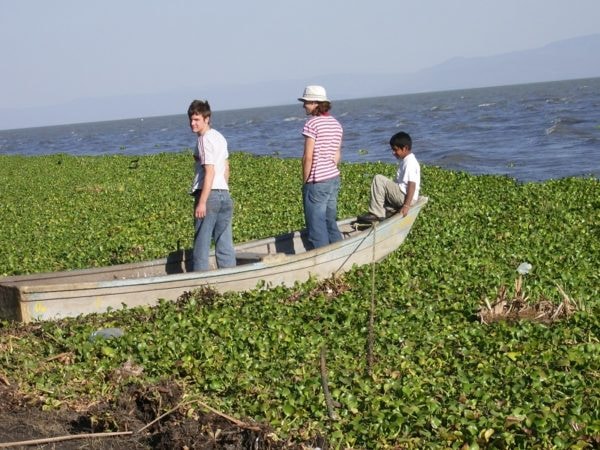 Depending on which of your family members is connected to Mexico, you may need:
Your Mexican child's birth certificate
Your Mexican sibling's birth certificate
Your Mexican parents' marriage certificate or proof of common-law union
The Permanent Resident card of your family member with Permanent Resident status in Mexico
Step Three: Getting an Interview
When you arrive at your appointment, you'll be interviewed by a consulate officer. They'll review your paperwork and ask you some simple questions about your reasons for wanting to live in Mexico.
If everything goes well, they'll put the visa sticker in your passport that same day or ask you to return in a few days for the sticker.
Step Four: Travel to Mexico for the "Canje" Process
Once the consulate approves your application and puts the visa sticker on your passport, you'll need to travel to Mexico within six months to finalize the process by swapping in your sticker for a card.
In Mexico, this part of the process is called "canje," which is Spanish for swap.
Your sticker visa allows you one entry into Mexico at any time within six months of its issuance. When you cross the Mexican border, they'll ask you to fill out a simple tourist card, which is called an FMM.
Make sure your purpose is obvious to the official receiving the card by writing "RESIDENTE PERMANENTE" in giant capital letters across the top of the form.
Under the "Official Use" section, make sure the border official checks the "Canje" box and marks the "Tipo de Viaje" (Kind of Trip) as "Otro" (Other). It's very important that this form doesn't indicate you're entering the country as a tourist, as that will cancel your hard-fought Permanent Resident process.
You may even want to show an immigration officer the visa sticker in your passport.
The officer should give you a 30-day time period on the FMM. That means you'll have a month to turn in this form and your other paperwork at an INM office to finish getting your Permanent Resident visa.
If you plan to drive to Mexico, the responsibility is on your shoulders to stop at the INM office on the border and pick up your FMM. Some border checkpoints will just wave you through, but without the proper FMM, you won't be able to get your Permanent Resident card.
Final Step: Visit INM
Once you arrive at your destination in Mexico, find out where the nearest INM office is and plan a visit within 30 days. If you don't make it to the office on time, you'll have to leave Mexico and start over from scratch, including paying all the fees again.
You should expect to wrap up the process within a few weeks of your first INM visit. Keep in mind that you're not legally allowed to leave Mexico while the "canje" is underway.
Mexican bureaucracy is legendary. If you ask anyone who's had to deal with government paperwork in Mexico how they feel about it, you may be treated to some choice colorful language or at least a delicious eye roll.
The final step in the Permanent Resident process may be the most frustrating.
You might end up happier overall if you just assume that your INM visits won't be easy. You'll probably have to wait for hours in line with no air conditioning. Many offices take a lunch break at midday, which can throw a monkey wrench into your timing. When you do finally make it to an agent's desk, just one missing photocopy or misspelled word can get them to ask you to come back another day.
In March 2022, all of Mexico's INM offices shut down their online appointment services, requiring visitors to show up at random. This made wait times even longer than usual. As of September 2022, you can fill out a form in Spanish to start the "canje" process and get notified by email whether to appear for an appointment or a walk-in.
That form is called the "Formato para solicitar trámite migratorio de estancia," and you can find it at this link:
And here's a list of location, contact information, and business hours of your nearest INM office.
Paperwork You'll Need at the INM Office
Mexico is slowly standardizing their immigration procedures, but different INM offices may still ask for different documents. If you want to save time and frustration, it may be ideal to hire a local immigration attorney or facilitator to help smooth out this part.
It may not all be necessary, but you should bring all the paperwork you presented in your first visit to your Mexican consulate back in your home country, plus photocopies of each document.
Bring the FMM card you got when you entered Mexico as well as a printed version of the "Formato para solicitar trámite migratorio de estancia" from the link above.
You'll also need to print and fill out the "Formato básico".
Some offices will require proof of your address in Mexico. A rent receipt or utility bill will work, and it doesn't have to be in your name.
You'll need to bring photos to put on your Permanent Resident card. They require two photos facing the camera and one of your profile, all in front of a white background. These should be what is called in Mexico "tamaño infantil," which is measured in centimeters (2.5 x 3.0).
The good news here is that you don't have to worry about learning these exact requirements because there will be plenty of photo shops surrounding your INM office that already know what to do. You can drop in to one of these places before your appointment and get your photos taken correctly for a reasonable fee right before your appointment.
If the immigration agent finds that all your paperwork is in order, they'll direct you to a nearby bank to pay the processing fee. For a Permanent Resident card, it will cost $5,776 pesos, or around USD 280. They'll let you slip out to a bank to pay the fee and then return directly to the same immigration agent to submit the bank receipt without waiting in line again.
Approval
If you manage to get all your paperwork right the first time, your application should be accepted within a few days or weeks, depending on how busy your INM office is. You'll get an email notification announcing your acceptance and requesting you to return to INM to get your fingerprints taken. The fingerprinting procedure should take a bit shorter than your original INM visit, but you may still want to set aside the entire day in case lines are long.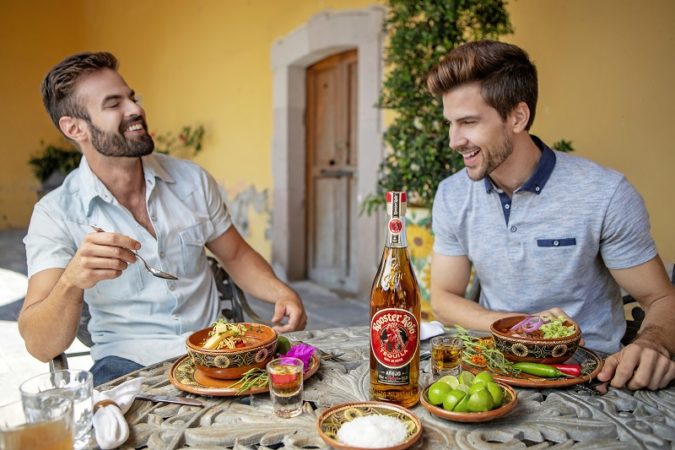 Once the immigration authorities approve your paperwork and have your fee and biometrics, it will take them two or three more weeks to get your card ready. You'll get another notification via email and have to visit INM one last time to pick up your card.
When you finally have your card in hand, guard it with your life. If you lose it, you'll have to go back to INM to fill out more paperwork and pay more fees.
Congratulations on your new Permanent Resident status!
Do I Need To Speak Spanish?
There are no legal language requirements to get either a Permanent or Temporary Resident card in Mexico. The problem is that the process itself as well as its surroundings are so steeped in Spanish that if you don't speak any, you may be reduced to relying on hand gestures and the kindness of strangers.
Fortunately, Mexico is a kind place, so that may not be much of a problem.
Statistically speaking, only about 10-15% of the population in Mexico is proficient in English. It's possible to get by with pointing, but most people you interact with will be grateful if you know at least a few choice Spanish words.
While the heroes at INM do their best, they aren't required to speak fluent English. If your Spanish is still a bit rough around the edges, your visits will be frustrating and fraught with language traps. It's easy to misinterpret a question or mishear a date or instruction in imperfect bilingual situations.
You'll be interviewed by immigration agents both at the Mexican consulate and the INM office. They'll be interested in your reasons for wanting to get Permanent Resident status in Mexico, and if you can show them you're open to trying to speak Spanish, you can warm their hearts and get on their good side.
If you eventually decide you want to take the next step and apply for Mexican citizenship, however, you will definitely need to speak fluent Spanish.
The naturalization process involves an even more detailed interview in Spanish, a letter that you have to write in Spanish explaining why you want to become a Mexican and even a Spanish language aptitude and reading comprehension test.
Do I Need a Lawyer or Immigration Expert?
It's certainly possible to go through the Permanent Resident process on your own, but you can save yourself a lot of hassle and misunderstanding by hiring a local immigration lawyer or facilitator. A solid immigration attorney should cost around USD $400 – $500.
An attorney or facilitator can help you understand complicated terminology in the forms you have to fill out so you can avoid messing up the paperwork and having to redo it.
There's almost nothing worse than finding out you have to schedule another visit and wait in line again because of a paperwork error.
It's not that difficult to find a perfectly bilingual lawyer or facilitator who knows their way around the system and doesn't cost an arm and a leg. They can help you set your appointments, prepare you for the questions, and make sure your paperwork is properly filled out. They may even know a back door or shortcut to help expedite the process.
If you decide to hire someone to help you out, here are some questions you should ask them to ensure they're the right person for the job:
Can you help me set my appointments with the immigration office?
Will you translate for me during my appointments?
Can you help me understand the paperwork?
Do you include all the visa fees in your price?
How long do you think it will take to finish the process?
Now, on to You
Mexico has made it pretty easy to live in its territory as a permanent resident. The financial requirements can be daunting to some, but if you can't meet them, there are other routes to residency that you can take.
The Temporary Resident route lets you start by studying or getting a job in Mexico and skip the financial criteria entirely when you eventually switch to Permanent Resident status. The family routes guarantee you Resident status if you have any family connections at all to the country.
The most complicated part of the process might be that you have to start outside the country and finish inside. Mexico's immigration processes have been like the Wild West for many years, and this is their attempt to try to regularize their visitors and avoid people showing up and staying without letting the government know.
Once you get the paperwork out of the way, though, both the government and the beautiful, friendly people will welcome you with open arms.