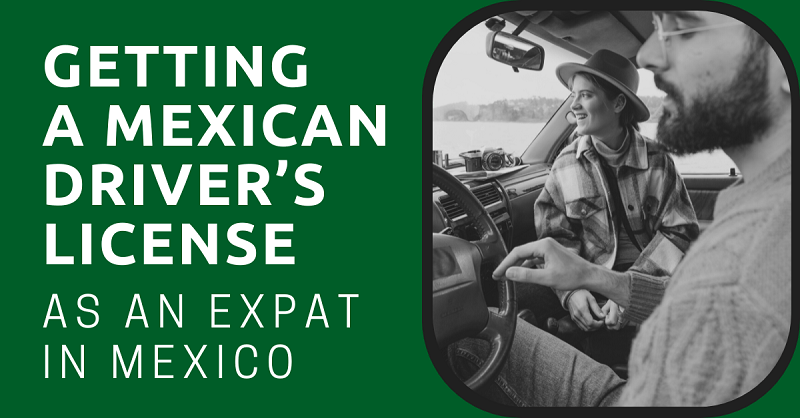 The moment you set foot in a foreign country and decide to live in it, you'll start thinking about many things you'll need to sort out. One of these things may include getting a driver's license in that country.
Luckily for those who decide to settle in Mexico, it is possible to obtain a Mexican driver's license whether as an expat or as a tourist.
In this guide, I'll discuss the general requirements to apply for a driver's license in Mexico, reasons you should have a driver's license as an expat in the country, and the processes involved when renewing a license.
I'll also talk about Mexico's traffic rules, road signs, and the country's driving culture. For those who haven't experienced driving in this country, know that it is quite different from what you might have been used to in your home country.
This article will take approximately 15 minutes to read. Don't have the time right now? No worries. You can email the ad-free version of the article to yourself and read it later!
Can a Foreigner Get a Driver's License in Mexico?
The answer is yes. A foreigner can get a driver's license in Mexico.
If you come here with a temporary or permanent residency status, you can easily get a license in all states. However, if you are a tourist, you can get a license only in certain states like Guanajuato.
The process of obtaining a driver's license in Mexico may differ slightly from state-to-state particularly in terms of the steps in the driving test. But regardless of which state you apply for a license, the procedures are similar.
How Long Can You Be Allowed to Drive in Mexico with Your Foreign License?
If you are a temporary or permanent resident in Mexico and your driver's license is from countries like Canada, the United States, and the United Kingdom, or from most European countries, then your license may allow you to drive in Mexico for up to three months.
After that, you must have a Mexican driver's license. Your foreign license must have a validity of up to six months before expiration, similar to the required period of validity of your passport when traveling.
Regardless, it's a good idea to get an international driver's license that can provide a translation of the details in your original driver's license, as many police officers in Mexico do not understand other languages other than Spanish. International licenses usually expire after one to two years.
Why Should You Have a Mexican Driver's License?
The main reason to have a Mexican driver's license is to allow you to drive in Mexico legally. It can also serve as proof that you know the driving laws in Mexico.
Note that in Mexico, being stopped by the police happens regularly. A Mexican driving license will help you get out of a potentially difficult situation involving Mexican police; your license is proof that you can legally drive in the country and that you are aware of local road regulations.
For these reasons, most expats in Mexico opt to have two driver's licenses: the Mexican one for driving in Mexico and the one from their country of origin.
Also, if you wish to register a car in your name while in Mexico, you must have a Mexican driver's license.
Requirements
The main requirement for obtaining a Mexico Driver's license concerns age: you should be at least 18 years old and above to apply for a license.
Although it's not a strict requirement, the ability to speak Spanish will be quite useful as not all police officers can speak English. And you'll find that answering the written test will be easier if it's in Spanish.
The application process may slightly vary across different states, but there usually is a standard procedure that all stations follow.
Where to Apply
The first step in getting a driver's license is to submit all the paperwork to where driver's license applications are processed, which is usually at a local police station.
You can find one by Googling 'SSP (Secretaría de Seguridad y Protección) + [area where you live]'.
Local governments in every state have websites where you can find a phone number and where you can fill out a form to schedule an appointment for your driver's license application.
Please note that each police station has different ways of doing things. Some stations allow walk-in applicants while others require an appointment.
To find out beforehand, Google 'Name of the state cita licencia de conducir', which translates to 'appointment for driver's license'.
I recommend going as early as 8am when the queue tends to be shorter.
Paperwork
Submitting all the required paperwork is key to getting a Mexican driver's license. Many people have had to visit a SSP several times because they didn't prepare the right documents during their application.
Here's a list of all the paperwork you'll be needing.
Any of these: a tourist visa (FMM), a temporary or a permanent resident card, or a pre-approved visa granted by a Mexican consulate abroad (requiring a stamp in your passport)
A valid passport
Proof of address (acceptable proof of addresses include a water bill, electricity bill, property tax ('predial') receipt, phone bill, or bank statements not older than three months; these should be under your name and indicate your address
A birth certificate (if asked for)
A medical form (required in some states) – you can get this form from any medical center or at a local Cruz Roja. Medical centers provide special forms for driver's license applications where they fill out your medical information and blood type. Drivers aged 80 and above are required to undergo an eye test to get a license or renew an existing one.
Make copies of all the documents since these are usually required.
Always make copies of all the documents when applying for a driving license as these are usually required. And there may not be photocopying shops nearby.
In some states, you might need to take an eye exam to make sure that your eyesight is good enough to drive.
In Mexico, you will also be asked to undergo a blood test because information about your blood type will be printed on your driver's license.
If you already know your blood type, you don't the blood test. If you don't, you can take a test at any medical center.
Written Test
Next, you will have to take a written test.
You can prepare for this test by reading the book Libro de Reglamento de Transito (Regulation of Transportation). You can get this book at bookshops like Gandhi.
The book is available only in Spanish. But luckily for those who have no Spanish language skills, there is an English version of the test.
In some states, the English written test can be confusing as some of the translations from Spanish are not accurate. If you can read/speak Spanish, then it's best to take the test in Spanish.
There are 10 questions in the test, and you are allowed to make only two mistakes. You automatically fail the test when you get at least three answers wrong.
If you fail the written test, the office will put your application on hold for 15 days, then you will be allowed to come back to retake the test. If you decide to retake the test beyond this period, you will have to file the paperwork again.
If you pass the written test, you may proceed with the driving test.
Driving Test
Driving tests differ from state to state. In general, some tests are done to check your driving skills and usually carried out at a parking lot or a street near the office where you applied for the license.
The test will also test parking skills, so prepare to be asked to park in specific ways.
If you drive on a regular basis, you shouldn't have any problem with the driving test.
Once you pass this test, you will go back to the office where they will take your photo, signature, and fingerprints. This is the final step before they give you a driver's license.
Price of a Driver's License
The exact price of a driver's license may vary per state, but on average the price ranges between 500 and 850 pesos.
You can choose to get a license for two, three, or five years.
When to Renew Your Driver's License
If you already have a Mexican driver's license and it's due for a renewal, here's what you need to know.
A driver's license should be valid for at least two years. Keep this in mind and make sure you regularly check how long it has been since your license was issued.
The cost for driver's license renewal is the same as what you had to pay for it originally. Make sure to renew your license ahead of time (i.e., before it expires) because if you are late to renew, your personal information might be purged from the system. You will then have to go through the entire process, including undergoing medical tests and taking the written and driving tests again.
Here are three ways to renew your Mexican driver's license:
Go to the same or a different police station/office where you first applied for your license.
Renew the license online within 12 months before it expires, or 30 days after its expiration. For this option, you'll have to pay with a debit or credit card. After making the payment, you can pick up the license at the SSP Department of Vehicle Registering and Control. It can also be sent to your address via DHL.
Go to a Unidad de Servicios Electrónicos office 60 days before your license expires or 30 days after the expiration date.
Whichever option you choose, keep in mind that on your third renewal, you must go to a physical location because you won't be allowed to do it online.
It's always a good idea to renew your license before it's expired.
At the office where you will apply, you will be asked to present the following documents:
Your driver's license
Your identification (residency and passport)
Proof of address
Make sure to renew your driver's license on time and never drive with an expired license.
If you do, you may end up paying a fine of 1,000 pesos or more when a police stops you.
You may never experience getting stopped by an officer. But this occasionally happens to those who are unfamiliar with the country's road rules and thus tend to violate them.
So, to avoid getting stopped, learn about what you should and shouldn't do when driving in Mexico.
Mexican Road Rules
Those who are familiar with Mexican roads and the distances between cities and villages throughout the country may prefer to drive a vehicle instead of taking public transportation. Driving to different places is ideal especially when going to remote areas.
Driving is, in fact, the best option to get around as many places in Mexico are separated by long distances, even within the bigger cities. And like in other countries, there are road rules you need to follow.
General Rules
In Mexico, a person has to be 18 years or older with a driver's license before they can be allowed to drive. Wearing a seat belt is mandatory.
It is strictly prohibited to drive under the influence of drugs or alcohol. The blood alcohol concentration limit is 0.08%.
Using your phone while driving is prohibited, but if you must, you should only use a hands-free mobile device.
Speed Limits
In most urban areas, the speed limit is 40 km per hour, while outside urban areas, it's 80 km per hour.
Normally, highways have speed limits of 110 km per hour. Read the signs along the roads to make sure you are not going beyond the speed limit.
Rules and Road Signs
In many towns, you will encounter many speed bumps and stop signs.
There are regulations when it comes to traffic and you are supposed to know them after having passed the written test that you took to get your Mexican driver's license. When you know the traffic rules and obey them, you are less likely to be stopped and/or fined and you'll be more confident when driving.
Pedestrians
When driving, you have to be vigilant at all times as there may be pedestrians crossing the road, even along highways. If you are overtaking another vehicle, you must do so on your left. It is very common in Mexico for drivers to make a turn without signalling, so keep this in mind and always be cautious.
Police Stops and Checkpoints
If you have ever driven in Mexico, you're probably already aware that there are multiple checkpoints and police stops along roads or highways. You will find such checkpoints usually when you cross into a different state.
At these checkpoints, the officers may ask to see your driver's license, insurance policy, and sometimes even your passport.
This only happens, however, when you are asked to pull over. In many instances, they will just let you pass, so stay calm when you get stopped by an officer. Take also into account that most of them will not speak to you in English. The military checkpoints are primarily done to monitor and catch illegal activities like drug trafficking.
Driving Conditions
Another thing to take into account while driving in Mexico are the driving conditions, particularly the road conditions and traffic density.
You will find that the roads are in excellent condition, especially toll highways where you have to pay a certain amount in cash to enter. Make sure you always carry enough cash with you because you cannot use your debit or credit card on these roads.
There are many speed bumps in small towns and cities, so make sure you drive within the speed limit when driving in these areas.
You will also encounter roads that are filled with potholes and some others that get flooded during heavy rains. These conditions commonly occur when you are in the country during the rainy season, which lasts from June to November.
Lastly, driving during the day is a lot more ideal than at night, as many roads have little-to-no lighting and speed bumps and potholes may not be visible especially on roads in small towns.
Driving Culture
Some people say that drivers in Mexico are quite aggressive. You'll have to experience it for yourself, but either way, you should always watch where you're going and look over your shoulder when you are merging in traffic. Always be vigilant and check what other drivers are doing and keep an eye on where they are going. Do not rely on directionals as most drivers do not use them and they can always turn at any moment.
The driving culture in the country generally varies from state to state. In Mexico City, for instance, rules are rarely followed and people drive with little regard for rules.
By contrast, in Yucatán, drivers tend to be more polite and obey speed limits. But no matter where you drive, be cautious.
Now, on to You
I hope that after reading this article, you now have a pretty good idea of how to get a Mexican driver's license. You probably came across this article because you plan to drive in Mexico. If so, I advise getting a driving license right away once you have a proof of address.
Lastly, don't forget to look into another important factor when driving: car insurance. Read this article to know more about car insurance in Mexico.
What to read next: Everything You Need to Know About Driving in Mexico