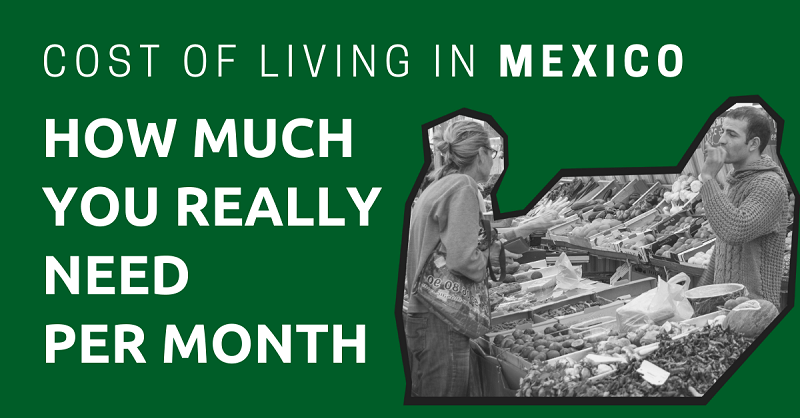 Many future expats dream of moving to Mexico for its low cost of living and comfortable lifestyle, and if you landed on this page, then you're one of them.
That said, if you want to move to Mexico, you're probably wondering about monthly expenses. Mexico is relatively cheaper compared to other countries. But the cost of living in Mexico varies depending on where in the country you live.
This guide, then, breaks down some of the average costs in Mexico. From rent to food to utilities and entertainment, we take a deep dive into all of it so you can better decide if moving to Mexico is right for you.
This article will take approximately 29 minutes to read. Don't have the time right now? No worries. You can email the ad-free version of the article to yourself and read it later!
Why Move to Mexico?
Mexico is one of the first countries that retirees, expats, and digital nomads from North America think of when searching for countries with low costs of living.
Also, since Mexico borders America, moving there is easy for Americans. Besides, there are direct flights from Mexico's largest cities to many big cities in the U.S. and Canada that are affordable too.
However, most expats move to the county because of the low cost of living.
Some people wonder why Mexicans keep fleeing from their country while expats want to reside there. It boils down to social inequality, and Mexicans working in the U.S. can send a substantial amount of money back home.
America's minimum wage is US$7.25 an hour, so if workers send part of the earnings to their families in Mexico, it's a huge sum.
Expats, especially retirees, will be in a position of privilege in Mexico if they have accumulated money from working in a better economies.
Therefore, many expats can afford to live a good life that is unattainable in the U.S. due to the high costs of living.
As much as Panama and Costa Rica have lower living costs, Mexico is still the top choice for Americans for many reasons.
What's more, you can easily get a retirement visa in Mexico, and the country offers digital nomads automatic six months stay on a visa when they arrive there.
Depending on the area in Mexico, you can also enjoy the all-year-round balmy weather and a few months of rain.
If you love experiencing different seasons, it would be best to move to the central and northern areas of Mexico, which have cool winters.
Furthermore, you can explore Mexico's fascinating culture and traditions. You can attend their celebrations and watch unique dance performances.
You can even explore different Mexican arts such as clay pottery, embroidered clothing, and colorful baskets. Plus, Mexicans also have traditional means of smithing silver and weaving textiles.
What's more, you'll get to enjoy the wide range of Mexican cuisines depending on where you live. You'll taste different foods prepared in different parts of the country.
Mexico is also an ideal place to live in because of the friendly people.
Whether you move to Mexico permanently or travel back and forth annually, you'll find many things to love about the country.
Regardless of your reason for moving to Mexico, you'll need to make adjustments. Mexico can be confusing regarding prices. Therefore, set a budget to be in control. You need to be patient and research a lot if you want to have a quality life.
Prices can vary throughout different areas or lifestyle choices, which we will discuss further in this article.
Other helpful link: Moving to Mexico: A Guide for Expats to Live Here
Cost of Living in Mexico
When you calculate the living costs in Mexico, you should aim to maintain or raise the living standards you have back home.
Let's jump into each of the main categories below and take a look at home much you might spend each month, on average.
Accommodations
You have quite a few choices for accommodations in Mexico, so let's look at the costs for renting and buying a place in the country.
Renting
Mexico has extremely reasonable rates for renting houses compared to what you can pay for in the U.S.
Rent and utilities vary depending on where you live in Mexico, but costs in cities and coastal communities are relatively cheaper compared to other countries.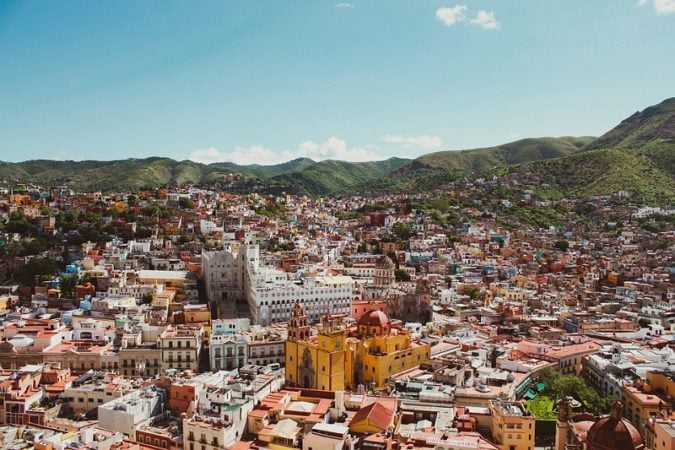 The average monthly rent for a furnished, one-bedroom apartment is around US$250 in one of the affordable areas. Renting an apartment in a more upscale neighborhood could cost you about US$772 per month.
If you want to rent a house, you could easily find one for around US$400 a month, depending on the area. If you're willing to pay at bit more – like US$1,000 a month – you'll get a bigger house. A luxurious villa, on the other hand, could cost you at least US$2,500 per week.
You should have a checklist of what you're looking for when searching for a place to live. You're likely to get a nice house with wifi and air conditioning at an affordable price.
Some of the houses and apartments come with fully furnished kitchens, so you don't have to worry about buying appliances. It's important to check these features because they're not always included, and you might have to purchase them yourself.
Other helpful links:
Buying
The Mexican government lets foreigners buy property in the country whether they want to become permanent residents or rent them out.
That said, your cost of living in Mexico changes if you buy instead of rent a home.
The home buying process in Mexico does not differ from that in the U.S. You can buy a house in cash or get financial aid from local banks, who can help you with approximately 50 percent to 70 percent of the property's value.
If banks give you a loan, you pay a higher interest rate compared to what American banks charge, though.
Once you have established how much you can get from a bank, you can research the homes you can afford and bid on them.
The seller asks you to pay a 5 percent to 10 percent deposit of the total sale price, then a lawyer drafts a contract.
In addition, the lawyer applies for a trust permit that the Ministry of Foreign Affairs must notarize before finalizing the purchase.
The closing occurs after the attorney verifies that you have paid taxes and they transfer the deed.
Prices for homes vary according to where they're located. Newly constructed houses can start from as little as US$80,000, while beachfront condos and houses start at approximately US$220,000.
There are also luxury villas on the beaches that cost about US$5,000,000.
When looking to buy property in Mexico, you should know what matters to you most in a home. At some beachfront homes, you have direct access to the beach.
Be aware because even when an ad says that the property has a private beach, there is no such thing as a private beach in Mexico – all beaches are public and owned by the government.
If you're planning to have a large family or want friends and family to visit, you should consider purchasing property away from the city and beaches as they offer larger spaces.
Moreover, if you want to rent your house to get extra money, you should be sure to buy an appealing home that attracts tourists.
Utilities
When you decide to rent in Mexico, double-check with your landlord to see if utility bills such as gas, electric, and water are included in the price. If not, ask for previous bills to see what you should expect to pay.
When you own a property, you'll have to take care of paying utilities yourself.
Let's take a look at the average utility costs and what to keep in mind.
Gas, Electric, and Water
Gas and electric costs depend on how you live. There are houses and apartments with central air conditioners that'll cost more to run than houses with fans and windows.
In general, average monthly utility bills are US$40 for electricity, US$15 for gas, and US$9 for water. You can use gas to heat water, cook, and for drying clothes.
Some expats in Mexico, especially the Colonial Highlands residents, install solar water heaters. Solar heaters significantly reduce the cost of gas.
Internet and Phone Plans
Internet providers charge you US$21 per month for a standard wifi connection depending on the company you choose and the internet speed you want.
Additionally, you can purchase a mobile phone plan for US$9 a month.
Cable TV
Mexico has a multitude of companies that offer cable plans from as lows as US$35 to US$50 per month.
These plans have limited English-Language programs, but if you wish to get other television and satellite cable that offers more English programming, they charge more money.
However, Mexico has reliable and fast internet speeds, which lets you watch English programs on Netflix and other services. You can pay a subscription of around US$10 per month for Netflix services.
If you get a VPN to stream all U.S.-based content, you should expect to pay additional US$5 a month.
Transportation
Mexico has various inexpensive transportation methods. The mode and cost of transportation depends on the town's size.
If you settle in a smaller town, you can walk or use a bicycle to move from place to place. However, if the town is larger, you have to use buses. One-way tickets cost of around US$1.
Mexico has several bus routes connecting its major cities. Busing from one city takes around forty-five minutes and costs a few dollars.
You can also use Uber and taxis to get around the cities. With little or no traffic, a taxi costs US$5 each way.
If you plan to buy a car, the average cost is US$15,000, and you'll spend around US$4.51for a gallon of gas (MXN23 per 1 liter).
Other helpful link: A Comprehensive Guide to Buying Car Insurance in Mexico
Groceries
Mexico has a number of markets where you can find a wide range of homegrown fruits, vegetables, and homemade products.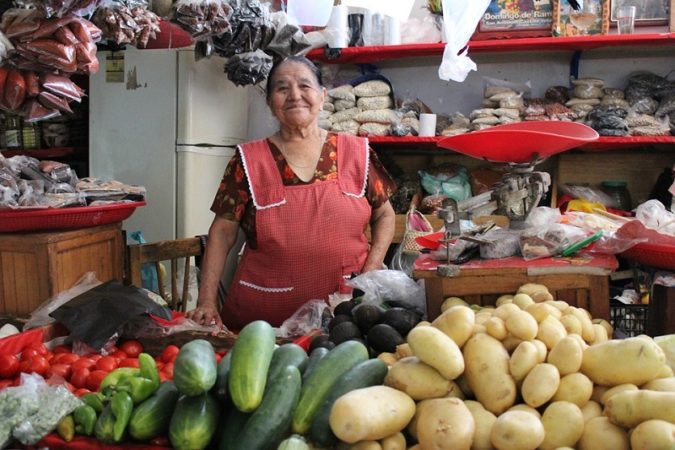 A kilo of mangoes or oranges costs US$1 per kilo during the high season. On the other hand, one kilo of avocados costs US$1.25, which is the cost of one avocado in northeastern America.
A dozen of eggs costs roughly US$2.
Also, the markets in Mexico have plenty of fresh ingredients. Hence, you can try new recipes on a budget.
Furthermore, Mexico has chain supermarkets such as Walmart, where you can buy groceries to last two people for a week for around US$50.
Whether you cook your dishes or go out to eat, you'll spend less cash on food. You'll find many people selling home-cooked food at the market that you can purchase for US$8 and that'll last you the entire day.
Whether you're shopping for clothes or produces, the key to saving money in Mexico is to buy them locally. Brand products are costly since you're paying for the brand's name convenience.
But shopping at local markets and stores enables you to pay less.
Furthermore, some parts of Mexico are extremely hot. Therefore, you should also factor in the cost of bottled water into your budget.
A two liter bottle of Coke in Mexico costs US$1.48, which is way cheaper than a twelve-ounce can in many countries, including the U.S.
Canned sodas are more expensive than bottled sodas in Mexico. For a twenty-ounce canned Coke, you'll pay around US$1.
Dining Out
Dining out in Mexico won't hurt your pocket. An excellent bottle of wine costs about US$11, while you'll pay US$7 for an average lunch.
There's also street food like quesadillas that you can find for US$1 and tacos for US$3. A fast food meal costs about US$5.
Keep in mind that restaurant meals are a bit expensive due to the sit-down experience. The average dinner for two people in a restaurant in the neighborhood costs roughly US$24.
Entertainment and Socializing
Mexican cities have vibrant and exciting culture and nightlife scenes. Moreover, the country has a lot to offer whether you love going out with friends or attending parties. Costs depend on what you like spending time on.
If nightlife is your thing, the size of the city determines your entertainment costs. If you love going to movie theaters, two tickets cost US$8, but concessions are extra.
You may also find concert tickets for about US$5, but popular bands charge US$15 for each ticket.
For international artists, this can be much more, at least US$25 depending on the seats.
The majority of the towns have clubs and bars that feature exciting activities and live music. You'll pay less than US$2 at bars and clubs for beers and US$3 for a glass of wine.
A cup of coffee costs you around US$2 in an expat neighborhood, while downtown bars may offer cocktails at only US$5 per drink.
Beaches and other natural attractions are, or course, free.
Childcare
Most families in Mexico rely on extended family members to help with childcare. But being an expat in Mexico, you won't enjoy this luxury unless you marry into a Mexican family.
Fortunately, just like the U.S. has daycare centers, Mexico has numerous childcare facilities as well. Though, Mexican daycares — called guarderias — are not overly regulated by the government.
There are also private child care facilities that are smaller and ensure maximum supervision of your child during the day.
However, these smaller daycares have kids of all age groups, and the guardians have less structured activities for children.
It would be better to find a larger center if you want your child to be with kids of the same age and get age-appropriate lessons.
Such large childcare facilities charge about US$150 per month, for five days a week.
Healthcare
If you plan on staying in Mexico for a long time, you should use their medical facilities.
Mexico has many public and private hospitals with physicians, pharmacies, nurses, and other health care professionals.
Public and private hospitals operate independently, and they provide medical care to individuals within their region.
Also, before selecting the right health insurance, you should thoroughly research the available plans and understand the types of services.
On average, you'll pay about US$20 for a standard doctor visit, whereas an emergency room trip costs US$18 to US$25.
If you visit a private clinic, expect to pay up to US$40 for a visit to the doctor or emergency room.
An antibiotic prescription refill costs you US$11, and if you have a cold, you can get medicine for about US$5.
Moreover, you can find moderate insurance coverage with a deductible of less than US$500 and a copay for medical or dental care at about 10 percent of the service total.
Other helpful links:
Clothing
When it comes to clothes, local Mexican brands are cheaper than imported brands as you can find a pair of jeans for only US$10.
For US$100, you can find a variety of high-quality clothes, including two shirts, two pairs of trousers, and a pair of awesome shoes.
However, there are also upscale boutiques and brands in Mexico that charge hundreds of dollars for a single piece of clothing.
Further, you can also shop for clothes at thrift stores, where you can find clothes going for as little as US$0.25.
Garbage Pickup
In certain areas of Mexico, you have to pay for garbage pickup. In areas that charge to collect garbage, costs range from US$30 to US$60 a year.
Education
Mexico offers its citizens free public education from grades one through twelve. In this case, the only expenses are for books, uniforms, and extracurricular activities. Education costs also vary depending on the school's category and quality.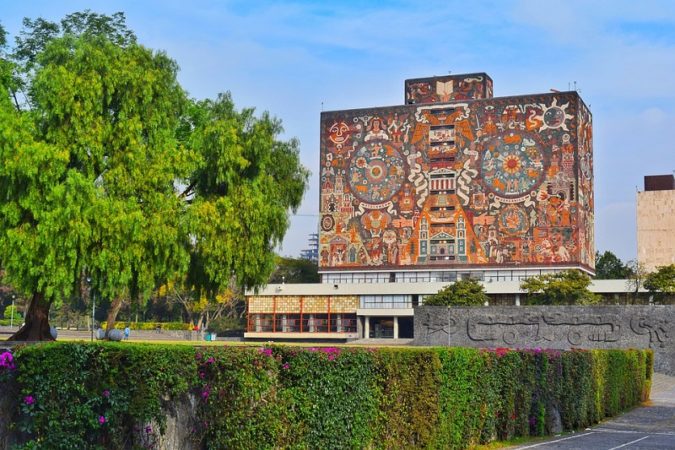 If you enroll your children in a private school, you'll have to pay an inscription cost that ranges from US$275 to US$735.
Also, private schools charge monthly payments that range from US$185 to over US$550.
A bachelor's degree in Mexico takes four years; a Master's degree two years; and a PhD three years. Average costs for higher education are roughly US$5,000 per year, but there are great variations in fees between public and private universities.
However, even with the more expensive options, they're still cheaper compared to universities in the U.S.
In Mexico, public universities are inexpensive. Undergraduate studies cost roughly US$378 to US$818 per year, whereas private institutions charge US$1,636 to US$16,353 per year.
Visas
When you move to Mexico, you'll have plenty of time to get familiar with the area since the Mexican government allows U.S. passport holders to live in the country for up to six months with the right visa.
The good thing about this law is that the six-month duration is reset every time you cross the border into Mexico.
If you don't want to leave Mexico every six months, it's better to find a long-term visa.
To qualify for a long-term visa, you have to prove to the Mexican Government that you're financially stable. Therefore, you need a monthly income of at least US$1,946 for a temporary resident visa and US$3,243 per month for a permanent resident visa.
Keep in mind that these prices are subject to change, so always double-check with an immigration lawyer or specialist.
Moreover, you can easily get a retirement visa in Mexico — and even get permanent residence status — without going through the temporary residency procedure.
All you have to do is file an application, show the government proof of finances, and undertake an interview with a consulate officer. As soon as this process is complete, you can become a permanent Mexican resident.
However, when you want to go to Mexico for a business trip or as a tourist, you'll have to get a visitor's permit. The permit is issued when you arrive in Mexico by air and after you have signed some forms.
You have to pay a US$25 fee for this permit, which is usually included in your flight charges.
If you travel by ship or road, you'll be billed separately. In this case, a Mexican visa can cost you around US$36.
Other helpful link: The Complete Guide to Mexico Visas for US Citizens
Average Cost of Living in Popular Mexican Cities
The most expensive cities in Mexico are Los Cabos, Cancun, Mérida and Mexico city, while Oaxaca and La Paz are among the most affordable cities to live in the country.
Most expats reside in these five cities, but a larger percentage of the expats are in Tijuana because the area borders California. Therefore, they can enjoy a lower cost of living nearer to the U.S.
Here is a breakdown of the average living costs including rent for one and three-bedroom houses in these cities.
Mexico City
Mexico City is the largest city in Mexico and one of the most populated cities in the world. The city is full of culture, history, intriguing tastes, and smells.
The cost of living in Mexico City depends on which area of the city you plan to stay in, which can be hard to determine because the city comprises 16 different boroughs.
Mexico City is generally considered one of the most expensive cities in the country, primarily due to the high rent prices. For example, if you wish to live in the center boroughs of the city, you can expect to pay around US$550 to US$800 per month for a one-bedroom apartment.
But you can get prices as low as US$400 to US$550 if you live in an area away from the city center.
Food in Mexico City is another significant factor when considering the cost of living. Mexico City has a plethora of affordable options. Street food can cost as little as US$2 for a plate or up to US$10 at a nicer restaurant. In general, food in Mexico City is slightly more expensive than food in other cities in the country.
Mexico City also has an extensive public transportation system that is highly affordable. The city has the best public transportation system in Mexico, making getting around much cheaper. A single ride on the metro only costs approximately US$0.30, while a monthly pass will set you back less than US$15.
While Mexico City is one of the most expensive places to live in Mexico, it is still a very cheap city compared to other megacities around the world, such as New York, Tokyo, and London. For example, to live comfortably in Mexico City, you will need around US$800 to US$1,100 per month, while in New York, you will need at least US$2,000 per month.
Puerto Vallarta
Puerto Vallarta is a beautiful city located on the Pacific coast of Mexico. A decent expat population also lives here due to the good weather year-round and its laid-back lifestyle.
Puerto Vallarta is by no means the cheapest place to live in Mexico, but it is more affordable than some of the larger cities in the country.
Puerto Vallarta is a small city, so it is easy to find an affordable, centrally located apartment. You can expect to pay around US$350 to US$700 monthly for a one-bedroom apartment in Puerto Vallarta.
Food in Puerto Vallarta is also reasonably affordable. You may spend more on food here than in cheaper cities like Oaxaca, but you can enjoy fresh ceviche and excellent coastal Mexican food for as little as US$1 to US$2 per plate.
Puerta Vallarta has a decent bus system that can get you to most places you would want to go around the city. A single bus pass will cost around US$0.50. The bus system is also not very extensive, so you will likely need to take taxis at times, which costs much more than public transportation.
A single expat can live comfortably in Puerto Vallarta with US$800 to US$1,000 per month.
Merida
Merida is the largest city in the popular Yucatan region of Mexico. It is a vibrant city with fantastic food and culture and is situated only a couple of hours from Tulum's popular beaches and Playa Del Carmen.
Merida is one of the popular big cities in Mexico. And it is about 20 percent cheaper than Mexico City.
Rent in Merida is affordable if you stay on the outskirts of the city. If you want to live here, you can find a one-bedroom apartment for under US$250 per month. Inside the city, expect to pay at least US$400 or more.
Merida also has many fantastic street food markets where you can find dinner on a budget. Expect to pay around US$2 to US$4 at a street food stall for a meal.
Alternatively, a meal at a sit-down restaurant costs around US$7. Merida is not nearly as touristy as Cancun, Tulum, or Playa Del Carmen, and this shows in the prices.
Merida has an extensive bus system that, although challenging to navigate, is effective at getting residents around the city. A bus ride costs around US$0.40, but unfortunately, there is not a monthly pass option that allows you to save money.
Living in Merida, you'll enjoy the laid-back Mexican attitude. Keep in mind that utility bills in this part of Mexico can be high, though, especially when your property or the place that you rent has no solar panels. It's very hot in the Peninsula of Yucatan, so add those costs to your budget to plan accordingly.
Cancun
Cancun is one of the most popular vacation destinations for Americans. The beaches here are full of families and partygoers alike during the spring and winter breaks in the USA. While going on vacation here may not be the cheapest option, living in this city is relatively affordable.
Rent in Cancun can be cheap or very expensive, depending on the location. For example, a one-bedroom apartment in the city center may cost you up to US$600, but it can be as little as US$350 if you are okay with a bit of a commute.
Food in Cancun is much more expensive than in other Mexican cities. Even compared to Mexico City, which is considered the most expensive place to live in Mexico, you can expect to pay around 20 percentage more for dinner in a restaurant in Cancun. However, due to Cancun's party atmosphere, drinking is cheaper here than in other Mexican cities. A beer can be as cheap as US$1.5 at a bar!
Public transportation is relatively affordable in Cancun, but at around US$0.50 per ride, it is still more expensive than in cities like Merida and Mexico City. Luckily, like many of Mexico's smaller cities, Cancun is very walkable. So if you are on a tight budget and your destination is less than 20 minutes away by walking, I'd recommend getting your steps in over riding the bus.
A single expat living in Cancun should expect to spend around US$900 to US$1,200 per month. Cancun is one of the most expensive places to live in Mexico, but it is still relatively cheap compared to other major cities worldwide. Besides, you are paying for the bright blue water and white sandy beaches too!
Playa Del Carmen
Playa Del Carmen is a beach lover's dream. This small city is located about an hour south of Cancun and is filled with good food, beach parties, and resorts. The beach also sits near coral reefs, making it a fantastic snorkeling and scuba diving destination.
Playa Del Carmen is one of the most expensive places to live in Mexico for one reason: rent. Rent here is higher than in almost every other city in Mexico, including Mexico City. For example, a one-bedroom apartment located in the center of Playa Del Carmen will cost between US$700 to US$800 per month, while an apartment located further out will still cost around US$550 to US$650 per month.
Eating at a restaurant in Playa Del Carmen is much more expensive than in most Mexican cities besides Cancun. You can expect to pay around US$5 to US$7 for a meal or US$3 for street food. And if you plan to eat and drink imported items, you are out of luck, as the imported beer and food in Playa Del Carmen can be very expensive. If you are strapped for cash, always go for the local food and drinks.
One great thing about Playa Del Carmen is its walkability. You won't need to take taxis or buses across the city, because most things are only a 15-20 minute walk from each other. But if you live outside the city, you can take the local buses for .30 to US$0.50 per ride or a taxi for US$2 to US$5.
Expect to spend around US$1,200 minimum per month to live in Playa Del Carmen. Rent will likely take up 50 percent of your total monthly budget in this city.
Los Cabos
Your averagely monthly expenses with rent in Los Cabos will be around US$1,030 for a single person. And if you're a family of four, you'll spend US$2,025.
As a single expat, you can pay a monthly rent of US$450.
Oaxaca
The average monthly expenses for a single expat in Oaxaca are US$755, and for a family of four it's US$1,685.
If you consider only rent, you can find a house that costs US$300 per month.
La Paz
In La Paz, you'll spend US$400 per month on rent. Your average monthly expenses plus rent can run up to US$820, while for a family of four it can go to US$1,710.
How Much Do You Have to Budget For?
As aforementioned, Mexico living costs are lower than in the U.S. While approximately eleven million workers in Mexico earn a minimum wage of US$10.98 daily, the U.S. minimum wage is US$7.25 per hour.
Though, the average yearly income in Mexico is roughly US$10,500, and many people survive on less than that. These income rate statistics show you how much you can achieve in Mexico with your money.
The amount of money you need to live in Mexico depends on your lifestyle choices. If you're living alone, your average monthly expenses for necessities will be approximately US$953.
You can rent a two-bedroom apartment in one of the costly cities at US$500, and utilities will cost you around US$103. With food and groceries, maybe US$350.
When it comes to non-essentials like entertainment, dining out, and traveling, your total budget can go up to US$1,500 per month depending on the forms of entertainment and luxuries you choose.
Therefore, you can have a comfortable life in Mexico with US$1,000 to US$1,500 per month.
Living in Mexico on $1,000 a Month
If you were to have a budget of $1,000 a month and plan to live in Mexico, you will get by just fine. Therefore, it's important that you carefully choose the area where you wish to live. The good thing about living in Mexico is that in every city or area, you will find a neighborhood and housing option that fits your budget.
With a $1,000-per month budget, it will be easy to find a place to rent. Usually, for this budget, you can rent a studio unit, an apartment, or a one-bedroom house. And you'll have enough to pay your utility bills and buy groceries.
But you're probably wondering if $1,000 is enough for you to afford fun activities. As long as you budget carefully, $1,000 per month will be sufficient to pay not just the necessities but also to let you shop for clothes, go to the cinema, or go on a beach trip.
If, however, you are looking to live a fancy lifestyle, in which you go to restaurants every day and buy clothes, etc., $1,000 a month won't be enough. Instead, you can compromise by eating out only once or twice a week. If you really do prefer eating out, you can visit the economical comida corrida's, which are so cheap you can afford to eat out daily. The fantastic thing about life in Mexico is that there are tons of budget-friendly activities you can do. Going to the cinema and a mid-range restaurant are relatively inexpensive, provided you buy cheap cinema seats and do not go to fine dining restaurants.
If you insist on living a life of luxury, such as by going to the most expensive restaurants and renting high-end apartments, $1,000 won't be enough. To cover the costs of a fancy lifestyle, you will need at least $1,500 to $2,000 (or more) per month.
Now, on to You
If you want to live an expat life, consider moving to Mexico. Mexico has proximity to the U.S. Therefore, you can easily travel home whenever you want.
Perhaps you're even slightly familiar with some of Mexico's cultural traits, food, and language.
Getting a visa in Mexico is also seamless. The six-month tourist visa lets you try out living in the country before committing to live there.
Moreover, since the cost of living in the country is lower, you'll have a comfortable life. You can have all the amenities you want, like a car, and private health insurance at half the cost of what you would have to spend for those things in the U.S.