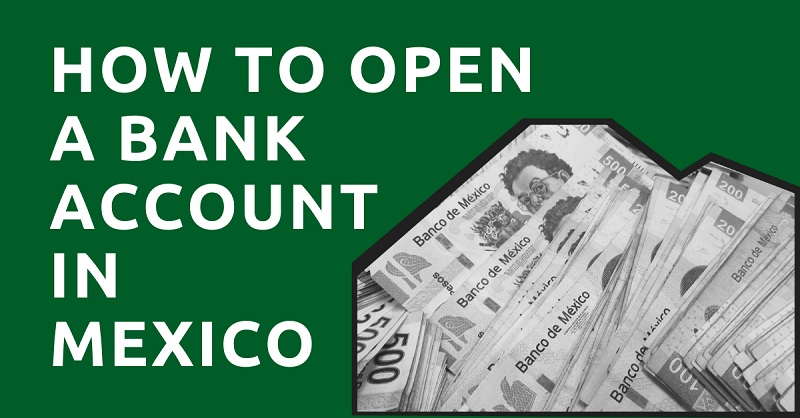 All expats new to Mexico need to manage their finances – and opening a bank account in the country makes it much easier to do so.
With a Mexican bank account, you can pay for items and services and keep track of your cash flow.
That said, opening a bank account in Mexico should be one of the first things you tick off on your to-do list after arriving.
But even if you don't speak a word of Spanish, you can still open an account in the country. This guide shows you how.
This article will take approximately 24 minutes to read. Don't have the time right now? No worries. You can email the ad-free version of the article to yourself and read it later!
What Do I Need to Open a Bank Account in Mexico?
One of the first things expats need to do when they move to Mexico is open a bank account. 
The exact requirements of what you need to bring when you open an account differs depending on the bank.
So, the best course of action would be to ask the bank in advance which documents you need.
In general, you need the following documents:
passport
Mexican visa such as an FM2, FM3, or FMM
proof of address in Mexico, like a utility bill dated less than three months old that includes your name and address
proof of address in your home country (this is needed instead of the proof of address in Mexico if you're just a tourist)
at least MXN1,000 as an initial deposit (the amount depends on what kind of account you open)
If you're opening a bank account for a business, you also need to bring additional documents, including any incorporation and power of attorney paperwork.
Benefits
You can use your home country bank account in Mexico and get by just fine, but having a Mexican bank account makes transactions easier in the long-run, especially if you plan to stay in the country.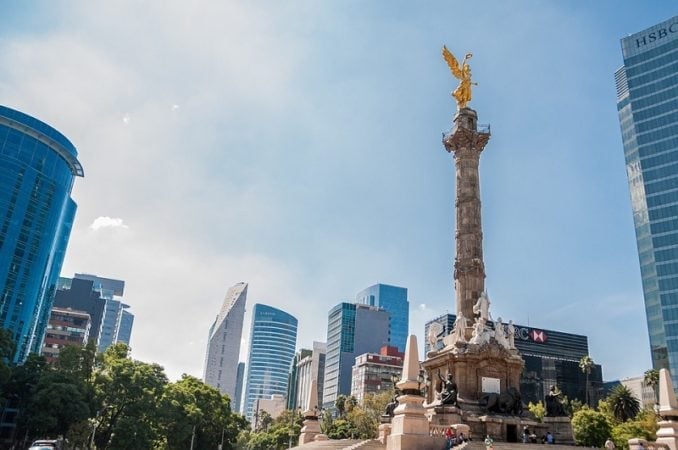 One of the very first things you should do after your move to Mexico is open a local bank account
Some benefits of opening a Mexican bank account are:
Saving money on international withdrawal fees from local ATMs. Even if you have a bank that doesn't charge any international withdrawal fees, the ATM machine itself may charge a fee.
When you rent an apartment in Mexico, payment is often only accepted through local bank transfers.
Shopping in Mexico will be easier as not all retailers accept overseas credit cards. Many retailers only accept local debit cards, bank transfers, or cash.
It's easier to transfer money from overseas to Mexico. Instead of using a service like Western Union, you can instead directly transfer money to your Mexican bank account with fewer fees and less hassle.
You can set up essential services such as cell phone plans, internet, electric, and other utilities. Most of these services only allow local bank transfers as payment.
There are some expats in Mexico that thrive without a Mexican bank account, using only cash and credit cards.
So, this can be an option for you if your bank doesn't charge any fees for international ATM withdrawals or transactions.
However, if you're having trouble finding services like utilities and rent that accept cash or credit cards, it's worth taking that extra step to open a bank account in Mexico.
Account Types
Depending on what you're looking for, there are many different types of bank accounts that you can open in Mexico.
Payroll Account (Cuenta de Nomina)
All banks in Mexico are required to offer one basic free account called a cuenta de nomina (payroll account).
This account is intended for workers to receive their wages with no commissions or fees. You should also receive a free debit card when you open this account.
Checking Account (Cuenta de Cheques)
All banks in Mexico also offer a cuenta de cheques (checking account).
This type of account generally requires a minimum deposit every month and offers a limited number of free ATM withdrawals.
Deposit Account (Cuenta de Depositos)
There are two different types of deposit accounts: sight and notice.
Sight deposit accounts generally come with a free debit card and you can withdraw money whenever you want. There may be a minimum holding balance on your sight deposit account.
On the other hand, with a notice cuenta de depositos (deposit account), you have to give your bank notice before withdrawing from your account. The interest rates are higher on a notice deposit account than on a sight deposit account.
Savings Account (Cuenta de Ahorros)
A cuenta de ahorros (savings account) in Mexico works much like one in the U.S.
It's meant to hold your funds for a longer time and therefore tends to have a higher interest rate than your basic cuenta de nomina account. This makes it popular among those who retire in Mexico.
Most banks put a limit on how many withdrawals you can make each month. Many banks also have a grace period that requires you to leave the funds in the account untouched for anywhere between one month to a year, depending on the agreement.
This is not an ideal account if you want access to your funds, but if you're hoping to keep your money safe and tucked away, you should think about opening a cuenta de ahorros.
Investment Account
Most major banks offer an investment account or market account. This type of account is used to buy and sell in the international stock market.
Since this is a type of premium account, there is a minimum deposit required. Generally, this deposit is around MXN5,000.
Premium Account
Premium accounts offer benefits that you don't get with your average account including cashback, insurance, and even interest payments.
These accounts have monthly fees and specific requirements. So, if you're interested in opening one, ask your bank if you qualify.
Bank Options
Considering how big of a country Mexico is, it's no surprise to anyone that there are a myriad of bank options to choose from.
You can't really go wrong in choosing a bank, and what you choose highly depends on what you're looking for and what bank is most convenient for you.
Here are some of your main banking options in the country.
BBVA Bancomer
BBVA Bancomer is one of the largest banks in Mexico with millions of customers all over the country and is one of the most popular options for expats.

So, naturally, this is the bank with the largest number of branches and ATMs as well, boasting around 1,800 branches and 7,500 ATMs and counting.
If you're ever in need of any banking services, you know that you're never too far away from a BBVA Bancomer branch or ATM.
This bank has also recently moved a lot of its services online for ease of access.
However, as a expat, you must apply for an account in person, which often means waiting in line for an hour or two. And the popularity of this bank means that the lines at the branches are always very long.
If you don't mind the initial wait, you can then use its online services for your banking needs.
You can't beat its wide range of account options ranging from basic payroll to savings and more.
Banamex
Banamex, or the Banco Nacional de Mexico, is another large bank in Mexico. This bank is a subsidiary of Citigroup, and it offers popular accounts to students.

Banamex follows closely behind BBVA in the number of branches and ATMs at 1,700 and 6,200, respectively.
Its basic account has a minimum deposit of just MXN500, and as long as you keep that amount in the account, you will not have to pay any fees.
This basic account is offered to people age 12 to 23, so this is a great option for students in Mexico.
Banorte
Banorte is yet another large bank based in Mexico with over 1,200 branches and 7,000 ATMs around the country.

A great perk of this bank is that it has over 5,200 commercial establishments that accept deposits. These businesses include drug stores, supermarkets, and even convenience stores.
Additionally, it not only has fewer lines than some of the bigger banks, but you can also get a number to wait in line via WhatsApp even before you arrive at the bank.
Banorte offers a bunch of different accounts, but they do come with some restrictions. For example, the basic payroll account requires a minimum balance of MXN3,000 at all times in order to avoid fees.
Banorte ATMs also limit withdrawals to MXN7,000 per day. However, if these restrictions don't matter to you, this bank is another great choice for expats.
International Banks
Another option for expats when opening a bank account in Mexico is to do so with an international bank. Some of the main banks in Mexico are owned by foreign entities.
This is a convenient and easy route to take, especially if you already have an account with one of the below banks in your home country.
This makes opening a bank account in Mexico a much more fluid process. And even if you don't, international banks are great alternatives to Mexican banks if you would prefer to become a client with one of these banks below.
Santander
Santander is a Spanish bank with over 1,350 branches and more than 9,000 ATMs throughout Mexico.

Santander is known for its 123 Account, which gives you cashback on purchases. It also boasts a number of other perks including rewards and discounted flights, vacations, and even movie tickets.
Unfortunately, one thing to consider is that Santander doesn't allow one to open a bank account with them using only a tourist visa. So, you can only open an account with them if you're a resident.
Scotiabank
Scotiabank is another popular international bank and, in particular, it's a popular choice for American and Canadian expats.

This is due to the fact that Scotia is a Canadian bank that partners with Bank of America. So, if you have an account with either of these banks, Scotia is a great option.
Once you open an account, you can't beat the ease of transferring between your home account and your Mexican account.
Scotiabank has 600 branches throughout Mexico and has 1,300 ATMs, so it's not as widespread as other banks in the country.
Another thing to note is that Scotia doesn't allow you to open an account with a tourist visa.
HSBC
HSBC banks are a popular choice in Mexico and it has more than 1,400 branches and over 5,200 ATMs across the country.

HSBC is based in the U.K., but it's also affiliated with HSBC in the U.S. So, if you have an account with the bank in either country, HSBC could be the best way to go for you.
With the HSBC debit card, you can withdraw up to MXN2,000 per day.
HSBC does have some restrictions when it comes to opening an account. As with the other two international banks, HSBC doesn't allow those on tourist visas to open accounts.
Process
Now that you've decided that you want to open a bank account in Mexico, what exactly is the process?
Opening a bank account in Mexico is an easy and logical process, so let's go over the steps one by one.
Keep in mind that although some banks may go through all of the below steps within an hour, other banks may take a few days to open your account or print your debit card.
Choose a Bank that Suits You
Do a bit of research online to find a bank that suits you and your needs. Your choice may also depend on what is available in your area.
For example, not all areas may have smaller banks, so you may go for a larger bank.
Some other things to look out for when choosing a bank include:
bank fees
customer service
different types of bank accounts they offer
number of ATMs and branches near you
ATM withdrawal limits, if any
ability to do transactions online and use internet banking
any reviews of the bank either online or word of mouth
Find an Account that Suits You
Once you've decided on the bank you want to open an account with, you also need to do a bit of research to figure out what kind of account is best for you.
Whether you want to open a simple payroll account or you're looking to open an investment account, what you choose depends on your needs and wants.
You also want to look at:
minimum deposit requirements
interest rates
any other benefits offered
Gather the Requirements
All banks in Mexico have similar requirements, but it may pay off to call the bank to check beforehand to see if you have everything you need.
You don't want to go to the bank and wait in line for an hour only to find out that you don't have all the documents.
In addition to any documents such as your passport, don't forget to bring an initial deposit with you to the appointment, as you'll need this later.
Visit the Bank Branch
As an expat, you need to visit a bank branch in person in order to open an account.
Most banks are generally open from 9 am to 4 pm on weekdays, so make sure you get there on time.
For more popular banks, be prepared to wait one hour or more before you're seen.
Fill Out Your Application
Although most major banks have some English translations of the documents at hand, some banks may not offer this option or may require a couple of original Spanish documents to be signed.
If you don't speak Spanish, bring a Spanish speaker to the appointment to help with any necessary translations.
However, a translation app like Google Translate can be used as well.
Open Your Account
Once all the paperwork is finished, the bank teller will ask you to deposit an initial amount into your account.
You should bring at least MXN1,000 (or more depending on the account requirements) in order to open and activate the account.
If you open an account with an international bank that has a presence in your home country, you may be able to open your account even before you arrive in Mexico.
Get Internet and Mobile Banking
Visiting bank branches in person can be time-consuming due to long wait times. To avoid this, ask your bank to help set up online and mobile banking for your convenience.
With online and mobile banking, you can do most of your banking online.
Try to get this set up on the day you open your account so that you don't need to come back to the branch another day.
Get Your Debit Card
Some banks give temporary cards until debit cards are delivered. Other banks print your card immediately.
The bank teller should also give you instructions on how to set up a PIN and use the ATM.
Can a Tourist Open a Bank Account in Mexico?
If you're a tourist in Mexico but planning to travel long-term until your visa expires, you may wonder if there's a way to open a bank account in Mexico.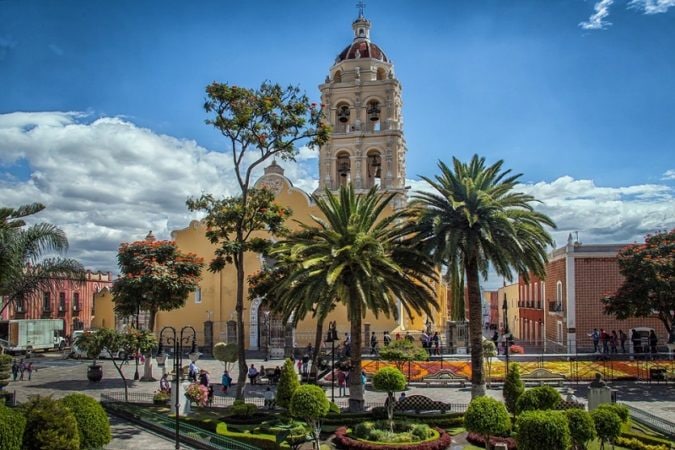 After all, by doing so, you can keep your money safe instead of traveling with cash and avoid any international exchange, transfer, or ATM fees.
The good news is that you can absolutely open a bank account in Mexico on a tourist visa.
Most banks allow visitors on tourist visas or FMM visas to open an account with them, including major banks such as BBVA Bancomer.
However, the challenge lies in the language. If you don't speak a word of Spanish, you may have difficulty opening your account.
For this reason, bring a Spanish speaker to the bank with you to translate.
Each bank has slightly different requirements, so it pays to double check the information with your preferred bank.
But the list of what you need to bring generally includes:
your passport
proof of legal entry into Mexico (such as your FMM visa)
proof of residence (such as a utility bill dated within the last three months)
opening deposit
If you don't have proof of residence in Mexico, don't worry. In this case, you can open an account with Intercam.
Intercam is the only bank in Mexico that allows tourists to open accounts without a Mexican utility bill with their names on it.
Intercam is not the largest bank in the country, but it has around 70 branches, so it's sizable enough. This bank doesn't offer a lot, but if all you need is to withdraw money and make payments, it does the job.
To open a bank account with Intercam, you need the following documents:
your passport
your FMM
statement of accounts (from your home country bank) or utility bill dated within the last three months
At the first meeting at Intercam, the bank teller asks you to fill out a couple of forms to complete your application.
Once that's done, you have to wait a couple of days for Intercam to verify all of the documents and information.
They call you when everything is confirmed and invite you back to the branch to activate your account. You then have to sign some more forms and make you initial deposit before getting your new debit card.
Opening a Mexican Bank Account Online
Although many Mexican banks are starting to move a lot of their services online, an expat cannot open a Mexican bank account online.
Any expat has to go in person to a branch in order to open an account. Though that may be a bit of an initial hassle, once you open the account in person, you can certainly take advantage of online banking.
However, if you want to open a Mexican bank account online, there is an alternative: open an account with an online bank such as Hey Banco, an online bank from BanRegio Bank.

Opening an account is easy. All you have to do is download the app, register, and you're all set in under 10 minutes. You then receive your own Hey Banco debit card within two weeks.
Albo is another online bank and one that has been around for some time.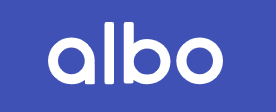 To open an account with Albo, get an invitation by registering your email on its website. Once you've done that, you can install the app, register, and deposit some pesos into your account to activate it.
Your physical card is sent to you once your account is active.
Although an online bank can be a great alternative to traditional banking, do your research to check that this is the best option for you.
Although opening the account itself is easier with an online bank, consider that you may not receive all of the services you might get with a traditional bank. But, if you're looking for a simple banking service, online banks like Hey Banco and Albo are awesome options.
Banking Safely and Securely
Although most banks in Mexico have safety and security features that protect your money and identity while banking online, hacks can happen.
Because of this, you may want to protect yourself while online banking in Mexico with a VPN.
The few bucks you spend each year on the service is well worth the peace of mind, especially when living in Mexico.
Now, on to You
One of the first things to set up when moving to Mexico is your bank account. Not only does it make life easier, but it also helps you avoid any international bank fees.
Although some expats use their U.S. bank accounts with no issues, for many, opening one in Mexico is the best course of action.
There are many different banks to choose from, and what you choose depends on what you're looking for. Although it might seem intimidating to open a bank account in Mexico, the process isn't as hard as it seems.
All you really need to do is provide a few documents, sign some papers, and you'll have a Mexican bank account and debit card in no time.
Read more: