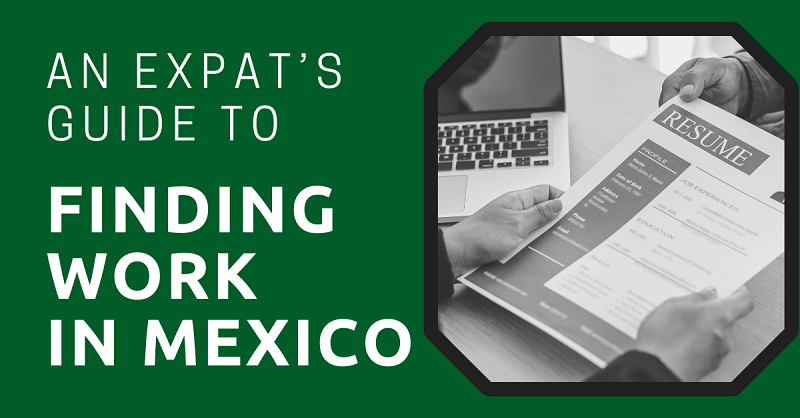 When moving to Mexico, finding a job may be on the top of your list.
However, knowing where to look when you're new to the country or not even here yet can be challenging. Moreover, you have to know what to expect and what employers may expect from you.
That said, this guide to finding work in Mexico will show you what requirements you need when looking for a job in the country, where to look, what salaries you can expect to make, and how to handle taxes.
A Few Things First
Before you get started on finding work in Mexico, here are some key things to keep in mind:
Mexico has a high unemployment rate. It's important to understand this when applying for jobs, especially if you come from a western country with a strong economy and low unemployment rates.
Salaries are lower in Mexico. If you move here from developed countries such as Australia, the U.S., or those in Europe, the lower salaries in Mexico may come as a shock. Keep in mind that the cost of living in Mexico is also low.
Requirements
Each job or company comes with different requirements. Depending on your experience and what you're looking for, you may need to make sure you meet a certain list of requirements.
As a general rule, you should meet the following criteria in order to find a job in Mexico:
credentials
language skills
cultural adaptability
nationality
work experience
health certificate
work visa and permit
Credentials
While a university degree is not a requirement for some jobs in Mexico, having at least a bachelor's degree in your chosen major will give you a leg-up in recruitment.
This is because in order for a Mexican employer to hire a non-Mexican, there needs to be no qualified Mexican candidates. The company can only hire an expat if they cannot or are not able to hire a Mexican for the same job.
For this reason, the most popular jobs for expats in Mexico tend to be in fields where a specialized university degree is necessary. Fields like IT, science, and medicine are some examples. You can find more on this in the sections below.
This isn't to say that you won't be able to find a job if you don't have a tertiary degree. If you have the equivalent work experience, you may find yourself at an advantage even compared to graduates.
In some cases, a certificate may be more than enough qualification to get you a job in a specific field. The best example of this is the TEFL (Teaching English as a Foreign Language) certificate. For expats looking to teach English in Mexico, a TEFL certificate is sufficient to find a job as an English teacher.
Work Experience
Just as important as the necessary credentials is the work experience to go alongside it. If you have prior experience in the field you want to work in, recruiters will be more likely to hire you than someone they need to train from the beginning.
The more experience you have, the better chances you'll have of finding higher-paying jobs.
As a general rule, having at least a couple of years of experience in your chosen field gives you an advantage in the recruiting process. Highlight your experience properly on your resume, so that recruiters can see at a glance what you have done in the past.
Although you can certainly find jobs as a recent graduate with no prior work experience, you may need to demonstrate in other ways that you have the skills to succeed at the job advertised.
Language Skills
More and more jobs in Mexico now require new hires to be able to speak English. So, as an expat, you may have a leg-up in this regard.
However, since Spanish is the national language of Mexico, it's still expected that you have a working understanding of the Spanish language as well.
Without a good grasp of Spanish, you may find it more difficult to secure a job in your chosen field. Whereas Spanish may not be necessary for English-teaching jobs, in most other jobs in the country, you are required to at least listen to your colleagues speak Spanish.
If you don't have at least a conversational level of Spanish (though ideally, you will also be able to hold your own in a professional setting), it's recommended that you brush up on your Spanish before you find a job.
Or, you may simply need to compensate for your lack of Spanish with better credentials and more work experience.
Related articles:
Cultural Adaptability
Soft skills are just as important as hard skills when it comes to finding a job. You want to not only highlight your own experience and credentials but also make a point to show that you have great people skills and cultural adaptability.
The most important thing is to keep an open mind. As an expat coming into Mexico, recruiters will keep a close lookout to make sure their new hires are sensitive to and accepting of cultural differences.
It also makes your own life easier if you can properly adapt to a new culture with a different social and business etiquette than what you may be used to.
In Mexico, some specific things to keep in mind are:
Don't call people by their first names. Instead, use "senor," "senora," or "senorita" followed by their last name.
Business and personal relationships can often get intertwined. Get to know your colleagues and ask them personal questions.
Even if you don't need to speak Spanish in your role, speaking Spanish can make it easier for you to get to know your colleagues better.
You should aim to be on time for meetings, but expect meetings to be delayed as punctuality is not as important as it is in many other countries.
Working hours may be similar to your home country, but some companies still follow the traditional Mexican hours of working longer hours with a couple of hours of siesta, or extended lunch break, in between, generally from 2 PM to 4 PM.
Nationality
Hiring an expat can only be done if a Mexican company can prove that they can't hire a Mexican instead. Companies always prioritize hiring a Mexican over an expat.
So, if you happen to have dual citizenship, your Mexican nationality comes in handy.
However, if you aren't Mexican, don't worry too much. There are worker shortages in certain industries, so Mexican companies look abroad for qualified workers in those sectors.
As an example, English teachers tend to be from English-speaking countries. So, if you're from the U.S., the U.K., or Canada, your nationality may work to your advantage, despite the fact that you're not Mexican.
Work Permits
In order to work in Mexico, you need a work permit. You can obtain one by getting a job offer from a Mexican employer.
Once you have a formal job offer, your employer should apply for your work permit on your behalf. Then, getting your work permit is going to differ depending on your personal situation.
If you're not yet in Mexico, you need to set up an appointment to go to a Mexican Consulate for an interview. When accepted, you get a resident visa in your passport and your work permit.
You have 180 days to get to Mexico after this. When you arrive, you then need to then a residency card.
If you're already in Mexico on a visitor visa, you need to leave the country and follow the same steps as above.
If you're in Mexico and already hold a residency card, you need to go to the Instituto Nacional Migración (INM) to let them know you have an employer change if you already have work privileges.
If you don't have a work permit, you need to apply for one. Read our guide to Mexican visas for U.S. citizens for more info.
Searching for Jobs
Now that you know the requirements for finding a job in Mexico, you'll need to know how to find work in Mexico. There are a few different websites and techniques I've seen being used in Mexico, so let's dive in.
Best Websites to Look for Work in Mexico
The most common way to find jobs in Mexico is to use a job search platform. There are many job search engines, but here are my top recommendations:
CompuTrabajo – CompuTrabajo is the most commonly used job site in Mexico. Currently, there are over 100,000 jobs posted on the website, so you're sure to find a few options that suit your expertise.
Indeed – If you're moving to Mexico from the U.S., this website might be familiar to you. Indeed is the largest and the top-rated job search engine in the U.S., and it's also available in Mexico. There is a wide variety of job industries posted here, so it's a great place to start.
OCCMundial – OCCMundial is a useful platform for expats looking for corporate work in larger companies. Most of the jobs on this site are in sales and tech. OCCMundial is also one of the largest job search sites available in Mexico.
Bumeran – Bumeran is the largest job search platform in Latin America. There are many jobs on the platform as it's widely used all across Mexico. The only downside is that it's difficult to search for jobs in multiple different industries because you need to narrow down your field when making an account.
Networking
Online job search platforms aren't the only way to find work in Mexico. Finding work from friends, word of mouth, and other networking methods is another way to find work.
Linkedin – Linkedin is used worldwide. It functions as both a networking tool and a social network. It is a great way to make connections and grow your professional career. In Mexico, it can be used to find opportunities.
Friends – You can also ask your friends for help when looking for work in Mexico. Especially if you're moving to Mexico and already have friends living there, I recommend asking them if they know of any job openings. Word of mouth may seem old-fashioned when compared to online networking, but it's still very effective.
Best Industries for Expats in Mexico
Your best bet for successfully finding a job in Mexico is to look in an industry that is experiencing worker shortages. This usually includes highly educated positions and teaching.
Below are some examples of the best industries to find work as an expat in Mexico.
Teaching English (ESL)
Teaching English remains one of the most popular positions expats seek out when moving to Mexico. As long as you have a TEFL certificate, you can teach English in most primary and secondary schools around the country.
There are many TEFL programs all over the world. You can complete your TEFL course online, in your home country, or in Mexico.
Medicine
Mexico has a rapidly growing population that currently sits at nearly 130 million. With that large population comes the need for a huge medical force.
If you're a qualified doctor, nurse, or another medical professional, you shouldn't have much trouble finding work in Mexico's hospital.
It's also worth noting that English-speaking doctors will have an easier time finding high-paying medical work because they're more likely to be hired by private companies.
IT
As one of the fastest-growing industries worldwide it shouldn't come as a surprise that IT is an industry with one of the highest worker shortages in the country.
There are plenty of already established companies and more and more startups popping up all over the country looking for qualified workers.
If you have a degree in computer science or experience working in tech, you should find an abundance of job opportunities.
Tourism
If you're experienced in the hospitality and tourism industry, there's plenty of work to be found in Mexico.
Particularly with the COVID-19 pandemic waning, many tourists are coming back to Mexico and the need for a larger hospitality workforce is rising exponentially.
It's worth noting, however, that tourism jobs don't necessarily come with high wages.
Corporate
There are also more and more corporate jobs popping up in Mexico. In Mexico City in particular, you can find lots of companies looking to fill positions in sales, marketing, human resources, administration, and more.
What Cities Should You Look for Work In?
Mexico is a huge country, so there are many city options to choose from. Although the idea of living in one of the coastal towns might be a big pull, most jobs are found in the big cities.
Since there aren't as many job opportunities in Mexico, you may need to be a bit more flexible in terms of where you want to live.
But thankfully, there are still many different options to choose from. What city you end up choosing will depend on your choice of industry and lifestyle.
Mexico City
As the country's capital and by far its largest city, it's not surprising that Mexico City is the best place to look for work. It houses many corporations and is a great option for those looking for office work in a variety of different sectors.
Guadalajara
This city is known for manufacturing and IT, quickly becoming known as Mexico's Silicon Valley. So, if you're looking to go somewhere with a great startup culture, Guadalajara would be a great option.
Monterrey
This is the industrial capital of Mexico, so Monterrey is a great place to work for those wanting to work in construction and development.
And as there are many tech universities in Monterrey, there's been a recent growth of IT startups too.
Cancun
If you want to work in tourism, Cancun is the place to go as it's a tourist hub with travelers coming from all over the world to explore the area and enjoy its beaches. Cancun is also a great place to find English-teaching work.
Tijuana
Many companies have set up shop in Tijuana thanks to its ideal location by the border. With almost 1,000 companies in the city, Tijuana boasts low unemployment rates and is a great place to find work for those looking for jobs with international companies like Samsung or Deloitte.
Salaries
When contemplating finding a job in Mexico, one of the most important considerations is salary.
If you come from a country with a higher living wage and higher minimum wage, you should have lower expectations when it comes to how much you can earn in Mexico.
However, since the living wage is quite low compared to other countries, your pesos may take you a long way.
Minimum Wage
Mexico's minimum wage (salario minimo) as of 2023 is currently at MXN207.44 per work day and MXN312.41 for the ZLFN (Zona Libre de la Frontera Norte), which is compromised of cities near the U.S. border.
In U.S. Dollars, that roughly amounts to US$12 and US$18
The minimum wage may seem low, but most expats won't see salaries at or even near the minimum wage. It will be higher.
Average Salaries and Quality of Life
More importantly, you need to consider the average salary to see if living in Mexico is a good fit for you.
If you have a couple of years of work experience under your belt, an average salary in Mexico is about MXN398,400 (US$20,400) per year or about MXN33,200 (US$1,700) per month.
Keep in mind that this is just the average amount. You can earn more or less depending on your chosen field and level of experience.
Although the average salary may not seem like much compared to many other countries, the cost of living is much lower in Mexico.
It's also worth noting that expats tend to earn more on average as they get hired in more specialized roles due to worker shortages.
It's quite common to be paid more than double the average salary in Mexico.
Many expats live comfortably on just US$1,000 a month, but according to your own spending habits, this monthly budget can range from anywhere between US$600 to US$2,000 or more. As you can see, you can still live comfortably on a monthly salary of US$1,700 or even less.
Income Taxes
If you're a resident in Mexico, you're subject to paying income tax in Mexico if:
half or more than half of your income is from Mexico, or
your professional activities are based in Mexico.
As a resident, you're taxed on your worldwide income, so that means even on money that you earn abroad.
On the other hand, you're a non-resident with a work permit in Mexico for tax purposes if neither of the above applies to you.
Your income tax in Mexico depends on how much you earn and your tax residency status. You can find more info about this on our Mexico Income Tax guide.
Health Insurance
When you get a job in Mexico, it's legally required that your employer must get you public health insurance through the IMSS.
Depending on what you need, the IMSS can be enough for your health coverage since the healthcare system in Mexico is quite good. The main problem with the IMSS at the moment is the long waiting time. You might have to spend an entire day just to see a doctor.
If you come to Mexico with a relocation package, it's possible that your employer will give you private health insurance, which comes with better coverage and more convenience for expats.
Now, on to You
Now that you understand the basics of how to find work in Mexico, it's time to get started.
Do your research online and reach out by networking on sites like Facebook and LinkedIn. Although Mexico is not necessarily known for its job opportunities, the country does experience worker shortages in certain industries.
By knowing where to look and how to look for jobs, you should have a new job lined up in no time.
Latest Guides on Working in Mexico