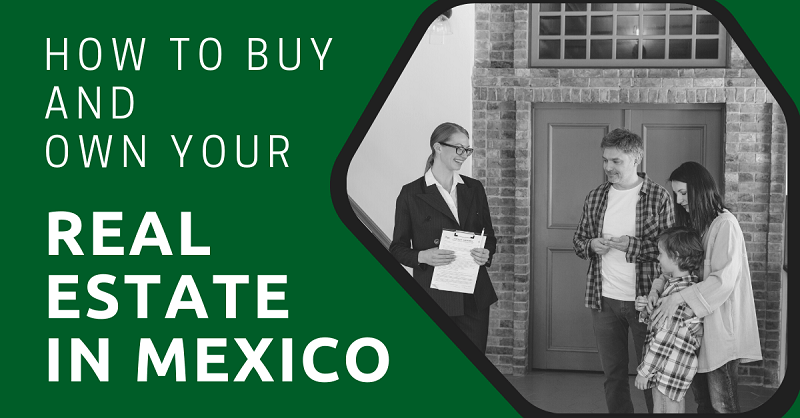 Purchasing an amazing house in Mexico is a dream for many. Mexico has a lot of different landscapes, climates and housing options, and there is always something for everyone interested in making the move.
To make sure that this dream will not turn into a nightmare, it is important to be aware of the laws and processes that you will face while buying a property in Mexico.
Luckily, I can guide you through this process, so you will feel more confident when you are making such an important decision as buying a house and/or lot.
In this article, you will learn about the options for foreigners to buy real estate in Mexico and how the buying process actually works in this country. I will discuss the importance of a public notary, lawyer, and realtor who all play crucial roles in the process of purchasing a house.
Bonus: At the end of this article, you will find some useful words that can come in handy when talking about real estate in Mexico.
This article will take approximately 20 minutes to read. Don't have the time right now? No worries. You can email the ad-free version of the article to yourself and read it later!
Can You Buy a House in Mexico?
Yes, you can. And it's not just about a house.
In fact, you can buy any type of property. You can buy land, an apartment, a house, or any type of real estate. It's a pretty good option if you decide to live in Mexico for the long term.
There are only two main exceptions you need to know about. The first one is regarding restricted zones and the second one is about buying a property on Ejido land.
Here's what you need to know about these exceptions.
Restricted Zones
In 1917, the Mexican Constitution stated that only Mexicans could be landowners. In 1973, this law was amended to allow foreigners to own a property in the country via the Foreign Investment Law.
This law pertains to restricted zones, or areas of land or property within 50 kilometers of the sea and/or 100 kilometers from the border that cannot be purchased by foreigners, only by Mexican citizens. In 1993, there was another modification to this law, which made it possible for foreigners to buy land in these Restricted Zones through a fideicomiso.
The fideicomiso functions as a trust agreement between the Mexican Trust Bank and the buyer, which you will learn more about later in this article.
That means that at present, foreigners can legally own a property in the so-called restricted zones even if they are not a Mexican citizen.
However, the processing time can be much longer than buying a normal property. Some people may even advise you not to buy property in a restricted zone.
Ejido land
Another thing you should know about when buying property in Mexico is regarding Ejido land.
In the old days, Ejido land was used largely for agriculture, and the land was divided into lots on which communities could live and work.
Nowadays, there is hardly any farming going on on these lands and the land just sits there. When a Mexican citizen would like to buy Ejido land, the person has to get the consent of the community that 'owns' the land.
The biggest issue when buying Ejido land is that you will not have a deed.
That means that any time you would like to sell your land or property, you need to get a 'si' from the assembly of the commissary.
By law, a foreigner cannot own Ejido land. Foreigners can only buy this type of land after a privatization process that has the land named to a Mexican citizen in a deed.
Once that's done, a foreigner can buy it and have the deed transferred in their name. But be aware that some people will want to make money quickly and say that an Ejido plot is in the process of privatization.
You should only buy when this process is finished and there is an actual deed you can consider buying; otherwise, you are at risk of losing the land that you bought as by law, you cannot be the legal owner.
So unless you can fully trust a seller, it's best to avoid buying Ejido land.
A public notary can check whether land is Ejido or not.
Available House Options
If you are following your dream of purchasing real estate in Mexico, you have to ask yourself if you want a property that is already built, or a pre-selling or pre-construction house or lot. Regardless of your choice, there will be challenges ahead.
Is Buying a Pre-construction House a Good or Bad Idea?
Although pre-construction projects are a no-go for some people, especially for retirees, they are definitely worth looking into. With a bit of precaution, it is absolutely fine to buy a pre-construction house, even if the builder has not yet started construction.
It is important to get an extra eye on the legal due diligence and that the seller of the project is the legal owner of the actual project. For such projects, building permits are necessary. You can ask the contractor or seller to show this permit and double check it with the municipality that the house will be built in.
Never forget to check the seller's or developer's references; these can tell you a lot about whether you can trust them. If you do opt for a pre-construction house, make sure to check the penalties that must be in the contract so that you know what to expect when, for instance, the date that your house should be done is postponed.
Purchasing a House That is Already Built
If you opt for a house that is already built, it is likely that you can move in immediately after the purchase process is done and you are the proud owner of the deed under your name.
Another advantage of buying a house that already exists is that you can check any underlying conditions or faults. As mentioned before, some houses may be built on Ejido land. A public notary can tell you whether this is the case and if so, it is not possible for you as a foreigner to buy the property until it is privatized and has a deed.
Now that you know about the options for buying real estate in Mexico, it is important to know how to make an offer once you have found the property or land of your dreams.
Land
If you have an exact design for your house in mind and you do not want to look for properties that might be alike, buying land and building your dream home might be the best option.
Make sure that you get a public notary to check if the title transfer can be done, if the land is properly registered, and whether it has any liens.
Average House Price
When you start to look for a property, you will notice that the Mexican real estate market has no limits: there are houses for sale that cost over a million US dollars! Does this fit your budget? Great! If not, then you have plenty of other options. You can find houses that cost as little as USD 30,000.
Foreigners seem to pay, on average, around USD 100,000 – 120,000 for their dream home in Mexico.
Buying Process
In general, buying a property in Mexico more or less entails going through the following process:
1. Search for your dream house, which you can do on your own or by asking a realtor for guidance.
2. If you find a house you like, you can make an offer directly to the seller or via a realtor.
3. When the offer is accepted, both parties (buyer and seller) go to a public notary to set up the sales agreement (in Spanish: contrite de compraventa). A lawyer can help here, if you wish to have one.
4. You will have to pay a 5 – 10% deposit for a pre-construction house or up to 40% for an existing house.
5. Make sure that the contract you receive is in Spanish because under Mexican laws, a legally binding agreement must be in Spanish.
6. After you pay the deposit, the public notary will start working on the other paperwork.
7. If necessary, you can start the process for your fideicomiso.
8. Pay the closing costs, including fees and taxes which are usually up to 6% of the price.
9. The Public Registry should be able to issue your deed (in Spanish: escritura) within three months upon you signing the original sales agreement.
10. After the final payment has been made and the deed is in your name (or the bank trust in case of a fideicomiso), the piece of real estate is yours. Congratulations!
Note that there are some regulations to take into account when you are a foreigner wanting to own a house in this country.
Also, you will need to have patience as the process can be slow and there's plenty of information to take in.
All in all, the process of buying a house in Mexico can be tedious and in some cases, quite overwhelming. But once you are settled in in your dream home, you will see that it was all worth it.
Making an Offer
Making an offer to purchase is not just about getting a price on the table. You have to think thoroughly about the terms that you would like to see in the sales agreement, such as the price you are willing to offer, a deadline for the seller to respond, any payment plans, and how much the amount of deposit should be.
If the seller accepts your offer, then the seller and the buyer should sign an agreement that states that the buyer has to make a deposit, which is usually 5 – 10% of the price of the property if it's pre-construction and up to 40% if the house is already built.
Usually, the terms of the offer to purchase are stated in this agreement, as well as the penalty fee when either the seller or buyer changes their mind.
You could also choose to mention the use of an escrow, in which a third party holds a large amount of money until a certain condition has been met. It is a legal arrangement that is common in the United States and only recently has been used in Mexico.
Get Notario Publico (Public Notary)
When it comes to selling and buying real estate in Mexico, every paperwork transaction involved in the process has to go through the hands of a public notary. Therefore, it is important to know what to expect of this institution in the buying process.
The public notary has various duties when it comes to assisting in real estate purchases. The notary has to investigate the title or deed of the lot or property and get an appraisal.
The closing papers for the deal will also go through the notary. One could say that the public notary works for the Mexican government and that they will be unbiased when checking if the title of the property is correct and matches with the person who is selling it.
Processes like these tend to test your patience — a lot. You will also be asked to deliver a lot of paperwork. Documents that you will definitely need to present include the sales agreement, the lien certificate, whether the lot is used for commercial or residential purposes, and a non-lien certificated stating that all taxes are paid for.
It is essential that you investigate whether there are outstanding debts on the house, as some home owners leave electricity, telephone, water, and other bills unpaid. Try to get as many receipts up to date as possible, and if necessary, double check with the companies involved. Otherwise, you may end up owing a huge debt to one of these companies which you will have to pay once the property is under your name. If you don't, they might cut off the services you are using.
Sending Payments
Payments for deposits and full payments have to be sent to a Mexican bank account. If you, as a foreigner, do not have a Mexican bank account yet, you must check the exchange rate and fees from your bank back home. Most payments are done via wire transfers. These payments are secure and at times, the only option available when buying a house in Mexico.
If you need to deposit no more than USD 10,000, using Wise is a good option. This platform tends to have the lowest exchange rates and fees among money transfer platforms/apps.
Some people choose to set up a Mexican corporation as this process is fairly easy and makes it less complicated to send huge amounts of money. Setting up a corporation for this purpose costs about USD 1,500 and can be formed with at least two people, either foreigners or Mexicans. You can buy, for instance, real estate and cars through your corporation.
The downside is that everything purchased will be on the company's name and as such, in the name of at least two people. Moreover, you need to hire an accountant to take care of the finances that go through the corporation, even if you do not use it for anything other than purchases. And they will tell you about an even bigger downside: you cannot use cash in this case.
Another option that was recently introduced to facilitate real estate transactions in Mexico is an escrow account. Note, however, that this means that the seller has to arrange the service and set it up. If the seller does not want to but the buyer does, then the buyer has to set it up and pay for the setup fees which can cost up to USD 800. Escrow accounts are mostly used in pre-construction houses as it is deemed safer to do so. Luckily, buyers can also trust public notaries in Mexico when the money travels through them in a real estate purchase.
Closing Costs
Buying a property in Mexico means that you have to deal with closing costs. In general, these costs range between 4 and 6% of the property price. Make sure to calculate this and take it into account in your budget for buying a property! The buyer has to take care of the closing costs, while the seller has to handle real estate fees and any taxes over the gains.
Other fees that the buyer has to pay inclusive of the closing costs are the property tax and the transfer tax. Property tax (in Spanish: predial) cost, on average, 0.1% of the property value when it is being sold. The transfer tax is 2% of the purchase price and has to be paid to transfer ownership to the buyer.
Registering Ownership
By the time that you have the deed with the owner's name in front of you at the notary, you can go ahead and have the public notary register your ownership. The notary does this at the Land Registry Office. Each page of the document should be sealed and there has to be a certificate of registration attached to the new deed in your name.
Consent of the Ministry of Foreign Affairs
As a foreigner who wishes to buy a property in Mexico, it is necessary to send an official statement to the Ministry of Foreign Affairs. In this document, you inform them about your intended purchase.
After you hand in this document, the Ministry can complete the registration in 15 days. Haven't heard anything from them after 15 days? Then the registration is automatically authorized. Make sure to keep a copy or a proof of delivery of the document with a specific date, so you can prove that you actually handed it in.
Buying Process Time
Depending on the type of real estate that you want to buy, the buying process times will vary. It will also depend on your finances — will you pay cash or will you need a loan?
Assuming that you will pay cash or the full amount, like most people do when they buy property in Mexico, the process of making an offer and paying for the house or lot may take up to two months.
After that, the property needs to be registered, which can take anywhere between 45 and 100 days.
So besides your belongings, you definitely need to pack some patience! How long the complete process actually takes depends on many factors such as the type of property or lot that you are purchasing and whether or not it is situated in a restricted zone.
How to Set Up a Bank Trust (Fideicomiso)
Is your dream home situated in a restricted zone in Mexico? Don't worry, you can still purchase the property through a bank trust (in Spanish: fideicomiso). The Mexican government has authorized trust banks that can acquire properties located in restricted zones.
The trust bank is the one that owns the property but the foreigner may rent, build, live in, pass it down, or sell it as long as all fees have been paid. In the fideicomiso documentation, the foreigner can list a heritor who can be a foreigner. This way, a fideicomiso ensures that the buyer has the rights to mortgage, rent, sell, or transfer the property. If you have to use a fideicomiso to purchase a house, it is up to your public notary to initiate the process of getting the trust.
In the case of a fideicomiso, the deed of the property is under the bank's name and, therefore, it is the responsibility of this trust bank to make sure that there are no claims or liens on the property. Setting up a fideicomiso costs anywhere between USD 500 and 1,000. Once you get the fideicomiso, the annual fee is around USD 600.
A fideicomiso is valid for 50 years and may be renewed for 50 more years. Did you miss the renewal date? Then you still have 10 years to renew the fideicomiso. If the fideicomiso does not hear from you after that period, then the property is fully owned by the bank and you lose all your rights.
Financing Options When Buying a House in Mexico
Most buyers pay in cash or at least the full amount at once. The main reason for this is that affordable financing options are practically non-existent in this country.
You can only get a mortgage when you are interested in buying a house that is already built and has a deed. That means that loans cannot be granted for housing projects that have no title yet. Even then, the interest rates are somewhere between 7 and 12% and there are many setup fees to pay. Usually, the process of obtaining a mortgage takes up to four months, if all goes well.
Do I Need a Realtor?
There are a lot of properties and lots for sale in the Mexican real estate market. Perhaps you know in which city or village you would like to live, but you may have no idea which specific area you should consider or what would fit your needs and wishes.
A realtor can help you search for the best options for your situation. A realtor is definitely worth it especially if you are not sure which areas to look.
Are you looking for a piece of land to build on or a house that is not built yet? Then you could go directly to the project developers, and they will tell you everything you need to know. Realtors in Mexico work on a commission basis, so they might show you only houses that are in their portfolio.
Therefore, it is a good idea to look for properties through 2 or 3 realtors to make sure you get to see a broad range of houses before you make your final decision. You do not have to pay a realtor. They get paid by the seller once a deal is closed.
Do I Need to Hire a Lawyer?
It is important to understand that the public notary, who is crucial in the sales process, is in fact a lawyer. But this entity represents the Mexican government and not you as a buyer. Especially for foreigners, the help of a lawyer can come in handy. It can be even more helpful when you do not speak Spanish, but even if you do, the amount of information involved in the process of buying a house can be overwhelming.
Do you already have a lawyer back home? Unfortunately, the services of this lawyer cannot be used in Mexico as under Mexican laws, only licensed Mexican lawyers may represent you in the country.
Hiring a lawyer who is on your side can help you to put specific information in the sales agreement, such as penalties, signing the contract, the deposit and fees to pay, and how to transfer the money. You can imagine that hiring a lawyer who is experienced in real estate sales can be of great help.
Other issues that a lawyer can assist with include filing all necessary permits with the public notary, collecting all proofs of payment on taxes, liens and utility bills, and coordinate information between you and the public notary and, if necessary, the trust bank and fideicomiso.
Hiring a lawyer for real estate purchases will cost you anywhere between USD 300 and 5,000. The fee highly depends on the activities that the lawyer has to do for you. The best way to look for a local lawyer is by simply putting lawyer or legal services in Google or Google Maps in the area where you wish to buy the property. Then, call all of them, check their references, and ask for prices to see if it fits your budget.
Useful Words
| | |
| --- | --- |
| English | Español |
| Purchase sales agreement | Contrato de compraventa |
| Non-lien certificate | Certificate de no adeudo |
| Lien certificate | Libre de gravamen |
| Deed | Escritura |
| Bank trust | Fideicomiso |
| Public notary | Notario publico |
| Property tax | Predial |
Now, on to You
Now that you know the ins and outs of the real estate market in Mexico and how to buy a house in this marvelous country, you might as well start looking for properties! Some good Spanish websites to find houses are Vivaanuncios and Inmuebles24.
If you can, the best thing to do is to travel to the area that you are interested in living in and search for a local realtor who can show you around. Happy search!
Related articles: