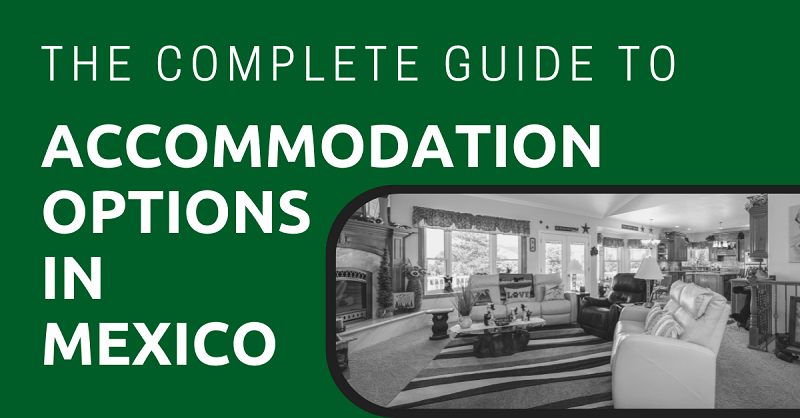 Renting or buying a property in Mexico can be intimidating. Navigating the housing market, communicating with landlords, getting a house inspection, and every other step in the process can be challenging.
However, finding the perfect accommodation doesn't have to be an overwhelming process.
Whether you're looking for beachfront villas in Cancun or charming condos in Mexico City, I'll guide you through Mexico's varied housing options. I'll also provide you with firsthand information on buying property in Mexico and how to find decent, affordable accommodation.
This guide is intended to assist expats who are seeking to explore the diverse range of accommodation options available in Mexico.
Long-term Accommodation Option
Apartment
Renting an apartment is popular among long-term expats in Mexico. You'll find various styles across Mexico, from modern condo units to traditional houses. Leases for apartments generally have a one-year term, so if you are staying for a long time, renting an apartment is the most convenient and cost-effective option.
The Downside
Dealing with utilities, repairs, and landlords might be daunting, especially if you don't speak the local language. I suggest learning some Spanish and doing your research to know how to pay utilities, set up your Wi-Fi, etc.
How Much Do Apartments Cost in Mexico?
Apartment prices vary based on factors, such as your city of residence, the neighborhood you choose, apartment quality, and size.
You can expect to pay approximately $400 for a small studio apartment located outside the city center of Mexico City, while a mid-range 2-bedroom apartment in a more central neighborhood could cost around $1,300.
Find out more: The Complete Guide to Renting an Apartment in Mexico City
Condominium
Condos frequently feature shared amenities like pools, gyms, and gardens, providing a harmonious blend of privacy and community. They present an ideal choice for those desiring a prime location, often situated in bustling city centers.
The Downside
Bear in mind that condos come with drawbacks, such as reduced storage space, restricted parking, and typically entail a higher number of regulations compared to conventional apartments and houses.
How Much Do Condos Cost in Mexico?
Renting a condo can range in price from around $500 per month to more than $2,000 a month, depending on how new the building is, the size of the unit, and the location.
House
Living in a standalone house provides maximum space and privacy. Additionally, many houses feature private gardens or yards.
The Downside
Renting an entire house in Mexico usually results in higher utility bills, as you'll be responsible for covering the electricity, gas, and water expenses for the entire property. Additionally, you won't have access to shared amenities such as security services and common areas like gyms, pools, and terraces, as you would in apartments and condos.
How Much Does a House Cost in Mexico?
In Mexico, renting a house will cost you a bit more than renting an apartment but not by much. In various parts of Mexico, you can find 3-bedroom houses in secure neighborhoods starting from as low as $800 or reaching up to approximately $2,500 for a luxurious home situated in upscale areas like Mexico City or San Miguel De Allende
Find out more: An Expat's Guide to Finding Long-Term Rentals in Mexico
Flat Shares (Roommate)
Ideal for budget-conscious expats or singles, sharing a flat or house splits the cost of rent and utilities, providing a cost-effective and sociable living environment. Sharing a flat is also a great way to form new friendships in a foreign country.
The Downside
The biggest downside of sharing an apartment is that you will have less privacy and will need to work out a cleaning and rent payment schedule. The key to a successful flat share is finding housemates you can get along with.
How Much Does a Flat Share Cost in Mexico?
Sharing an apartment with others is a great way to save some money on accommodation in Mexico. You'll generally pay around $300 to $700 per month for a room in a shared apartment.
Short-term Accommodation Options
Hostel
Hostels, known for their affordability, typically offer shared rooms and communal areas. While more popular among tourists, budget-conscious expats in Mexico also opt for hostels as a cost-effective accommodation choice.
Hostel dorms are ideal for those craving a social, multi-cultural atmosphere. Many hostels organize weekly events and even offer volunteer opportunities where you are given the option to take on a job in the hostel to pay for your bed. This usually involves a few hours of cleaning, laundry, or reception work per day, and in exchange, your hostel bed is free. You can find hostels just about everywhere in Mexico, and they are especially common in areas popular with tourists.
The best place to book your hostel bed in Mexico is Hostelworld where you can compare different hostels, check reviews, and book a room (or bed), all in one easy-to-use platform.
The Downside
Hostels lack privacy and can be noisy, making them unsuitable for those desiring peace and solitude. This may not be the best choice for long-term accommodation.
How Much Do Hostels Cost in Mexico?
In Mexico, a bed in a hostel dormitory usually ranges from $10 to $30 per night, while private rooms are available for $25 to $70.
Hotel
In Mexico, hotels span a spectrum from budget accommodations to luxurious resorts. With daily room service and often featuring on-site restaurants, hotels provide a reliable and convenient stay, especially in central city locations. They are particularly suitable for short-term visits, and even for those relocating long-term, hotels or short-term accommodations are often chosen for the initial week while securing a more permanent rental.
The Downside
Hotels tend to cost much more than other accommodation options. So, if you are staying in Mexico for months or years, staying in a hotel isn't the best option.
How Much Do Hotels Cost in Mexico?
Hotels encompass a wide range of costs. Budget-friendly options are plentiful, with rates under $40 per night. Conversely, for enhanced comfort, well-maintained facilities, and inclusive breakfast, you might find yourself spending upwards of $200 per night.
Guesthouse
Staying at a guesthouse is an excellent way to immerse yourself in the local culture, as guesthouses are run by locals. I stayed in several guesthouses when I was in Mexico and had a fantastic experience.
For one, guesthouses offer a cozy, home-like environment that gives you a taste of locals' way of life. In addition, when you book a guesthouse, your money supports a local business rather than a large hotel chain.
The Downside
Guesthouses tend to have limited amenities. Additionally, the Wi-Fi connection may not be as stable as in hotels or serviced apartments, and the facilities may not be as modern.
How Much Do Guesthouses Cost in Mexico?
Guesthouses in Mexico typically offer slightly more economical rates compared to hotels, costing approximately $20 to $70 per night. Nevertheless, pricing may differ based on location and specific accommodation conditions.
Homestay
Homestays are similar to a guesthouse, but instead of living in a separate unit, like in a hotel, you actually live with a Mexican family. Staying at homestays is a distinctive experience, enabling you to immerse yourself in Mexican culture by living and dining with a local family. I highly recommend considering homestays when looking for accommodation options in Mexico, as staying in one is a great way to learn about Mexicans's way of life and perhaps even learn some Spanish.
The Downside
Homestays differ from hotels, so it's important not to anticipate the same level of comfort as you would in a hotel.
Moreover, since you'll be staying with a family, there will be less privacy, and you will have to respect and follow the family's house rules. People generally stay in homestays for cultural and language exchange, so the experience is more about the memories you take away, not the comfort.
How Much Do Homestays in Mexico Cost?
A homestay can be very affordable, typically costing around $20 per night to around $100 per night. What's more, they tend to get cheaper the more nights you book. In most cases, meals are included in the total cost, and the family might provide additional services, such as laundry and even language exchange, for a small fee.
Serviced Apartment
Serviced apartments are essentially fully furnished apartments that can be booked for a flexible duration of stay. You can generally book these on Airbnb, but you may also be able to find one on other sites. Serviced apartments offer a perfect combination of a home-like environment and hotel-standard amenities.
The Downside
Airbnbs and apartments catering to expats recently resulted in an issue with gentrification particularly in popular hubs, such as Mexico City, Puerto Vallarta, Merida, and San Miguel de Allende.
Many expats who come to Mexico are generally willing to pay much more for serviced apartments than locals. This resulted in many landlords renting out their apartments as Airbnbs for double, or even triple, the price that they would normally charge locals. Consequently, this forced local residents out of certain neighborhoods that are popular with expats due to rising rental costs.
This is why I highly advise against using Airbnb in Mexico, especially if you are staying long-term. Do your best to book accommodations directly with locals.
How Much Do Serviced Apartments Cost in Mexico?
Airbnbs and serviced apartments are generally cheaper than hotels, but they can cost a lot more than a standard apartment in Mexico. In Mexico City, a serviced Airbnb or apartment will set you back around $1,000 to $4,000 per month.
Villa
Villas are luxury accommodation options, many of which are located in Mexico's beachfront areas. Villas feature plush amenities and stunning views but are the priciest choice out of all accommodation options. Living in a villa is ideal if you want a luxurious place, but remember to factor in the cost of maintenance and security.
The Downside
The only real downside with a villa is the cost. Living in a villa is widely regarded as a luxury in Mexico, resulting in higher rental or purchase costs compared to typical houses or apartments.
How Much Does a Villa Cost in Mexico?
In Mexico, villas generally cost around $700 to $5,000 per night. Yes, you read that right. Villas are generally intended for wealthy tourists looking to rent a place for a short vacation. That said, I know of a few expats with huge budgets who have rented villas for extended periods.
Buying Property In Mexico
The real estate market in Mexico is experiencing a significant surge, attracting more expatriates and retirees than ever before. With a growing number of expats opting to purchase property in the country, it's crucial to delve into the details of the process.
While Mexico might offer a sense of familiarity to many foreigners, it's important to keep in mind that the country doesn't necessarily adhere to the same processes and protections as those found in other countries like the US.
The Good News: Foreigners Can Own Property in Mexico
Usually, Mexico doesn't impose restrictions on the acquisition of residential real estate by foreigners, enabling expats to buy and register properties in their own names. However, to ensure asset protection or plan for inheritance, it's advisable to hold the property within a trust. Generally, foreign ownership of property in Mexico is quite common.
The Not So Great News: It Is a Complicated Process
As is typical when purchasing a home in a foreign country, buying property in Mexico involves navigating through various requirements. You'll need to engage a legal notary and ensure that the entire process is carried out in compliance with the law. Check out our guide on buying a property in Mexico for a full breakdown of processes and costs.
How Much Does a House Cost in Mexico
During the first quarter of 2023, the average property price in Mexico City, which is considered the country's most expensive region for residential real estate, stood at about 3.7 million Mexican pesos ($216,200), approximately double the national average​​. However, prices can vary greatly by region. For instance, in Tamaulipas and Durango, the average housing price was less than 900,000 Mexican pesos​ ($52,000).
Other Costs to Consider
Closing Costs
Before buying a property in Mexico, consider various closing costs. Closing costs are typically processing fees that you pay your lender. These ordinarily amount to approximately 5% to 10% of the property's price.
Real Estate Agent
Real estate fees are almost always paid by the seller, so if you are buying a house, you are off the hook with this cost.
Taxes
Paying the Property Acquisition Tax (ISAI) is mandatory when purchasing a house in Mexico. The tax rates vary across different states, but rates are typically between 2% and 5% of the property's value.
Remember that tax regulations can change, and it's always crucial to engage a notary public, a tax accountant, or any other professional/legal service agency in Mexico for a comprehensive analysis of your case.
Find out more:
How to Find Accommodations In Mexico
Whether you're aiming to lease or purchase a property, there are various resources available to help you navigate the Mexican real estate landscape more smoothly.
Online
The internet has undeniably simplified the process of finding a residence. I highly recommend these websites for property hunting in Mexico:
Inmuebles24: This website holds a significant position in Mexico's real estate market, featuring an array of properties, from budget-friendly apartments to high-end homes. Available in English and Spanish, it's a useful website for foreign residents.
Vivanuncios: An offshoot of eBay, Vivanuncios is a no-cost advertisement platform in Mexico showcasing a variety of leasing and selling options. It's favored by both locals and foreigners.
Propiedades: Propiedades is another prominent real estate site that provides in-depth property insights, including 360-degree visuals of the properties' premises.
Airbnb: As previously mentioned, it's advisable to avoid using Airbnb as your first option in Mexico due to gentrification concerns. While the platform is excellent for travel and short-term stays, I wouldn't recommend relying on it for long-term accommodations.
Offline
Word of mouth: You should not underestimate the power of social connections in finding attractive housing options. Frequently, the best deals don't even make it to the online realm. If you have contacts in Mexico, it's worth letting them know about your housing search. They might have the perfect place for you or be aware of someone who does.
Real Estate Consultants: Engaging a real estate consultant can be particularly practical, especially if you are new to the country or are not fluent in Spanish. A consultant can guide you through the process and manage the necessary paperwork, which is predominantly in Spanish.
Newspapers: Don't overlook the potential of newspapers in your property hunt. Mexican dailies often feature property listings. Dailies are an old-school yet effective resource for finding potential homes.
Latest Guides on Accommodation in Mexico