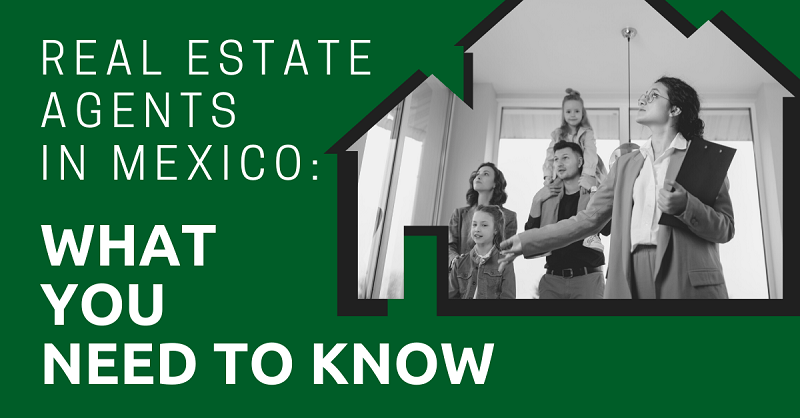 If you're interested in settling down in Mexico, you may think of buying your own property. Before you make any decision, note that purchasing property abroad can be complicated, especially when there's a language barrier involved.
Hiring a real estate agent can help you navigate the process much easier. Even if you simply want to rent a house or an apartment, a real estate agent can help. You may not be sure whether paying for a real estate agent is worth it, so consider the pros and cons to help you make an informed decision.
In this guide, I'm going to discuss all the details you need to know before you hire a real estate agent, including the benefits and drawbacks of doing so, the costs, requirements, and processes of finding an agent.
This article will take approximately 16 minutes to read. Don't have the time right now? No worries. You can email the ad-free version of the article to yourself and read it later!
Advantages of Hiring a Real Estate Agent
There are many advantages to hiring a real estate agent in Mexico, one of which is receiving expert advice from a local. Here's a deeper look at some of the benefits to help you decide whether hiring a real estate agent is worth it.
Ease of Communication
While some people in Mexico — including many real estate agents — speak English, Spanish is the primary language. If you aren't fluent in Spanish, navigating the real estate market in Mexico will be hard. You won't be able to understand listings and may struggle to schedule viewings.
This is why choosing a bilingual real estate agent is recommended, as a bilingual agent can make communication much easier for you. They can communicate with the property owner and schedule viewings and appointments when necessary.
They can also help translate important documents, such as a rental agreement, for you.
Access to Exclusive Listings and a Professional Network
Some land and property owners in Mexico choose to sell privately. This means that only the real estate agent representing these owners can show their property. Working with a real estate agent gives you access to their exclusive listings.
In addition, if you choose an established agent in Mexico, you'll gain access to their potentially extensive network. These agents know their neighborhoods better than anyone else, and this allows them to tap into their network and notify you about vital information, such as market trends and upcoming developments.
This way, you can choose a neighborhood that suits your needs, whether you're single or moving with a partner and children, instead of settling for one that you may find from limited listings.
Explanation of Industry Rules and Regulations
Like any other country, Mexico's real estate industry has its own rules and regulations. You may not know of or understand these rules and regulations, which is why hiring a real estate agent is recommended.
For one, your agent can explain the process of buying or renting property, ensuring you follow all relevant regulations.
Convenience
Looking through property listings yourself can be tedious, but if you hire a real estate agent, they'll do the work for you. When you choose an agent, you can discuss your needs with them, such as the number of bedrooms and bathrooms you want in your house.
Your agent can then prepare a list of all the properties in their network that meet your exact requirements. Not only does this save you time, but it ensures that all your needs are met.
Another reason having an agent is convenient is they typically attend viewings with you, often driving you to see multiple properties to make your schedule as efficient as possible.
Public transportation is lacking in many areas in Mexico, so having a ride to view different properties offers great comfort and saves you time.
Your agent will also oversee the entire transaction process, including negotiating a deal with the property owner, preparing contracts, and complying with legal requirements. All you'll need to do is sign some papers, making the process stress-free for you.
Long-Term Support
If you form a professional relationship with your real estate agent, you'll receive long-term, local support from them. This can be especially comforting to expats who are new to the country and may not know anyone else.
Your real estate agent may teach you more about your new neighborhood, including the best place for your kids to go to school or the cheapest grocery store in the area.
Also, if you decide to move back home later on, you can use the same real estate agent to sell your property, saving you time.
Cultural Sensitivity
Mexico has many unique traditions and customs that vary across different states. For example, states like Aguascalientes are highly religious, so you may not be able to view any properties on Sundays.
Find an agent that understands the cultural nuances in the real estate industry, so you can navigate this new culture and ensure you don't accidentally offend or insult property owners.
This is especially beneficial if you plan to rent, as your agent can help you foster a professional relationship with your landlord.
Disadvantages of Hiring a Real Estate Agent
The only disadvantage of hiring a real estate agent is the cost associated with it on top of your rent or mortgage payments.
Thankfully, there are numerous benefits to hiring a real estate agent that outweigh the one drawback of doing so.
Real Estate Agent Costs in Mexico
Since the real estate industry isn't regulated in Mexico, there are no standard commission rates. That being said, agents typically charge between 5% and 8% of the property's sale price as a commission.
So, for example, if the property you're interested in is 3,500,000 pesos, the agent's commission fee may be between 175,000 and 280,000 pesos.
Typically, the seller pays the agent's commission fee and capital gains tax, while the buyer pays for closing costs, such as the notary deposit and property acquisition tax.
If you're renting, the property owner will pay any agent fees, which are typically equivalent to one month's rent.
Requirements
When you meet with a real estate agent in Mexico, they may ask for details about what type of property you're looking to buy or rent. This ensures they can find you a property within their network. Here are some details they may ask you about.
Buying or Renting
The most important thing your real estate agent needs to know is whether you want to rent or buy a property in Mexico. This is because many experienced agents don't deal with property rentals, as it's not as lucrative as helping clients purchase or sell property.
Budget
Another important detail is your budget. The agent's commission rate is based on the sale or rental price of the property, so experienced agents may decline to work with you if you have a low budget.
Prospective agents may also ask about your salary so they can find you a property that fits your budget.
Location
Mexico has 32 states, so it's important to consider your preferred location before you move. Many expats choose states along the coast, like Baja California or Quintana Roo, while others may prefer the city life in Mexico City.
Since Mexico is vast, real estate agents typically work in particular states, or in specific communities within these states. So, once you've chosen an area that you like, you can find agents that have active listings there.
Rental Duration
Many real estate agents in Mexico prefer working with clients who are looking for a long-term rental or a property purchase.
If you're looking for a short rental duration, such as something less than a year, it will be even harder to find an agent.
So, if you plan to stay in Mexico for only a few months, renting an apartment on short-term rental sites like Airbnb may suit you better.
Move In Date
The real estate industry in Mexico is fast-paced, which is why many agents prefer to work with clients who are already in the country. You may look at listings while you're still home, then arrive in Mexico and find out that the property is already sold.
In such a scenario, consider finding temporary lodgings, such as in a hotel, so you can commence your search once you're already in the country. You can tell your agent you want to find a property with an immediate move-in date to make sure they don't offer places that are occupied for months.
What You Should Know Before Hiring a Real Estate Agent
Here are some things you should know before hiring a real estate agent in Mexico.
Licensure
Mexico doesn't require real estate agents to get a license. This means, many people try to become agents without the proper education or experience.
There is, however, a non-government organization called the Mexican Association of Real Estate Professionals (AMPI) that aims to regulate the real estate industry in Mexico. The association offers training programs and certifications to help train agents.
Completing one of these programs isn't a requirement, but many aspiring agents do so to show clients they're qualified and committed to their practice.
Specialization
Agents may specialize in a particular type of real estate in Mexico. For example, some real estate agents may focus solely on selling and helping clients buy luxury homes.
Consider the type of property you want, such as a beachfront home or empty land to build on, so you can find the right agent.
Specificity
Before you look for a real estate agent, determine your requirements for a property. This allows you to find an agent that can meet your exact needs. Here's some information you can prepare before you find an agent:
your budget in Mexican pesos
preferred size
any facilities you need, such as a swimming pool or gym
ideal move-in date
preferred location, whether it's a particular state, a beachfront area, or close to an international airport
preferred number of bedrooms and bathrooms
any other conditions you may have, such as 24/7 security or a landlord that allows pets
Communicating with Real Estate Agents
You can typically communicate with prospective real estate agents directly through a property listing website. These websites will allow you to fill up a contact form so they can call or email you back. On the other hand, some agents post their contact information publicly.
If you don't have a local SIM card yet, don't worry. You can use WhatsApp to communicate with prospective agents via text or calls.
Types of Real Estate Agencies
Since the real estate industry isn't regulated in Mexico, you may want to choose an agent that works for an established agency. Here are the two types of real estate agencies you'll find in the country, as well as a description of freelance real estate agents.
Global Franchise Agencies
Global franchise agencies are real estate agencies you can find internationally, such as REMAX and Century 21. These global franchise agencies have locations in Mexico as well.
If you've already worked with one of these agencies back home, they may be able to refer you to an agent in Mexico, which is how you know they're reliable.
Even if you haven't worked with one of these agencies before, you may feel more comfortable working with an agent that represents an established brand.
Independent Local Agencies
There are also independent local agencies in Mexico. They're not as common as the global franchises, but they typically specialize in a particular area or region, helping clients find properties within these communities.
Many expats own these local agencies, hiring both Mexican and expat real estate agents who trained in their home country. Working with a fellow expat may be easier for you as they went through the same process to buy or rent property when they arrived in Mexico.
Freelance Real Estate Agents
Most real estate agents in Mexico work with an agency so they can have access to more clients, but some agents choose to freelance. These agents use their own network of contacts to find clients and properties.
Locals tend to work with freelance real estate agents because these agents offer more affordable commission rates.
How to Find the Best Real Estate Agent in Mexico
Finding a reliable real estate agent in Mexico can be tough, since, as I've previously mentioned, agents don't need a license. However, there are opportunities for education and licensing in this field, which means you can find a knowledgeable and skilled real estate agent if you follow these steps.
Talk to Your Network
Before searching for a real estate agent on your own, talk to people in your personal network for recommendations. Your colleagues at work may be able to help you find a reliable agent, especially if they regularly hire expats.
If you have any friends or family in Mexico, consider asking them for recommendations as well. This can help you find an agent with a proven track record.
Search Online
You can also look through listings on property websites. Here are some of the best property websites and portals in Mexico:
You can look through agent directories on these websites or find agents directly on their listings. If the agent has an established profile on the site, you may also be able to find agent profiles and reviews to learn more about them.
Check the AMPI register
Although there's no government-operated register, the Mexican Association of Real Estate Professionals has one. So, if you find a real estate agent you want to work with, you can review their credentials on the AMPI website.
Not all professional real estate agents will be there as it's not a legal requirement, but it doesn't hurt to check.
Review Their Online Presence
Some real estate agents in Mexico may have their own websites, but these are rare. Alternatively, you can look for their social media profiles on Facebook and Twitter/X to learn more about them.
Reputable real estate agents will have an online presence, so if you can't find anything about an agent's background, they may not be the best option for you.
Read Reviews or Testimonials
When you're reviewing your potential agent's online presence, you can also read reviews or testimonials about them.
Their social media profiles may have comments or reviews from past clients, so read these to get more information. In some cases, you may be able to contact past clients to discuss their experience with the agent.
You can also try to search the agent's name to see what comes up. If the agent has a lot of negative reviews, move on to the next person on your list.
Consider Commission Rates
If you find a few experienced agents with positive reviews, you can narrow down your choice by asking for their commission rates.
Newer agents may have lower commission rates that suit your budget better, but bear in mind that you get what you pay for. If you want a more experienced agent, you can expect to pay a higher commission rate.
Meet with the Agent
Another way to narrow down your choice is to meet with the agents you've shortlisted. This allows you to discuss your needs and requirements to determine whether the agent can meet them.
It also allows you to get to know each other better and see if your personalities align. You'll be spending a lot of time with your real estate agent, so being able to form a professional relationship with them is important.
Procedure
Here's how to find a property once you find a real estate agent:
Discuss your property requirements with the agent.
The agent reviews your requirements and finds properties that suit them.
The agent then sends you a list of properties to consider.
You choose properties you like from the list so the agent can schedule your viewings.
The agent picks you up or meets you at the property to tour it.
If you like the property, the agent can negotiate terms with the owner or prepare a formal offer.
If the owner agrees, the agent will prepare a contract that you and the property owner both sign.
You can then move in on the agreed-upon date.
Should I Use a Real Estate Agent in Mexico?
You can find a property to rent or purchase on your own in Mexico, but the process will likely be complicated. When I first moved to Mexico, I had no real estate experience. I knew working with an agent would benefit me, and it did.
It saved me so much time and stress and saved property owners from having to listen to my broken Spanish. Ultimately, it was worth the extra cost.
If you're on a budget, give a newer real estate agent a chance. They can still help you find your dream home in Mexico.