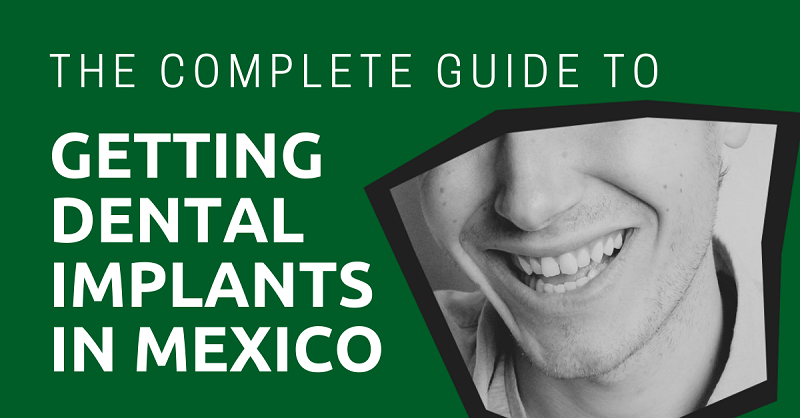 Every year, thousands of Americans and Canadians get dental implants in Mexico, which has become a hot spot for dental implant surgery due to one simple reason: it's cheaper.
In the U.S., a dental implant can cost up to $4,500 for just one implant. This makes dental implant surgery too expensive for the majority of those who need it.
As a result, patients often settle for less expensive alternatives, like dentures. Dentures, however, cause the jaw bone to shrink, which can lead to sores, discomfort, and an aged appearance. Before long, the hassle and expense of dentures begin to add up, and those who have them often wish they opted for a dental implant instead.
Rather than settle for dentures, you can get dental implants in Mexico and pay a fraction of the price you will pay if you get it in the U.S., Canada, or any other developed countries. In Mexico, an implant can cost as low as $750.
In this guide, we'll cover everything you need to know about getting dental implants in Mexico, and we hope to help you make an informed decision regarding replacing your tooth (or teeth).
Why Mexico?
According to the American Academy of Implant Dentistry, approximately three million people in the U.S. have dental implants, and this figure continues to grow by about 500,000 each year. Of these, many are obtained in Mexico. And in addition to being a popular destination for American expats, Mexico is also one of the most popular countries for dental tourism. Here's why.
Modern Dental Clinics
Mexico might be a developing third-world country, but its dental industry is just as advanced as any in the Western world. Dental practices in countries with a steady flow of tourists and expats are compelled to deck their clinics with state-of-the-art facilities, relaxing reception areas, computerized diagnostic equipment, modern dental chairs, and more. In part, they do this to take advantage of the influx of tourists who may want to get dental services while in the country.
Highly Trained Dentists
Dentists in Mexico have to undergo rigorous dental education and training. To become a dentist, one must complete a 4–5-year degree program and pass an undergraduate general exam. Those who pass the exam must then perform social services for one year by helping out in underserved communities prior to receiving their Doctorate of Dental Surgery certification.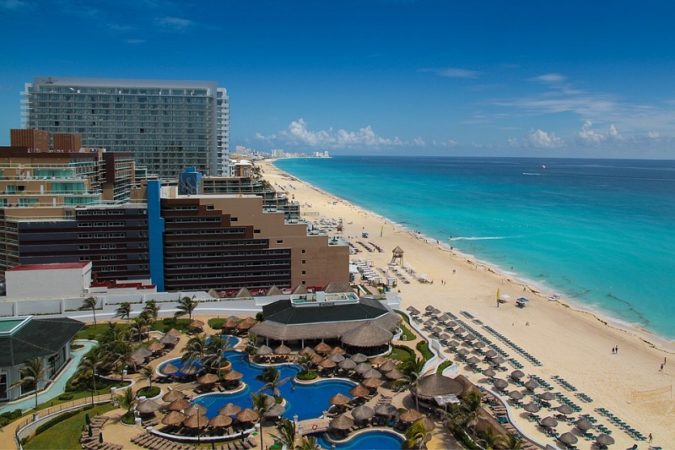 Those who want to specialize in implants, orthodontics, and other procedures must complete an additional two-year degree program.
Affordable Prices
Dental clinics in Mexico offer clear, transparent pricing. A dental implant procedure costs less than half of the cost in most countries, including the U.S. While the cost of implants varies based on the type of implant needed and any additional procedures that may be required, patients can expect the same state-of-the-art tools and high-quality implants and post-care at much more accessible prices.
English-Speaking Dentists and Staff
When talking to a doctor or dentist, you wouldn't want anything to get lost in translation. This isn't going to be a problem in Mexico as many dental implant specialists speak English fluently and many clinics hire English-speaking staff to attract and better serve international patients.
Dental Implant Systems
There are several different dental implant systems available for dental tourists and expats living in Mexico. But first, let's go over how dental implants work.
A dental implant is a metal screw (typically titanium) that is surgically inserted into the jaw bone to serve as an anchor for a crown or bridge. After insertion, the patient's bone begins to grow into the ridges of the implant. This is known as "osseointegration," and it's the reason a second visit is needed 4-6 months after the implant surgery.
After the implant is inserted, an abutment is then screwed into the implant to connect it to the prosthesis, which is a crown for a single dental implant. Then, the prosthesis is placed onto the abutment. Before it is placed, the crown is color-matched to the rest of a patient's teeth for the best aesthetic results.
Dental Implant Brands Available in Mexico
When talking about dental implant systems, we're referring to the different brands of implants available. Your dentist, in Mexico or elsewhere, will help you choose the most suitable option for you based on your needs.
While each of the implant systems below are also available in the U.S., some of the most popular dental implant systems used in Mexico include:
Straumann
Straumann implants are known to be a reliable brand of implants. These titanium implants help prevent changes in the facial structure due to bone loss, promoting good oral health.
Straumann PURE Ceramic
This costs a little more than other brands, but this metal-free implant alternative uses ceramic instead of titanium to provide an equally strong yet more aesthetic, natural looking result. Unlike titanium implants, the Straumann PURE Ceramic implant is ivory-colored to appear just like a tooth's natural root.
Nobel BioCare
Swiss-born Nobel BioCare is one of the world's oldest and most widely used dental implant brands. The titanium implants are a great option for single implants but are ideal for bridges, All-on-4 procedures, and other multiple implant treatments.
BHI
The BHI implant system is specifically designed to preserve the bone and easily insert into all bone types. The downward facing threads of the implant allow it to compress the bone for a better fit and greater stability, making the BHI implant an excellent option for immediate loading.
MIS
Known for its wide diameter and design, the MIS implant system provides great strength and support, making it a popular option for dental patients with lower bone density. The implant can also be used for all teeth, both front and back.
By providing patients with several dental implant options, including some of today's top global brands, dental clinics in Mexico are able to deliver experiences and results on par with some of the best clinics in the U.S., Canada, and other developed countries. However, due to lower labor costs, they're able to do so at a fraction of the price.
Cost
Mexico is one of the world's top destinations for dental care. This is because many dental clinics in Mexico have highly trained dentists and use state-of-the-art tools to provide a wide variety of quality procedures, including dental implants.
In most cases, the only real difference is the price. The implants used and the quality of care are the same, but the procedures cost 50-70 percent less.
In the U.S. and other developed countries, dental implant procedures are usually very expensive. For example, a full mouth restoration can cost upwards of $50,000.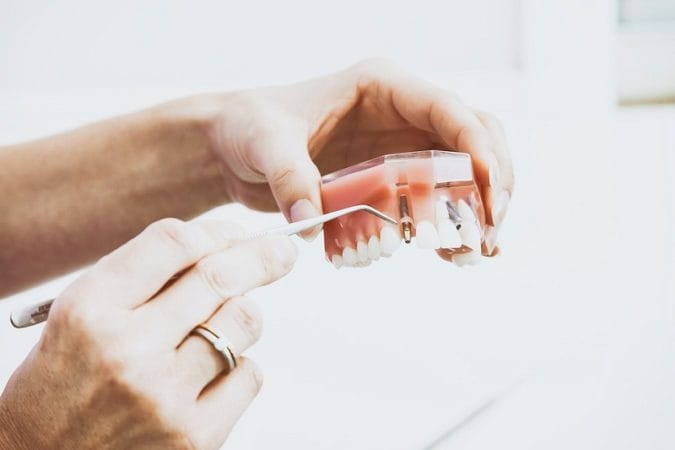 When patients receive treatment at a qualified clinic in Cancun, Mexico City, and elsewhere in Mexico, they can expect the same high-quality dental implants at prices that are much more accessible.
That said, the cost of getting dental implants in Mexico will depend on the dental implant system used and whether bone grafting or any other additional procedures are needed.
In Mexico, titanium dental implants can cost as low as $750 dollars per implant. With an abutment and crown, a single tooth replacement can cost $1,220. Compared to the U.S., where a single tooth replacement can cost nearly $5,000, the savings are considerable.
Single Tooth Implant
• Mexico – $750-$950
• U.S. – $2,790
Implant, Crown, and Abutment
• Mexico – $1,220-$1,295
• U.S. – $4,930
All-on-4 Implants
• Mexico – $7,085-$12,475
• U.S. – $24,000
All-on-6 Implants
• Mexico – $7,500-$14,255
• U.S. – $30,000
All-on-8 Implants
• Mexico – $10,205-$16,035
• U.S. – $36,000
Cost Factors
As you can see from the prices above, the costs of different types of dental implants in Mexico are 70 percent lower than the costs in the U.S. However, the actual cost of getting dental implants in Mexico will depend on the following factors:

Advertisement
Chosen Implant System
Many dental clinics in Mexico offer a variety of implant systems, including Straumann, Nobel BioCare, BHI Shark, and MIS Characteristics.
Straumann is a German brand and is usually the most expensive implant system. Swiss-made Nobel BioCare systems are just as expensive, followed by BHI Shark and MIS.
In addition to the price differences of each system, each also requires different products and materials that affect their price point. For example, if you go with zirconium rather than titanium for the Straumann system, you will pay more. Zirconium implants heal faster than titanium-based options, but they're also more expensive.
Number of Implants Needed
Of course, the cost of dental implants also depends on the number of implants needed. The more implants you need, the higher the costs.
Your oral condition and the complexity of your case will also be taken into consideration. So before giving you an exact quote, a dental clinic in Mexico will perform an oral examination.
Related Procedures
Some implant patients require bone grafting. This alone can add $400 or more to the total bill. Additional costs for X-rays, CT scans, tooth extraction, and crown attachments must also be considered and factored into the total price. The price posted on a website is more than likely not the price you will end up paying.
Choice of Dental Clinic
Which dental clinic in Mexico you choose will also affect the price you pay, but it may also affect the quality of treatment you receive. Like anywhere else, you'll pay a premium for high-quality care, experience, and expertise.
Preparing for Dental Implants
In addition to choosing the right dental clinic, there are some things you can do to ensure your implant procedure is a success.
Avoid Drinking and Smoking
Drinking and smoking can affect the body's ability to heal post-op. It can also negatively affect the bone's ability to fuse to the implant. Therefore, drinkers and smokers are recommended to quit before undergoing any type of surgery, including a dental implant procedure.
If you are unable to suddenly quit drinking and smoking, you should minimize your alcohol or tobacco intake prior to the procedure.
Boost Your Immune System
Your immune system and overall health are also factors that will affect your dental implant procedure. If you are feeling under the weather or not on your normal strength level, your dentist may choose to reschedule the procedure to a later date.
Ask Questions
You are encouraged to ask many questions about the procedure. Despite being a non-native English speaking country, Mexico's many popular, well-respected dental clinics have English speaking dentists and staff, so language barrier is unlikely to become an issue.
For instance, you should ask about your dentist's area of specialty, accreditations, and qualifications. You should also find out how many implant procedures the clinic has performed and ask to see patient testimonials and before-and-after photos.
Other things to inquire about include:
• What to expect post-op and what kind of aftercare will be required
• The materials and tools to be used in the procedure
• What to do if any complications arise
• If insurance will cover any of the procedure, and if not, what payment options are available
Follow Instructions
Following instructions is even more important than asking questions. Patients requiring sedation should avoid eating or drinking six hours prior to surgery. In some cases, an antibiotic prophylaxis may be prescribed which should be taken six hours prior to a procedure requiring sedation or one hour prior otherwise.
Advertisement
Following these and any other instructions will help minimize complications and ensure successful results.
Dental Implants Procedure
Dental implants are posts (usually made of titanium) that bond with the jaw bone to provide a strong and stable base for one or multiple crowns. Osseointegration, the fusion of the implant and bone, makes it possible for the crown to feel like a genuine tooth. After an implant is placed, an abutment is then fixed onto the implant to support a crown.
The entire implant process usually takes two visits spaced 4–6 months apart. This is because the dental implant and jaw bone must be successfully bonded prior to placing the abutment, and the bonding process typically takes anywhere from 3–6 months.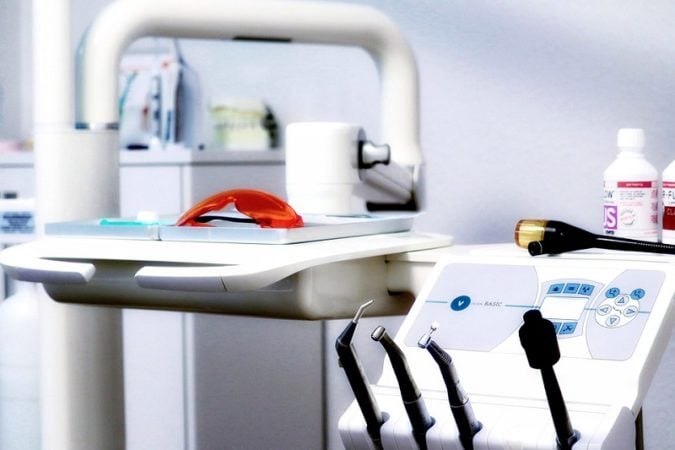 All that said, each patient is different. Some patients may require extra procedures, like a sinus lift or bone graph. Therefore, the length of treatment varies from one patient to the next.
Let's break down the average patient experience.
First Phase – Implant Placement
This first phase is the most important and involves the placement of the implant(s) into the jawbone. The entire phase usually takes 4–10 days and involves the following steps:
Step One – Imagery
Dental implant patients first undergo an X-ray and/or CT scan imaging, which allows the dentist to evaluate your different options and help you select the best treatment plan.
Step Two – Preparation
This involves tooth extractions, sinus lifts, bone graphs, and other procedures that must be completed before the implants are placed.
Step Three – Placement
When the jaw is prepped and the patient is under local anesthesia or sedation, the implants are positioned and put into place.
Step Four – Temporary Prosthetic
As mentioned, a patient will not receive a permanent prosthetic during phase one. The jaw bone must first heal and fuse with the dental implant, which generally takes 4–6 months. Instead, the patient is fitted with a temporary prosthetic to be used in the meantime.
Step Five – Follow-Up Appointment
Lastly, patients will visit with the dentist a final time to ensure everything is healing according to plan prior to returning home.
Second Phase – Final Restoration
Four to six months later, the dental implants will undergo a final restoration, which involves significantly less dental work. Nonetheless, depending on the number of implants, it usually takes up to a week to perfectly fit the crowns or prosthetic.
Clinics that Offer Dental Implants
As an expat in Mexico, choosing which dental clinic to visit to undergo an implant surgery is a big decision. Ultimately, you want to go to a quality dentist close to home, so here are some of the top dental clinics in cities and regions throughout the country.
Mexico City
Mexico City is the country's capital and by far its largest city. There are several quality dental clinics for patients to choose from for their implant procedure.
Ideal Dental Center
Located just 15 miles from Mexico City's international airport, Ideal Dental Center has been in business for over 30 years. It offers dental implant services to locals, expats, and dental tourists.
The clinic is affiliated with several international organizations, including the American Academy of Orthodontists and Prosthetists, and specializes in providing quality dental implants and prosthodontic care.
Dr. Jaime Cohen Dental Clinic
Dr. Jaime Cohen studied pediatric dentistry at Columbia University in New York City. He has over three decades of experience and runs one of Mexico's largest dental practices. His clinic is located in a modern building in downtown Mexico City.
The clinic offers perks and has a professional, highly trained team of dentists which have made them one of several popular choices for both locals and expats living in Mexico City.
Cancun
Cancun is one of Mexico's most visited locales. Also called the "Mexican Riviera", it is home to white sand beaches, turquoise waters, thriving nightlife, and a number of dental clinics with highly trained dentists. From margaritas to dental implants, Cancun has it all.
Cancun Dental Specialists
Located in Cancun's Hotel Zone, Cancun Dental Specialist is a dental clinic that uses state-of-the-art equipment like CAD/CAM technology, Waterlase Iplus Laser chairs, and a 3D CT Cone Beam scanner to pinpoint implant placement.
The clinic's specialists also have years and years of experience and include a board-certified U.S. dentist as well as an American Dental Association member.
Sani Dental Group Cancun Riviera
Founded by a specialist in Laser Dentistry and Implantology, Sani Dental Group is one of Mexico's more popular dental services providers. Like the group's other locations, the newly opened Sani Dental Group Cancun Riviera clinic in Playacar offers quality services.
This clinic is centrally located, making it convenient for many expats in the area to visit. They have orthodontic specialists with international training at reputable institutions in the U.S. and elsewhere abroad.
Bokanova Dental Center
Located in Playa del Carmen, Bokanova Dental Center has state-of-the-art equipment, highly trained staff, and implant specialists. It is quite popular among American and Canadian expats in need of implant surgery.
Bokanova fully complies with American Dental Association and ISO standards and offers a five-year warranty for all implants. On average, the cost of getting implants at this dental clinic is 20 percent less than in clinics in Canada and the U.S.
Baja
From the border town of Los Algodones to the resort oasis of Cabo San Lucas on the peninsula's far southern tip, Baja is home to several of Mexico's most popular dental clinics.
Sani Dental Group Platinum
Sani Dental Group Platinum is the group's high-end clinic. Located near the Yuma border in the popular medical tourism town of Los Algodones ("Molar City"), the clinic is known for its sleek design and offers the same competitive pricing as its main clinic and many others in the area.
At Sani Dental Group Platinum, you can expect an upscale atmosphere with leather sofas, comfortable amenities, and modern dental equipment. They have an English-speaking team and highly trained specialists with over 25 years of experience.
USmile Center
USmile Center is a dental clinic located in the popular resort and expat destination of Cabo San Lucas on the tip of Mexico's Baja peninsula. USmile is run by prosthodontics specialist Dr. Martha Ziehl, who has been practicing since 2009. Working alongside her are several other specialists, including Dr. Alex Armenta, a periodontics and implantology specialist.
USmile attracts both local and international patients needing a variety of dental treatments, including implants. The clinic offers everything from a single dental implant to All-on-4 implants.
Maxi-Med Los Cabos
The Maxi-Med Los Cabos clinic is located just a few minutes from the main beach in beautiful, sun-soaked Cabo San Lucas. The clinic is headed by Macrina Erendira Bustos Mora, a highly experienced maxillofacial surgeon who has been practicing for 25 years. Working alongside Dr. Mora is bilingual dentist Dr. Juan Carlos Aguilera. Together, they provide a wide range of dental treatments, including single, All-on-4 and All-on-6 dental implant systems.
Puerto Vallarta
Puerto Vallarta is a gorgeous seaside resort town in the state of Jalisco on Mexico's Pacific coast. Surrounded by mountains, palm trees, beautiful beaches, and a buzzing nightlife, it's an ideal place for dental implant surgery and the R&R needed afterwards.
Unident
Opened in 2000, Unident provides comprehensive dental care to local Puerto Vallarta residents and international patients alike. Originally founded by Dr. Benjamin Valle, the clinic now has a professional team of seven dentists specializing in a variety of disciplines, including dental implants.
Located right by the marina in the heart of Puerto Vallarta, Unident uses advanced implantology technology and provides dental implants at accessible prices.
Smile Vallarta
Smile Vallarta is another respected dental care provider in the resort town of Puerto Vallarta. The clinic is located in the "Be Health Center" and features a friendly staff, relaxing atmosphere, and modern décor.
In business since 2005, Smile Vallarta is headed by Dr. Alejandro Sanchez and his experienced team of dental professionals. In addition to implant services, the clinic also offers free oral exams, X-rays, and a variety of perks.
Choosing the Right Clinic
Different dental clinics in Mexico quote different prices. Brand name clinics, like Sani Dental Group, often charge higher prices than privately owned clinics for the same procedure, technology, and materials used.
However, just because a clinic charges more doesn't mean it's always better. Really, it all comes down to reputation and trust.
Many expats tend to trust brand-name clinics and don't mind paying a little more. They trust the clinic's reputation and want to make sure they receive high-quality service and nothing goes wrong.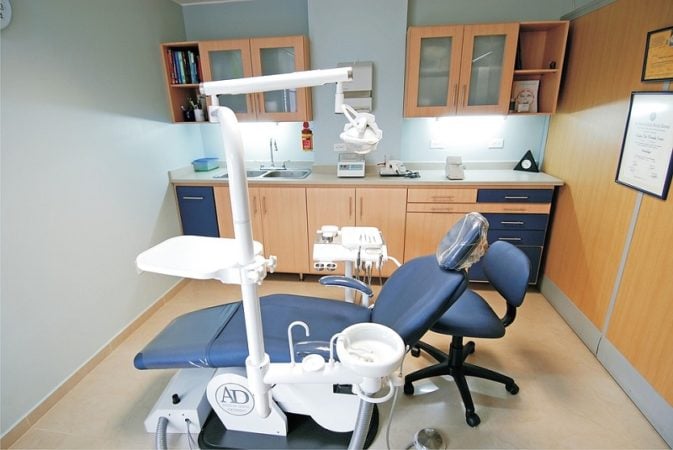 These types of dental clinics in Mexico have experienced specialists, modern facilities, and the latest equipment. They are also usually associated with higher success rates, speedier recovery times, and less pain.
That said, if you're serious about getting dental implants in Mexico, we recommend visiting dentaldeparture.com. Here, you can compare prices, reviews, and more for hundreds of dental clinics throughout the country. The site even allows you to schedule an appointment and offers a best price guarantee.
Payment Options
Most dentist offices in Mexico prefer American currency.
The cost of getting dental implants (even in Mexico) is high, so patients are given the option to pay in installment. Most installment plans for dental implants involve making two payments: one per each phase of the procedure.
There are several payment methods available.
Cash
Many dental clinics in Mexico accept cash for payment, regardless of the cost of the procedure. However, payment policies vary from one provider to the next, so it's best to check prior to scheduling a consultation.
If cash is accepted, you can usually pay in Mexican pesos or US dollars, but the latter is almost always preferred. That said, carrying around that kind of cash anywhere isn't a smart idea. It's best to explore other payment options.
Credit Card
A number of dental clinics in Mexico accept credit cards from the major providers. This includes credit cards from Mexican banks like BBVA Bancomer and Citibanamex, which you may or may not have as an expat. However, if you use a U.S.-based credit card to finance dental implants, you may have to pay a foreign transaction fee of up to four percent.
PayPal
Some clinics also accept payments via PayPal. However, it isn't as widely accepted as cash or credit, so it's best to inquire ahead of time.
Check
Both personal and traveler's checks are somewhat of a rarity in this day and age, but many clinics still accept both.
On a side note, dental implants are generally not covered by dental insurance. However, some procedures, such as X-ray imaging and bone graphs may be covered, so it's worth checking out.
Now, on to You
We hope this guide has answered your questions and will help you on your journey to getting dental implants in Mexico.
While the same implants, materials, and technologies are used, dental implant procedures in Mexico cost much less than in the U..S, Canada, and other developed countries.
If you are ready to reclaim your smile, you can schedule an appointment with one of the reputable clinics mentioned in this guide, get an oral exam, and discuss your implant options with a certified dental implant specialist today.