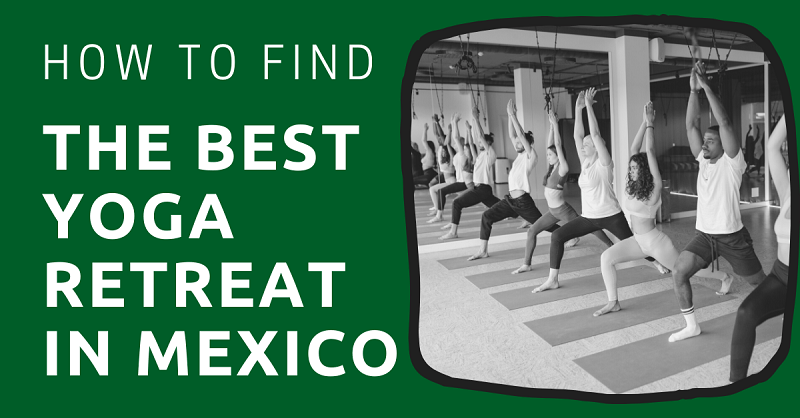 Although Mexico may not be the first country that comes to mind when you think about yoga retreats, you'll be surprised how much this immense country has to offer to yoga enthusiasts.
In fact, to many yogis, Mexico is yoga heaven. What's more, many of the yoga retreats are in breathtaking locations with lovely climates that are perfect for conducting yoga classes outdoors.
As Mexico continues to gain popularity as a primary destination for a yoga retreat, it can be hard to choose the right one for your well-deserved wellness break. This article can help you decide.
In this guide, I cover a range of topics including things to expect from a retreat, the different kinds of retreats, and location options. In your search for the perfect destination, I think it is especially important to know the costs and get an idea of the different kinds of destinations, so you can easily narrow down your choices.
This article will take approximately 15 minutes to read. Don't have the time right now? No worries. You can email the ad-free version of the article to yourself and read it later!
What to Expect from a Yoga Retreat in Mexico?
Two decades ago, Mexico wasn't known for its yoga retreats, but that has changed. Traditionally, people go somewhere in Asia for a yoga retreat as it is where many of the world's most popular retreats can be found. But nowadays, more and more people from Europe, Latin America, USA, and Canada are traveling to Mexico for a yoga holiday mainly because Mexico is much closer to these countries.
Another factor is Mexico's relatively low cost of living. Traveling to Mexico instead of Asia will not only significantly cut travel time, but it will also reduce costs.
In addition, the retreats offer high quality sessions conducted by excellent teachers, the accommodations and food choices are superb, and there are many other activities you can do besides yoga.
Yoga can be enjoyed by all, including retirees, and the yoga retreats in Mexico have something for everyone. In terms of costs, there are inexpensive retreats as well as luxury ones, and you can find one all over the country, from Los Cabos to Tulum and from Puerto Vallarta to Oaxaca.
Mexico: A Truly Spiritual Place
Mexico is one of the most culturally and spiritually rich countries in the world, which makes it such an ideal place to practice yoga for healing and inner peace. The country's rich cultural heritage can be seen in Mayan cultural artifacts, which can be found across the country.
Most of the yoga retreats in Mexico are built on high-energy and meditative environments, which aids in deepening your practice.
Some of the yoga teachers may even have some knowledge of Mayan spirituality, which they may apply as they conduct yoga classes.
What is Usually Included and Excluded from Yoga Retreats in Mexico?
Most yoga retreats offer their guests yoga props, such as mats and blocks. However, it is always a good idea to double-check whether you need to bring your own equipment.
Normally, yoga retreats provide accommodation and meals. Accommodation can be a shared room, a basic hut, or a luxurious private room.
The meals served in yoga retreats are often healthy and in many cases, vegetarian or vegan.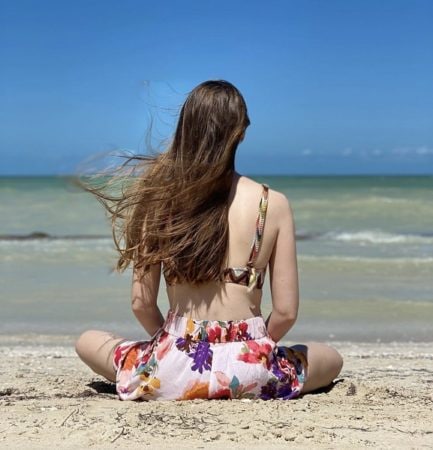 In most yoga retreats, classes are usually held twice a day. Some retreats' programs include practicing meditation or mindfulness, or participating in Mayan ceremonies after yoga practice.
Most of the yoga retreats in Mexico are situated in remote areas. This means that you may have little-to-no Wi-Fi or phone signal. If this is important to you, ask the retreat about this aspect before you book.
There are also retreats that offer all kinds of side activities, including cooking classes, language courses, and pyramid trekking, to name a few. Fees for these are usually excluded from the main cost of the yoga retreat.
I recommend checking if the retreat offers transfers from the nearest airport to the destination. If they don't, you will have to arrange this yourself.
When is the Best Time to Go on a Yoga Retreat in Mexico?
The best time to go a yoga retreat in Mexico depends on the destination you choose. Overall, the dry season in Mexico is from November to May, particularly in beach towns. By contrast, it can get pretty cold in mountain towns during those months, as they are considered winter months in central Mexico.
The rainy season lasts from June to October, and rains can be pretty heavy. There is even a risk for hurricanes in some parts during this season.
I would say the best time to do a yoga retreat in Mexico is anywhere between November and June, because that is when you are most likely enjoy hot afternoons and little-to-no rain. This climate is ideal if you like doing yoga outdoors.
Types of Yoga Retreats in Mexico
When you dive into the world of yoga, you will discover that there are many different types of retreats. If you're choosing a place to go, you should be aware that there are retreats for specific styles of yoga: Hatha yoga, Bhakti yoga, Kundalini yoga, Yin yoga, Vinyasa yoga, and more.
Retreats also come with different price ranges, from affordable to mid-range to luxury. If you're looking for budget-friendly options, you can find affordable options in most areas where yoga retreats are commonly found.
Many places also offer different side trips/activities for guests. Some places offer diving lessons, cooking classes, or cultural activities.
Main Areas for Yoga Retreats in Mexico
The most popular areas for yoga retreats in Mexico are Riviera Maya and Puerto Vallarta. The Riviera Maya is the large plot of land in the state of Quintana Roo that stretches between Cancún and Tulum. The latter is known as the bohemian, luxury yoga destination in Mexico.
Here's some information about these areas.
Riviera Maya – Tulum
The resort town Tulum in the Riviera Maya region is currently the most famous destination for a yoga retreat in Mexico.
The town is surrounded by lush jungle and stunning beaches. Many yoga lovers choose to go on a retreat in this area because of its luxury and laid-back environment. Here, you can find yoga retreats anywhere you walk along the white, sandy beaches.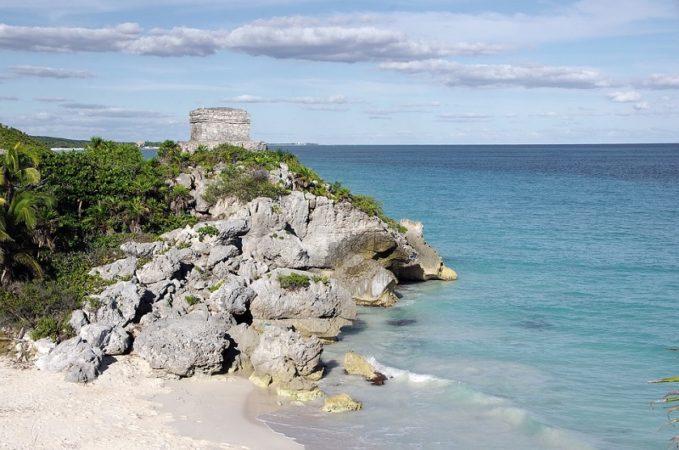 As can be expected of a luxury resort town, prices are high in Tulum. Even if you stay only in a basic tent or a shared bungalow by the beach, you are likely to pay at least 700 USD for a week's stay.
On average, a retreat in a luxury village will cost you more than 2,000 USD for a week, as is the case in places like Casa Ganesh Tulum, Kai Tulum or Villa Pescadores Tulum.
All of these places are situated in breathtaking resorts and they all have experienced yoga teachers who will expertly guide you.
In Amansala, they offer a combination of a bikini boot camp and yoga classes. This unique yoga retreat has made it to the headlines of popular magazines in the United States and is now known worldwide.
On the other hand, you will also find plenty of ecological and sustainable lodgings in Tulum. There's also a retreat that offers diving and yoga. Here, you can practice yoga, scuba, or free-diving. Prices start at 1,400 USD.
Riviera Maya – Puerto Morelos
Puerto Morelos is a tiny village located between busy Cancún and Playa del Carmen. It has a peaceful atmosphere and within the jungle, you can find the One Breath Yoga retreat where yogis practice Ashtanga and Vinyasa yoga. The place serves vegan and raw foods and lets you participate in a temazcal, a Mayan rite in which you sweat a lot.
What also makes this place worthwhile is that they specialize in sacred plant medicine. You can even book a retreat that's centered around this fascinating subject. Prices start at around 700 USD per week.
Riviera Maya – Playa del Carmen
Playa del Carmen can get quite busy, but it is also possible to dive into its jungle areas where you can find a retreat that costs around 900 USD for six days and where you can be surrounded by nature.
You can hike many trails, and there is even a cenote where you can take a refreshing dip after a sweaty class. This healing retreat also uses sound healing and music for their healing sessions.
Puerto Vallarta and Surroundings
If you are looking for a Playa del Carmen-like area but prefer the Pacific Coast of Mexico, you should definitely give Puerto Vallarta a try. Here you can find yoga retreats that start at prices as affordable as 500 USD.
This busy town is the also perfect starting point for a unique, but pricey, yoga getaway. There is one place called Xinalani Retreat which can only be reached by boat. It is a place specially designed for solo female travelers, with prices starting at 4,000 USD for seven days.
Besides being in a stunning location, you also get to participate in various activities and explore the area. This place offers a unique experience — you might even feel like you're at the end of the world because of how remote it is.
Oaxaca and Surroundings
Oaxaca and its surroundings offer a way more affordable option. The places here are stunning, and yoga retreats start at only 330 USD. Don't be deceived by the low prices as there are pretty beaches here and the yoga retreats offer great experiences.
If you're traveling on a budget, Mazunte Oaxaca is a perfect place for a retreat. Here, you can be surrounded by nature and it is a good jumping-off point for exploring Oaxaca. The city, which is popular among digital nomads, offers an opportunity to immerse in local culture. Some people augment their trip here by learning Spanish lessons. You can travel there to the retreat by bus from Mexico City.
Oaxaca – Puerto Escondido
If you fancy a beach yoga retreat in Oaxaca, you can head to Puerto Escondido, a fantastic place to practice yoga on the beach. In contrast to the non-surfing beaches of Playa del Carmen and Tulum, Puerto Escondido is a great place to surf.
That is why you will find a lot of yoga retreats here that combine yoga and surfing. One such retreat is Barbarenas, a beautiful yoga resort that costs around 750 USD per week. The place offers daily Hatha yoga classes and two surfing classes per week. You can also participate in ceremonies and workshops. They serve vegan food and is included in the costs.
Nayarit – Sayulita
Located in the state of Nayarit, Sayulita is a sleepy beach town that has a hippie vibe and where you can find yoga retreats priced anywhere between 1,500 and 3,000 USD for a week's stay.
Villas Sayulita Hotel offers yoga classes and a host of non-yoga activities, including cooking classes and jungle tours. You can also simply explore Sayulita after yoga class and retreat schedules are completed.
Los Cabos
There are also small, intimate retreats that are open to guests year-round. One such retreat that can be found in Los Cabos is Rancho La Puerta, which offers yoga and meditation sessions. The place, which is a family-owned hotel, also offers mini concerts. It has a very Mexican vibe characterized by the old hacienda with beautifully decorated rooms. The house is ideal for those who love being surrounded by nature.
Yoga Teacher Training Retreats in Mexico
If you are looking to obtain a yoga teacher certificate, you may do so in Mexico where there are many retreats that offer yoga teacher certification courses.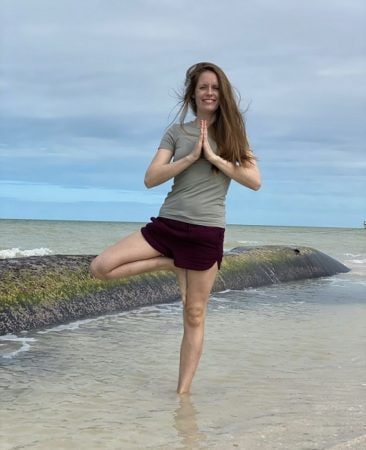 One such schools is the Kootenay Yoga School. This school/retreat is found in Isla Mujeres and hosts highly qualified yoga teachers. Here, you can get a 200-hour yoga teacher training at a cost of around 2,200–3,000 USD for 15 days of training. Isla Mujeres is a small island that you can reach via the port of Cancún.
After half an hour of boat ride you will set food on an island with complete amenities and beautiful beaches.
How to Book a Yoga Retreat in Mexico
Although it is possible to book a yoga retreat in Mexico directly via a yoga retreat organization, hotel, or resort, I highly recommend that you check the website BookYogaRetreats. This website provides a comprehensive overview of the retreats that are available in Mexico. You can search for a location that you are interested in and read other people's experiences.
The website also offers re-booking options, which makes booking dates more flexible. There are also plenty of photos and a couple videos of the retreats.
Preparing for Yoga Retreat
There are a few things you should do in preparation for your retreat.
Paperwork
For most nationalities, it is fairly easy to get into Mexico as a tourist. You fill out the paperwork to enter the country upon arrival. Currently, at some entry points such as Cancún and Mexico City International Airport, immigration officers are testing digital registration for foreigners entering the country.
Some nationalities, however, are required to get a visa. If you plan to stay longer than six months, you will need to apply for temporary residency in Mexico.
What to Pack
Note that there are many different climates in Mexico. However, most of the yoga retreats are located in places with tropical climates. In these areas, the climates only differ in terms of how much rainfall and humidity there is at any given time or season.
Make sure to ask the yoga retreat if they offer yoga props and if these are included in the total cost. Otherwise, you will have to bring your own gear.
Dress Appropriately
When you visit a cultural site such as a pyramid, I highly recommended covering up your body with regular clothes. Leave your bikini at the resort when you're visiting cultural sites. Also, don't forget to bring a reusable water bottle for hydration. It's great for the environment and is what Mexicans use themselves.
Getting there
Most tourists usually fly into Mexico City when heading to Oaxaca and to Cancún when their destination is in the Riviera Maya.
If you are looking for a yoga retreat in Puerto Vallarta, you may be lucky enough to find a direct flight to their international airport. Otherwise, you will likely fly via Mexico City and hop onto another plane from there.
Now, on to You
Visiting Mexico as a tourist can be a life changing-event. A general yoga retreat can also be life-changing, so why not experience both?
When you visit a yoga retreat in Mexico, you can be sure that you will travel back home feeling like a different person. So whether you are you looking for a relaxing yoga retreat experience, a detox, a dive into a different culture, or an amazing location-based yoga teacher training, make sure to put Mexico on top of your list.