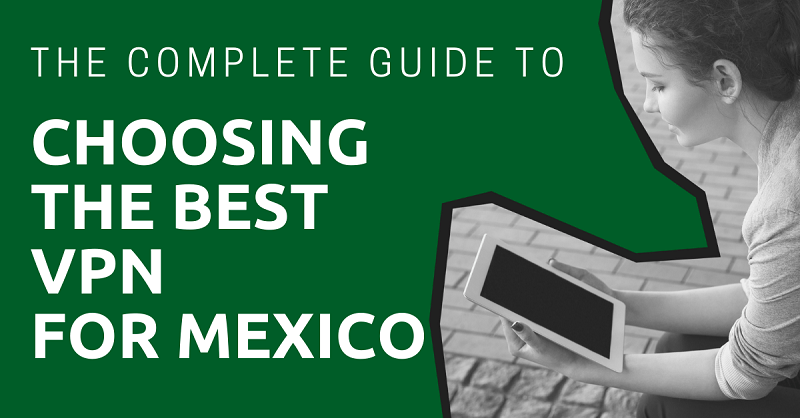 There can be many reasons to consider getting a virtual private network, or VPN, to browse the Internet while you are residing in Mexico. You can utilize a VPN to act as your gateway to the Internet, which is useful whether you are in Mexico for a brief visit or for an extended period of time.
A VPN is beneficial for reasons of privacy, security and convenience, and it can effectively cloak you in a curtain of anonymity as you surf the web.
Mexico has fairly strict laws and policies in place currently that protect personal privacy, but it is always risky to depend on governments in other countries to follow their own regulations. 
Even if the government is not interested in your browsing activity, there are always risks involved if you have to use any type of public wi-fi in cafes, restaurants, hotels, subways and similar places.
It could also be that you miss watching your favorite shows and movies on streaming services that have geographically restricted content. It seems unfair to not be able to access the same content that you would be able to in the States, especially since you are paying for the service.
Fortunately, you can use a VPN as a subscription service anywhere you can access the Internet. Most VPNs support multiple platforms and devices, and most have apps for use with various devices, such as smart phones and tablets.
There are free VPNs and VPNs you pay to use as a monthly subscription, and VPNs can offer different levels and types of services and security.
In this article, we are going to tell you everything you need to know about VPN in Mexico, including benefits, how to use it, and how to choose the right provider.
In case you just want to know which VPN you should choose, check out NordVPN.
This article will take approximately 19 minutes to read. Don't have the time right now? No worries. You can email the ad-free version of the article to yourself and read it later!
What is a VPN?
A VPN, or virtual private network, is exactly what its name states: a private network that operates as a virtual network. In other words, a VPN serves as a network connection for your media device.
This connection is private, and your online activity data is not available to the public. It is virtual, in that it uses a unique identifier on a different hosting server that is not at your actual location.
In simple terms, a VPN is a connection that allows you to access the internet securely over both public and private networks and masks your location while doing so.
Your online activity is anonymous and is not overtly traced back to you. As using a VPN subscription is an online activity, you can utilize this service anywhere you have Internet access.
Why Using a VPN in Mexico?
There are many benefits to using a VPN as an expat in Mexico for any type of online interactions, especially when you are living in Mexico. 
Privacy Protection
One advantage of using a VPN in Mexico is the protection of your privacy. Each country has its own laws about the collection of personal data, and even when restrictive laws are in place, the application can vary in practical terms.
In other words, it is up to you to secure your own personal privacy.
A VPN essentially masks your Internet Protocol (IP) address by adding another step in your data transmission path from your device to the website.
An Internet protocol is a set of communication rules between computers and servers, and the IP address is the unique identifier for each computer. Routing to a different IP address protects your transmissions from attempts to collect your data from the actual IP address of your computer.
Your VPN provides anonymity for all your online activity, even if you are using a public wi-fi connection.
Improving Security
Another advantage of using a VPN in Mexico is that of security. When you are connected to a VPN server, the connection requests are encrypted by converting the data into a code when sent to the server.
Once the requests reach the server, they are then decoded (decrypted) and forwarded on to the web page. The data that is sent back from the web page is encrypted by the VPN server when it receives it and decrypted by the VPN client when you receive it.
Companies that use a double VPN method provide more layers of protection by routing through two servers and encrypting each time.
Your personal privacy in Mexico can be a security issue, as it can contain much that can be used by others for their own purposes.
Your phone number, birthday, bank account information, online accounts and surfing habits can all be used for someone else's benefit and to your detriment. Your financial and business data can also possibly be compromised, even if the actual transactions take place on secure sites. 
Encryption protects your sensitive financial online activity, including when you send money to Mexico.
Access Restricted Streaming Services
While you can access many online streaming services in Mexico and other countries, your content availability options will often be vastly different from what you would see in the U.S. 

For instance, Netflix, Hulu and others have agreements with media studios in other countries to show certain content and not other specified content.
As a result, these streaming services will use your device's IP address as a geographic location to determine your viewing locality.
In some cases, it may be that a media streaming company's services are not available at all in Mexico, such as Showtime.
Masking your real location with a VPN allows you to watch any of your shows unfettered by geography.
How to Use a VPN
The first step in using the VPN you have chosen is to decide whether to install the VPN application as provided by your provider.
If you are concerned about the security levels of the VPN's app, you can manually set up your VPN connection through your operating system. Since it requires manually setting your server information on your computer, you might not be able to access various features on the app.
Many VPN providers will have an option on your VPN account that will guide you through this process and give you the information you need for setting up your own VPN configuration.
After you set up your VPN, you can connect directly without having to use a downloaded application from your VPN provider.
If you are going to use the provided VPN app, then you need to download and install the app on your system. Be sure to download all versions that are applicable for all your devices, mobile and otherwise. 
If it is a paid subscription, you will typically receive a license for either a finite number of devices or for unlimited devices. After you install the app, you will enter the login information from the new account that you created when choosing the VPN service. Some VPN companies have complex login procedures for extra security, but just read and follow the instructions carefully.
Once you are logged in, the app will then connect to the VPN server that is closest to your current location. The closer the server, the faster the connection speed will be.
When you run the VPN service for the first time, you will usually have prompts to set your personal preferences, such as if you want the service to start automatically when you start your computer or be available for use manually.
Most VPNs offer you the ability to choose various features each time you connect the VPN for a browsing session.
For instance, you can usually change your protocol for the connection, and you can choose split tunneling if it is available. Split tunneling allows you to divide your connections between the VPN and a local network.
How to Choose a VPN
There are many things you should consider in order to choose the right VPN provider.
What's Your Reason for Using VPN?
Your first step in choosing a VPN is to formulate your reasons for using a VPN service.
What are your primary concerns? Do you want additional security and privacy, and is the ability to stream media content from geo-restricted important to you?
You also need to consider how you will be using a VPN subscription.
You should know beforehand how many devices will be using the service, whether you will be streaming movies online and if you will be browsing from multiple public settings as you travel. Torrenting is the ability to upload and share files in a peer-to-peer (P2P) network, and many VPNs offer this feature.
If you need to connect multiple devices to the VPN service, then you will need a subscription that offers a multi-device license and one that has apps for different types of devices. It should also be router-based if the users reside in the same household, in order to allow for multiple simultaneous connections.
If you will be streaming movies often, then you will want a VPN that offers high speed, unlimited data and a reliable connection. It may be that much of your online activity will take place on public wi-fi networks as you travel. In that case, security and privacy will be your main concerns, and you will need a reputable VPN that offers reliable security and one that has a large network of servers.
There are several mainstream VPN companies that typically offer the same basic features of privacy, security and anonymity. However, each of these companies will have their own selling point that is their primary focus. You should choose a company that has priorities that align with yours.
If your primary need is the ability to watch streaming content that is geographically restricted, then you will want a VPN service that is consistently able to unlock these sites. Your main consideration may be security and privacy, and your best option will then be a company that offers advanced security features like double encryption and a kill-switch.
Compatibility
It may seem obvious, but be sure you do not overlook whether the VPN service is compatible with all your devices.
For instance, you may be using a computer with Windows, an Android tablet and an iPhone. Each of these uses a distinct operating system. Having a user-friendly interface is a must for most, even if you are technically savvy.
Intuitive
You will want to choose a VPN that offers a streamlined and easy setup process and one that has an intuitive and simple user interface. A good way to discover how easy the service is to use is by reading reviews from actual users.
24/7 Customer Service
Look for a VPN that provides reliable customer service with 24/7 accessibility. A live chat option is a plus. Look at customer reviews to see how the company has dealt with customer relations in the past.
Money-Back Guarantee
Finally, choose a VPN company that offers some type of money-back guarantee or free trial. This is important in case the VPN is not a good fit for you after all.
Best VPNs for Mexico
Let's take a look at recommended VPN providers for those who are living in Mexico.
NordVPN
NordVPN is a highly ranked VPN that garners high marks on most important aspects. It has a huge, global network of servers that are smoking-fast and can consistently unblock streaming sites like Netflix and BBC iPlayer. It doesn't keep logs, and it has advanced security features like advanced encryption, double VPN, kill switch and no connection leaks.

With NordVPN, you can connect up to six devices simultaneously, and most platforms and devices are compatible. The company has superb customer service and offers live chat online. There are many benefits to using NordVPN and only a few negatives, such as inconsistent torrenting, assigning you the same IP address for each log-in and slow server connecting times.
NordVPN is currently offering a fee of $3.49 a month for a two-year contract on the standard plan.
Surfshark
Surfshark is a premium-level VPN program that has all the features you want and then some. It can unblock all the popular streaming sites, such as Amazon Prime Video, Hulu, HBO GO, and BBC iPlayer and others.

It has extremely fast servers in a global network, advanced security features and options, no logging, connection leak protection, great customer service with live chat and torrenting availability with P2P on all servers.
The benefits of using Surfshark are being able to have unlimited devices, advanced security, ad blocking and inexpensive pricing options, with only a few cons of having less servers than some competitors and sometimes slow uploads.
Currently, Surfshark is offering its VPN subscription for $2.39 a month for a two-year contract.
ExpressVPN
ExpressVPN is consistently ranked as a top VPN with high marks on all of a VPN's desirable features. It boasts a vast, global network of lightning-fast servers, has the ability to unblock streaming services like Netflix, Hulu, Showtime and BBC iPlayer reliably and allows torrenting.

It has advanced security for both apps and servers, keeps no logs of your activity and rotates IP addresses. With ExpressVPN, you can divide your web browsing by split-tunneling. Users receive excellent customer support, and there is a 24-hour, seven-days-a-week live chat option. ExpressVPN offers a 30-day money-back guarantee. Pros include all the above-mentioned features. A higher price and only allowing five simultaneous connections are the only cons.
Currently, ExpressVPN is offering a 15-month contract for $99.95 and the same price for 12-month contracts thereafter.
CyberGhost
CyberGhost is a serious contender in the VPN market and has many desirable features, like advanced security, a large number of servers in a global setting, torrenting support and user-friendly interfaces online and on the apps.

It features split tunneling, advanced encryption, kill switches and communication leak protection. CyberGhost has superlative customer support and available online chat. The pros for CyberGhost include having the largest number of servers around, the ability to unblock geo-restricted streaming sites and extremely user-friendly apps for Windows, Mac, iOS and Android. 
However, the ad-blocker is not effective, and there is no support for Chromebooks. Server speeds can also be slow for servers in distant countries. Pricing is reasonable, with a cost of $2.19 per month on a two-year subscription plan. 
CyberGhost offers a one-day free trial online and seven days for the apps. There is also a 45-day money-back guarantee.
IPVanish
IPVanish is a popular VPN service that is highly rated by reviewers. It works across most platforms and offers apps for Windows, Mac, iOS, Android and Fire TV that are full of user-friendly features and options. 

It has robust security features like advanced encryption and leak protection. IPVanish supports several Internet protocols used for server communications and offers the ability for protocol configuration without downloading the app. IPVanish does not advertise being able to unblock Netflix, but many of their servers will successfully access Netflix.
The best qualities of IPVanish is the high surfing speed, broad support for various devices, apps for most popular devices and support for protocol configuration. The main con is a troublesome record of good customer support, which does not include live chat. 
The lowest subscription price is $3.99 for a year-long contract, and IPVanish offers a seven-day money-back guarantee.
Features Comparison
| | | | | | |
| --- | --- | --- | --- | --- | --- |
| | ExpressVPN | CyberGhost | IPVanish | Surfshark | NordVPN |
| Encryption and connections | AES-256 bit encryption, split-tunneling | AES-256 bit encryption, split-tunneling | AES-256 bit encryption, split-tunneling | AES-256 bit encryption, split-tunneling, double VPN | AES-256 bit encryption, double VPN |
| Protocols | OpenVPN, SSTP, L2Tp/IPsec, PPTP | OpenVPN, L2Tp/IPsec, PPTP | OpenVPN, L2Tp/IPsec, PPTP, SOCKS5 Proxy | OpenVPN UDP, OpenVPN TCP, IKEv2, Shadowsocks | OpenVPN, IKEv2/IPSec, WireGuard |
| Security | DNS, IPv4 and IPv6 leak protection, kill switch | DNS, IPv4 and IPv6 leak protection, kill switch | DNS and IPv6 leak protection, kill switch | DNS and IPv6 leak protection, kill switch | DNS, IPv4 and IPv6 leak protection, kill switch |
| User logging | No | No | No | No | No |
| Torrenting support | Yes | Yes | Yes | Yes | Yes |
| Speed | Super fast | Average speed | Fast | Super fast | Super fast |
| Unblocking streaming services | Netflix, Amazon Prime, Hulu, Roku, BBC iPlayer and more | Netflix, Amazon Prime, Hulu, Showtime, BBC iPlayer and more | They unblock some streaming sites but usually not Netflix | Netflix, Amazon Prime, BBC iPlayer and more | Netflix, Amazon Prime, Hulu, Roku, BBC iPlayer and more |
| Customer service | 24/7 with live online chat | 24/7 with live online chat | 24/7 support advertised but is actually a ticket system, no live support | 24/7 with live online chat | 24/7 with live online chat |
| Lowest price | $6.67 monthly/15-month contract | $2.19 monthly/two-year contract | $3.99 monthly/one-year contract | $2.39 monthly/two-year contract | $3.49 monthly/two-year contract |
| Money-back guarantee | 30 days | 45 days | 7 days | 30 days | 30 days |
Free VPN vs Paid VPN in Mexico
There are many options when you are considering what VPN provider will best meet your needs. One of the biggest differences between services is if they are a paid subscription or are free.
Let's take a look at their main differences
Security
Before you get too excited about receiving all these security benefits for free, understand that providers of free VPNs must have some way to generate income, even if it is not directly from you.
Basically, there are two types of free VPN services. Free VPNS can be unlimited but unsecure and risky, or they will be limited and annoying to use.
Some free VPNs will offer unlimited services with no ads, but they will then make money by tracking your online activity and selling your browsing data.
Other providers share your connection with other users, and they may even sell your unused data limits. These practices are opposed to the reasons you are using a VPN in the first place.
On the other hand, paid VPN subscriptions offer a multitude of rich features and advantages over free services. Your online activity is truly anonymous because your session data is wiped when you disconnect, and the VPN doesn't keep activity logs.
Your sessions are highly secure, with encryption methods that protect your data during the entire transmission process.
Some premium VPNs have even tighter security features, such as Double VPN (uses two servers to direct your data and double encryption to code your data), kill switches (automatically disconnects from the internet if the VPN connection is lost) and leak protection (protects your real location from exposure if your device's IP address is not completely hidden).
Features
The other spectrum of free VPNs are the ones that are limited versions of a full-featured VPN service. These are typically "lite" versions of a paid subscription or are filled with advertisements.
The reasoning behind offering limited features is in the hope that you will be encouraged to pay for the full version in order to receive better functionality. Some free VPNs have annoying and unavoidable advertisements, which bring in revenue for the company.
A paid VPN subscription gives you all features they have, including access to a large number of servers in various countries, which makes it easier to sample streaming media without geographic restrictions.
Some top-end VPNs offer sophisticated methods to bypass VPN detection features in streaming services like Netflix.
You also receive unlimited data and speed.
Now, on to You
As you weigh the different levels of security, streaming ability, price points and support these VPNs offer, you will ultimately want one that best fits your needs. All of these programs offer security features that are similar in scope and thoroughness but may have some subtle differences.
On the other hand, if fast connections, torrenting, consistent site unblocking, multiple device support or reliable and responsive customer service are features that matter, then the differences are more definitive.
Ultimately, it will come down to the type of browsing you conduct and where you conduct it that will dictate your choice.