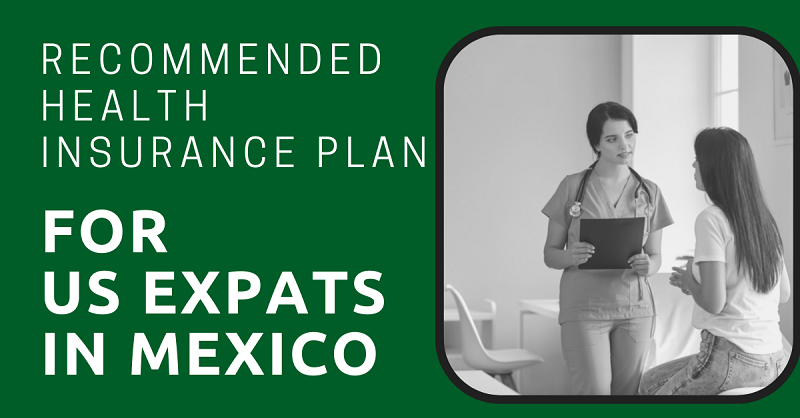 As a U.S. expat, you might be wondering which type of health insurance would offer you the best coverage while in Mexico, or if you could get by with just Medicare or Medicaid.
The answer to these questions can be tricky, so we've put together this short guide on recommended insurance plans for U.S. expats in Mexico.
In it, you'll find out which plans are available to you, what they cover you for, and whether or not Medicare and Medicaid will help you in Mexico.
This article will take approximately 10 minutes to read. Don't have the time right now? No worries. You can email the ad-free version of the article to yourself and read it later!
Is US Insurance Available in Mexico?
Let's take a look at options available to American expats in terms of U.S.-specific healthcare programs like Medicare and Medicaid, and whether you can use them in Mexico.
Medicare
Medicare is available to U.S. citizens who are 65 years or older, or to younger U.S. citizens with disabilities. If you're wondering if Medicare is valid in Mexico, the short answer is no. However, there are some exceptions to this rule – with limitations.
Immediate exceptions to this rule are:
you're experiencing a life-threatening medical emergency and a foreign hospital is closer than a U.S. hospital
a foreign hospital is better equipped to meet your needs and nearer to your house than a U.S. hospital
your American doctor has opted to admit you to a foreign hospital for the necessary treatment
you're in transit between the U.S. and Alaska and your route runs temporarily through Canada
you're on a ship not more than six hours away from a U.S. port
While Mexico has a public healthcare system, the one way to take advantage of your Medicare benefits in the country is to use private health insurance as a supplement to your Medicare. You can do this by getting Medicare Advantage, also called Medicare Plan 3.
Medicare Advantage can take care of medical expenses abroad as it is sponsored by private insurance. That is, you would need to enroll via a private insurance carrier, like Blue Cross, Aetna, or Humana.
Depending on who you enroll with and the specifics of your plan, your Medicare Advantage will cover medical emergencies even if you live in Mexico for most of the year. However, keep in mind that coverage will be quite limited compared to other health insurance options.
Another option is to acquire a medical insurance evacuation plan, which will transport you to the closest U.S. hospital in the event of a medical emergency.
It's important to note that such a plan is only a supplement to your medical insurance policy and won't cover any treatment received in Mexico.
If you do this, any medical charges incurred in Mexico must be covered either by your private health insurance provider or by you.
Medicaid
Medicaid is a joint state and federal-level program that offers health coverage to individuals with low income, limited resources, or disabilities.
The option to use your Medicaid – if you're covered by one – in a foreign country are non-existent.
Do keep in mind that your coverage could be suspended if you remain outside the U.S. for more than 30 to 60 days at a time.
Public Healthcare in Mexico
There are mainly two public healthcare systems in Mexico available to U.S. expats:
Let's take a close look at each option.
INSABI
INSABI, or Instituto de Salud para el Bienestar, is Mexico's recently developed free healthcare system that provides coverage to all Mexican residents, either natural-born or legal residents such as expats.
If you're not an employee but a temporary or permanent resident, you're automatically enrolled to receive free medical healthcare through INSABI.
INSABI is a replacement for the previous public healthcare program called Seguro Popular and comes with a few pros and cons.
Pros
Users receive free medical care, supplies, and medicine with no bars or limits as there is no longer any need to enroll in the program – simply submit a birth certificate or National Electoral Institute document.
The requirement of being a Mexican citizen has been omitted, as well as the requirement of having to pay fees.
The scope of your treatment will include a diagnosis, hospitalization, medication, surgery, and any necessary tests or scans.
Life-threatening diseases such as cancer or HIV are covered.
Since it is a new program, requirements to receive care are still very broad and liberal. It is possible for anyone who is a resident to qualify.
Cons
While INSABI promises to provide free healthcare on the first and second levels, there is a third level that is subject to fees if treatment is provided by the National and Federal Institutes of Health.
Since the program is so new, several components of the legislation surrounding INSABI have yet to be finalized.
As of now, there is too little data to assess the effectiveness of INSABI as a good healthcare program.
IMSS
The IMSS, or Instituto Mexicano del Seguro Social, is another major health and social security system offered by the Mexican government and provides access to medical assistance and healthcare.
If you're an employee working for a company in Mexico, you'll be automatically enrolled into IMSS. Unemployed or self-employed expats are advised to apply for these programs themselves or to choose a private insurance service.
Here are some pros and cons regarding the IMSS program.
Pros
Social security protection is available not just for the insured who apply to and pay for the program – it also applies to their spouse, children under 25 years of age (if they're students), and any parents who live with the insured.
Medical coverage is available for curative or preventive issues. However, you need to have contributed to the IMSS for around four weeks before you can take advantage of such benefits.
Individuals from low-income backgrounds may receive free medical care in a clinic through the IMSS Solidaridad program.
Cons
If you're not fluent in Spanish, you could face a few challenges since all application procedures and information is available in Spanish only.
IMSS is not entirely free – you must enroll and pay fees to access the services.
Certain pre-existing conditions aren't covered. Such conditions include congenital diseases, chronic degenerative diseases, mental illness, HIV, malignant tumors, etc.
Pre-existing conditions such as the above disqualify you from enrolling in the IMSS insurance program.
It has long waiting periods, is poorly funded, and is inadequately organized to meet the needs of older citizens due to coverage limitations.
Private Healthcare in Mexico
There are other options when it comes to healthcare in Mexico, such as private insurance.
Let's go over the details to help you decide if going private is right for you.
Local Private Insurance
Local insurance companies in Mexico and their health coverage plans are generally not preferred by expats, as many don't offer international coverage.
But some local insurance companies do, so it's a matter of looking for the right company.
If you're on the fence about local private insurance, here are some pros and cons.
Pros
The facilities arranged for by local insurance companies offer better services at the hospitals in Mexico.
Knowledge of local specialized procedures.
Accessible customer service – you can speak to agents in person, rather than over a phone call, which is especially reassuring for people who want to build familiarity and personal relations with someone face to face.
Insurance premiums are likely to be more cost-effective than international providers, though this does depend heavily on the insurance company.
Cons
Local insurance providers don't necessarily always offer global coverage. This is worrying if you're a frequent traveler and want guaranteed coverage for your treatments no matter which part of the world you're in.
Possible out-of-pocket costs may occur during severe medical emergencies with local health insurance policies – this is common because local underwriting services aren't always as top-notch as international ones.
Waiting periods are still a possible risk. Even with private insurance, before claiming benefits you have to endure waiting periods for certain conditions. This is to make sure individuals cannot make a large claim shortly after joining, followed by swift cancellation of membership.
International Insurance
International insurance provides global medical care and protection for expats and their families living abroad for approximately a year or more.
It's favored by expats because of ease of access, superior customer service, and transferable coverage, which is especially valuable to those who travel often.
International insurance offers several pros and a few cons, as explained below.
Pros
It comes with international coverage where you can go to any hospital in the world and have your insurance pay for it.
It's possible to get coverage in the U.S.
Round the clock assistance for your medical needs.
International healthcare plans are customizable. More often than not, you can pick and choose exactly what you need to be covered for and to what extent.
Little-to-no waiting periods compared to public healthcare.
Cons
Even if you don't have to spend a lot of money making sure you're covered, international health insurance can be more expensive than other healthcare options.
Which Insurance is Right for You?
It's normal to feel overwhelmed by how many options there are when it comes to insurance plans that'll cover you in Mexico. This is quite understandable, especially since they'll always be a debate on what insurance plan would suit you the best in the country.
However, as is the case with most things, this does depend heavily on your employment status, budget, and medical needs. If, for example, you're a young expat employee with no underlying health conditions, IMSS may be sufficient for your needs.
If you're a young expat employee with a chronic health issue or severe disability, seeking out supplemental health coverage makes sense. If you're a senior citizen looking to retire in Mexico, it's ideal to invest in a private medical insurance policy since options otherwise are limited due to your age and possible underlying health concerns.
All in all, it would seem that international health insurance companies are favorable to U.S. expats because of the advantages of worldwide coverage and the immediate availability of services.
Plus, if you have private health insurance and no plans of returning to the U.S., you might be exempt from Medicare levy surcharges, which are often roughly 1.5 percent of your taxable income on individuals above a certain income bracket and who don't have private healthcare coverage.
Now, on to You
The bottom line is that you must make sure you do a significant amount of research while preparing for your journey across the border and investing in a policy that is best in line with your specific needs, budget, and age group.
If you're lost, consult a professional to help guide you in making the best decision.