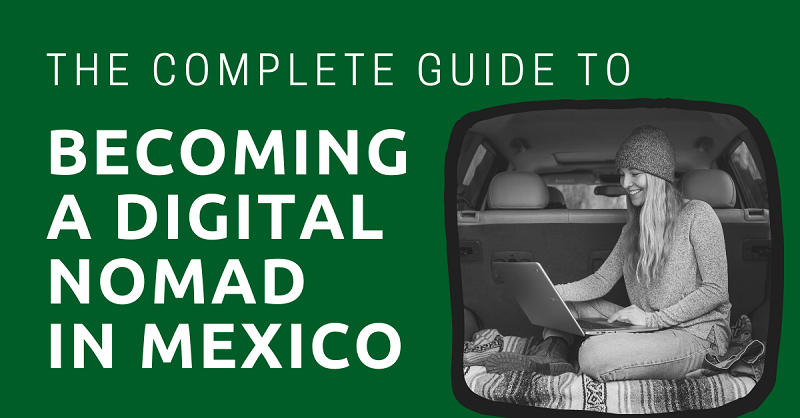 As a digital nomad you can go almost anywhere you want, whenever you want, while working online on a schedule that's best for you.
That's where Mexico comes in. It's an amazing country and very welcoming to digital nomads. Moreover, there are many attractive cities and towns with fast Internet speeds and vast communities of expats.
Considering all that, this guide will break down some of the more common topics relevant to being a digital nomad in Mexico.
This article will take approximately 18 minutes to read. Don't have the time right now? No worries. You can email the ad-free version of the article to yourself and read it later!
Why Choose Mexico for Your Digital Nomad Adventure?
Mexico should be one of the countries to visit on your list while enjoying the perks of the digital nomad's life.
The cost of living in this wonderful country is fairly low. It's possible to live here on US$600 per month.  
The visa scenario is also attractive. It's one of the few countries in the world that has a visa specifically for digital nomads. It's also possible to come here for up to 180 days without having to apply for a visa.
Combine this with a thriving social life, good climate, and delicious food, and Mexico is a must-visit place.
However, for the following section we're going to focus on Mexico's cost of living.
Low Cost of Living
This country truly has an option for everyone´s budget. You can live cheaply or opt for a high-end lifestyle while here. Around US$600 per month will be enough in some cases.
Housing
There are cities in Mexico where you can find housing for as cheap as US$250 per month. In popular areas in the city, you could also opt for living with roommates to keep your costs even lower.
On average, finding a place for yourself costs between US$300 and US$700 per month. Of course, there are also monthly apartment and house rentals on the market for US$1,000 and up.
Food
The great thing about Mexico is that it offers so many options when it comes to food.
You can go for a fancy meal at a restaurant and pay a bill anywhere between US$10 and US$25, or you could grab some street food and pay as little as US$1 to US$3.
There are huge supermarkets such as Mega and Chedraui, but you could also go to local markets to buy groceries and save a lot of money.
Transportation
Most cities have good infrastructure with buses and small public transportation vans called collectivos.
Usually the cost to hop on and off ranges between US$1 and US$5. You could also travel intercity or interstate on luxurious buses costing between US$25 and US$50.
Overall Costs
Adding all these together shows that on the low end, you'll spend about US$500 per month on just the basic living expenses.
Having said that, and if your funds allow it, you could rent something more luxurious and eat fancier meals.
After all, Mexico is a country with many options.
Visas
Digital nomads are welcomed with open arms in Mexico and can enter the country on a tourist visa that is granted upon arrival.
Visa Exemptions
Over 30 nationalities, including those from the U.S., U.K., Canada, and European nations can enter Mexico for up to 180 days without having to apply for a visa.
Other nationalities can enjoy the same benefits by just showing a visa for the U.S., Canada, U.K., Japan, and Schengen area.
You can see a full list of countries on the Mexican consulate website.
This is a really great benefit that you can't easily get from other countries, which makes Mexico a popular country for digital nomads.
When entering Mexico, you have to fill out a form and list your basic info, where you'll be staying, and when you're going to leave the country.
An officer then grants you entrance to Mexico for a certain amount of days (up to 180). This number is written on a small piece of paper called the tourist information card. It's crucial that you keep this paper with you at all times.
Losing it or coming upon a checkpoint without it you may be deported. You can also be charged US$40 to replace it upon leaving the country. If you want to stay longer then 180 days, you can leave the country for a couple of days and come back, or opt for temporary residency.
Even though the Mexican Migration Institute has become stricter since the beginning of 2022, it's still likely that you will be granted a 180-day tourist visa upon arrival.
However, if the immigration officer on duty sees that you have been entering and leaving on a regular basis, they may give you less days. This is because in 2022 they made it easier to apply for temporary residency.
Digital Nomad Visa
There's a temporary residency permit in Mexico that's seen as a digital nomad visa. To get it, you have to apply for one year of residency and then you can extend that for up to four years.
To get this temporary visa you have to provide certain documents that prove you've had a bank account balance of at least US$27,000 over the last six months, or a monthly income of over US$1,620. Keep in mind that these numbers could change at any time.
Temporary residency is an option for digital nomads who want to stay long-term and who wish to open a Mexican bank account. You can also get a Mexican driver´s license with it.
Read our Mexico visa guide for additional information on this topic.
Internet Speed in Mexico
Supersonic wifi speed may not be the first thing that comes to mind when you think about Mexico.
But if you settle in the country´s capital Mexico City, you may be surprised about how fast and reliable the Internet speed is. There are packages ranging from 30Mbps to 500Mbps, which should be sufficient for your online work.
If you are a digital nomad who needs a lot of Mbps to do your work, Mexico City may be your best option.
Additionally, if you're concerned about the security of the Internet in Mexico, you can use a VPN to work online safely and securely.
Upgrading Internet Speeds
Usually the cost of Internet will be included in your monthly rent, especially if it's a shared house or an Airbnb.
If not, then you have to sign a contract with an Internet company such as Telmex or TotalPlay.
If you already have Internet but want a faster connection, it's usually possible to get an upgrade for a monthly cost between US$25 and US$100.
Issues
It's not uncommon in Mexico for electricity to go off from time to time, especially in remote areas. And the rainy season from June to October in certain regions and the potential for hurricanes may leave you without Internet for a few days.
If you opt for a stay in one of these regions (such as Yucatan or Quintana Roo) during rainy season, make sure to get a Mexican SIM card from a company like Telcel.
They offer affordable packages with data, which is a good alternative for when the electricity goes out.
You can deposit MXN300 into your Telcel account, and you'll get 4GB of data and unlimited MB on social media.
What to See and Do
There is so much to see and most cities that are popular with digital nomads are very close to natural parks and reserves, lakes, beaches, cozy mountain towns, and Aztec or Mayan archeological sites.
Mexico has a lot to offer while working from the country, so be sure to get out there are have some adventures.
Language and Cultural Challenges in Mexico
If you want to meet local people and really immerse yourself in Mexican culture, you have to mingle with Mexicans. The best way to do this is to learn how to speak Spanish.
Once you have Mexican friends, you'll start to feel that you're living a more fulfilling life as they'll probably invite you to dinners and cultural events.
Most of the cultural challenges lay in certain bureaucratic procedures that you might have to do when you opt for temporary residency or want to open up a Mexican bank account. Also, time is seen very differently here.
You may be waiting a lot too, as expressions such as ahorita could mean in a couple of minutes, an hour, a day, or perhaps never.
Best Cities in Mexico for Digital Nomads
As mentioned before, Mexico is a huge and incredibly diverse country. Whether you want to stay near the beach, mountains, in the jungle, or in a big city, the possibilities are endless.
Below you'll find the most popular hot spots for digital nomads in Mexico.
Mexico City
By far the most popular place for digital nomads to stay is Mexico City, probably because it has the perfect mix nationalities, all the commodities of a metropolitan city with fast Internet speeds, and at the same time a very Mexican culture and feel.
Popular neighborhoods for expats and digital nomads are Condesa and Roma Norte.
You'll also find a lot of coworking spaces and coffee shops to stay productive. Keep in mind that this city is huge and the metropolitan area has more than 22 million inhabitants, so there is definitely a lot of noise, air pollution, and intense traffic.
Besides that, the city is situated at 2,250 meters above sea level, so you might suffer from elevation sickness. Having said that, Mexico City is a great choice for long-stays.
Oaxaca
If you're looking for a cultural vibe with a lot of nature nearby you should definitely check out Oaxaca.
This state is popular for its traditional mezcal y mole and has a huge textile industry, all handmade by mostly the indigenous population. Two destinations in this state are specifically popular among digital nomads.
First there is Oaxaca City, the colorful capital with great places to live and work. It's not very big, though. Second there is Puerto Escondido on the Pacific coast. This is a cozy beach town with a great community, but prices are a bit high for basic accommodation and the Internet may not always be reliable and fast.
Guanajuato
Guanajuato has two destinations that are very interesting for digital nomads. The state is like a hidden gem and it takes a while to get to the destination, as you will have to fly to Leon, then travel for an hour or two to the cities or villages.
If you're looking for a small digital nomad community and deep dive into Mexican culture, Guanajuato City might be the place for you. However, keep in mind that there are a lot of hills in the city and the places to stay and accompanying wifi are subpar.
But you'll definitely have a unique experience and will get the chance to practice your Spanish while staying here. The other option is the very popular city of San Miguel de Allende. It's full of mostly expats and digital nomads from the U.S.
There is always something to do and it's very safe. And it has great little alleys filled with cozy restaurants where you can work all day.
Other Hot Spots for Digital Nomads
In Yucatan you can find the upcoming place for digital nomads, Merida. This colonial city is full of culture and history and has reliable Internet, coworking spaces, and cafes.
Moreover, a visit to the beach or the unique Mayan ruins is never too far away. Quintana Roo is another state on the Yucatan Peninsula, home to popular digital nomad destinations such as Playa del Carmen and Tulum.
You should definitely look into the city of San Cristobal de Las Casas in Chiapas if you're looking for a cheaper option. On average, the cost of housing, transportation, and food is lower here than in any other areas.
Another great option is Queretaro, a city in central Mexico with great infrastructure and fast wifi speeds.
Finding Accommodations
Depending on how long you intend to stay at any given place, you can opt for renting an Airbnb, an apartment, or a house long-term. You could also temporarily stay at a hotel or an Airbnb while looking for housing.
The city and area you'll be looking to stay in will definitely influence the price you paying for accommodations, which can be as low as US$250 per month or over a US$1,000.
The good thing about staying in an Airbnb is that it usually includes all costs such as electricity, water, and Internet. If possible, try to check the Internet connection before reserving a place.
If you opt for Airbnb, you can simply find accommodations on Airbnb´s website. A great way to find long-term rentals is to get in touch with digital nomads and expats already living in the area, via Facebook groups.
In such groups you'll also find people who are looking for roommates, if you're looking to share your living space. Whatever path you choose, it's best to check the place out once you're in Mexico and avoid any upfront payments without seeing the property.
Some digital nomads opt for a different lifestyle altogether and go for van life, which means they drive around the country while living and working out of a converted van.
Coworking Spaces
Most bigger cities in Mexico have great coworking spaces. If you want access to them, you usually have to pay around US$150 per month for a desk and anywhere between US$300 and US$400 per month for a private office.
You could also choose to work at one of the local cafes, where you can sit and do your job as long as you consume what's on the menu.
To give you some examples of coworking spaces in the digital nomad hub of Mexico City, you have El 3er Espacio, Impact Hub, HomeWork, and Cubic Idea.
There are also bigger coworking spaces such as We Work, which has 15 branches in the city.
Job Opportunities
If you want to take advantage of already being in Mexico and look for some projects at companies that are based in the country, then reach out them and see if they're looking to hire someone. You could be paid per project.
Usually, you'll pay taxes in your home country. If you pay taxes in another country and you can prove it, most of the time it isn't necessary to pay them in Mexico because of the double taxation agreement.
It also depends on how you get paid — cash or bank deposit, and whether that deposit will go to a foreign account or into a Mexican account. Always contact an accountant in Mexico if in doubt.
However, if you're looking for job opportunities in Mexico and you want to stay longer, you have to get a work permit to legally work for a company in the country. There are many job opportunities for people from abroad and most opt for a career as an English teacher.
Paying Taxes
The biggest question you might ask yourself is whether you need to pay taxes in Mexico while you're here as a digital nomad.
There is no straight answer to that question, unfortunately. The Mexican tax authority is called the SAT, and foreigners with a temporary or permanent residency should get a tax identification number from them.  
This doesn't automatically mean that you have to pay taxes in Mexico. That depends on your tax situation and whether or not your earned money enters a Mexican bank account.
It's unlikely that you have to pay taxes over earned money if you didn´t get paid in Mexico. But you can read our Mexico income tax guide for more info.
If you're not sure about your tax situation, the best thing to do is contact a local accountant who can give you more information on your possible financial obligations.
How to File Tax in Mexico as a Digital Nomad
As tax rules are historically bound to a fixed address and region or country, up to today there is no international tax law that applies to digital nomads.
This is why most digital nomads pay taxes in the country that they were born in or where they have lived most of the time. Other parameters for digital nomads are the companies they get hired at, as they may pay taxes over their earnings in the country where that company is based.
Luckily, most tax authorities have the option of filings taxes digitally and remotely, so paying taxes is possible for digital nomads.
Digital Nomad Communities
Mexico is a great place for digital nomads, and in most popular places the digital nomad communities are big. The biggest communities can be found in Mexico City, Playa del Carmen, and Oaxaca.
Digital nomads often organize weekly get-togethers to hang out. There are also online communities where you can get in touch with other digital nomads, even before arriving in Mexico.
The best online place for this is Facebook.
Pros and Cons of Being a Digital Nomad in Mexico
As in any country, there are advantages and disadvantages for the digital nomad life in Mexico. To conclude this guide and help you make your final decision, you can find them below.
Pros
Let's take a look at why digital nomad life in Mexico is great.
The digital nomad community is big, and in most cities there are regular get-togethers.
On average, wifi speeds are very good.
There are many coworking spaces and cafes to work from, especially in bigger cities.
The culture, food, nature, history, and people make Mexico a unique destination with lots of things to discover.
You can learn Spanish and practice it on a daily basis.
Digital nomads enter on a tourist visa that usually has a length of 180 days. You can also apply for temporary residency.
The location of Mexico is great, as it is close to the U.S. and Canada in the north and also to Latin America in the south.
Cons
Here's why you shouldn't consider Mexico for your next digital nomad adventure.
Some cities or towns have only basic accommodations and moderate wifi, so you should investigate thoroughly the area you want to live and work in.
Even though most places in Mexico are safe, safety may be an issue for some digital nomads. However, as long as you use common sense and are cautious, you'll be alright.
You don't speak any Spanish. If you go off the beaten path or want to have conversations with people other than expats or digital nomads, you have to be able to communicate in Spanish.
You don't like taco's, nor a vibrant, colorful, and cultural environment.
Now, on to You
If you want to live a digital nomad lifestyle in a country that offers great people, nature, unique adventures, and a good overall standard of life, you should definitely look into moving to Mexico.