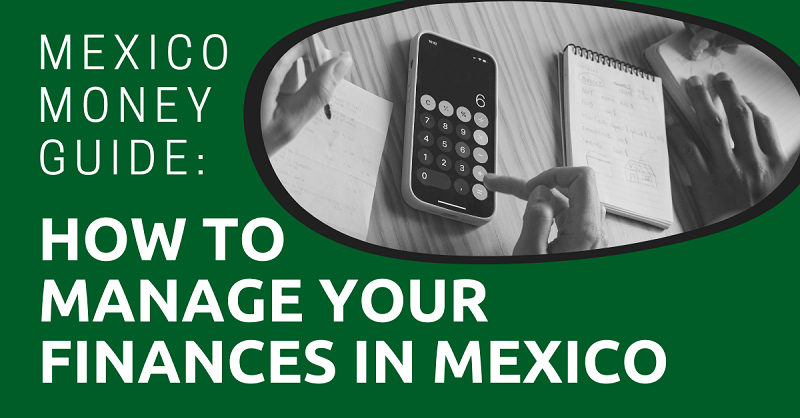 When relocating to a new country, one of the initial challenges is managing your finances. I understand firsthand how challenging it can be to keep track of exchange rates, transfer money internationally, use credit cards, and pay taxes in a new country with a different currency.
That's why in this extensive guide, I have broken down everything you need to know to securely manage your money in Mexico. Let's dive straight in!
What is the Currency in Mexico?
The official currency in Mexico is the Mexican peso (MXN). 1 MXN is equal to 0.6 USD on average.
However, this is obviously subject to changes and fluctuations, so be sure to check the current rate on Wise, Revolut, or the US Customs official page.
The Mexican Peso comes in the following denominations:
Banknotes: MXN1,000, MXN500, MXN200, MXN100, MXN50, MXN20
Coins: MXN10, MXN5, MXN2, MXN1, 50c, 20c, 10c, 5c
How to Get the Best Mexican Pesos Exchange Rate?
Understanding how to obtain the optimal exchange rate when converting to or from pesos in Mexico is important. As a general rule, it's highly recommended to exchange most of your cash in Mexico, as you will get the best rate, nine times out of ten. That said, it is also a good idea to bring a bit of cash in pesos, in case you need some for a taxi or other emergencies.
Travelers can bring up to US$10,000 to Mexico without being required to declare it at Mexican Customs, especially when arriving by air.
Here are the common ways to exchange money in Mexico.
Bank
The safest way to exchange money in Mexico is to exchange at a bank. Banks offer good exchange rates, and the process is quick and easy.
That said, most banks will charge a small fee (around 1 to 1.5% of the amount).
Here are some of the best banks to exchange money in Mexico:
Casa De Cambio (Money Exchange)
When in Mexico, you'll see casa de cambios, or money exchange house, everywhere, making highly convenient options for exchanging cash. In CDMX and other major tourist hubs, they can be found on almost every street corner.
These exchange offices generally mark up the exchange rate by around 2%.
ATM
One simple way to get Mexican pesos, which many expats tend to overlook, is to use an ATM. When using an ATM to withdraw money in Mexico, you'll likely be charged a small fee of around US$1.5 to US$3, although the actual exchange rate is imposed by the bank.
So, if you're withdrawing money from an ATM, check with the the bank about their exchange rates and fees to see if this is a good option for you.
Travel App
I highly recommend signing up for a travel banking app, such as Revolut, Wise, Xoom, N26, or Monzo. These apps offer competitive exchange rates, and some even offer free ATM withdrawals and free international bank transfers, among other benefits.
I personally use Revolut for most of my travel expenses because there are minimal fees for exchange and ATM withdrawals.
Use a Credit Card
You won't always be able to use a credit card when paying for goods and/or services in Mexico. However, in recent years, an increasing number of establishments have started accepting cards. Additionally, several credit cards offer fee-free exchange rates and other perks to their cardholders.
In any case, if the establishment accepts credit card payments, it is typically the preferred and most advantageous payment option. But keep in mind that withdrawing cash using your credit card (also called a cash advance) is not a good option mainly because of the astronomical fees that come with this transaction. You should only do it in case of emergencies, and even then, you should consider other options first.
Note that in Mexico, the most widely accepted cards are Visa, Mastercard, American Express, and Discover, with contactless payments being less common compared to other parts of the world. So, at present, you may not be able to use your iPhone, Android, Fitbit, or Garmin to make purchases in the country, but this will likely change very soon.
Nevertheless, if you prefer using a credit card as your payment method, always opt to be charged in pesos rather than in your home currency.
When using a foreign card in Mexico, the point of service or POS system may prompt you to select between being charged in Mexican pesos MXN or your home currency, such as USD, EUR, GBP, CAD, etc. It is crucial to NEVER choose to be charged in your home currency because, in such cases, the POS system will apply its own exchange rate instead of allowing your card provider to use theirs. In most cases, the POS system's exchange rate is considerably less favorable than the one offered by your card provider.
Here are some of the top travel credit cards with no exchange rate fees or mark-ups:
Check out my article on getting the best exchange rate in Mexico, which covers all of this in more detail.
Sending Money to Mexico
Another concern of many expats in Mexico is regarding transferring money from their home country to Mexico. International bank transfers can be tricky, and it is not always clear what type of fees will be charged. Here are some of my top recommendations for sending money to Mexico.
International Bank Transfers
The most obvious option for sending money internationally is to use your bank for an international transfer. However, this is not always the best option because international bank transfers can quickly rack up high fees, take a long time to arrive, and the exchange rate may not be the best.
The fees associated with this type of transfer vary depending on the specific bank you use and the currencies involved in the exchange. For example, sending money from USD to MXN through a major US bank like Bank of America or Wells Fargo may incur fees ranging from $30 to $50 for an international wire transfer. Additionally, there might be further fees applied upon the transfer's arrival in Mexico.
Note that the exchange rate you'll receive often includes a markup of up to 2%. For this reason, many individuals choose to avoid using traditional banks for international transfers due to their tendency to impose the highest fees.
Wise
Wise (formerly TransferWise) is my favorite option for transferring money internationally mainly because of its competitive fees for international transfers to Mexico.

If you transfer $1,000 from an ACH account in the USA to a Mexican bank account, you'll only pay around $8 in fees.
If you transfer 10,000 euros to a Mexican account, you'll only pay around $67 in fees, which is less than 1% of the total amount. Wise also does not add any markup to the exchange rate, so you can rest assured that you are getting the best possible rates.
Read more about this option in our in-depth review of Wise.
Western Union
Western Union, while an option for transferring money from the USA to Mexico, can have high fees, particularly for certain types of transfers and exchanges. One drawback is that their fee structure can be complex and not always transparent.

While it's possible to send money to Mexico with minimal fees through Western Union, the total cost can vary significantly depending on factors like the transfer method, the amount being sent, and other variables.
PayPal
PayPal is another popular option for transferring money to Mexico. Using PayPal to transfer money from an account in the USA, Europe, or other countries to Mexico is a quick and convenient option.

PayPal typically doesn't charge a fee for transferring money from USD, CAD, or GBP to MXN. However, there is a 3 euro fee for transferring from EUR to MXN. Additionally, PayPal applies a 4% markup on currency exchanges, so take this into consideration when using PayPal for fund transfers to Mexico.
Sending Money from Mexico

Sending money from Mexico to other countries operates similarly to sending money to Mexico. However, it's worth noting that currently, there are fewer options available for sending money from Mexico, as services like Wise or Revolut do not support outgoing transfers from Mexico at the time of writing.

Instead, you can opt to send money directly from your bank, use Western Union, or leverage PayPal for international transfers from Mexico. Additionally, there are a few third-party websites that facilitate these types of transactions, such as:
Using ATMs in Mexico
As mentioned above, ATMs in Mexico are reasonably safe and straightforward to use. It is common to use a foreign debit card to withdraw money from an ATM in Mexico, and the fees are fairly reasonable, provided you use an ATM of a reputable bank.
When withdrawing cash from a reputable ATM in Mexico, you can expect to be charged a withdrawal fee ranging from 20 to 150 pesos. Regrettably, there are no ATMs in Mexico that offer free withdrawals. The most reliable ATMs are typically affiliated with both international and local banks. Some of the reputable ATMs in Mexico include the following:
BanCoppel (has the lowest fees, generally around 29 pesos)
Banco Santander
Banamex
HSBC
CitiBanamex
Scotiabank
BBVA
Banorte
Even though you can find ATMs on practically every street corner in major Mexican cities, it's advisable to stick to a specific ATM for your withdrawals. This is because many ATMs are operated by private companies that impose substantial usage fees.
I always recommend using ATMs affiliated with a bank since they represent the safest choice. These bank-affiliated ATMs are often located inside, may have a security guard, and typically do not charge exorbitant fees.
How to Open a Bank Account in Mexico
When moving to Mexico, one of the first things you will need to do is open a bank account. This is the easiest way to pay rent (although many people still pay in cash), and if you have a job in the country, it is generally required to have a local bank account. You must be a temporary or permanent resident to open a bank account in Mexico.
In order to open a bank account in Mexico, you are required to visit a branch in person. It is also important to note that you should not expect bank workers in Mexico to speak English, although they occasionally do. Even if you understand Spanish relatively well, I recommend bringing someone to help you translate, as banking terminology can be complex.
Here is everything you'll need to open a bank account in Mexico:
Passport­­­
Visa
Residency card (or FMM)
RFC or a foreign tax ID/Social Security number
Proof of address in Mexico (this can be a utility bill that is less than two months old or a lease agreement)
Email address
Mobile phone number
Around 1,000 pesos (the minimum deposit amount required to open an account)
If you are from the United States, the following banks all have branches in the US and Mexico, which greatly simplifies opening an account or transferring money between the two countries.
Most banks do not charge a fee for opening a checking account; you just need to make the minimum deposit of around MXN 1,000.
Applying For a Credit Card in Mexico
As previously mentioned, paying for goods and services with a credit card is widely accepted and often preferred in Mexico. In recent years, the use of physical cash has gradually declined, and an increasing number of establishments now accept credit and debit cards.
Expats have the option to apply for a credit card through a Mexican bank. To do so, you will typically need to have an existing bank account in Mexico, and then you can submit an application for the credit card. Keep in mind that most banks will require proof of a good credit history before approving your credit card application.
Here are some of the best credit cards in Mexico:
Find out more: How to Get a Credit Card in Mexico as an Expat
How to Open a Brokerage Account (for Investing in Mexican Stocks)
Are you interested in opening a brokerage account and investing in Mexican businesses, funds, and bonds? Any smart business-minded person would, as Mexico is one of the 20 largest economies in the world.
Investing in Mexican companies is straightforward, as numerous Mexican stocks are listed on the US exchange. This allows you to invest directly from your US investment account. There are plenty of options available through platforms like Robinhood and Fidelity, where you can invest in Mexican ETFs or individual companies with ease.
If you are serious about investing in Mexican companies and want professional guidance, you can consider hiring a stockbroker who specializes in international or local stock brokerage. While this option may be more costly and less straightforward than using platforms like Robinhood, it can be an excellent choice if you seek advice on investing in emerging companies or prefer to have an expert manage your investments.
Here are some of the top-rated Mexican brokerage platforms:
Paying Taxes in Mexico
One of the biggest headaches any expat has to deal with is working out how to stay compliant with your taxes in both your home country and your country of residence.
In Mexico, expats are required to file a tax return each year before April 30th. While filing taxes in any country is never straightforward, taxes in Mexico can be particularly complex. This is especially true if you are a business owner, have multiple income streams, or receive some or all of your income from overseas.
Retirees with pensions based in their home country do not have to worry about taxes in Mexico. But those working for a Mexican company or making money within Mexico must file a return in the country.
This can be super annoying for US citizens who are also required to file a return in the US despite living and working abroad.
If it is your first time filing taxes or you have a complicated tax situation, I highly recommend hiring an accountant to help you file your taxes correctly and legally.
Read my complete guide on filing taxes in Mexico as an expat for more info on this.
FAQs
Here's some frequently asked questions about money in Mexico.
Do You Have to Tip in Mexico?
Yes, tipping is customary in Mexico. It is common to leave a tip, typically around 10% (up to 15% for superb service) of the total bill, for services provided in restaurants, bars, taxis, salons, and barbershops.
How Much Cash Can You Bring into Mexico?
Be aware that if you enter Mexico with more than US$10,000 or its foreign equivalent, you must declare this amount at customs upon your arrival at the port of entry. Failing to declare amounts exceeding this limit could result in a fee of up to 20% of the excess amount.
For example, if you bring in $20,000, you may be charged $2,000 for not declaring the cash at the border.
What are Mexico's Tax Non-Compliance Penalties?
Mexico's tax non-compliance penalties can vary depending on the specific tax laws violated and the severity of the offense. Depending on the violation, penalties can include fines, interest on unpaid taxes, and potential criminal charges. If you are worried about your taxes and unsure if you are filing correctly, consult with a tax professional or refer to the Mexican tax authority (SAT) for detailed information on how to stay compliant.
Is It Possible to Open a Mexican Bank Account as a Non-resident?
Yes, it is possible for non-residents to open a bank account in Mexico.
Nevertheless, it's important to note that specific requirements for opening a bank account in Mexico can vary between different banks. Some institutions may request additional documentation, such as proof of legal entry into the country, to comply with their specific account opening procedures.
Latest Guides on Finance in Mexico