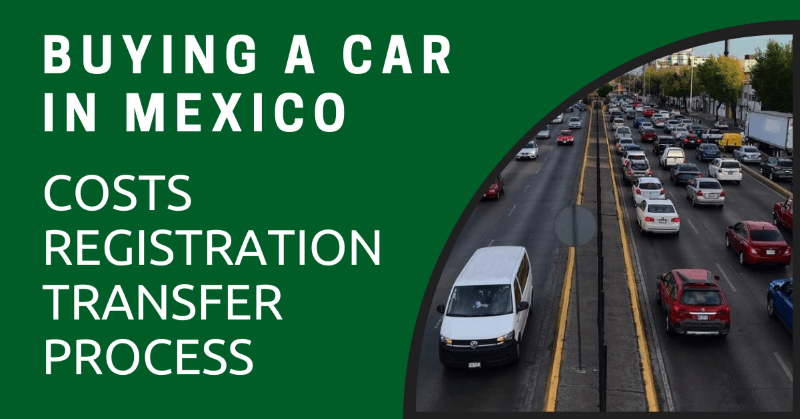 People living in Mexico probably know how far apart cities or states are. So, having a car is really useful, even if it's just for driving around your local village or town.
However, buying a car in Mexico can be a challenging process even more Mexicans. And it's even more challenging for foreigners. You will not be able to walk into a random car dealer and drive away with a car just like that.
The process of buying a car can take weeks, so take this into account if you are planning to purchase one.
In this article, we will take you by the hand to walk through the process of buying a new car and a used car. You will learn about the requirements, documents, vehicle registration, and more.
This article will take approximately 18 minutes to read. Don't have the time right now? No worries. You can email the ad-free version of the article to yourself and read it later!
Can Foreigners Buy a Car in Mexico?
The good news is that foreigners living in Mexico can buy a car in the country.
However, there are a few requirements to meet. One is having a temporary or permanent resident status, which is crucial for obtaining a CURP.
The CURP is your national identification number, assigned to all Mexican citizens and residents by the Mexican government. It functions similarly to a social security number.
To register a car in Mexico under your name, you need a CURP, an RFC (tax number), and the correct immigration status.
Thus, if you are in Mexico on a tourist visa, you might be able to buy a used car, but you won't be able to register it in your name.
Another requirement to buy and register a car under your name is having an RFC – a Mexican tax number. RFC stands for Registro Federal de Contribuyentes.
Every Mexican national and resident has it.
If you do not have an RFC yet and you are a temporary or permanent resident, you can schedule an appointment at the nearest SAT office and apply for your RFC, bringing your resident card and CURP (check the latest requirements upon scheduling the appointment).
If you want to buy a car from a dealer, you need an RFC number. This number will be in the official invoice you get when you buy a new car. When you buy a used car from a dealership, they also ask for your RFC to make an invoice for you.
The only exception to this is when you buy a used car directly from the seller, without a car dealer. In this case, you will receive a sales contract only. We will get to that later in the used car section.
You also need to have a Mexican driver's license.
Car Prices in Mexico
Although the market for new cars is relatively more affordable than buying a new car in the United States or Canada, car prices in Mexico have gone up since the pandemic.
Especially used cars have become expensive, as there is a national shortage of cars in Mexico because of a lack of microchips. In addition, many dealerships for new cars have to wait a long time to receive new cars.
The price of a car mostly depends on its brand, model, and year. For example, a basic new Nissan Versa costs about $16,000 to $17,000 USD.
Continuing with the example of the Nissan Versa: a used car of this brand and make could cost anything between $10,000 and $15,000 USD, depending on the year and miles.
The price you see on cars at a dealership is what you pay. It includes taxes, and there are no extra charges. However, in case you buy from an individual seller, you may need to pay additional vehicle tax yourself.
When it comes to the cost of owning a car, keep in mind that you will have to pay an annual insurance fee (average cost around $400 USD per year), gasoline, and registration costs.
Depending on the state where you are registering your car, this could cost between $50 and $150 USD.
If you choose to hire a facilitator in the registering process, you should consider those costs as well ($80 to $150 USD).
Popular Car Brands
Popular brands in Mexico are those that have a lot of dealerships and can source their parts from within Mexico or from the United States or Canada. This proximity of factories is handy, as some brands rely on parts that come from overseas and therefore, can take a while before arriving. You can imagine that this is extremely inconvenient, should you have an issue with your vehicle.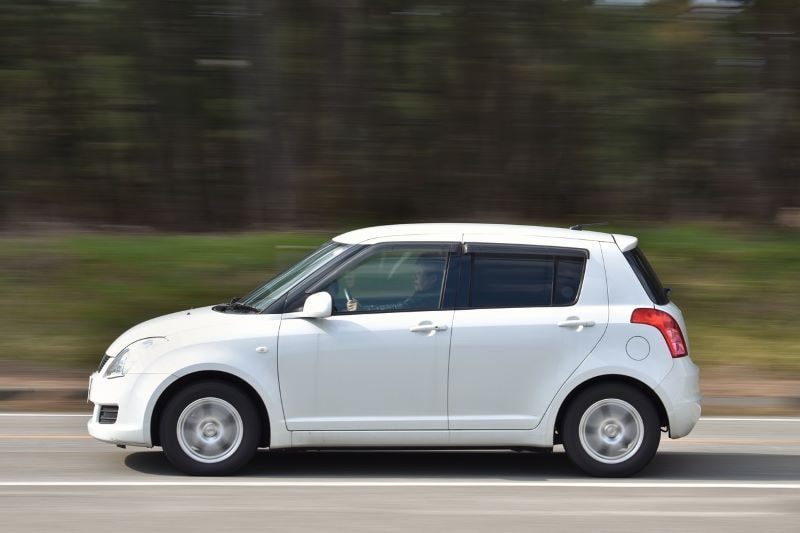 As such, popular brands are the accessible Chevrolet, Nissan, Suzuki, and Kia. The Chevrolet Aveo, Nissan Versa, Suzuki Swift, and Kia Rio are among the popular models for these brands.
Brands that are popular in the luxury segment include Jeep, BMW, GMC, Mercedes, and Toyota.
Buying a New Car
If you are looking into buying a new car in Mexico, there are certain things you should keep in mind.
Here we will talk more about the pros and cons of buying a new car, the role of dealerships in purchasing a new vehicle, and the paperwork involved in the process and registering the vehicle in your name.
Pros and Cons of Buying a New Car
One of the biggest pros of buying a new car in Mexico is that you do not have to worry that the car might be in bad shape, or worse: stolen.
It will be brand new and waiting for you, without any previous owner. All the paperwork will be in order. And as it comes with zero mileage, you can probably drive worry-free for any mechanical issues for a long time.
Besides, the dealer and the car brand will usually offer a certain guarantee that can range between 1 and 5 years on the mechanical parts of the car, which might come in handy too.
The cons are mostly in the prices.
Buying a new car is usually more expensive than buying a used car. It will also lose its value quickly, once you drive it out of the dealer.
However, there is a shortage of new and used cars in Mexico, so used cars are quite expensive at the moment.
Dealerships
In most bigger cities in Mexico, such as Mexico City, Guadalajara, Queretaro, or Mérida, you will find car dealers gathered on certain main roads, one brand after the other.
Sometimes, there is more than one dealership in a city. But even if the number of dealers may be large, they usually only have a couple of vehicles on display, which are normally the new models.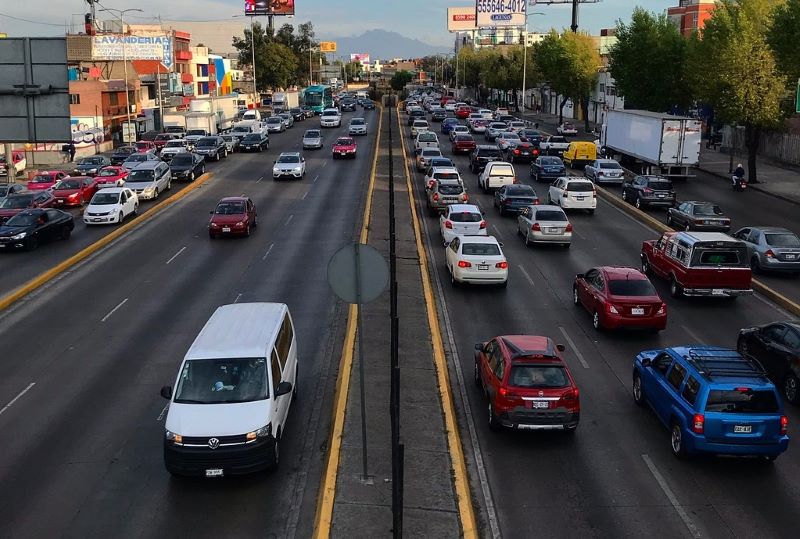 Due to storage issues, the inventory of the dealers is stored elsewhere. That means that once you have decided on a specific model and color, it may take a week or two (or longer) before your vehicle arrives at the dealer from which you are buying.
The salesmen will do their best to provide you with all the information you need and wish to receive, and there will always be someone who speaks English.
Documents for Buying a New Car
Once you have decided to buy a new vehicle at a dealer, you will have to present
a copy of your passport
your temporary or permanent residency
your driver's license
a proof of address. This proof can be a recent utility bill or rental contract in your name.
Your RFC number
After the purchase, you will receive the original invoice (factura), the registration document (tarjeta de circulación), and the receipt of the tenencia (vehicle tax), which can vary from state to state.
Paying for a New Car
Your only payment option when buying a new car via a dealership is to transfer the money from your bank to the account of the dealership. This is because Mexican law is very serious about (avoiding) money laundering, and to ensure that everyone pays their taxes accordingly.
Credit and Downpayment
If you want to buy your car with credit, you must be aware that the interest rate can be high, with an average of 12%.
Some dealerships, such as Chevrolet, have annual sales days during the Buen Fin in mid November where they grant credits without an interest rate, so that might be something to look into.
The general payment time for the credit ranges between 12 and 48 months.
Keep in mind that the process of obtaining a credit can take some time.
Besides, you will be granted a credit for a specific brand, make, and year of the vehicle. So if you decide to go for another model, you will have to go through the approval process again.
You will also have to make a down payment before monthly payments start, at the moment of purchase.
Depending on the dealer, credit provider, and whether it is a new or used car, this can be anywhere between 10% and 40% of the total purchase price.
Car Registration Process
Registering your new car involves obtaining license plates, which is typically done at the SSP (police) or, depending on the state, at a specialized governmental car registry office.
Mexican law requires a Mexican driver's license if you have a car registered in your name in Mexico.
Many buyers opt for assistance from a facilitator who can acquire both the registration document and the license plates.
You can also do it yourself, but be aware that it may take considerable time (multiple hours over several days).
You will need to provide the following documents and photocopies:
The official invoice
An original form of identification (passport)
Your residency card
RFC number printed on paper
Original proof of address
Proof of car insurance
If you opt for a facilitator, you must grant them permission to handle the process for you via a public notary.
Driving without Plates
Sometimes, you might not be able to get a license plate right away after you register a car.
If you need to drive it, you can obtain a permit to drive without plates at the police station. This permit can be valid for up to 30 days and costs about $36 MXN per day.
However, many people avoid this as frequent police stops can be inconvenient. It's best to wait until your registration documents and license plates are ready.
Vehicle Tax
Certain states, such as the State of Mexico and Mexico City, have another vehicle tax called called tenencia that needs to be paid separately.
In other states, this tax is usually included in the registration fee or during license plate updates (some states require plate changes after a few years, necessitating a vehicle tax payment).
Keep all tax receipts, as they are needed when selling the car.
Buying a Used Car
If a new car isn't an option, or you prefer used cars, the Mexican market offers many, including vintage models like Volkswagen Beetles or Combis.
Be aware, however, that buying used cars carries risks such as mechanical issues or purchasing a stolen vehicle.
Bargains in the used car market are less common nowadays, as the market is flourishing and can be expensive due to a limited supply.
Before buying, inspect the car's frame for cracks or rust, check the tires and suspension, and ideally have a mechanic evaluate it. If the seller refuses a mechanic's inspection, it could indicate potential issues.
Pros and Cons of Buying a Used Car
A major advantage of buying a used car is potentially finding a great deal on a car in excellent condition.
However, it requires time and patience. You might also have the option to pay in cash or find dealers offering credit.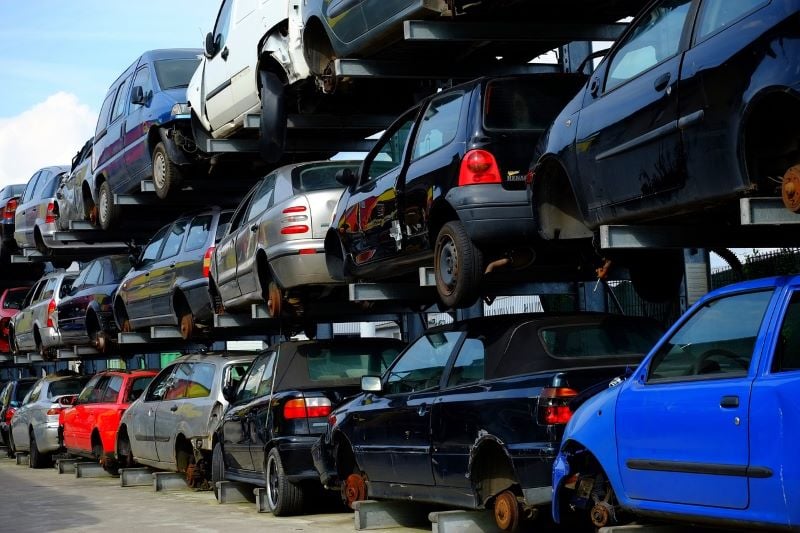 The primary downside is the risk of purchasing a stolen or mechanically flawed car. In both situations, you may end up losing your car, at least temporarily.
To avoid these scenarios, pay close attention to the section on "safety issues and scams with used cars."
Where to Look for a Used Car
Dealerships are the safest option for buying used cars.
Local dealerships and seminuevos dealers, usually affiliated with a specific brand, ensure mechanical checks and proper paperwork.
Websites like Mercado Libre, seminuevos, and autocosmos are popular for used car listings.
Facebook Marketplace is another option. Additionally, keep an eye out for cars with "for sale" (se vende / venta) signs when out and about.
Documents for Used Cars
Documentation is crucial when buying a used car in Mexico, especially for older vehicles where paperwork can be more challenging.
The seller must provide the original invoice (factura), regardless of the car's age.
Each previous owner should have signed the back of this invoice when selling the vehicle, and a copy of their official identification should be included.
If the car is legally imported and has Mexican license plates, a Pedimento de Importación and the original registration document are required.
Additionally, the seller should attach a copy of their identification. Don't forget to ask for the vehicle tax (tenencia) receipt, if applicable. Without this receipt, you may be responsible for unpaid taxes.
Paying for a Used Car
The way in which you make the transaction for your new car depends on whether you buy it via a car dealer or from a private seller.
In case it's a car dealer, it's going to be done by a wire transfer. If you pay the whole amount at once, there may be a chance that you get a slight discount on your car. If not, forget about discounts. The prices displayed on the cars are non-negotiable.
If it is from a private seller, you might be able to pay in cash.
Transfer of Ownership of the Car
When buying a used car, both the seller and buyer must sign a transfer of ownership form (contrato de compra/venta). You should receive this document from the seller, along with:
The official invoice
The registration document (tarjeta de circulación)
Proof of identity of the seller
Receipt(s) of the vehicle tax. For vehicles not older than a year, one receipt is sufficient.
For older vehicles, you need proof of payment for the previous four years.
You must present all this information within 30 days after purchasing the car at the local car registry in Mexico to change the registration document and license plates to your name.
License Plates
Some people opt for a facilitator to obtain license plates for a recently purchased used car, as the process can be tedious and time-consuming.
This is especially true when the car has plates from a different state, as registration can take more than a few weeks.
You or the facilitator must present all the documentation mentioned in the "Transfer of Ownership of the Car" section, along with proof of address (comprobante de domicilio).
This will enable you to get new license plates with your personal information.
Safety Issues and Scams with Used Cars
As mentioned, the biggest con when purchasing a used car is the risk of scams, particularly when buying from private sellers outside of dealerships.
To mitigate this risk, it's recommended to buy a used car through a dealership, preferably a seminuevos dealer associated with an official car brand.
If you choose a private seller, take the car to a mechanic to ensure its condition. If you don't have a trusted mechanic, seek recommendations from expat Facebook groups or local neighbors and friends.
Additionally, visit the police station with the seller to thoroughly inspect the vehicle's VIN number and match it with the number on the official invoice. The police can also verify the authenticity of the invoice.
You can conduct preliminary investigations yourself. Use the Repuve website to check if a car is registered as stolen and verify the car's invoice using this website. Any discrepancies indicate that the vehicle might be stolen, in which case, do not proceed with the purchase.
Another common scam involves unpaid vehicle taxes. Some sellers may not provide tax receipts, leaving the new owner responsible for past unpaid taxes when registering the car and applying for new license plates.
Do I need to use a facilitator to help with buying a car?
Registering a car, obtaining the registration document, and getting new license plates can be challenging, especially for those who do not speak Spanish fluently.
Consequently, many people hire a facilitator or car broker for these tasks. A car broker, in particular, can also assist during the buying process of a used car, ensuring all paperwork is in order.
Facilitator fees range between $80 and $150 USD. They handle registration office visits, license plate registration, document organization, and tax payments.
Although this fee might seem substantial, the time and effort saved often make it worthwhile.
Choose a facilitator who is trustworthy, recommended by a dealership, or known associates, as they will handle your car and all its official documentation.
Maintaining Your Car
Regular maintenance is essential for keeping your car in good condition over the years.
Once registered in your name with matching license plates, the primary responsibilities include annual car insurance and mechanical inspections at a dealer or mechanic.
In some states, such as the State of Mexico and Mexico City, an annual verification and vehicle tax payment are required.
Other states may update license plate designs, necessitating a visit to the local car registration office or SSP (police) for plate renewal and tax payment.
Now, on to You
Foreigners can buy new or used cars in Mexico, but the process can be daunting for non-Spanish speakers.
Fortunately, dealership salespeople often speak English, and car brokers and facilitators are available to assist with various processes.
Building a trusted network is key.
With the tips and information provided, you can successfully purchase a new or used car in Mexico, enjoying the unique experience of driving your own vehicle in the country.