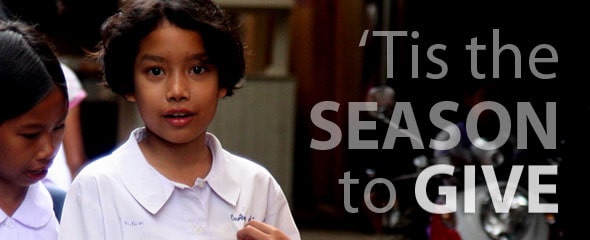 Peter Robinson and the SET Foundation…
For those interested in reading about the life of a monk in Thailand, Phra Farang (written by a former farang monk), is a worthwhile read.
There are many excellent book reviews and interviews around, so I won't do a repeat here. Yet.
What I'd like to focus on instead is the remarkable SET Foundation, created by Peter Robinson.
And most impressive about SET is the money angle.
Every Baht you give goes directly to help our students: SET has very low overheads and administration costs – no staff wages, no office rental costs, no staff vehicles and no fundraising expenses. In 2008, less than 3% of income was spent on administration.
When I worked corporate, we were all encouraged to donate to United Way.
United Way organizations typically suffer from an administrational overhead of 10%-20% instead of 5%-15% that many other well-known charities have.

Some workplaces that donate money to UW do not follow commonly used ethical procedures when soliciting donations.

Employees may be pressured into donating through peer pressure tolerated or even encouraged by management.
I was one of those employees. And ever since, I rarely donate cash to established organisations such as the United Way. I offer of my time and skills to smaller charities instead.
But with the SET Foundation, I will make an exception.
About SET…
The SET Foundation has a very specific aim: to make a difference. That difference is between a youngster being able to study at a vocational college or university, or instead having to labor in the rice paddies, on a Bangkok building site, or in some other mundane, dead-end job.

By giving scholarships and other practical support, SET is making the difference for an increasing number of disadvantaged Thai students. We've been doing it for fifteen years. We do it voluntarily, enthusiastically and very cost-effectively.

More than 3,000 students have already benefited from our Scholarship Program. Hundreds more have benefited from our Student Welfare Program, receiving cash grants to pay for uniform, books, tools, bus fares, lunch or dormitory accommodation.
To see where your donations go, check out: What does it cost to make the difference?
500 baht (US$15) will buy a pair of school shoes.
5,000 baht (roughly US$150) will cover one semester for a college or university student (accommodation, food and bus fares included).
PS: They even accept Paypal 🙂