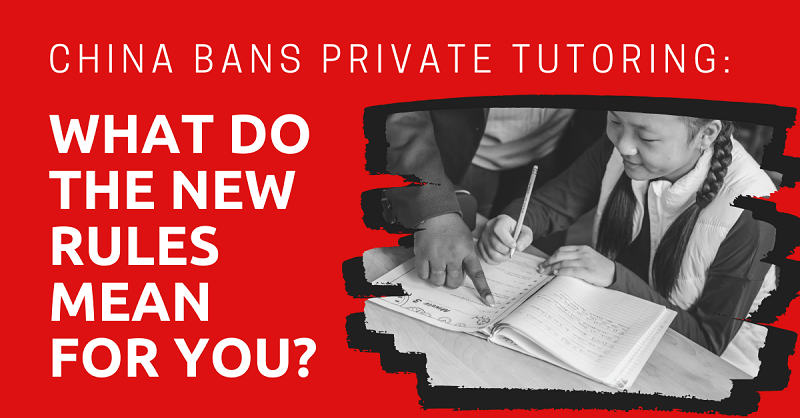 China's booming education market has often represented an opportunity for expats. Even if you're not a qualified teacher, it has always been possible to get work at a "training center", offering additional support to students. Many expats boost their income by taking on private students. Then there's online tutoring, which can represent an income stream no matter where you are in the world.
In 2021 sweeping new laws were introduced which changed the situation dramatically. They prevent schools from hiring foreign teachers outside of China to teach online and they restrict what can be taught as well as state that private tutoring schools and organizations must not be for-profit. This has put a damper on a lot of income-generating opportunities for teachers. 
This article will take approximately 9 minutes to read. Don't have the time right now? No worries. You can email the ad-free version of the article to yourself and read it later!
The Education Market in China
Education in China is big business. In 2020 the government spent RMB 5.3 trillion on education: that's over 800 billion dollars. And the private education market is not much smaller. According to Deloitte, the industry earned RMB 2.7 trillion in 2020, or USD 420 billion.
While private schools account for most of this, after-school tuition is also a significant market. In 2018 it was estimated that the average Chinese family spent RMB 120,000 (USD 17,400) every year on extra classes, with some spending over USD 40,000. To understand why, it's important to understand the place of education in Chinese culture.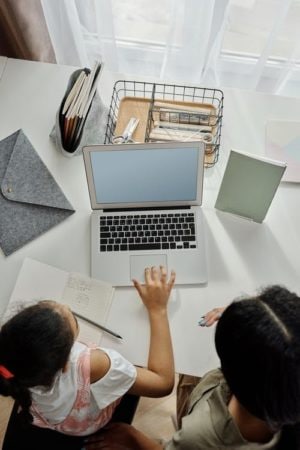 Chinese people place huge emphasis on the value of education, as do other east Asian nations it has influenced, such as Japan and Korea. Competitive exams were introduced over a thousand years ago, with the prize for success being a lucrative career in the imperial civil service. Historic Chinese villages often have a monument or temple celebrating a local boy who achieved top grades in centuries past.
The imperial exam has been consigned to history, but its successor, the gaokao, determines who gets a place at the top universities, and is also seen as the gateway to a successful career. The competitive nature of these exams leads to parents seeking to gain an advantage for their children from a very young age.
They are motivated by more than just pride and parental love (though these are important considerations too.) Chinese parents tend not to save for their old age, beyond the statutory pension. The expectation is that children repay their parents by looking after them in later life. So investment in your son or daughter's education is also an investment in a comfortable retirement.
How & Why the Law Changed
The "Regulations for the Implementation of the Private Education Promotion Law" were issued by State Council decree in May 2021, and came into force in September 2021. They are amendments to a law originally passed in 2004, and represent part of a long campaign by the government to rein in the education industry.
Key Provisions
Here are the main things which are directly affected by this new law. These hurdles might make it more difficult for teachers in China to find English teaching jobs.
Private companies offering education or tuition must not be run for profit
School boards must consist of Chinese citizens (though school principals and management can still be foreign nationals)
Foreign materials must not be used to teach the core curriculum
Tutoring in core curriculum subjects is banned during weekends and vacations
Foreign tutors cannot be hired to tutor online from outside China
Why Were the Rules Changed?
The rule changes reflect a number of longstanding concerns about the education industry.
Education as Welfare Not Business
The sheer size of the Chinese education market has made it appealing to investors, and this has worried the government. They want education to be seen as a vital social provision, and not as a cash machine.
Concern About Wellbeing of Children
Many Chinese children leave school and go straight to other activities: music lessons, language classes, extra tuition. Late bedtimes are common, and time for free, creative play is limited. These are legitimate causes for concern, and the government's interest is not just care for its future citizens. Over half of all Chinese children now suffer from myopia, with a lack of natural sunlight emerging as the key factor. Beijing is worried about where its future fighter pilots and astronauts will come from.
Impact on Birth Rates of Cost of Parenting
After decades of limits on family size, China faces a potential demographic crisis: an aging population, and falling birth rates. One reason young couples are reluctant to have more than one child (or any children at all) is the cost of keeping up in the educational race.
Concern About Foreign Influences on Children
In recent years "bilingual" schools teaching British or US curricula in English as well as Chinese have become increasingly popular. Cynics in China suggest that this is often a way for wealthy parents to conceal their children's lack of academic success by taking them out of the fiercely competitive public school system. The government worries that children in these schools are not receiving the political education mandatory for all Chinese children.
Impact of the Law Changes
The immediate impact of the regulations was for the stock market value of private education companies to crash. The biggest provider, New Oriental Education, lost nearly 90 percent of its value and announced it was ceasing to offer extracurricular classes for kindergarten, primary, and junior secondary school students.
The longer term impact remains to be seen. When it comes to changing deeply rooted educational culture in China, even the Beijing government has at times appeared to be "pushing the river uphill." Previous attempts to limit homework for younger children had little success, with both parents and educators finding ways to bypass the rules.
What it Means for You
It's important to note that the new rules do not apply to international schools, i.e. those which only accept children with foreign passports. If you work at one of these schools, or are considering working at one, you will be largely unaffected. It's essential to check though, especially if you are considering a job offer, whether your employer is a genuine "international" school or a private "bilingual" institution.
If you are working for a private provider, you may already have seen changes. Many were forced to radically alter their structure, with foreign tutors suddenly losing work. Others, faced with a cash crisis, simply stopped paying their employees.
So is it all over for private tuition in China? Certainly not. The industry has undergone a short, sharp shock, but will adjust to the new regulations. A thousand years of culture can't be changed overnight, and parents still want the best for their children.
The regulations only apply to tuition in core curriculum subjects like Languages, Mathematics, Humanities, Politics, and others, that includes English, but does not prevent teaching other subjects in English. Tutors will need to be creative in their materials, and more diverse classes might be welcomed by the overworked children of China.
If you're outside China, then online tuition is not a legal option. Reports suggest that many parents will find ways of paying which evade scrutiny, and that they are prepared to take that risk. However, if you're in China or plan to visit there we strongly urge you to comply with all the laws of the land, this includes working for a school which can legally provide you with the work visa and permit for China.
Ironically, it is now in other ways a good time to be seeking teaching work in China. Many expats have left because Covid restrictions were preventing them going home to see their families, and there are plenty of opportunities, particularly in international schools. It is always important to carry out research before taking a step as significant as moving to a new country, and in the current climate we recommend checking the financial health of your employer, to be sure you will not find yourself stranded without pay.
Nonetheless, teaching in China, or finding work in China in other fields, can be an enriching, even life changing experience.