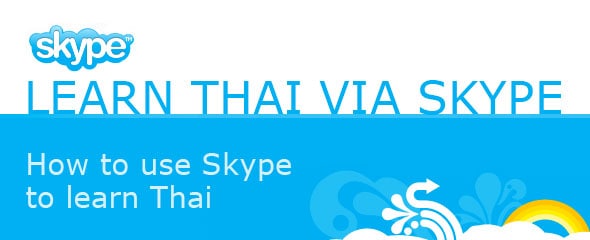 The series: Learning Thai via Skype…
Welcome to the first post on learning Thai via Skype. At this point I'm not sure how many posts will be in this series. Originally, I'd planned on just a handful: How to use Skype to learn Thai, my Thai Skype experience, an interview with a Skype teacher, finding Skype teachers, etc. But my research into the subject kept exploding from one resource to another, so who knows when this series will end. I don't.
What I can tell you for sure is that learning a language via Skype is huge. Totally. Polyglot Luca Lampariello raves about learning language via Skype in his two part series, An Easy Way to Learn Foreign Languages. And just recently I found a government grant funding research to learn languages using resources such as this. Wow. Yes?
Using Skype to learn Thai…
Setting up Skype for language learning is dead easy. The Skype software is available as a free download for your computer, your mobile, and even your wide TV.
But right now I'll stick with the basics shown below:

I have a Mac, so a webcam was not needed (just thick white tape to cover that hole).
If you aim to record your Thai lessons, download recording software dedicated to Skype. There are several available, free and not. I'm told that Callburner and Pamela are fine for PC's, so let me know. After playing around with a few for the Mac, I settled on Call Recorder. It's not perfect (I lost a recording of an entire class) but after that one hiccup it's been ok (but I'm keeping an eye on it…)
To improve the sound quality of your recordings, a headset with a mouth piece is advised. And I really mean that – get a mouth piece attached to your headset. That way no yawns or worse will escape into your Thai teacher's ears without you knowing.
I picked up a Logitech Premium Notebook Headset from Pantip Plaza in Bangkok, but most in that price range will do. Cheaper products will work, but not always for long (I have a tangled stash to attest to that fact).
Ah. And before you run out to buy a headset, check what type of connection you need/want for your computer: USB, wireless, and/or jacks (any more to add?)
While you are waiting for the Skype software to download (or not), why not watch this Ask the Techies video for the basics:
Skype tips from Thai language teachers…
Now that you have Skype loaded on your computer and new earphones plugged into your ears, you are nearly ready to learn Thai online. To ease you into the process, I requested tips from the Skype teachers I know.
Bon ratta: Learn Thai the Bon's way

Ask to Skype or chat with your future Skype teacher first (even if you need to pay for the hour). Learning from a teacher that clicks makes the lesson smoother and you digest better 🙂
Ladawan Mamak: Thai With Joy

Students starting to learn Thai by Skype need to have a few things:

A quiet place to learn.
A stable schedule (at least 1 time per week).
At least one hour available to dedicate to a lesson.
And of course, an internet connection with Skype.
Students who want to learn reading and writing should also have a small white board and marker for practicing during a lesson.
Treat online training with the same respect as you would face to face training.
Interact with the teacher. The more you interact the more you get from the experience.
Check all equipment, speakers, microphone and network + general computer performance.
Create a quiet professional learning environment with no or minimal disruptions (tell the boyfriend, husband, wife + children not to disrupt you for the duration of the lessons).
Turn off phone, msn, Facebook and any other online/offline distractions.
Prepare yourself mentally and physically to focus on learning.
Block out distractions, go to the toilet before your training, grab that coffee, paper, pens… check that they work, etc.
Before the session starts, review previous work and prepare questions.
Get copies of the materials. If they are not offered, then ask.
I like where Language Hut instructs us to, "tell the boyfriend, husband, wife + children not to disrupt you for the duration of the lessons". During the day there is no one else here but Mr Bunt and Duvet. They often use the sofa tops as a racetrack, so I started locking them in the back bedroom during my Skype class. With the earphones on I cannot hear their scratching and howling, so the combo works a charm.
Ah, and as Thailand is hot, hot, hot, I turn on the ac for an hour or so, then off right before the class. That way my recordings don't have the muffled hum of machinery in the background. Just the gentle whirl of an overhead fan.
There are a couple of fiddly things with Skype you might want to know about as well. For instance, if you are using Thai script during class, you might prefer larger script. I was chatting about this with Tracy, a student of Khun Narisa. She's on a PC and shared her bits (thanks Tracy!)
PC tip: Tools >> Options >> IM & SMS >> IM Appearance >> Change Font.
Mac tip: Preference >> Chats >> Set fonts >> Chose the size and and font style you prefer.
Mac tip: On your keyboard press Command + or – to increase and decrease the Thai script.
The Skype learning experience from Thai students…
Thai Skype teacher Khun Narisa Naropakorn kindly put me into contact with two of her successful Thai students, Tracy and Anthony. They not only shared kudos (for later) but their experiences with learning Thai via Skype (below).
Tracy

Skype in & of itself is certainly an amazing tool for language learning. I have a few Thai language partners that I connect with on Skype fairly regularly. Using the chatbox to type things out that are getting 'lost in translation' is very handy. It's also fun to look back through the message log and review some of the 'vocab' after the fact. I have also scrutinized my pronunciation by using the 'Pamela recorder' add-on. It can be excruciating to listen to myself stumbling through all the tones, but it is enlightening none-the-less.
Anthony

The main thing I like about using Skype is that it's convenient. There's no need to travel to a teacher's place of work to learn, which costs money and time. I don't feel the need to learn face-to-face as there is nothing that she can't teach me that can't be done via using Skype.

Being able to contact someone on the other side of the world for free is the main benefit. Learning Thai in the UK would have been a lot more expensive per lesson so I've had the opportunity to learn a lot more learning via Skype as I've used more hours.
How to learn Thai via Skype, the series…
Below what you can expect from this series.