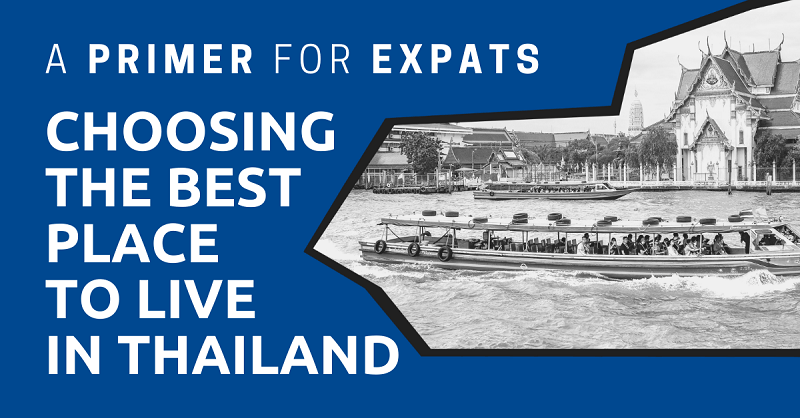 Expats in Thailand are particularly lucky. One of the great things about this country is its enormous variety. Whether you're a person who likes rugged mountain ranges or dense jungle, rolling rice fields or the hustle and bustle of big city life, you're bound to find something here that appeals to you.
However, choosing a new place to live can be a complicated process. Sure, you like the idea of getting away from it all and settling down in the country – but are you prepared for what might happen if you get seriously ill? How are the schools? Big city life might be more up your alley, but if you're on a tight budget could you perhaps get a little more bang-for-your-buck elsewhere?
In this guide, we'll take a closer look at some of the more popular cities among the expat community and provide a brief overview of what to expect in each of them.
Bangkok
Thailand's capital and (by far) its largest urban area is – as you'd expect – home to the majority of its expats. An enormous urban sprawl of over 10 million people, it's a truly global city and a major regional hub, with all that entails – namely, that the vast majority of expat jobs are located here, too.
Chances are that if you've been assigned to an office in Thailand it'll be in Bangkok – but there are plenty of good reasons to choose to live here, too.
Location
Couldn't be better – located smack-bang in the centre of the country, almost equidistant from the countries northern and southern borders. It's a transport hub not just for the country but for much of SE Asia, with two airports (Suvharnabhumi and Don Muang) connecting it to the rest of the world.
Cost of Living
Expect monthly costs for a family of four to come to around 80,000 THB (not including rent), and around 19,000 THB for a single person. Rent can vary massively, but expect to pay in the range of 12,000 THB to 15,000 THB per month for renting a modern, well-apportioned single-bedroom condo in the city center. Expensive for Thailand, but still relatively cheap even by SE Asian standards.
Amenities
Excellent, as would befit a capital city. Bangkok boasts around 90 international schools, many of which are of a very high standard. Medical care is excellent and the low cost has made Thailand a popular medical tourism destination, with world-standard private hospitals such as Bumrungrad Hospital, Bangkok Hospital, and Samitivej Hospital.
There are malls and luxury stores on seemingly every street corner and a huge variety of global cuisine, often of a high standard. You really will not want for anything except for perhaps a little more green space.
Job Opportunities
Bangkok is home to branches of several big international employers such as Agoda and Google, as well as several large local companies, so it should be your first port-of-call if you're searching for a job. Its huge number of international schools also make it a popular destination for teachers in need of work.
Transport
Whilst Bangkok's transport network is not yet up to the standards of places like Tokyo or Hong Kong, it's improving every year and most of the city is now just a short drive from the nearest mass transit station.
The BTS and MRT systems are rather expensive compared to their counterparts in other countries (and the local cost of living), but they're for the most part reliable and easy to navigate. Taxis are literally everywhere, and ride-sharing apps like Grab cover much of the city centre.
Buses range from loud, slow, diesel-snorting relics to sleek and modern. Driving here is not for the faint of heart – Thailand's roads are notorious for accidents, and Bangkok is no exception.
Pros: Everything an expat could ever need – great schools, great hospitals, world-class food and attractions. Lots of job opportunities. Very low cost of living by world-city standards.
Cons: Soul-crushingly relentless traffic. Annual smog outbreaks seem to get longer and nastier every year. Your money won't stretch as far as elsewhere in Thailand, particularly if you have a family. Lack of green spaces compared to other capital cities.
Chiang Mai
Chiang Mai is the hub of Thailand's northern region, and widely considered Thailand's second city. Nestled snugly in the mountains of the Thai highlands, Chiang Mai is famous for its hiking, its distinctive 'Lanna' culture and plentiful, cheap and delicious Northern Thai food.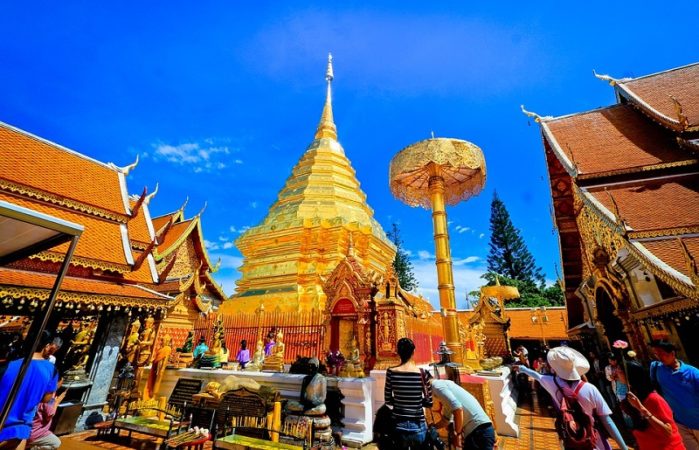 With a population of over 100,000, Chiang Mai boasts all the amenities one would expect of a big city whilst for the most part maintaining its small-town charm – although some might argue that's fading a little more with each new mega-mall construction. Consequently its laid-back atmosphere has made it a popular destination for digital nomads and backpackers who lean on the hippy side, although its expat community is in reality much more diverse than that.
Location
For a city of its size and importance, Chiang Mai can feel a little isolated even by the standards of Northern cities. You've only got to drive a short way out of the city's suburbs in almost any direction before you're in sparsely-populated mountain territory. Bangkok is around an eight-hour drive away, and even the North's second-largest city of Chiang Rai will take you a good three hours to get to.
Thankfully there are frequent flights out of Chiang Mai International Airport, which also offers flights as far afield as Seoul and Beijing.
Cost of Living
Chiang Mai is remarkably good value for money, especially for those used to living in the capital. Average living expenses work out at 17% less than they do in Bangkok, and average rent is a whopping 52% cheaper.
A single person can comfortably get by in Chiang Mai on around 20,000 THB per month, although Iglu recommends a budget of around 30,000 THB for those wishing to work as 'digital nomads'.
Amenities
Chiang Mai is very well-covered for expat amenities. It boasts sixteen international schools and a few international-standard hospitals such as Chiang Mai Ram. There are several high-end malls including the Chiang Mai branch of Central Festival, and with such a large expat community you're covered for just about any food desires you might be hankering for, including a few which have made the Michelin list.
Job Opportunities
The bulk of job opportunities for expats are in either teaching or the hospitality industry, and it's a generally-held truism that pay in those fields is a little lower than in Thailand's other expat hubs. Many digital nomads have set up base in Chiang Mai due to its low cost of living, and companies.
Transport
Public transport is almost non-existent. The closest you'll find are the ubiquitous red songtheaws, converted vans which can take you around town for around 30 THB (depending on your negotiating skills). Ride-sharing apps like Grab are operational, if a little less frequent than in Bangkok, and tuk-tuks, taxis, and motorbike taxis are also available to hire.
Driving in Chiang Mai is a little less hectic than in Bangkok, but the windy mountain roads outside the city are positively lethal – take extreme caution.
Pros: Big-city amenities for small-town prices and with a small-town atmosphere. Excellent food. Surrounded by beautiful natural scenery for the outdoors-y types.
Cons: The annual burning season produces smog even nastier than Bangkok's – quite a few expats flee the city entirely around that time. Comparatively low pay for local jobs. A little far from everywhere else, especially for beach-bums.
Phuket
Synonymous with crystal-clear water and gorgeous tropical beaches, Phuket is Thailand's largest island and a major tourist destination. As a result, it's managed to accumulate a sizeable population of expats keen to live the beachside lifestyle without having to sacrifice the essential amenities.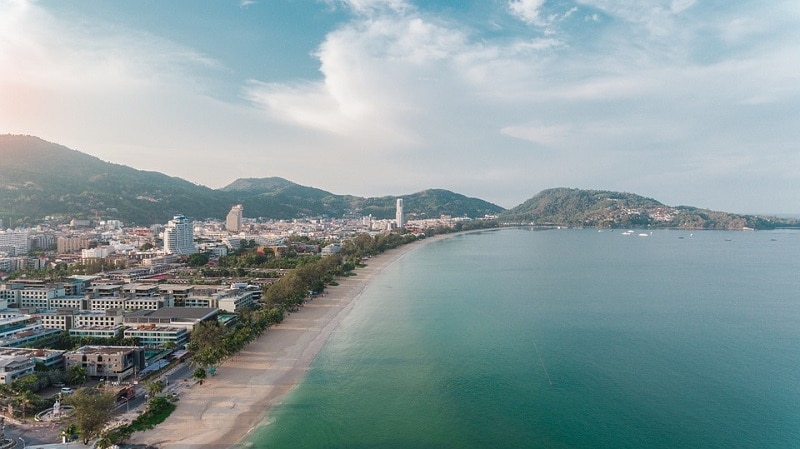 Whilst Phuket is often the target of grumbling about overdevelopment and scams, it's a large island with a great deal to offer beyond tourist hubs like Patong.
Location
Phuket is located on the Andaman-side of Thailand's southern region, near to the provinces of Phang Nga and Krabi. It's around eleven hours by car from Bangkok, but flights from Phuket airport are frequent. Phuket is also a short boat ride from the popular tourist islands of Koh Phi-Phi and Koh Lanta if you fancy a change of scenery.
Cost of Living
There's no escaping the fact that you pay a premium to live near the beach, albeit a slightly smaller premium than what you pay to live in the capital. With food prices, transport and so on significantly pricier than elsewhere in Thailand, you need to be looking at a monthly budget of around 40,000 THB, going up to 65,000 THB if you want creature comforts.  A one-bedroom apartment in the city centre will set you back around 10,000 THB, with prices rising the closer to the sea you get. Overall it's still within the budget for most expats, but your money won't stretch as far as it would in the provinces.
Amenities
Phuket boasts an impressive 13 international schools, so you're well-covered for education. Healthcare is good, with two branches of the international-standard Bangkok Hospital present. Both Phuket City and Patong boast several high-end malls, and as one would expect from a tourist hub there is a wealth of good-quality international food to be found in both places, as well as all the usual chains.
Job Opportunities
With its aforementioned 13 international schools, Phuket is a popular destination for teachers, but there are other options – albeit limited – for those who don't fancy the classroom. Expats wishing to stay long-term can also take up dive instructing or search for the few hospitality-industry jobs that are open to foreigners. The relatively expensive cost of living may not make it the best option in Thailand for digital entrepreneurs starting out on a shoestring, but there are still several there making a go at it.
Transport
Public transportation in Phuket is often both expensive and unreliable. For trips out of town there are the bright blue songheaws which run fixed routes around the island. For private hire there are the infamous tuk-tuks, who are notorious for overcharging naive tourists and hustling them into taking the 'scenic tour', so be careful. On the whole, Phuket is still a fairly small island and easy enough to navigate by your own wheels.
Pros: World-class beaches, excellent nightlife … it's Phuket, you don't need us to spell this out for you. Surprisingly good range of amenities for expats, including a lot of international schools.
Cons: Pricier than many other provinces – but then you do get to live near the beach. Hot all year round. An abundance of overdeveloped tourist traps if you don't like that kind of thing.
Pattaya
Best known for its raunchy nightlife, Pattaya is a coastal town located on Thailand's Eastern Seaboard. Whilst many expats might associate the town with its infamous red-light districts, Pattaya is also a popular day-trip destination for many locals and boasts a number of family-friendly attractions.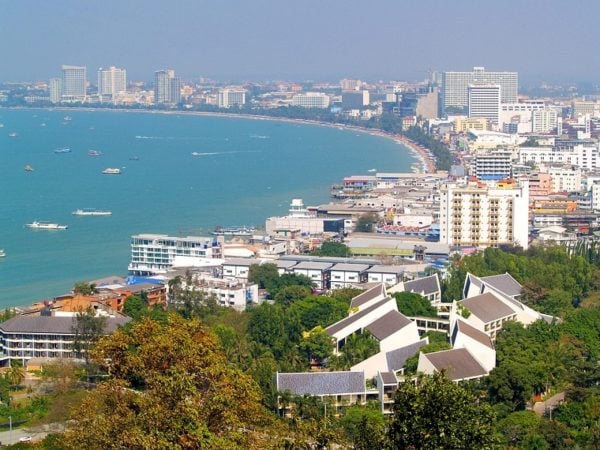 Its beaches may not be as immaculate as those on the islands, but it's nevertheless one of the nearest places to Bangkok where you can get a good view of the ocean.
Location
Pattaya is located in Chonburi province, an easy two-hour drive from Bangkok along the famous Sukhumvit Road. Getting in and out is straightforward, with buses and minivans leaving frequently from Ekkamai bus station. The island of Koh Larn is located a little way off Pattaya's coast, and the province of Rayong – including the popular island of Koh Samet – is a two-hour drive further along the coast.
Cost of Living
For its proximity to Bangkok, the cost of living in Pattaya is relatively low – particularly in the suburbs – making it a good choice for families looking for a little more space (and who are willing to commute). According to Numbeo, living expenses for a family of four come to around 61,000 THB per month. Singletons can expect to get by comfortably on around 30,000 THB. Rent is almost half that of Bangkok.
Amenities
Pattaya's expat community has been around for a long time, and as such it is well-covered when it comes to expat amenities. Pattaya and its surroundings are home to 12 international schools, including branches of Rugby and Regents, and it boasts a number of high-quality medical care facilities such as the Pattaya branch of Bangkok Hospital and Pattaya International. For international food and shopping there are a couple of high-end malls including the Pattaya branch of Central Festival, and of course the streets are positively awash with burger joints and the like.
Job Opportunities
Once again there are a whole lot of teaching jobs, but other opportunities are a little scarcer. As a tourist town, there are opportunities in the hospitality sector for those with experience, and for the truly brave there's always the option of running your own bar or restaurant. The proximity to both Bangkok and the beach and relative low-cost of living might make it an appealing choice for digital nomads.
Transport
Pattaya is – perhaps unusually for a Thai city – fairly compact, and almost all of the action is located within a few square kilometres, so it's quite easy to navigate on foot. However, for the tired or lazy there are the famous Baht Buses, inexpensive blue songtheaws which run the length of Beach Road. There are also the usual taxis, bike taxis, and ride-sharing apps.
Pros: Great location – beachside but only a short distance from Bangkok. Relatively inexpensive for a resort town. Lots to do.
Cons: It has a … reputation. Has been hit particularly hard by the Covid-19 crisis. Enter the water at your own risk.
Hua Hin
Located on the opposite side of the Gulf of Thailand from Pattaya, Hua Hin has much more of an old-school family-friendly resort town feel – think less 'discos and flashing lights' and more 'golf courses and spa weekends'.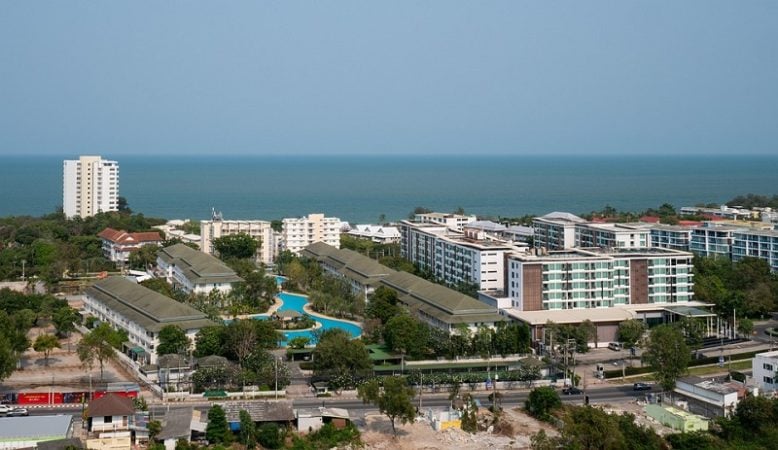 As a result, it's quietly become a popular destination for expat families and older folks looking to be nice and near the sea without the loud and garish nightlife – although Hua Hin does have its fair share of partying if you know where to look.
Location
Hua Hin is located in Prachuap Khiri Khan province, around a 2- to 3-hour drive outside of Bangkok along the west coast of the Gulf of Thailand. There are frequent public buses leaving from Bangkok's Southern Bus Terminal (Sai Tai Mai), as well as minivans from a number of locations in the city. Hua Hin boasts a small international airport for those arriving from further afield.
Cost of Living
Although hard data is a little lacking compared to other cities, Hua Hin is relatively inexpensive for a coastal town – although your money won't stretch quite as far as it could in, say, Pattaya. Rents are (according to Numbeo) around 38% cheaper than Bangkok. 
Amenities
Well, for one thing Hua Hin is not short on golf courses. But for the essentials, it's reasonably well-covered. There is one international school (called – appropriately – Hua Hin International School) and a branch of Bangkok Hospital for medical care. There's a Gourmet Market at the Bluport Shopping Mall for your food needs, and of course the usual selection of expat restaurants dotted around town.
Job Opportunities
Few and far between. As one might expect at this point, English teaching is the most popular option, although with just one international school you're likely to have to make do with lower-paying local schools. There may be a few opportunities in the hospitality industry if you have the skills. The proximity to Bangkok does make commuting to the city a possibility if you have the stamina for it.
Transport
Once again there are the usual selections of tuk-tuks, songthaews, bike taxis, and so on. Getting around town is relatively inexpensive – a tuk-tuk most anywhere will be around 40 THB (depending on your negotiating skills) and songthaews are around 10 THB if you just hop on and hop off. One rarely-seen mode of transport are the three-wheeled samlor bikes which can be found hanging around the train station. Mostly commandeered by older gentlemen, they're far from the best choice if you're in a hurry, but they're certainly something different.
Pros: Convenient location. Laid-back atmosphere. Nice beaches.
Cons: Maybe a little too sleepy, especially for younger expats?
Now, on to You
Whether you're a laid-back family person or a 20-something party animal, there's somewhere in Thailand that should suit your temperament, and for prices that won't break the bank, either. However, you may find that work opportunities are limited outside of Bangkok if working remotely is not an option.