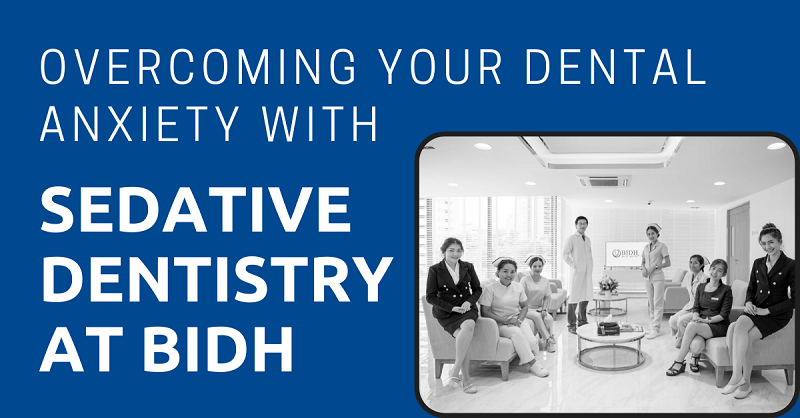 Bangkok International Dental Hospital (BIDH) is one of the leading dental hospitals in Thailand and specializes in sedation dentistry. Sedation dentistry is when a licensed anesthesiologist relaxes a patient using approved methods and medicine so the patient can relax through the procedure.
This a great solution for people in Thailand who need dental work done but suffer from dental anxiety.
To help our readers understand more about BIDH's sedation dentistry practices, we recently spoke to Dr. Krisana Nonguang, MD, Resident Anesthesiologist at Bangkok International Dental Hospital.
What Makes Bangkok International Dental Hospital Different From Other Dental Clinics In Bangkok?
Firstly, BIDH is an official licensed hospital that specializes only in the area of dentistry. It is not your standard dental clinic with a minimal requirements checklist for licensing.
As a hospital, BIDH abides by the rules and regulations of a hospital on patient safety, nursing, pharmacy, and treatment quality controls following hospital-based standards. The hospital employs registered nurses, verified dentists and doctors.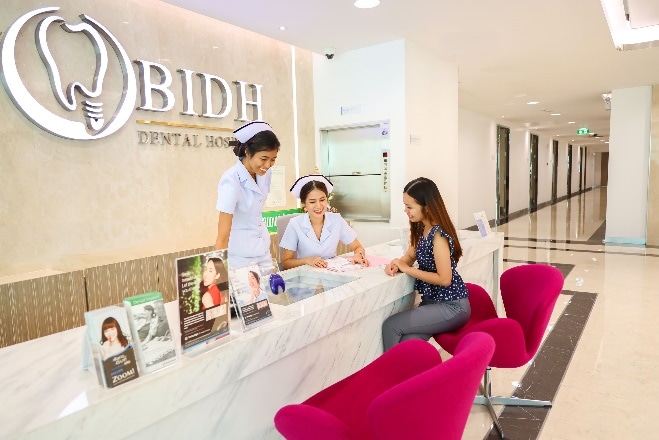 Dental clinics typically provide out-patient standard dental services such as general dentistry, orthodontic braces, crowns, veneers, root canal treatment, or tooth extraction.
BIDH not only offers the full range of out-patient dental treatments like other dental clinics, but is different in that it also offers in-patient services allowing patients to stay at the hospital for major oral surgeries, more complex oral or full mouth dental implant procedures, or if undergoing general anesthesia.
Thirdly, BIDH is one of the few dental providers in Thailand that offers the full range of dental sedation services for dental anxiety and dental phobic patients. Our sedation options include mild nitrous oxide (laughing gas), IV sedation, and total sleep sedation under general anesthesia.
We abide by the strict American Society of Anesthesiologists (ASA) standards to assure patients on sedation are safe while undergoing dental treatments.
What Kind Of Dental Procedures Can Patients Get At BIDH?
Patients receive the same dental treatments that you will find at a dental clinic. Dental services include crowns, veneers, teeth whitening, dental implants, root canal treatment, Invisalign, metal braces, pediatric dentistry, and teeth cleaning.
In additional to the above, BIDH differs from other clinics in dental sedation, whereby patients can opt to be placed in a relaxed state or put to sleep for their treatment if worried or concerned about pain or anxiety.
What Qualifications And Experience Do The Dentists At BIDH Have/Hold?
Dentists at BIDH are top-tier dentists in Thailand and consist largely of international speakers in their field of specialty. A large percentage of our specialists are professors, lecturers at leading dental schools in Thailand who teaches other local dental specialists (not just general dentists). Many of them are graduates from the U.S., U.K., Australia, Europe or are board certified.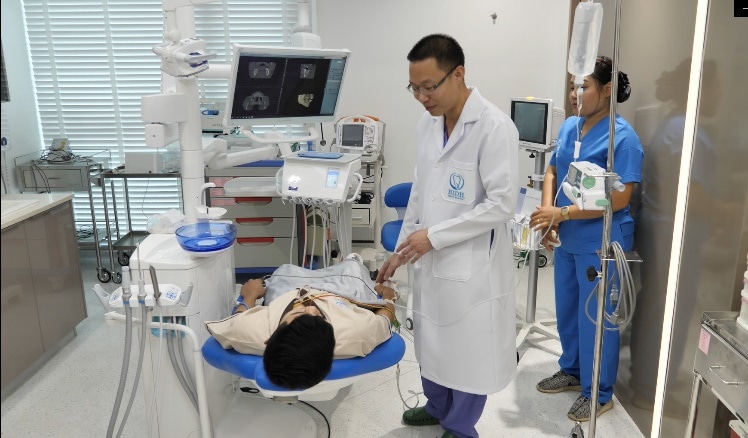 At BIDH, you may see several dentists because each portion of your dental works are assigned to dental specialists.
Therefore, if opting for dental implants, for the first stage of implant surgery, you will be treated by an implantologist or oral surgeon, while your second stage prostheses over implant is done by a prosthodontist who specializes in crowns, bridges, and dentures.
All root canal treatments are treated by endodontists, and braces are done by orthodontists.
How Does BIDH Make Sure Patients Are Comfortable And Safe During Dental Procedures?
With the advancement of techniques and equipment technologies, dental treatments are now quicker, smaller, more precise, and less invasive. BIDH dental hospital adopts digital dentistry with digitalized x-rays, digital scans, and CAD/CAM for treatment. New digital imaging technology reduces radiation dose exposure to patients, digital scans accesses your dentist to clear diagnoses, whilst CAD/CAM lab milling enables more accurate and better margin fits for crowns, bridges, and veneers.
Treatment visit timings are faster and safer. All dental units at BIDH are made in Sweden from Planemeca, which come with ergonomic wide seats for increased comfort and self-cleaning function for easy sterilization.
BIDH Is Known For Its Sedation Dentistry. Can You Tell Us More About It, And Why Patients Who Suffer From Dental Anxiety Should Use It?
Sedation dentistry involves the induction of an individual to a level of reduced consciousness before dental treatments. Patients can be placed in varying degrees of consciousness based on the amount of sedatives administered. American Society of Anesthesiologist (ASA) classifies the levels of sedation into four levels.
Mild/minimal sedation whereby the patient is awake and able to response normally but in a relaxed state.
Moderate sedation whereby the patient is semi-conscious and reacts to purposeful stimulation. There is no need for airway intervention, but breathing ventilation equipment is on standby.
Deep sedation whereby the patient is semi-conscious but requires repeated purposeful stimulation for response. Airway intervention may be required and breathing ventilation equipment used.
General anesthesia whereby the patient is unconscious and unaware of treatment. Airway intervention with breathing ventilation equipment is used.
Although most dental procedures are not painful, many people feel stressed simply being examined by their dentist or may be concerned about pain. Dental sedation is done to reduce discomfort. For dentophobia patients, deep sedation may be opted so they have little to no recollection of the treatment.
Also, What Kind Of Sedation Methods Do You Use At BIDH? What Kind Of Qualifications Do The Dentists Who Administer Sedation Have?
BIDH offers the full range of sedation methods:
Mild/minimal sedation by oral medication prior to start of treatment or the use of nitrous oxide (laughing gas).
Moderate and deep sedation done intravenously whereby sedative medication is administered through IV drips directly into veins.
General anesthesia done in an operating room or at the dental unit by sedative gas or IV medication depending on dental treatment type and equipment,
Mild/minimal sedation is safe and easy to administer. Nitrous oxide sedation is naturally occurring in the air and is commonly administered to children. For standard dental clinics, mild sedation is normally administered/monitored solely by dentists.
However, at BIDH we take additional safety steps whereby a registered and specially trained anesthesia nurse monitors vital signs while your dentist performs treatment.
For moderate, deep, and general anesthesia, an anesthesiologist performs pre-anesthesia clearance and is on-site the whole time when our patients undergo sedation from start until discharge after treatment. BIDH verifies all its anesthesiologist doctors are qualified and licensed specialists in sedative medicine.
How Does BIDH Determine What Kind Of Sedation Is Best For A Patient?
If a patient has been identified to require dental sedation, your dentist provides a consultation explaining all sedative options. A registered nurse then takes your medical history and co-ordinates with the dentist or anesthesiologist on the need for any pre-screening health checks, chest x-rays, or blood tests.
For moderate, deep, and general anesthesia, pre-anesthesia checks are required before your anesthesiologist clears and schedules the actual sedation and treatment date. Upon clearance and appointment confirmation, instructions will be given to you on what to prepare a day before treatment.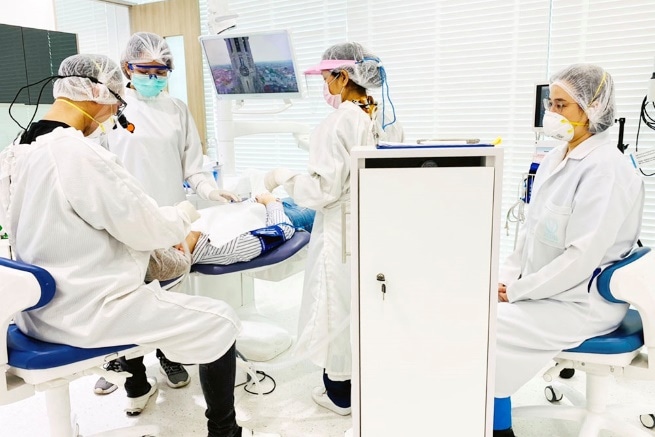 On the day of treatment, you are requested to check in with our registered nurse for final preparations. Your dentist and anesthesiologist then walks your through the sedation process and starts treatment.
Upon completion of treatment, your dentist or anesthesiologist will need to examine and approve your discharge for home. You are advised to have an accompanying person with you who is able to bring you back to your accommodations post sedation.
How Does BIDH Monitor The Safety Of Patients Who Are Sedated?
All sedated patients are monitored the whole time while sedated. After treatment, patients are monitored, kept under observations, and assessed until they are totally recovered from sedation and can return home. Either a registered nurse or anesthesiologist takes care of you the whole time.
Your dentist or your anesthesiologist discharges you based on a fixed set of standardized criteria to ensure you are well and safe to return home. Should any residual symptoms remain, you must be accompanied by a responsible adult or stay over at our dental hospital.
Are There Any Potential Risks Or Side Effects Associated With Sedation Dentistry? How Does BIDH Manage Them?
BIDH has numerous safety checks and protocols to ensure safe dental sedation is performed. As with any dental or medical treatment, there can always be risks. For instance, certain sedation levels may not be suffice to sedate patients in every instance, as each patient responds differently to the dose, type, and duration of sedatives.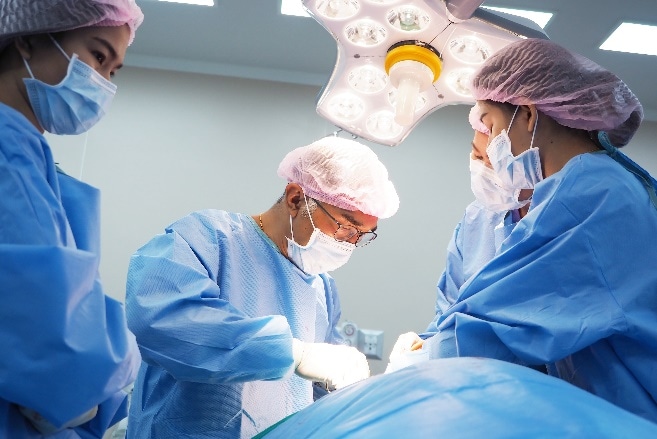 Some common side effects of sedation could include nausea and vomiting, tinnitus, circumoral numbness or tingling, or behavioral changes such as inactivity or a temporary inability to control movement.
How Does BIDH Handle Emergency Situations During Sedation Procedures?
As a dental hospital, it is part of BIDH's standards to be able to handle emergencies and have an emergency chart, medication, and registered nurses/dentists/doctors on site able to perform Advanced Cardiac Life Support (ACLS).
Our front-line staff are also trained and have annual refresher courses on Basic Life Support (BLS). BIDH has pre-set arrangements and MOUs with nearby international general hospitals that can send an emergency response ambulance within minutes to the emergency room.
What Is The Patient's Recovery Process Like After Sedation Dentistry?
After undergoing sedation, please be advised to have a friend or family member drive you back home or to your next location. A responsible adult should care for you during the first 24 hours after treatment.
You should continue to observe any abnormal behaviors or symptoms such as excessive nausea or vomiting, difficulty breathing, paleness or cyanosis, or difficulty waking up. You should eat a soft diet during the first few hours to avoid vomiting, and can begin eating regular foods the day after.
How Does BIDH Stay Up-To-Date With The Latest Dental Technologies And Techniques?
As a large percentage of our dentists are also professors, lecturers, or international speakers, they are kept up-to-date at dental conferences and through continued education organizations that teach about the latest dental materials and techniques.
BIDH is part of Dental Corporation PLC, a public listed company that has a dental supply arm. Its supply division is the second largest in Thailand with links to leading dental material and supply companies around the world, mainly from the European and U.S. region.
The group's dental supply arm imports the latest technologies and equipment into Thailand passing through the Thai FDA. BIDH is one of the country's flagship dental hospitals using the latest technologies available on the market.
What Are BIDH's Prices, And Do You Accept Insurance? If So, Which Insurance?
BIDH prices are fixed, standardized, and transparent. You can find our treatment fees at dentalhospitalthailand.com/dental-prices/. Prices at BIDH may not be the cheapest in Thailand, but they are inexpensive for the quality and standards you get.
We delegate expenses for a clean, safe environment and system for our patients with strict sterilization protocols beyond those required by local regulations.
Insurances companies that BIDH have direct billing with include Allianz, United Concordia, LumaCare amongst other insurance companies you can enquire with customer care prior to start of your dental treatments.
For all other insurance, patients are able to submit their insurance form to us for patient self-claim. BIDH will fill in the forms as well as issue required official receipts back to patients.
Does BIDH Accept International Patients? If So, Are Staff Trained In Languages Other Than Thai?
Yes, around 40 percent of our patients are international patients. Many travel into Thailand specially for dental treatment. A large percentage of our patients are also expats in Thailand. BIDH sees many patients who are diplomats from the embassy or working at international companies in Bangkok.
All our dentists and front-line staff speak English. Other than Thai, we offer Arabic and Chinese customer care translations.
Now, on to You
Thanks to Dr. Krisana Nonguang for taking the time to answer our questions about sedative dentistry. If you're interested in getting dental treatment done at BIDH, you can book an appointment through its website.