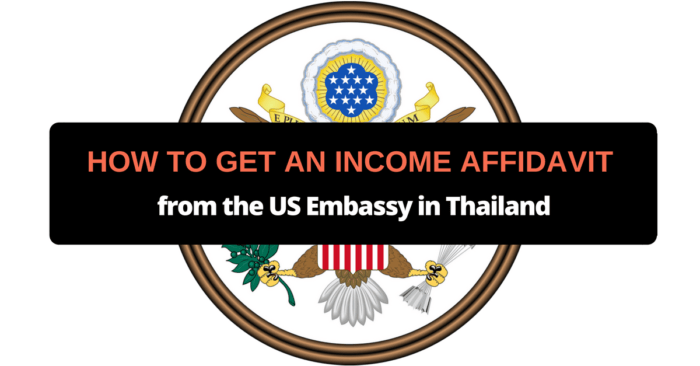 Editor's note: Starting in 2019 the US Embassy will no longer issue income affidavits to anyone applying for Thai visas. This rule has been passed down from the Thai government, which doesn't consider income affidavits as legit proof of income. Make sure you contact your local Thai immigration office to find out what you need to show for proof of income when you apply for your next visa.
So it's that time of the year again and you need to renew your visa at Thai immigration.
Don't you just hate it when Thai immigration officers want to see 400,000 baht or 800,000 baht in your bank account and you barely have enough money for grilled pork balls and sticky rice?
Just imagine not having to drag your Thai mother-in-law to her bank while she has a broken leg so she can withdrawal her retirement funds and you can deposit them into your account for a few months.
Trust me, I've been there.
Good news: you can use an income affidavit to prove you have enough money to take care of yourself for the one-year lease on your life in Thailand.
What is an Income Affidavit?
If you need to prove to the Thai government that you have 40,000 baht or more going into your US bank account every month, you'll need an income affidavit.
US citizens often need an income affidavit when applying or reapplying for their retirement visa or marriage visa. If you use an income affidavit to apply for your visa, it's the only proof of income you'll need.
Getting Your Income Affidavit and Notarization
Getting your income affidavit at the US Embassy is quick and painless, physically speaking.
But it does put a hurting on the wallet when you compare how much you pay for the notary service at the US Embassy compared to outside of the embassy.
Here are the steps you'll need to complete to get your income affidavit and have it notarized:
make an appointment
download the income affidavit
fill in the affidavit
get your paperwork ready
show up early
go through security
submit your paperwork
pay the notary fees
wait for your number
pick up your income affidavit
Let's take a closer look at each step.
Make an Appointment
Go to the US Embassy's website and make an appointment using their online appointment system. You can pick a date that is convenient for you. When I made my appointment, I was able to get in a week from when I went to the website. But you can set your date for the next month if you'd like.

Here's a few short steps:
click Make Appointment
select the third bullet: Request notarial and other services not listed above.
click the checkbox: I have read the instructions on the Embassy or Consulate website for the passport services I require.
click Submit
pick your date
pick your time and fill in your personal info
click Continue
Download the Income Affidavit
After you make your appointment you can go the US Embassy's website and download the income verification form.
If you live in Bangkok, you'll need to download the Bangkok version.
If you live in Chiang Mai, you'll need to download the Chiang Mai version.
If you live outside of Bangkok, but not in Chiang Mai, you can use the Bangkok version at any immigration office.
Fill in the Income Affidavit
The directions on the form are straightforward. Only fill in the blanks in between Dear Sir/Madam: and KINGDOM OF THAILAND.
And whatever you do, don't sign the affidavit. You'll slap your signature on the letter after you've sworn to the US Embassy staff that the info you entered is truthful.
Keep in mind that the income affidavit is in English and uses US Dollars as currency. So don't enter Thai Baht into how much monthly income you have. Enter the US Dollar amount.
Get Your Paperwork Ready
To get your income affidavit notarized by the US Embassy you'll need:
your passport
your income affidavit (from above)
a copy of your passport's photo page
a second form of ID
That's it. You won't need to show any bank statements from the US or any other proof of income.
Put these documents in a protective folder and take them with you to your appointment.
Show up Early
The US Embassy will let you in 15 minutes before your appointment. But you should plan to get there 30 minutes early.
Why's this? During each time slot a group of American citizens (about 10 people) go in at the same time for other services. If you don't show up early, you'll have to wait on line outside, and then wait again on the inside of the embassy.
Here's the Google Maps link to the US Embassy.
Here's the address and contact info:
Address in English: 95 Wireless Rd, Khwaeng Lumphini, Khet Pathum Wan, Krung Thep Maha Nakhon 10330
Address in Thai: 95 ถนน วิทยุ แขวง ลุมพินี เขต ปทุมวัน กรุงเทพมหานคร 10330
Telephone: 02–205–4000
Go through Security
Security at the US Embassy in Bangkok is tighter than…
You can't go through the security checkpoint until your phone is off. Yes, they check. If you can't turn it off they hold it in a secure bag.
If you have bags, a laptop, camera, or anything else that doesn't fit in your pockets—aside from your documents—they take that too.
When you hand over your stuff, you also have to give security a second form of ID so that they know it belongs to you when you come to claim it.
You can give security your US or Thai driver's license or work ID card.
In exchange for your stuff, you get a key with a number. When you're finished in the embassy you return the key to get your stuff back.
After you've handed over your stuff you'll have to go through a metal detector and be checked by a handheld scanner.
Honestly, it's a bit refreshing to go through a security checkpoint that actually cares.
I can't tell you how many times I've walked through the mall security checkpoints and the detectors have gone off and no one has stopped me—not even the security guard sitting in the chair watching Thai comedy shows (I could tell by the bings, bops, and boings).
Submit Your Paperwork
Once you're through security, take the walkway and stay to your right and go up the ramp.
To your left you'll see a group of Thais waiting outside to apply for American visas.
It might sound harsh, but for a second you feel, well, American again. You get first priority in Thailand. No waiting outside in long lines. People call you sir or madam and ask you how you're day is and smile at you. You forget, if just for thirty minutes, that you're in Thailand.
Then you go to the bathroom and see a lady cleaning the men's room and you're reminded all over again you are, indeed, in Thailand.
I digress.
Walk through the heavy door at the top of the ramp and go to window number 3. If you arrived early, you should be one of the first people in line.
If you get there late, you need to wait in line for window 3, which could be quite long. And if this is the case, you'll find yourself eves-dropping on political debates between retired expats and perhaps be reminded of why you left the states to begin with.
When you're at window 3, tell the staff what you're there for and hand them your documents. Their greeting of good morning or good afternoon might throw you off if you've been in Thailand for more than a year, but just roll with it.
They'll check to be sure you have everything you need and give you a receipt to pay.
Pay the Notary Fees
You then have to go to window 5 and pay $50—1,700 baht—for the notarization.
After you pay, you'll get a queue number. You can sit in the waiting room and wait for your number to be called.
Wait for Your Number
When your number is called you'll most likely go to window 4 where the staff will confirm that you need an affidavit.
Then you'll have to raise your right hand and swear that you're telling the truth, the whole truth, and nothing but the truth about the details you included on your affidavit. They will record your audio.
After you swear over your name, the staff member will ask you to sign your affidavit, then they'll stamp the date and official seal on it.
Pick up Your Affidavit
If you've done everything you're supposed to do you should be in and out in 30 minutes. And you should be leaving with a fresh-stamped income affidavit.