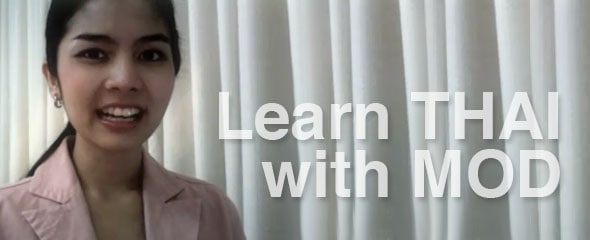 Learn Thai With Mod…
Adjima (Mod) is just as cute as can be. Agreed? So when I came across her YouTube channel, ThaiwithMod, I just had to share it with my buddy Scott, the connoisseur of all things Thai. After poking around, we were both of the opinion that Adjima's presentation is fun and her enunciation clear, making her YouTube channel perfect for newbies to the Thai language.
Learn Thai with Mod, fun & easy!…
I recently added a Thai teachers section in the top nav on WLT (the Learn Thai via Skype: Locating Teachers and Schools link is there too). As I was chuffed with Adjima's method of teaching, I asked if she wanted to be included. And she did. She also sent over the below information, perfect for this post:
I was born in Bangkok and grew up in Nakornsithammarat in Southern Thailand, and then later on again I moved back to Bangkok for my studies. After having graduated from Thammasat University, I spent the following four years in international auditing roles which contributed a great deal for my approach to teach my business clients. Throughout those years in the corporate environment I felt my real calling is teaching, which I first started in a language school and now with my own business for the past year.

I really enjoy the interaction with my students and meeting people from around the world. I am delighted with my students' improvement and enjoy working together towards mutually agreed goals. I tailor my courses according to the need of the students whether they are beginner level people visiting the country or more advanced students wanting to learn Thai for business purposes.

I deliver one-to-one training which I believe is the most successful formula when learning a language as complex as Thai. My goal is to try and incorporate the latest technology and materials into my courses, whether it is supportive online services or Skype training for overseas people and business people with busy schedules or travel commitments.

I use materials from Paiboon Publishing which is range from beginners to advance level and tailor made materials to apply to the level of the students and their needs. I always prefer meeting the student one-to-one whether it is on-line or off-line for a complimentary session to find out what the student wishes to achieve and how we can best work together.
If you want to take Thai lessons from Adjima (Mod) either in person or via Skype, her contact details and information are below:
Adjima Thaitrong (Mod)
YouTube Channel http://www.youtube.com/user/ThaiwithMod">ThaiwithModv
Website: Learn Thai With Mod
Location: Thailand
Times: 8 a.m. – 9 p.m. Monday – Friday (Bangkok Time +7 GMT ICT Time Zone)
Pricing: 400 Baht per hour. 30 hrs: 12,000 Baht, 60 hrs: 23,000 Baht, 90 hrs: 33,000 Baht
Payment method: Paypal or cash payment
Teaching materials: Benjawan Poomsan Becker books Paiboon Publishing and tailor-made materials