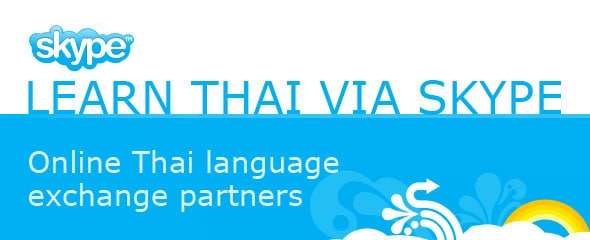 Skyping with online language exchange partners…
In my interview with Fiona from Baby Steps to Fluency (no longer online), Fiona explained how she uses language exchange partners to fast forward her studies. When I asked Fiona where she came by her partners, she mentioned How To Learn Any Language and Unilang.
Armed with google, I went in search of more language exchange sites for this post. I discovered that there are many sites available, with a stretch of attributes. Some are simple. You just sign up, do a search, and make contact. Others have more to them: forums, teachers, classes, video, online chat, resources, etc.
Not all language exchanges offer Thai, so I did a quick look to see who did (shown below). Btw – if you know of more language exchanges, please drop a line in the comments or via my contact form.
Online language exchange partners…
Conversation Exchange
They offer three types of exchanges: face to face conversation, correspondence (pen-pal), text and voice chat. My search came up with 67 Thai speakers wanting to learn English via Skype. Their login dates are recent.
Facebook: Skype Language Exchange group
It's a simple concept. After you join the group, scroll down through the language exchange requests to find a fit. You can also post language requests of your own.
italki.com
On this site there is the ability to hook up with a Thai language exchange partner, a Thai Skype teacher, or both. The Questions and Answers section is another place to ask questions. There are other sections, so poke around. When I did a search for Thai speakers, it came back with 500.
Ju Ju Penpals
JuJu is a community where finding language exchange partners is one of the options, but not the main aim. A search for Thai speakers interested in language exchange gave me 78.
Learn to Speak Thai
On this site you can communicate with a language exchange partner via email, text chat, and voice chat. There are a number of interesting resources on the site: word games, library, forum, and a lot more. The tips section is one of the best advice resource I've found. There are 7666 registered Thai speakers signed up to learn English.
lexxing
This is a new community site. Available is chat, blogs, albums and videos (where you post from your trips or whatever), and a forum. When you sign up, you are asked to define your language (whether you want to teach or learn), and your location. After those two are filled out, you can look for a match within registered users. What I liked about this site is that you can also find study partners (needed). There are no Thai matches but it's early days yet. And while there is no mention of Skype, it's easy to arrange between users.
Lingomigo
There is so much going on at this site (mostly ads) that other than finding a language partner, I'm not sure what they do. There are four Thai speakers listed.
LingoZone
This is a basic language exchange partner connection site. Besides linking up with someone, you can chat, create an online vocabulary list, and play games (but I believe they are English only). There looks to be around 100 Thai speakers on the site.
My Happy Planet
After you sign up to find friends you can watch videos (mostly music videos from YouTube), and then check out their Thai lessons (none at the moment). There are presently 909 Thai partners listed.
Phrasebase Foreign Language Learning
They have put a lot of thought into this site. It has a forum and several sections to learn Thai (phrases, words, etc). You can upgrade by paying US$5.75 a month to learn 500 Thai words and phrases. In the community there are two Thai teachers, two language exchange partners, and ten students. Problem is, it's been ten months since their Thai community has checked in. I'm hoping that it's a technical glitch.
Polyglot Club
This site has a simple aim: to learn languages and make friends. It uses the "Polyglot Approach" and the concept of "Active Ear" (I'll leave you to find out what that is). There is a video section (what you can already find on YouTube) and a forum. Oh, and the Polyglot Club is affiliated with ASSIMIL (a personal favourite, so it has to be good). At a glance this site is worth looking into. A quick search came up with over 40 Thai speakers wanting to hook up with English speakers learning Thai.
Skype Community
Simple concept. Just sign in and then do a search for 'Thai' (not 'learn Thai' or you'll get everything for 'learn' as well).
The MIXXER
If you remember, I interviewed Todd Bryant, the creator of Mixxer. The site is fast, signup is easy. Also easy is looking for a language exchange partner. Each member gets a blog where they can write posts in their target language. To find out more, check out their FAQ. There are at least 140 Thai speakers with an interest in English.
UniLang
This is a big site: courses, videos, audio and podcasts, grammar, dictionaries, pronunciation & script, vocabulary, phrasebooks, stories, games & exercises (vocabulary trainer, exercises), linguistics, articles, reviews, news & media, online tools & software. My search for Thai nationals came up with ten, three have been active on the site (forum posts).
VoxSwap: Crunchbase
This is basically a social network for learning languages. I was not able to poke around inside because I received a 500 Internal Server Error. There is an online chat area, forum, and members can upload teaching videos. My quick search came up almost 60 Thai speakers.
How to learn Thai via Skype, the series…
This post is part eight of an eight part series.