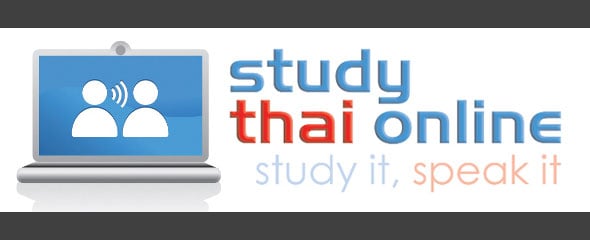 Study Thai Online…
I am a long-time user of Skype and for many years used Skype-out credit to call friends and relations back in the UK. On the Skype website one day I came across a case study for toniks.com, a UK-based company providing online language lessons using Skype. Some further searching revealed that many schools, companies and even individuals are offering language tuition over the net. However, I couldn't find anybody offering Thai.
Owning a language school and employing around 15 Thai teachers, I saw an opportunity and knew I had all the necessary resources in place already. The difficulties, I believed, would be in two areas; 1. making it work technically, and 2. marketing the product.
With no experience or idea of how others were providing the service, I decided to find my own route. Any kind of proprietary software could be ruled out as too complicated and expensive. What I needed was some form of on-line meeting room. Searching the net turned up many good solutions, and after much testing one was settled on (no, I'm not going to tell you which one – sign up for a class!).
The meeting room is an ideal solution because it doesn't require us or the students to install any software. We simply send the student a web link and they use a browser to login with the user-name we provide. Both parties are then in the same 'virtual space' and can see and manipulate everything on the screen, just like a shared whiteboard. Our on-line coordinator prepares each student's workspace by uploading the necessary study materials in advance, and keeps these updated as the student progresses. Students can access their virtual classroom whenever they wish to review and practice, and can even download all the materials to print at home.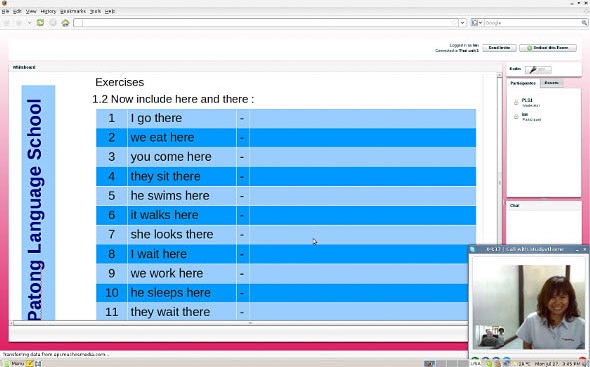 The entire system needs to be robust and reliable, so we brought about some serious changes to the operating systems we use in our school. We ditched Microsoft Windows and installed LinuxMint on all school PC's from the manager on down. This is a free, open-source operating system based on Ubuntu which provides virus-free, bug-free, reliable use every day. Since switching we have never had a PC hang or crash!
Being an internet-based service, we knew we couldn't rely on a single ISP (internet service provider). Internet in Thailand is too unpredictable for commercial use, so we had a second ADSL line installed and connected our 2 ISP's through a load balancer. This clever little device takes care of managing the two lines and using them both to the fullest extent possible.
Being a busy school with many students returning year after year for Thai classes, we have a long email list of students that live in Europe, America and Australia. We contacted a number of them to offer free online classes, and I'm pleased to say they all agreed and enjoyed the new challenge. This gave us an opportunity to test the system live, train the teachers and iron out any weaknesses.
After three months or trialling and adjusting, we went live with the website, bought some GoogleAds, and promoted the new service amongst students new and old. Uptake was slow but steady, and after a year we now have enough students on a daily basis to employ a number of full-time on-line teachers.
With the classroom being one-on-one, the teachers' methods had to be adapted to this new medium. The materials we provide in the virtual classroom are presented just like the pages of a book, with each lesson spread over two or three pages. All materials are produced by us and continually updated. The student is guided through an explanation, then given examples of usage before making their own examples, and finally incorporating the newly learned materials into existing vocabulary. We can handle students just looking for conversational Thai and also those that want to learn to read.
Mostly, our teachers have found it easy to adapt, but some don't like viewing a screen for so long or the feeling of remoteness from the student. Student acceptance has been good – so far we have only had one refund request from an elderly student who appeared to be technically overloaded. Quality of audio and video can't be guaranteed, even though we have good high-speed connections. Sometimes the student's connection isn't great and there's nothing we can do about that.
Although it started out as something far removed from our normal school activities, teaching Thai on-line has now reached the point in our school where it is just another thing we do. Everybody takes it for granted and the whole system works smoothly. We are pleased to have found even more students for our Thai teachers and proud to be the first school to embrace this technology for distance-learning of the Thai language.
Ian Fereday,
study-thai-online.com | phuket-languageschool.com | teflplus.com
WLT: Successful Thai Language Learner: Ian Fereday
How to learn Thai via Skype, the series…
This post is part three of an eight part series.