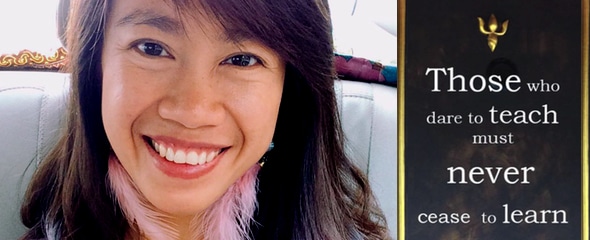 What Makes a Good Thai Teacher?…
Welcome to the third post in the Thai Teacher Interview series. If you missed it, Yuki Tachaya (PickUp Thai Podcasts) was the first Thai teacher interview, and the second Kannaphat Saelee Study Thai).
Note: At the end of each interview you can download the interview questions to ask Thai teachers of your own choosing.
Interviewing Thai Teacher: Waan Waan…
Name: Napaporn Yinbanroeng
Professional name: Waan Waan
Age range: 30-40
Location: Bangkok
Facebook: Learn Thai with Waan Waan
Youtube: Learn Thai with Waan Waan
How long have you been teaching Thai to foreigners?
Since 1999. Now it is not difficult to guess how old I am, right? Lol
What motivates you to continue teaching Thai?
As a teacher, I do not consider myself to be only a language teacher but more like someone who understands what my students feel when they experience cultural differences but unable to express themselves because of the language barrier. It is such a rewarding sensation to bridge the gap and help them have mutual understanding with the Thai people using the Thai language.
How long do you see yourself teaching Thai?
As long as I still enjoy it. With the social media nowadays, it makes it even more fun to create teaching materials. I find myself enjoying going around Thailand filming different things related to the Thai language for my students, be it cultural, psychological or linguistic aspects of the country. I've got so many ideas in my head for creating resources for my audience and I hope to deliver that to them in a fun and creative way. I also want to write books that my students can use and also do some recordings for audio lessons or organizing workshops / meetups / outings for people who not only want to learn the language but want to immerse themselves in the Thai environment and culture. As you can see my career still has lots of room to grow. Hope you guys do not give up before me! lol
What student age brackets do you teach?
My students are mostly adults between 20 to 60 years of age. Sometimes I have some students who are younger or older than that. The youngest one is 6 years old and the oldest one is 65 years old.
What are the types of courses that you offer?
I offer a variety of courses to fit all kinds of students' needs. As I tend to create my own materials to teach them, each course can vary from beginner Thai, intermediate, to advanced business Thai, not only conversational, and reading but also writing courses. For example I had a student from Q8 petroleum company so I created teaching materials from his work documents. And when I taught students from the US embassy the teaching materials were created based on their needs to pass the exam held to test their ability of using Thai at the work place. Some other students of mine are from different industries eg Unilever, Chanel, Thai namthip (Coca Cola) and as you can imagine I had to design the courses and activities that were suitable for their interests and nature of work each one has to deal with on a daily basis. All you need to do is contact me and let me know what types of course suit you best, I may have to assess all 4 of your skills and we will further discuss possible options in detail.
What nationalities have you taught?
I have taught students from all over the world like in Asia I have had Japanese, Chinese, Singaporean, Malaysian, Burmese, Indian, Filipino, Cambodian, Indonesian, Taiwanese, Korean students. From Europe, they are from France, Germany, Sweden, Denmark, Holland, Spain, England, Scotland, Belgium, Ireland, etc. and of course students from the US, Australia and Brazil as well.
Apart from Thai, what other languages do you use to teach Thai? Have you studied and/or lived abroad before? If yes, please tell us about your experiences as an overseas student or expat.
English and Chinese language. English was my major subject and the minor subject at the university was Chinese. I lived in Guangzhou, China for my study for two years so that is very useful when I teach students who speak Chinese.

I was also a cultural exchange student in New Zealand and travelled to the US and South America for a year which helped a lot with character building and understanding of different cultures. I realized I became more extroverted after all these years of traveling and living abroad since I had to try to communicate with the locals using English and Chinese. Speaking a language is a skill, just like driving and swimming , which means you will have to actually "do it" and practice a lot if you want to be fluent. When it comes to speaking, I have to say it is really your own choice to have to push yourself against your true nature in order to master a language. I myself was an introvert before and I had to break out of my comfort zone to improve my language skills. All of these experiences greatly give me sympathy for my students as a language learner.
What are some of your favorite teaching methods?
My teaching methods are dependent on whom I teach and how many of them in one class. Some students can learn best when they listen, some by speaking and some by reading. When I start a new class I have to determine what each student is like, what are their interests and learning methods in order to deliver the best lessons to them. Having said that, my favorite methods are flash cards and role play. At the beginning I would make my students look at pictures and listen to a lot of series of words repeatedly without taking notes and I will have them repeated those words with increased speed each time they repeat them. Then I will teach them sentence structures and put those words into sentences and stories. I tend to want to train them to listen and speak with the Thai speed and I also teach them both the proper Thai and the spoken street Thai. So social media like Facebook and Youtube are used for some short listening practice as well as teaching materials created by me.
Is your teaching approach more teacher centered or student centered?
Both teacher centered and student centered approaches are used with different groups of students. I have a course outline of what the students are supposed to learn and I let them determine what they want to learn. With structured lessons and my help, they will grasp things naturally and develop their language skills gradually.
Do you use course books in teaching Thai?
Sometimes as a supplementary material. I prefer my own selected materials.
How do you assess whether or not your students understand what you are saying and/or teaching?
By letting them do exercises after each lesson…maybe making sentences, role play, making questions from what has been taught, etc.
What do you do when it is obvious that your students do not understand what you are saying and/or teaching?
I give them more examples and let them practice with different approaches. One thing I always keep in mind is that each student has their own way and their own pace of learning things and everyone can have a bad day, so sometimes I have to tell myself not to be too hard on them and I will try to find out what works best for them and help them achieve their goal gradually. The key is to Jai yen yen! ☺
What are your thoughts about the use of transliteration in teaching Thai?
I am not too strict when it comes to transliteration. A student said to me once transliteration is like learning another language that no one actually uses in reality …and I agree. So I tend to let my students spell things the way they hear it and it works very well considering they are from different countries having different mother tongues.
In your opinion, how important is reading and writing Thai in helping foreigners learn the language?
I think it is important to learn to read Thai. There are a number of students who claim to read before speaking so I think it is very important on day to day survival because if you can read at least you will be able to read road signs and go around by yourself. However, to go beyond your limits you are required to speak the language as well. In my opinion it is best if you learn to speak a bit before starting to read and the reading exercise should be prepared based on the vocab you previously learn from speaking lessons so that it enhances your speaking ability eg pronunciation and so on. I do not teach reading from ABC (ก ข ค), but I teach them based on their three groups of consonants and built up exercises are created afterward.
Ideally, when should an absolute beginner begin to speak Thai?
As mentioned above, it is your own choice to break out of your comfort zone and start using it. I would say anyone can speak another language from day one they start to learn even if it's a short sentence like "bpai nai ไปไหน" or a word like "ห้องน้ำ toilet". When I was traveling in South America I didn't speak any Spanish, the first word I picked up was Banos as it was written at the toilet every time the bus stopped for it. So I started to say "Banos" and some other words came up from time to time. Later when I had a chance to take an intensive short Spanish course in Sucre, Bolivia, I walked to the market from day one that I learned to buy my food and it wasn't just ready to eat food, but I tried to buy a kilo of beef / pork and some veggies because I wanted to cook by myself. Yes, I went with my notes taken in class but the next few days I got better and better I didn't need it anymore. Then one day I wanted to buy sugar but it seemed the sugar shops only sold a kilo at least so I had to think of how to get a small quantity of five baht sugar. So I walked to the fruit juice stall that I had my juice for the past days and tried to tell the seller I only wanted to buy a small amount but those people wanted to sell me a kilo, can I buy just a bit from you? And yeah I got a five baht of sugar for my cooking that evening…And I was so proud of my limited Spanish language at the time. I am not good at Spanish but did you get what moral of the story is?

Last but not least, do I have to tell you speaking a language cannot kill you unlike when you learn to drive or to swim? 😀 You are not gonna die or hurt yourself by speaking it, right ? So just go out and have a laugh with your new learned language as soon as you can, ok?

With love,
Waan Waan, your Thai teacher
Learn Thai with Waan Waan
Thai teacher interview questions…
The download has additional questions for you to pick and choose from – enough for everyone's liking.
Download: Questions for potential Thai teachers
Watch this space for more Thai teacher interviews.