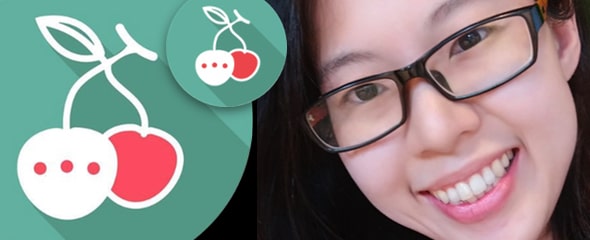 What Makes a Good Thai Teacher?…
Welcome to the forth post in the Thai Teacher Interview series. If you missed it, Yuki Tachaya (PickUp Thai Podcasts) was the first Thai teacher interview, the second Kannaphat Saelee (Jan), and the third Waan Waan (Learn Thai with Waan Waan).
Note: At the end of each interview you can download the interview questions to ask Thai teachers of your own choosing.
Interviewing Thai Teacher: Kruu Cherry…
Name: Chutima Saetang (Cherry)
Professional name: Kruu Cherry
Age range: 30-40
Location: Nonthaburi, Thailand
Facebook: Rian Thai Kruu Cherry
Twitter: @Thaikruucherry
Skype: krucherryteach
What made you want to teach Thai?
I might have started out like many other Thai teachers by teaching Thai to my foreigner friends. At first, they all gave me the same feedback that I have a talent for teaching and that I should try teaching other foreigners. So, I decided to try teaching Thai and have been teaching for the last two years or so. Now I have been teaching Thai for two years, I have received a lot of positive praise and feedback, way beyond what I could ever have expected.
What qualifications do you have to teach Thai?
The most obvious qualification needed for teaching Thai is of course, Thai, which is my mother tongue. I graduated from Sukhothai Thammathirat Open University in 2013, with a bachelor's degree in Education and in 2017, I attended specific training on 'Teaching Thai to Foreigners' held by Sumaa Language and Culture Institute. Aside from these two qualifications, I also love reading both fiction and non-fiction texts, which help me to develop my vocabulary and enable me to teach students in a way that they enjoy.
What are the age brackets of students you teach?
I have taught students from age 10 – 70. I could say people's ages do not matter, but when it comes to learning a new language, you are never too old to learn!
What are the types of courses that you offer?
Normally I offer both face-to-face Thai lessons and online lessons, but I'm currently living abroad so at present, I can do only online lessons via Skype. My main courses are constructed to follow the skill levels of students and their goals. These include things such as Thai speaking for beginners, speaking Thai with confidence for intermediates, discussion classes for advanced students, Thai for travelling, and even a step-by-step Thai reading class!
What motivates you to continue teaching Thai?
"Happiness" Teaching is a passion of mine, and something that I want to do every day. It gives me a huge sense of energy and happiness when teaching. This may sound like a cliché, but it is true. After I finish teaching, I feel like I have achieved my goal in life, which is to help others. It is such an incredible feeling to see student's not only progress, but their happiness when they achieve their goals for learning a language. Some of my students started learning Thai for fun, much like a hobby, and then they became more serious learners who fell in love with this beautiful language, like me.
Is your teaching approach more teacher centred or student centred?
I enjoy both approaches. I have my own unique teaching style which is both flexible and relaxed, but I do not enjoy fixed teaching approaches. My approach depends on a student's preference, such as their learning style and approach, level of Thai and learning goals. I always design a specific lesson plan with my students in mind. For example, if a student is at a beginner level and knows nothing about the Thai language, I will provide a structured plan and everything they need to know for leaning Thai, but if a student has been learning Thai before and already knows what he wants to learn, then I can prepare a lesson based on these needs.
What have you found to be the most challenging aspects of teaching Thai?
In my opinion, I always assess and plan a specific lesson for my students, so I have found it is quite challenging to design approaches suitable for each student, as well as their strong and weak points of skills I can help to improve. The good point is that the more I teach, the more experience I gain and as a result, it only takes one or two more lessons until I am sure that we are on the right track and that students are happy with their learning. Student's happiness is the most important thing for me. We cannot do things well if we are not happy doing them.
Ideally, when should an absolute beginner start speaking Thai?
First of all, you do not need to know many words to be able to start speaking Thai. For instance, I always start teaching students with just six Thai words: I, you, love, very, true, and really. From these six Thai words, you can then say ten simple Thai sentences. Secondly, it is important for you to be able to use words you learn to make a sentence, not just learn and/or remember the words. To do this effectively, you should learn vocabulary in context and duplicate that sentence from a model sentence. Finally, as a teacher, I must bear in mind that my students take lessons with me because they want to be able to speak Thai. So, it is my responsibility to make them feel that speaking Thai is easy and that I can give them the confidence to do that even from day one of learning.
How important is reading Thai for helping foreigners to learn the language?
Reading Thai is a crucial aspect that helps you to learn Thai faster and it is the best way of improving your pronunciation. Some people can learn Thai through a transliteration system, especially those people who live in Thailand or love watching Thai TV programs or movies. This is because they already have an opportunity to listen to native Thai sounds and it is easy for them to mimic these. However, for those who live abroad or do not have opportunities to interact with Thai people, it is very difficult for them to pronounce Thai words correctly by reading only a transliteration. Sometimes transliterations alone do not make sense for English speakers, even if written in English. Therefore, reading Thai scripts is a more productive method of learning the Thai language.
What do you to do relax?
In my free time, I enjoy interacting with my friends from different countries, as well as trying to improve my English as much as possible. I also enjoy reading books, watching some TV shows, and talking to my family and friends back in Thailand.

Kruu Cherry,
Rian Thai Kruu Cherry
Thai teacher interview questions…
The download has additional questions for you to pick and choose from – enough for everyone's liking.
Download: Questions for potential Thai teachers
Watch this space for more Thai teacher interviews.