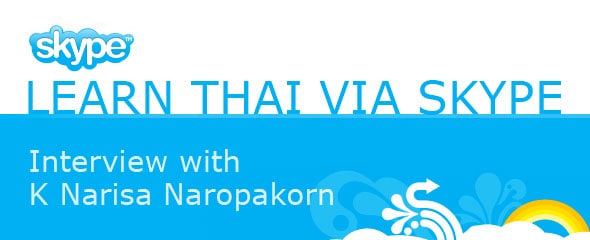 Interviewing a Thai Skype teacher…
When I got stuck into the research for the Skype series, the basic benefits of learning Thai via Skype weren't that difficult to suss. Especially for a hermit such as myself! But as I was fairly clueless about what happens on the other side of the connection, interviewing a Thai Skype teacher was a logical next step.
I chose to interview Bangkok-based Skype teacher Khun Narisa due to her megga positive student reviews. To show you what captured my attention, here are a few kudos: Kudos to Khun Narisa Naropakorn.
Interviewing Khun Narisa Naropakorn…
Khun Narisa, please tell us about your teaching background.
I was born in Bangkok, therefore my accent is the Bangkok standard.

My late father was a journalist who also owned a bookstore, so as a child I had plenty of opportunity to read up on a wide range of subjects. In many ways, my literary background paved the way for me to teach the Thai language to foreigners.

I graduated with an English Major (B.A.), and as a result, explaining the differences between Thai and English became a strong point in my teaching.

Later, I joined the U.S. language and cultural training program for Indochinese refugees in 1983 (The Consortium, Phanat Nikhom Chonburi, Thailand). Following the American method, I learned how to teach language and culture to adults.

I have been teaching Thai to foreigners for 19 years and I started teaching via Skype seven years ago. With Skype I've been able to expand internationally.
What are the differences between teaching Thai and western students?
When I teach English to Thai students, I instruct them to enunciate the ends of their words. When I teach Thai to foreigners, I have to tell them to close their lips, faster than the wind; they have to compete with the wind.

For Thai students learning English, only 20% ask questions. The remaining 80% sit quietly, waiting for me to speak. But when teaching westerners, our roles are totally changed as they speak up first, and I'm the one listening quietly.
I've developed an interest in teaching methods and learning styles. So, how do you teach languages?
To understand how my students learn, I ask them to take one or two learning styles tests: VAK and Myers & Briggs. And when I teach, I use my own learning style, which is a combination of visual and audio.

With Fleming's VAK model, there are three main learning styles: visual, audio, and kinesthetic. I am mostly visual as I cannot learn without seeing. My second strength is audio, because I also learn while listening.
Wikipedia: Fleming's VAK model is one of the most common and widely-used categorizations of the various types of learning styles. Fleming claimed that visual learners have a preference for seeing (think in pictures; visual aids such as overhead slides, diagrams, handouts, etc.) Auditory learners best learn through listening (lectures, discussions, tapes, etc.). Tactile/kinesthetic learners prefer to learn via experience—moving, touching, and doing (active exploration of the world; science projects; experiments, etc.). Its use in pedagogy allows teachers to prepare classes that address each of these areas. Students can also use the model to identify their learning style and maximize their educational experience by focusing on what benefits them the most.
If you are curious, take the test to see for yourself: VAK Learning Styles Test.
With each new student I start off using my natural teaching style. From past experience I know that the personality type I see most often is visual, so my style suits most students coming to me. And if my teaching style and the student's learning style works well together, then I continue on no problem.

But with some students I find the need to adjust my teaching style. To get insight into how these types of students learn, I ask them to take the Myers-Briggs test. I do this because the student might miss out on 20-30% of the class if I don't adjust my teaching style to suit their particular learning style. But I do not use Myers-Briggs with everyone, only in cases where I sense a need.
Myers & Briggs: Teachers who vary their teaching styles after learning about personality type often find they can motivate and teach a wider range of students, because they are appealing to all preferences.
If you are interested in finding out about Myers-Briggs, check out these resources:
To teach, I follow the student-centered method explained in this article by Texas Collaborative:
Texas Collaborative: Student-centered teaching focuses on the student. Decision-making, organization, and content are largely determined by the student's needs and perceptions. Even assessment may be influenced or determined by the student. The instructor acts as coach and facilitator. In many respects, the goal of this type of teaching is the development of the student's cognitive abilities… student-centered teaching leads to "better retention, better transfer of knowledge to other situations, better motivation for further learning, and better problem–solving abilities… Active participation by students helps them construct a better framework from which to generalize their knowledge.
What do you see as the main benefits of learning via Skype?
Saves time (no travel time to and from class).
Saves energy (fighting Bangkok traffic can be tiring).
Saves petrol (gives a smaller carbon footprint).
Saved records (chat + recordings).
How are your Skype teaching methods different from face-to-face?
Both use the same structure and order in teaching. But with the audio recordings and chats, Skype offers the opportunity to keep better records of each lesson. And the sound quality can be less cluttered using Skype because the class is being recorded computer to computer, not in a room where external noises often crowd in.
How are your Skype classes set up?
Skype has two tools I use to teach Thai:

The chat box, where the students and I type in both English and Thai.
The second party recording software that automatically records each lesson.

I do not use Skype's video because it can disrupt my student's concentration. And sometimes it slows down the internet connection, interrupting the class.

My online Skype lessons are one hour long. I advise beginning Thai students to sign up for a minimum of two classes a week for six months straight (canceling classes does not count). For those who do not have pressing engagements (work, school, etc), three to five three times a week is preferable. After six months of learning regularly, or when both of us feel they are comfortable with the Thai language, classes are cut back to once a week.

To get the most out of the course, students are expected to study three hours on their own for every one hour Thai lesson with me.
What happens during a typical Skype class?
Beginners: This level starts out using transliteration or Thai script (their choice). Students are given instructions to learn the Thai alphabet on their own. For each lesson the student picks a subject interesting to them, but I will suggest if they prefer.

In the beginners class I also focus on sentence structure and the pronunciation of tones. Some students come to me as basic beginners, while others have some knowledge of Thai vocabulary but their pronunciation is sometimes not quite right. And as I feel it's important to get the tones down before moving on to other aspects of the Thai language, we concentrate on tones.

For all levels, if requested I keep 15 minutes spare at the end of the class to rerecord any key elements discussed during the lesson (vocabulary, phrases, etc). Doing this benefits both Skype and face-to-face students.

Intermediate students: This level is taught using Thai script only, no transliteration. Students paste Thai phrases about subjects interesting to them into Skype's chat box and I correct their mistakes, explaining grammar if necessary. I also create sentences patterns for them to work with. Conversations are practiced towards the end of the class.

For homework, students study the new phrases and vocabulary, create sentences using the sentence patterns, as well as prepare new sentences for the next class.

The intermediate level is where I work with students studying for the 6th Grade Thai Language Proficiency and Permanent Residency tests.

Advanced students: For conversation, we talk on a variety of topics occurring in real life situations with Thai people. We also discuss current events.

I find that students at this level are more interested in the different usages of words having almost the same meaning, but not quite. Learning how to use these types of words correctly helps students sound fluent in Thai. Advanced students are often perfectionists, so we spend the time needed to iron out the small details of the Thai language.

For reading and writing we read real news and websites. We also write stories, letters, emails, and more.
How do you teach reading via Skype?
For all levels, I create exercises to strengthen reading and comprehension skills based on their lives (stories about themselves, their friends and family). I also add real life reading materials (menus, street signs, etc). A part of the class is spent discussing the reading materials. Advanced students graduate to the more difficult Thai newspapers and magazines.
How do you teach writing via Skype?
With writing lessons my students use Skype's chat box, typing in Thai. For handwriting they can show their finished work for to me to correct, but to save them money, I prefer that my students practice on their own using children's books.

And I'd like to take this time to point out that I'm the queen of time saving strategies. I don't like to waste time, so whatever I can assign my students to do in their own time, I do. Especially as it'll save their Thai study budget. I'd rather have my students come to me for the heart, the secret, the real tips of learning the Thai language. It is more important for me to have Thai students who are no longer with me, because successful students become my public relations people 🙂
Khun Narisa has a quote close to her heart:
Every learner has their own gems inside. It is up to the teacher to find and polish those gems. To do that, the teacher must adjust their teaching style to match the student's learning style.
Using her experience with teaching Thai online and off, Khun Narisa is writing a course book. It's due to be published next year (I'll keep you posted).
Kudos from Khun Narisa's students…
Khun Narisa has many students (former and present) acting as her public relations people. I came across excellent reviews online at Language-school-teachers.com. And one of her students, Helge Østensen, created a site with the knowledge he's gaining from Khun Narisa: Thai Tones (now password protected).
Wanting to have a chat with a few of Narisa's students, I contacted Tracy and Anthony.
Tracy
K.Narisa's teaching style is definitely unique because it's so personalized. For example, initially K.Narisa had me take the Myers-Briggs personality test. After getting the understanding of what kind of learner I am, the lessons are then suited to what really works for me. Studying with K.Narisa in this way is definitely a different experience than studying in a one-size-fits-all classroom. And above all, I know that when I have a lesson with K. Narisa, I will get a few laughs in besides! (สนุกมากๆ) 🙂

I have only great things to say about Khun Narisa and her teaching style. Before I studied with K. Narisa, I studied Thai in a classroom setting and learned the basics of reading, writing & speaking. However, I had very little confidence when speaking. Learning with K.Narisa via Skype allowed me to practice speaking in a safe, controlled environment and get all of those embarrassing mistakes out of the way in the privacy of my own home!

Also, since we use the chatbox, I get to practice typing in Thai. At first, it was painfully slow to hunt-and-peck all of those squiggly little lines that were hiding all over the keyboard, but K. Narisa is very patient and eventually I improved.

I would definitely recommend K. Narisa to anyone looking to take their Thai to the next level.
Anthony
I've been learning Thai using Skype with Narisa for about 14 months now. I hadn't heard of it until I saw Narisa's advert on a website and she mentioned it as a way to learn.

I'm glad I found it as a way to learn as it's so easy to use and the calls are free. Apart from the obvious time difference between the UK and Thailand there isn't a downside IMO. It's just like talking to someone in the UK on the phone. I just purchased a Skype headset, installed Skype, added Narisa as a contact and was ready to start learning straight away.

Currently I am learning twice a week. 1.5 hours speaking and 1 hour reading atm which I feel is enough for me. I used to do more but as my knowledge and speaking and understanding have increased I felt I didn't need to do as much.

Narisa is a very patient and methodical teacher who goes the extra mile in helping her students progress and reach their goals. As an experienced teacher, Narisa knows how to tailor her teaching methods to suit each individual student to gain the maximum results. She is able to communicate effectively with good English to help you understand and answer any questions you may have during lesson time which is essential.

I have embraced what Narisa has taught me so well and used my new found Thai speaking skills to communicate effectively when on trips to Thailand. It's a shame that Narisa isn't there to see my progress first hand whilst I am speaking with other Thai's, to see how much she has helped my progress in this challenging but beautiful language.
If you'd like to study Thai with Khun Narisa, please contact her through her website: Thai Skype Teacher.
How to learn Thai via Skype, the series…
This post is part two of an eight part series.