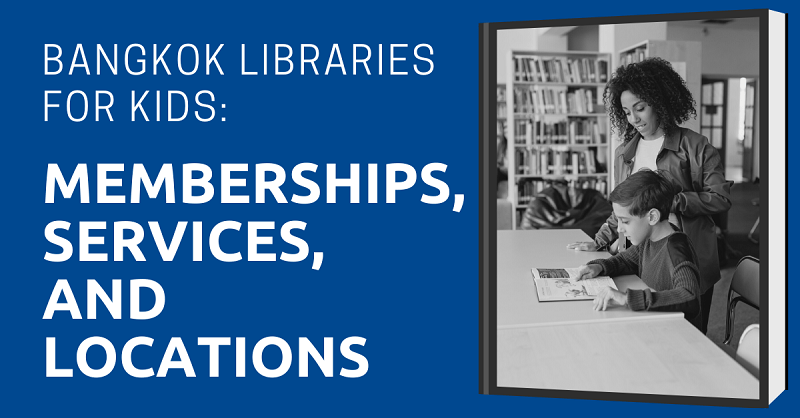 As a homeschooling family in Bangkok, libraries help us educate our daughters. Libraries provide us with all the supplemental books we'd rather not ship into Thailand because of weighty costs and added taxes. And compared to the expensive costs of international schools, library memberships are cheap.
But libraries aren't only places to read and check-out books or signup for library cards; they're also places for kids to socialize, get in some extra-curricula activity, and spend time away from the noisy environment of the city. More importantly, though, libraries help foster in children the habit of reading.
"*" indicates required fields
What You're Going to Learn
This guide will present to you three different libraries in Bangkok, the services they offer, how to make the most of them, and how much memberships cards cost.
What to Consider
You might want to go to the library for the sole purpose of getting a library card and checking out books every month. Or you might want to take your kids to a library that offers story time, arts and crafts, and exploratory play. What's more, you might want an interactive and technologically-driven experience for your kids. Each of the libraries on this list offer these services and more.
What to Pack
Although each of the libraries below have accessible food and drinks on hand or nearby, it's always best to pack a backpack with essentials: water, snacks, bathing suits (to a library?–Read on!), and extra clothes.
Costs Overview
Since each of the libraries below offer different services, and since each operate in different ways, I'll run through the costs first. Then you can continue to read to get an idea of what these costs get you at each library.
| Library Services | Neilson Hays Library | TK Park | Children's Discovery Museum |
| --- | --- | --- | --- |
| Family membership | 3,500 per year | N/A | Free |
| Individual | 2,500 baht per year | 200 baht per year (Over age 25) | Free |
| Children | 1,850 baht (Under age 12) | 100 baht per year (Under age 24) | Free |
| Senior | 1,850 baht (Over age 65) | 100 baht per year (Over age 60) | |
| One-time refundable registration | 500 baht | Price depends on books | N/A |
| Non-member fees | 100 baht donation per visit | 20 baht one day | Free |
| Number of books you can check-out at once | 15 books | 10 books | N/A |
| Late fees | N/A | 10 Baht/item/day | N/A |
Neilson Hays Library
Neilson Hays Library is Thailand's oldest non-profit institution. Founded in 1869 by thirteen British and American women, the library is now run by a small staff and extended group of volunteers. Staff and volunteers manage over 20,000 books and run various programs, all of which are aimed at Thai and expat youth.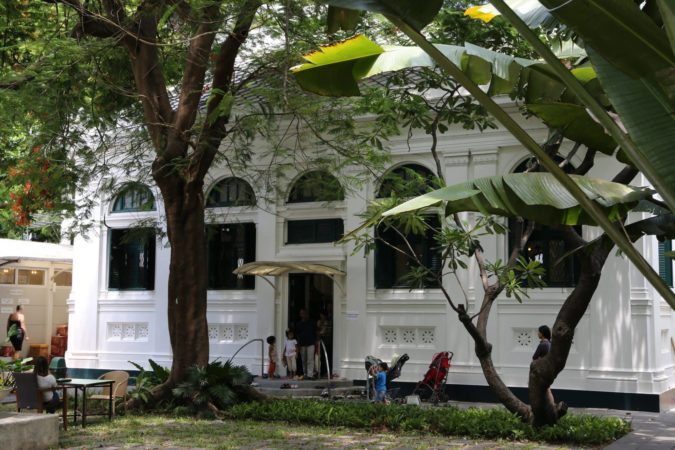 What my daughters love most about Neilson Hays Library is the Saturday Story Time with arts and crafts and the library's annual book sale. They also love walking the isles of wooden and glass bookshelves, some twisting and turning, in what probably feels to them like an endless maze of books.
Location
Neilson Hays Library is located at 195 Surawang Road in Bangrak, right off Silom Road. You can get to the library by taking a five-minute taxi or tuk-tuk ride from the BTS Sala Daeng or Surasak stations.
Hours
Neilson Hays Library is open from 9:30am to 5:00pm from Tuesday to Sunday. Just beware that on weekends the parking lot fills up quickly. So get there at 9:30am to get a spot. Also beware that if you're one of the first cars to park in the lot, you'll be one of the last to leave, because cars park in front of each other, squeezing in where ever they could.
Services
Neilson Hays Library hosts a variety of events. But we mostly use their library for their children's corner. Every Saturday morning from 10:30 to noon, Neilson Hays Library holds story time. Each week, volunteers pick different books to read to children. And afterward, children are encouraged to do arts and crafts based on the themes of the stories.
Through the year, Neilson Hays Library holds special events. In the past they've had events for Fire Fighter's Day, Chinese New Year, Kid's Yoga, Art Workshops, and holiday parties. The events are held to educate children in a fun and relaxing environment. You can keep up-to-date with Neilson Hays Library's events on their Facebook page.
Amenities
On the grounds of Neilson Hays Library is a small restaurant, bathrooms, and parking. If the parking lot is full, you can park across the street at the Voravit Building for 30 baht per hour.
Contact
Neilson Hays Library
195 Surawang Road
Si Phraya, Bangrak
Bangkok 10500
02–233–1731
Neilson Hays Library Facebook
Thailand Knowledge Park
Thailand Knowledge Park, or TK Park, was opened in 2004 by the Thai government to create an alternative learning center for children and young adults. The 3,700 square meter facility is a "living library;" that is, it offers a combination of books, music, activities, and multimedia.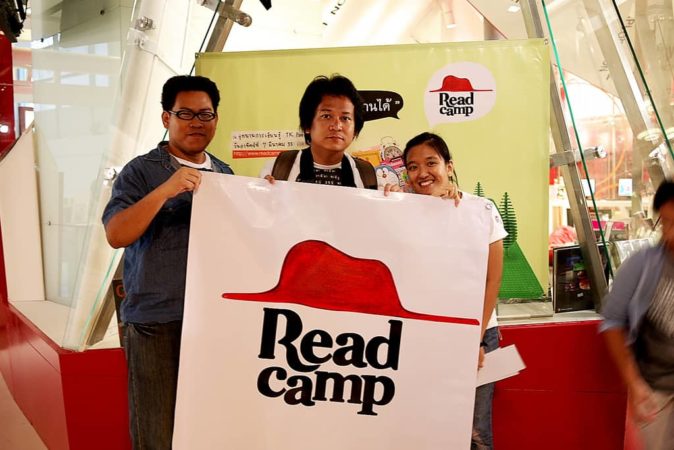 Location
TK Park is located on the seventh floor of Central World in Bangkok. You can get there by walking from either BTS Chit Lom or BTS Siam.
Hours
TK Park is open from 10:00am to 8:00pm from Tuesday to Sunday.
Services
TK Park is more than just a library–but that doesn't mean their library isn't worth checking out. They carry a large selection of Thai and English boos. And if you wish to do research online, you can do so over their wifi. You can also set up a playgroup or school trip to TK Park with up to thirty people, as long as you tell them ahead of time.
TK Park also holds Read Camps and invites guest speakers to talk about a variety of topics for children and teens.
Amenities
TK Park is inside Central World. So you won't have to go far for food and drinks. Parking is also available for those who wish to drive.
Contact
Thailand Knowledge Park
Central World Level 8 Dazzle Zone
Ratchadamri Road
Pathumwan, Bangkok 10300
02–257–4300
TK Park Facebook
Children's Discovery Museum Bangkok
Children's Discovery Museum Bangkok was originally opened in 2001. But in 2014 the Thai government invested 70 million baht into the museum, turning it into a mammoth learning center for children of all ages. The museum is attractive for many reasons. It has a hands-on museum, stations where kids can learn and play, a giant outdoor playground, and a water park.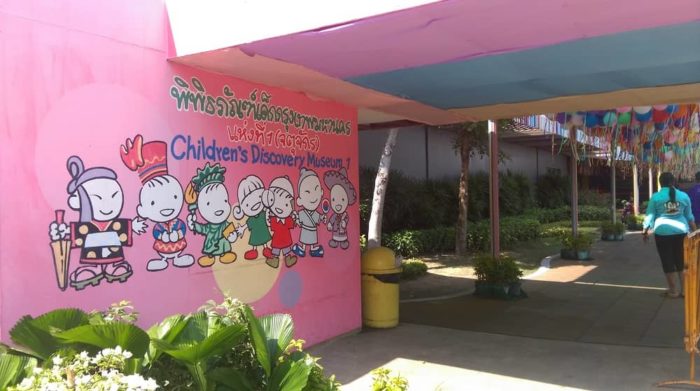 What my wife and I love most about this museum is that entry is free. And in a city that can easily break your bank unless you budget accordingly, this is a bonus. My daughters love just about everything else the museum has to offer, aside from the lifelike dinosaur head inside.
Location
Children's Discovery Museum Bangkok is located across the street from Chatuchak Park. The museum is a five minute walk from BTS Mo Chit. You can also drive and park your car in their free parking lot.
Hours
Children's Discovery Museum Bangkok is open from 10:00am to 4:00pm from Tuesday to Sunday. If you're driving from the opposite side of Bangkok, it's best to leave as early as possible to avoid traffic. We usually leave about 6:30am from Bangna and spend the morning walking around Chatuchak Market.
Services
Although the museum is packed with activities for infants, toddlers, and children, I'll focus on the library services. You can't sign up for a membership card. And you can't take out any books from the library. But your kids can grab one of the thousands of books and read in one of the library's quiet nooks.
Amenities
Children's Discovery Museum Bangkok doesn't have food or drink on hand, unless your kid goes as part of a school trip. That means you'll have to pack your own lunch or buy it in the neighborhood. But the last time we went there the street food along the outside perimeter of Chatuchak Park was gone due to the government crackdown on roadside vendors. If you bring your own lunch, the museum has outdoor seating.
Contact
Children's Discovery Museum Bangkok
Kamphaengphetch 2
Ket Chatuchak, Bangkok 10900
02–272–4500
Children's Discovery Museum Bangkok Facebook
Now, on to You
In the end, it's not so much your choice of library that's important, but your ability to instill the good habit of reading in your children. And any library on this list will help you do just that. Although, if you ask me, I will always be privy to Neilson Hays Library. It is the most expensive library on the list. But at Neilson Hays, you're son or daughter gets so much more than just a membership. They get unforgettable experiences.